One of the best things about being a modern music producer is the ability to make music anywhere .
As technology continues evolving, more and more software developers are putting out mobile beat-making apps for on-the-go music producers. Whether you run on Android or iOs devices, you can find a high-quality music production app that works for your needs. It's easier than it's ever been to chop samples, record demos, and make drum patterns without being tied down to a desk.
Whether you're new to the world of the digital audio workstation or you're simply looking to expand your creative palette, come with us as we explore some of the best beat-making apps on the market today!
1. GarageBand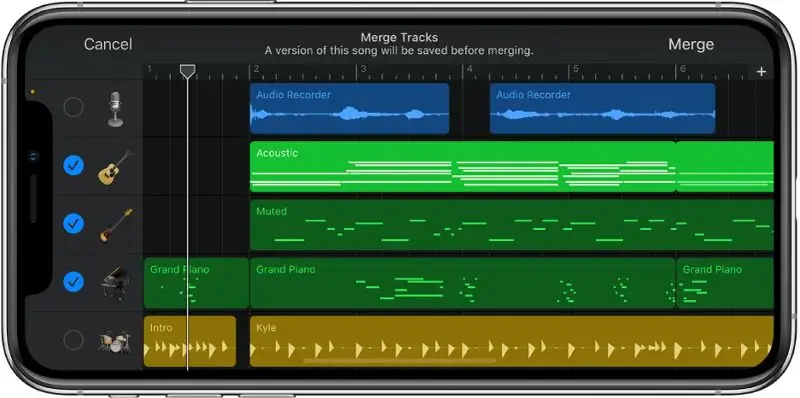 Price - Free
Operating System - iOS
GarageBand has been around for quite some time now. The beauty of this digital audio workstation is that anyone who has an iPhone has access to it! It's an extremely adaptable choice for anyone who wants to begin making music on their iOS devices.
You get tons of virtual instruments to get you started, including a sample, keyboards, synthesizers, drum machines, electric basses, electric guitars, and more! This particular beat-making app allows you to use up to 32 tracks in your session, editing your MIDI via the included piano roll, using the on-screen keyboard to tap out drum patterns, or plugging in an external MIDI controller.
GarageBand is a surprisingly powerful tool that should not be underestimated. No matter what kind of music your produce or skill level you're at, you can find plenty of uses for it. We love the Live Loops feature, which allows you to launch clips based on the temp grid, a lot like what you find in the session view in Ableton Live. You can then use these loops to craft arrangements of your own. However, if you've hit a creative block and need some juice to get you started, the free Apple Sound Library is packed with tons of great stock sounds from well-known producers, including Boys Noize, Oak Felder, and Daytrip.
Even if you want to start recording live instruments, such as guitar, you can plug in using the iRig mobile interface and dial-in cool tones using the built-in guitar cab and amp simulators.
Once you familiarize yourself with the music production workflow in Garageband for iOS, you can migrate your skills and knowledge to the macOS version, which provides a bit more flexibility for serious music producers.
Pros
Comes with tons of high-quality virtual instruments
Flexible MIDI editing and programming capabilities
Guitar amp and cabinet simulators included
Cons
32-track maximum
No true mix window
2. BeatMaker 3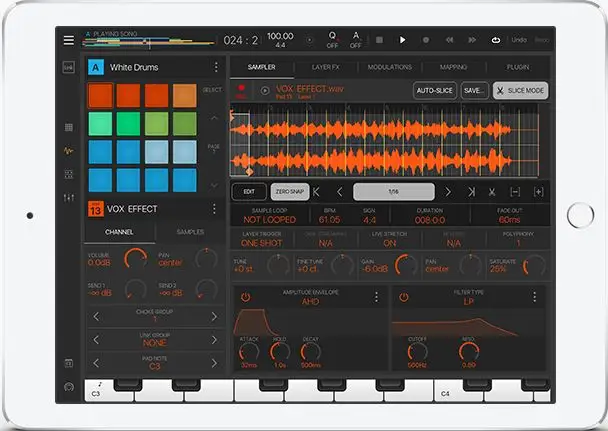 Price - $26.99
Operating System - iOS (Exclusively for iPad)
BeatMaker 3 by Intua is one of the most popular apps for beatmakers on the market today. This app is rich in features, giving you all of the elements you might expect to see in a full-fledged DAW. With the 16-pad drum pad interface, you can tap out and program drums. Pair that with the Keyboard Sampler , which allows you to create new instruments, and the Mixer Window, which allows you to mix your track on your mobile device, and you have a seriously flexible piece of software.
In my opinion, BeatMaker 3 is the best beat-making app on the market and the closest thing you'll get to having a full music production studio on your phone. If you use a ton of samples or audio in your music, then you'll love the functionality. You can import files via AirDrop or Dropbox before manipulating them using the powerful WAV editor.
One of the best things about BeatMaker is that the software carries over pretty easily into other professional pieces of music-making software, such as Logic Pro X or Ableton Live. Plus, BeatMaker 3 has Ableton Link support, meaning you can easily sync up any tracks you make on BeatMaker with Ableton Live.
Pros
Ultra-flexible features that you'd find in a fully-fledged DAW
Stellar documentation for new users
Velocity-sensitive keyboard sampler and beat pad
Cons
Nothing for iPhone right now
3. Koala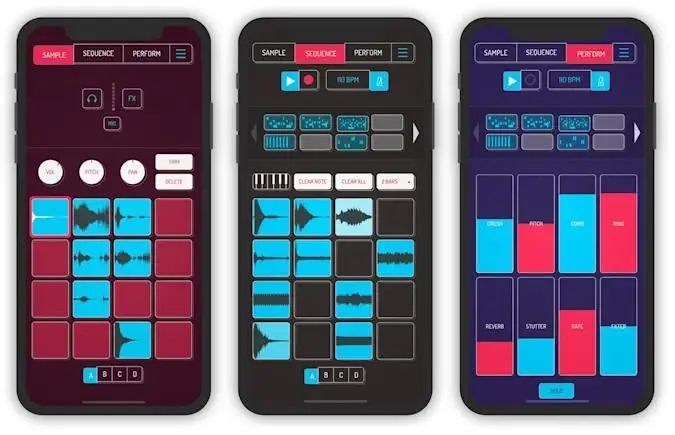 Price - $3.99 for standard version + $2.99 for "Samurai Edition" upgrade
Operating System - iOS and Android
Koala provides music producers with a traditional beat-making workflow, very similar to an MPC. This app is an excellent choice for those who don't like the idea of working with a standard-style DAW on a smaller screen. Plus, it's available on both Android and iOS platforms, making it more flexible than the two above!
Don't let this deceptively simple-looking app fool you. With three tabs, including Sample, Sequence, and Perform, you have everything you need to make high-quality beats on your mobile device.
On the Sample Tab , you'll find a 4x4 grid with sample-assigning capabilities. You can take any sample that you'd like and assign it to one of the 16 pads on the interface. Koala gives music producers the ability to access sounds via cloud storage services like Dropbox or Google Drive, load samples in via their mobile phones, or use their microphones on their phones for on-the-go one-shots and samples.
Koala is even flexible enough that you can sample straight from YouTube videos, though it's up to you to make sure you're not infringing on any copyright laws!
Once you have your samples ready in the Sample Tab, you can begin programming your beats in the Sequence Tab . To take your beats even further, you can add effects like delay, reverb, and comb-filtering using the Perform Tab .
While the standard version of Koala comes with a list of robust features that work well for most music producers, there is a small $2.99 "Samurai Edition" upgrade that comes with a few additional features, including a piano roll, a time stretching feature, and an auto-chop sampler that is very similar to Ableton Live's Sampler. The app has more than enough features to excite professional musicians while remaining intuitive enough for new music producers to enjoy.
Pros
Very intuitive workflow
Allows you to record new sounds or import your own samples
Compatible with Ableton Link
Cons
No import compatibility with Dropbox in-app
4. Patterning 2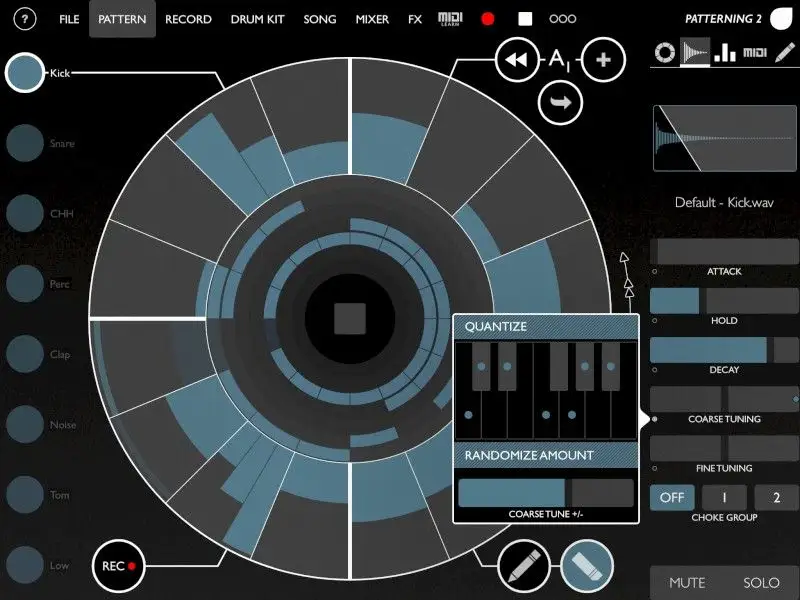 Price - $19.99
Operating System - iOS (Exclusively for iPad)
If you're an iPad owner that creates electronic music, then Patterning 2 is one of the best beat making apps on the market for you. Patterning 2 is a music-making app and drum sequencer made by Ben Kamen of Olympia Noise Co. It uses a unique multi-layered circle layout instead of the traditional linear arrangement, allowing you to visually sub-divide your beats into multiple steps.
While the app might seem very straightforward from the screenshots, you can use incredibly simple actions to manipulate sounds like never before. With a simple swipe of your finger, you can pan sounds, adjust velocity, and apply a cutoff filter. You can even randomize your patterns so that every time the loop rolls back around, the pattern completely changes.
The first version of Patterning took second place for the 2015 Apple App of the Year award, and Patterning 2 takes it a step further. With an efficient beat-making workflow and a uniquely organic approach to mobile phone beat-making, it's is one of the most interesting music-making apps out there right now. Patterning 2 has a much richer feature set that allows you to shift between several drum patterns and use your own sounds. However, if you're running low on inspiration or need something to kickstart your production, you can pick from one of the several-hundred user-generated kits via the Cloud Kit.
Pros
Unique circular drum sequencer
Option to import your own samples
Free drum kit library on Cloud
Cons
Only for iPad as of right now
5. Endless
Price - Free Download or $8.49 per month subscription
Operating System - iOS
Endless is one of the most powerful beat-making apps on the market today. It was developed by Tim Exile, whose name might be familiar to those deep in the Native Instruments world. Endless has a unique workflow, in that it allows you to continuously build musical layers and loops atop one another to create awesome beats. Plus, you can share projects with collaborators or friends using the private jam sessions feature, making it one of the few apps that is great for working with others.
You'll find three main instrument categories in Endless, including Drums, Bass, and Notes (great for plucks, synths, polysynths, and leads). You'll also find several FX, a sample editor, and microphone input that is great for recording external instruments like guitars and vocals as long as you have the proper adapters to do so.
The app certainly has a learning curve, though, for anyone interested in pushing the boundaries of their creativity forward, it's an excellent choice. There is a free version of the app and a premium version. The free download gives you access to several usable electronic sounds, while the paid version gives you access to 300+ presets and an array of unique features. If you go for the subscription service, which costs $5 per month , you get the sampler, 11 more FX, and two new sound packs each month.
Pros
Ultra-unique loop-based design
Great for collaborating with other users
Massive library of presets with new sound packs out each month
Cons
Not that great for editing
6. FL Studio Mobile
Price - $13.99
Operating System - iOS and Android
Image-Line's FL Studio Mobile has been on the market since 2013, though the software development team has continued to support and refine it over the years to make it what it is today. This app and the FL Studio desktop version are very similar, giving you access to modern synthesizers and effects, an intuitive sequencing workflow, and a bright GUI to help enhance creativity.
Most beat-makers already have a grasp on FL Studio in some regard, so there's not much else to add here. However, one thing to note is that even with the limited space you might get from a mobile device, there is still plenty enough room to navigate the interface thanks to its tidy design. You won't be able to integrate third-party plugins, though all of the great things that come with stock in the standard FL Studio version you'll have access to.
Pros
Great for avid FL Studio users
Intuitive drum-programming workflow
Runs on just about any hardware
Cons
Programming is not very flexible
No support for AUV3
7. Flip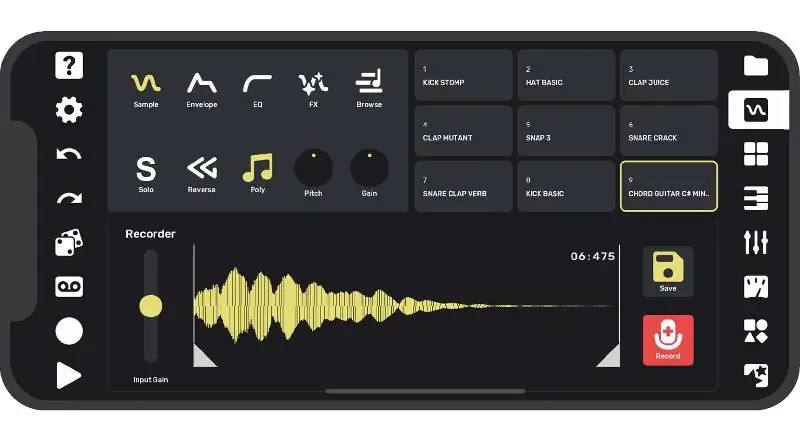 Price - $9.99
Operating System - iOS
Flip is one of the most powerful iOS samplers out there today, though is also surprisingly one of the most user-friendly, great for beginners. Andrew Huang, a prominent artist and YouTube creating this one-of-a-kind app, which allows users to record audio to one of the nine pads before playing or programming your different sounds in the linear timeline-style arrangement section.
Each on the nine pads comes with multiple effects, a graphic multiband EQ, and a full ADSR envelope. Plus, you can play all of these pads monophonically, essentially giving users the same capabilities as Ableton Simpler.
You'll find tons of familiar high-end DAW features, all of which have been minimized for use on a mobile device. You can draw in automation parameters for each of your tracks, allowing you to create more dynamic music than you may have thought possible, as well as a full piano roll for crafting chords and melodies.
Each of the channels are nicely routed to the mixer window, where you can pan, solo, mute, and adjust levels, as well as a reverb send. All of those busses then get sent to the master bus, where you can use the maximization compressor and limiter to create professionally-polished mixes.
Pros
Powerful effects processing capabilities
Excellent automation features
Can import samples via AirDrop
Cons
No time-stretching capabilities