It's hard to think of a genre that the synthesizer hasn't touched over the past 50 years.
The problem is that stepping into the world of synthesizers can be quite intimidating. With so many different knobs, buttons, dials, and flashing lights, trying to operate a synthesizer can feel like trying to operate a spaceship.
To keep you from feeling intimidated, I want to offer you a few synthesizers that you can check out to get started.
Come dive in with us as we explore the best synths for beginners.
1. Behringer Deepmind 12

After hours of trying to pit some of my favorite hardware synths against one another, I determined that the best beginner synth for sound quality, features, and value is the Behringer Deepmind 12.
For many years, Behringer has had a nasty reputation for ripping off products and ideas from other synths and manufacturers, repurposing them with cheaper components to sell them at a discount. The Deepmind 12 retains the value of Behringer products, though it goes a more imaginative route to give users a product that isn't a ripoff of another.
This original 12-voice polyphonic synthesizer has a wide range of features, including four effects engineers, a 32-step sequencer, dual oscillators, and a built-in Wi-Fi-controlled tablet remote control.
For less than $1,000, you get quite a bit.
One of the main selling points is polyphony. You can stack voice in this synth in several different ways, whether you want to simply double a voice or build a monstrous 12-voice stack. One thing to note is that this synth, unfortunately, is not multi-timbral. With that said, it still outputs some of the lushest multi-voice tones I've heard in its price range.
Look a bit deeper, and you'll find the Mod Matrix, which offers 22 modulation sources, each of which you can route to over 100 destinations. If that isn't enough for you, there's also an arpeggiator mode with a number of configurable patterns, offering some of the deepest MIDI implementations we've ever seen.
There's not much to say in the negative for this hardware synth. If there's one thing that can be a bit frustrating, it would be the fact that you need to dive through several menus to find certain features or adjust parameters. While the synth's front panel is fairly intuitive, I kind of wish that the single screen was a bit larger for the amount of text and information that is crammed on the screen.
Even so, with the incredible sound quality, breadth of presets, and solid build, Behringer has done an excellent job creating a synth that feels all its own and is one of the best beginner synths on the market.
Pros
Gorgeous 12-voice polyphony
Tons of great sounds built-in
Massive set of features
Cons
Diving through menus can get kind of annoying
2. Roland System 8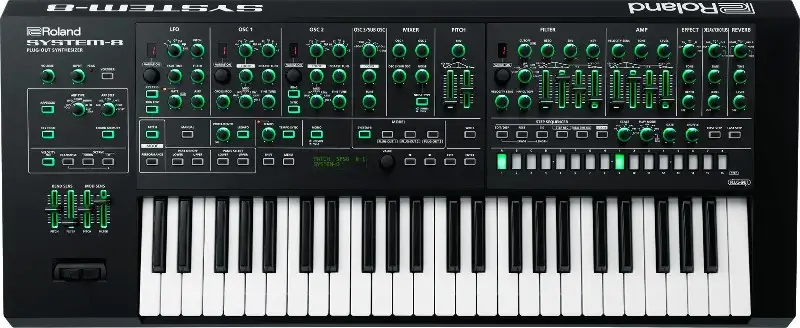 Looking for a single hardware synth that gives you multiple hardware synths in one?
If so, look no further than the alien-looking Roland System 8. With its unique 'Plug-Out' architecture, Roland has manufactured one of the most versatile synths on the market today.
You get the System 8 engine to start, as well as three expansion slots to add models of classic synths from Roland, including the JX-3P, the Juno-106, and the Jupiter-8. You'll find a massive library of models that you can download from the Roland Cloud as well, including the SH-101, which offers huge bass sounds, and the PROMARS, which delivers manic leads and pads.
One of the biggest upsets for purists is that this synth isn't analog. Many people question its ability to accurately emulate the sounds of original icons. As a lover of analog, my subjective opinion is that the sounds are uncanny.
The main difference is that it's much easier to keep things in tune. However, if you like a bit of wavering in your synth sounds, you can use the condition setting to give it old and dusty sound quality.
With easy access to one of the greatest synth back catalogs in history, there's a reason why so many synth lovers are starting to hop onto the Roland System 8 train. Whether you want brash leads, heavy bass sounds, or tender, ambient textures, the synth can do it all.
The versatility is thanks to the diverse range of analog-style and digital oscillators. You'll also find an arpeggiator, a vocoder, cross-modulation, side-band filters, a powerful sequencer, and several unique effects.
If you're new to the world of synthesis, you might think that all of this sounds a bit overwhelming. Taking one look at the swarm of knobs and sliders emanating that sci-fi-like green glow can have one thinking, "yikes, that's a lot to control."
In reality, this is one of the best synthesizers to learn on. Even with its seemingly crowded-looking top panel, the signal flow is easy to get accustomed to and quickly begins to feel intuitive.
All you have to do is follow the synth like a book, moving from left to right as you twiddle knobs and sliders. Unlike the Behringer Deepmind 12, you don't have to dive through a complicated assortment of menus to get to where you want to go, meaning it's far easier to get to the sound you have in your head.
Pros
Tons of incredible sounds
Fresh and innovative System 8 engine
Expansion slots for iconic Roland synth emulations
Cons
The plastic housing feels a bit cheaper than I'd like
3. Korg Minilogue XD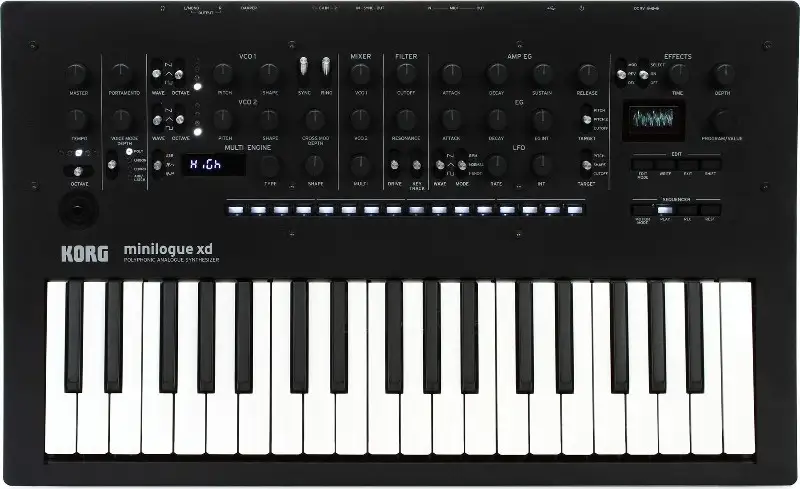 The Korg Minilogue XD is the perfect compact synth for beginners, giving you all the features you could possibly need to get started. Korg took the original Minilogue synth, which is one of my favorite starter synths, and injected plenty of features from the Korg Prologue, which is Korg's flagship analog synth.
One of the things I love about this synth is its robustness. Unlike the Roland System 8, the Minilogue uses a sturdy metal case, metal-shafted pots, and a luxurious rear panel with real wood. Though it has the same SlimKey keybed, which is found on many Korg synths, it plays fairly well.
Your standard controls are located on the topside smart panel. You'll find a mixer section, two VCOs, an amp envelope generator, a filter, a second assignable envelope generator, and a diverse array of FX. You also get a step sequencer for real-time recording, motion recording, and step recording, as well as a portamento control.
Korg absolutely killed it with the design and ergonomics of the top panel. If there's one thing you'll realize from reading this article, it's that I truly despise having to dive through a series of menus to get the sound that I'm looking for.
The Minilogue XD has four analog voices like the original, four less than the number of voices you'd find on the Prologue, though at half the price. The way in which you utilize these voice modes depends on the sound you're going for. You can use standard poly voicing, stacked detuned unison voicing, chord voice mode, or arpeggiator voice mode, which provides 13 different arpeggiator patterns.
If that doesn't sell you on the synth enough, note that the XD also has the Prologue Multi-engine, which takes the place of what would be a third oscillator. With this Multi-engine, you get an array of custom sound engines, including an FM engine and a wavetable engine, as well as a noise generator.
You can venture beyond the boundaries of traditional sound design by combining this Multi-engine with the Minilogue's dual oscillators.
While it may feel like a lot for a beginner analog synth, the beauty of it is that it will inspire you far beyond your days as a noob.
Pros
Similar power to the Prologue at a lower cost
Strong and sturdy build
Excellent onboard sequencer
Cons
Does not come with a high-pass filter switch
4. Teenage Engineerng OP-1

Let's change course here and look at something completely unique. When it comes to actually learning synthesis, the Teenage Engineering OP1 isn't really the ideal synth. This is because there are so many synth engines packed into this little piece of hardware and very few tangible controls for manipulation immediacy.
However, if you're looking for a piece of gear the help you write and make sample-based music, it's one of the best synths around.
The Teenage Engineering OP-1 is a compact sampler, synthesizer, controller, and four-track recorder. Essentially, it's a powerhouse for creativity. You'll find 13 synth engines, seven high-quality effects, and a number of easy-to-route LFOs to meet all of your experimentation desires. Add a flock of samples to the six built-in sequencers, and you'll have everything you need to craft a masterpiece on this virtual four-track tape recorder.
One of the beauties of the Teenage Engineering OP-1 is that it was clearly built for fun. The controls were limited to the four brightly colored encoders, allowing users to enjoy non-technical sound design and experimentation. I'm a firm believer in limiting complexity to optimize creativity, and this synth does just that.
There are so many possibilities to explore with the Teenage Engineering OP-1, and the seemingly toy-like interface never feels like a hurdle. While it may look like a toddler's toy, it sounds like a professional studio instrument.
While it may be one of the most inspiring beginner synths on the market, it's certainly not cheap. Since its introduction, the synth has almost doubled in price. However, if you have the money to fork over, you'll get an eccentric piece of machinery with near-endless possibilities.
Pros
Great for creating on the go
Inspirational sampling controls
Tons of awesome built-in effects
Cons
Expensive for a beginner synth
5. Moog Grandmother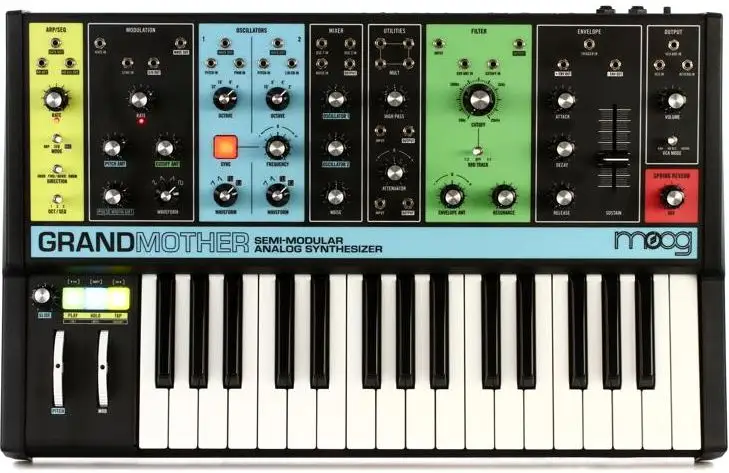 Every first-time synth explorer will likely be familiar with the Moog. It's one of the most iconic names in music gear and has been since the 70s. However, trying to get your hands on a vintage model might put you out on the streets.
While the brand has gone through many changes over the years, many of its products still retain the same iconic characteristics as the original models. The invention of the Moog grandmother came from a realization from Moog engineer Bill Hemsath, who noticed that many musicians using Moog synthesizers would often return to the same couple of routings and components rather than make use of the vast array of sonic parameters.
He decided that all people truly wanted was a few oscillators, a mixer, an LFO, and some filter envelopes.
It was out of this idea that the incredibly intuitive Moog Model D was born. This technically-minded synth has numerous features laid out in a simple way, which may be one of the reasons that it became a best-seller in the synthesizer world for so many decades.
The design of the Moog Model D clearly had a significant influence on the Moog Grandmother, as well as almost every other non-modular synth in existence.
The Moog Grandmother is a truly endearing piece of hardware, retaining all of the original characteristics of the Moog sound. You can find the same filter and oscillator design found in vintage models, preserving the iconic characteristics of the past. The synth also retains the familiar topside panel layout, making it easy to find your way to the otherwise complicated sound design process.
The way in which the Grandmother stands on its own is the semi-modular design. You can reconfigure the front panel by re-patching the inputs and outputs from the various sections. What's even better is the Grandmother allows you to patch external models, customizing a system that outperforms the original modular synth.
While all of that may seem like overkill for somebody just getting their feet wet, I recommend it because it exudes the same simplicity as the flagship Model D. You can navigate through the Moog Grandmother without ever having to get your hands on a patch cable. By moving linearly from section to section, you can get a grip on the basics of synthesis and build a foundation for modular synthesis.
I just have to say that I absolutely love the color-coded sections, which are bright blue, green, yellow, and pink. It has a retro toy kind of vibe that makes the learning process even more accessible.
Pros
Iconic Moog sound quality
Intuitive semi-modular design
Comes with an arpeggiator and sequencer
Cons
Does not have patch memory
6. Korg Volca Keys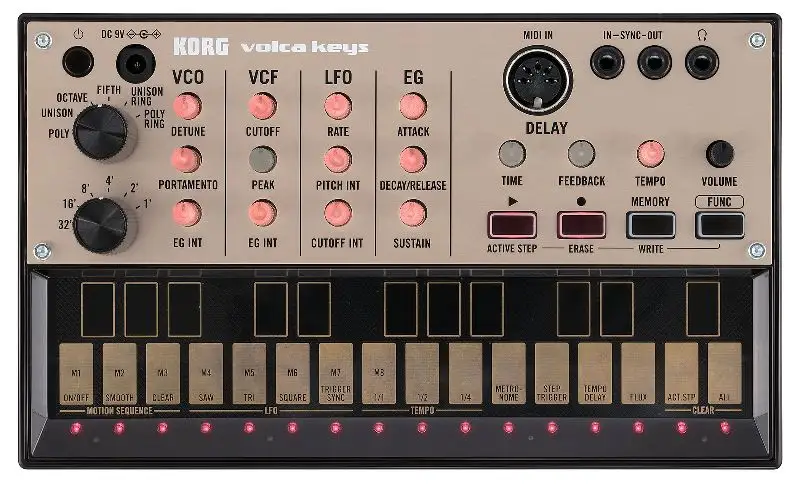 If you want to get your hands on a fun little synthesizer without breaking the bank, look no further than the Korg Volca Keys synth. The Korg Volca series has been around for quite some time at this point, acting as a solid introductory series for those looking to venture into the world of knob twiddling.
With a battery-operated design, you can make music on the go just as easily as you can in the privacy of your own home or sontudio.
The Korg Volca Keys is just one of the many models in this Korg ecosystem, sitting next to the Volca FM, the Volca Beats, the Volca Bass, the Volca Nubass, the Volca Modular, the Volca Mix, and the Volca Sample. While each of these synthesizers sounds great on its own, it is changing them together that can take your possibilities to an entirely different level.
Of course, for now, we'll concern ourselves with the Volca Keys.
This miniature polyphonic analog since comes with a loop sequencer and 27 ribbon keys. As you may expect for the size and the price, it is not one of the most feature-packed synths on the market, nor does it have one of the most complex sound design engines. However, I believe it is one of the most inexpensive and exciting ways to step foot into the world of synthesis.
The Volca Keys delivers plenty of hands-on control possibilities, following the conventional line of subtractive synthesis. Getting started with the basic controls is easier than ever.
Start by twisting the large voice dial to choose how you want to combine the three onboard oscillators — Poly, Fifth, Unison, Unison Ring, and Poly Ring. You can easily establish whether you want to play the oscillators in unison, detune them by certain intervals, apply ring modulation, and more. The synth limits your options without putting a damper on your creativity.
Users even have the ability to fine-tune their sounds using additional parameters like the VCO, the LFO, the VCF, and the EG knobs. As the cherry on top, the Volca Keys offers a nice little delay effect to give your sounds a slight bit of space.
You also have access to a 16-step step sequencer, which you can expand using the active step and overdub functions. The active step function allows you to create unique rhythmic patterns by skipping steps during playback, helping to create more dynamic step sequencer performances, while the overdub function is pretty self-explanatory.
Best of all, the Volca Keys sound engine is absolutely fantastic. Even with its compact size and relatively low price, it sounds larger than life. Of course, compare it to the other synths on this list, and it becomes much easier to see the limitations, though if you decide to link it up to some of the other hardware in the Volca family, you can stay inspired for many years to come.
Pros
Relatively inexpensive
Very intuitive layout
Larger-than-life sound
Cons
Does not come with a MIDI out
7. Arturia Minibrute 2
Looking at the price alone, the Arturia Minibrute 2 certainly qualifies for a beginner synth. However, even as you progress beyond basic synthesis, the 48 CV patchbay and the additional array of complex features on the top panel will keep you interested. When it comes to modular synthesis, the Minibrute 2 offers a fantastic introduction.
I highly recommend this synthesizer to anyone who understands the basics of synthesis, though still feels intrigued by the mystery of modular synthesis.
The Minibrute 2 is quite unusual in many ways, which is interesting considering the fact that Arturia is best known for repurposing classic vintage synths with standard controls into the world of software synths.
Beyond the past day, the top panel of the synth isn't the most remarkable looking. You get numerous sections with dual oscillators, a mixer, an amp, a filter, envelopes, and more. What makes it interesting is the fact that you can blend the waveforms of the primary oscillator while running them to the output simultaneously.
For more intricate sound shaping, you can use the wave type modifier control and the Brute Factor drive knob.
The patchbay comes into play for those with a bit more experience. It allows you to re-route the default signal flow in the synthesizer for a near-limitless array of sound design possibilities. Even once you feel you've unpacked every nook and cranny of this synth, you can sync it up with other pieces of modular gear for more dabbling opportunities.
It was certainly the intention of Arturia to bridge the gap between modular synthesis and traditional synthesis with the Minibrute 2, and I think they did a fantastic job, especially for beginners.
Pros
Bridges the traditional and modular synthesis gap
Intricate sound-shaping possibilities
Compact design
Cons
Can feel a bit complicated for absolute beginners
8. Roland Boutique Series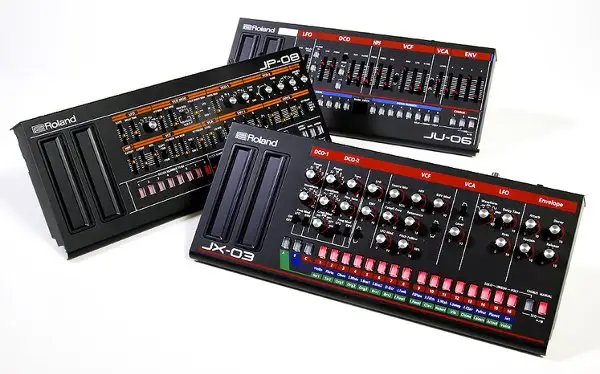 The Roland Boutique series isn't a single hardware synth, but a series of unique, miniature re-releases that pay homage to the iconic line of Roland hardware synths. Even if you're just getting started with synthesis, you no doubt know the significance of the Roland name. Since its inception, Roland has dominated the market with iconic pieces of gear, such as the 303, the 808, the 909, the Juno 8, the Jupiter 8, and more.
Unfortunately, trying to get your hands on one of these vintage synthesizers can run you a few thousand dollars minimum. That's likely why the company decided to roll out its new boutique series in 2015, remaking compact versions of its original gear for a few hundred bucks a pop.
Looking for the hard-hitting sound of an 808? Check out the TR-08. Maybe you want to spacey, sci-fi sound of the Juno 8? if so, pick from one of the models that is seemingly released every couple of months.
All you really need to complete your collection is a K-25m keyboard, which is compatible with each of these synths. While there is certainly a bit of vintage magic missing from these units, having them in Your Arsenal is as close as you're going to get to the original sound of some of the most iconic pieces of gear on the market.
Plus, the fact that I can toss one of these in my bag and make music on the go is a huge selling point.
One of my favorites in the series is the Roland JU-06A.
While it hasn't been around for long, it has already made its name as one of the best classic synth reiterations on the market. The JU-06A is a remake of the classic Juno 6 with an improved sequencer, an additional arpeggiator mode, and a Chord Memory function, helping you cover all of the original capabilities of the Juno 6 with some modern flare.
Pros
Classic vintage sounds
Additional features from the original units
Ultra-portable
Cons
Not true analog synthesis
9. Novation Bass Station II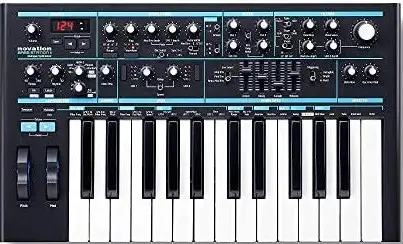 The Novation Bass Station II has become somewhat of a staple in the world of synth-based music production. This analog mono synth with digital controls is packed with power and features, perfect for those who like to tweak their growling and howling bass sounds.
This analog mono synth is an evolution of the classic Novation Bass Station. You'll find dual oscillators, each of which you can tune separately, and an extra bass sub-oscillator for supreme low-end.
While it might seem like a simple and compact synth, there's a lot going on under the hood. I've always felt like it was the best alternative for those who wanted TB-303-style bass lines without spending tons of money on an original.
The Novation Bass Station II is certainly capable of pumping out monstrous bass tones, though you can also use the acid and multi-mode filters to create a wide range of unique leads. For an even more classic acid sound, you can add the included Ring Mod or Noise effects or pump up the Distortion to make things even grimier.
You'll find a sequencer and an arpeggiator to create fun and unique patterns with ease.
When it comes to the overall flexibility of this synth, the smaller size can make it a bit limiting. While I enjoy the compact characteristic overall, I often wish I had more keys to play with. Luckily, the synth uses a 5-pin MIDI and MIDI/USB output, allowing you to connect to a MIDI keyboard or controller of your choosing.
With that said, the keys have a really nice feel to them, both in smoothness and springiness. Beyond that, moving between the different functionalities feels efficient and intuitive, as you don't have to dive through a vast array of menus to get to the endpoint.
There is a reason why it has become one of the most popular monophonic synths on the market today.
Pros
Great for cranking out massive bass sounds
Advanced tools for sound-sculpting
Intuitive workflow
Cons
Small size can feel limiting
10. Yamaha MX49II

If you're looking for a workhorse-style synth that can cover all of the bases, I highly recommend checking out the Yamaha MX49II.
This 49-key digital synth comes with more than 1,000 voice built-in, offering everything from classic strings to pianos to basses to pads. While some might argue that it's more of an electric piano, I'd disagree. With the onboard FM editor and VCM effects module, it's easy to create unique patches far outside of the preset menu.
Compared to some of the other hardware synths on this list, it's a bit less immediate. However, if you're looking at the range of sounds alone, the amount of time you'd spend programming specific patches beats not having certain sonic possibilities at all.
The MX49II is an excellent choice to consider if you need a versatile piece of equipment that covers all of the bases and you're not too concerned with having that "analog" sound.
Pros
Over 1,000 built-in sounds
Onboard FM editor and VCM effects module
Near-endless sonic possibilities
Cons
Many presets sound quite digital
11. Behringer Crave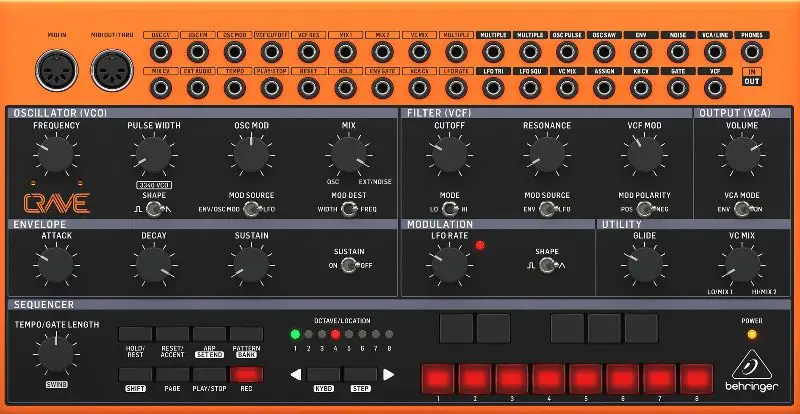 It's hard to find solid recreations of analog synth classics that don't cost an arm and a leg. This is where companies like Behringer excel. As I said before, Behringer has long been under fire for its low-quality copies of iconic hardware synths, though with recent releases like the famed Moog Model D clone and the Neutron semi-modular synthesizer, this German synth manufacturer is rising to the top.
One of the best bang-for-your-buck choices in the current Behringer market is the Crave synthesizer.
This analog synthesizer clearly drew inspiration from the classic Sequential Prophet 5, though has a monophonic design. With that sad, the monophonic characteristic doesn't ever make it feel limited.
You get an arpeggiator, a 32-step sequencer, and a Moog-like 24dB ladder filter, perfect for heavy-handed basses, soaring leads, twinkly arpeggios, and spacey effects.
With a semi-modular design and a simple interface, it's one of the best and most affordable analog synthesizers to get started with.
Pros
Authentic analog sound
Powerful 32-step sequencer
Semi-modular design
Cons
Built-in software is not the most consistent
12. Korg MicroKorg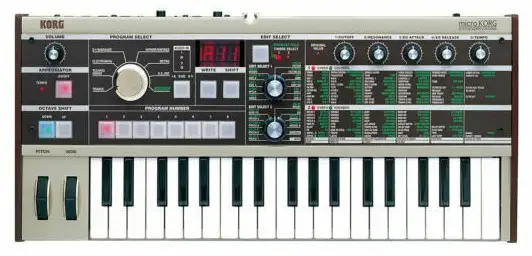 The Korg MicroKorg was one of my very first hardware synths and is still something I use to this day. The synth was released back in 2002, and even after more than two decades, it is still one of the most popular synths for beginners on the market.
It utilizes a sleek 37-key design, a built-in vocoder, and an intuitive arpeggiator. It's truly one of the best virtual analogue synths for use on the stage or in the studio. You'll find 128 presets built-in, which are arranged in genre-specific menus. If there's one thing I'm not too fond of when it comes to the MicroKorg, it's probably the genre-specific organization.
At the time, being able to hop into the "Trance" section to find a popular lead sound for that kind of music may have been helpful, though modern music has transcended genre in many ways. It seems kind of silly at this point. Also, not so sure if I used an "Eletronica" lead on a hip-hop track that I wouldn't rip open a portal to the fourth dimension.
With that said, these presets can be pretty good jumping-off points for tweaking if you're into the menu diving design of this little machine. It may take a bit of time to master the programming style, though once you do, you'll see why there's been two decades of hype surrounding the MicroKorg.
Then, you have the vocoder, which is oh so much fun to use. I could sit in my studio all night firing off lines from some of my favorite Daft Punk tunes. The synth comes with a portable and durable XLR microphone, which you can bend and manipulate to your comfort needs.
Of course, I can't leave this review without mentioning the stylish faux wood panel siding, which makes the synth look like a piece of vintage furniture in your grandma's home. If you make electronic music and you're in the market for a synth that's cool, portable, and fun to program, look no further than the Korg MicroKorg.
Pros
Has a built-in vocoder
Portable design
Stylish faux wood paneling on the sides
Cons
Genre-based presets feel a bit outdated
13. Novation MiniNova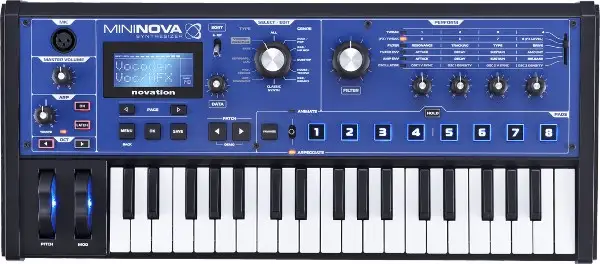 The Novation MiniNova is another synthesizer with a virtual analog design. It comes with 37 miniature keys, an arpeggiator, a vocoder, and a few knobs for easy tweaking.
One of the things I truly love about the MiniNova is the wide selection of built-in effects, which offer a bit more than what you'd find in the MicroKorg. You also get to take advantage of more than double the amount of patch memory, allowing you to store custom sounds.
However, what I think is the main selling point of this synth is the downloadable sound packs, which you can find through the vast community of MiniNova users. These sound packs can be incredibly useful when you don't feel like bothering with the onboard patch editor.
Beyond all of the great synth features, the vocoder is, in my opinion, superior to that of the MicroKorg. That's a totally subjective opinion, though one that has come from many years of using both of these hardware synths!
Pros
The Vocal Tune effect is one of my absolute favorite vocoder effects
USB-powered
Comes with an ultra-handy software editor
Cons
Mini keys can be a bit difficult to play
What To Look For In a Hardware Synth
Type of Synth
There are many things to consider when looking for a hardware synth. For starters, you need to determine what kind of music you want to make and the types of sounds you want to use. The Novation Bass Station, for example, would be a much better choice for someone making bass-heavy music, while the Teenage Engineering OP-1 would be a much better choice for somebody wanting to make sample-based music.
Once you get a general idea of the sounds you want to procure, you can start thinking about what type of synth you're after.
You might only want a monophonic synth, such as a Moog. Or, maybe monophonic synths feel a bit limiting you're looking for a polyphonic synth that you can use to create complex chords and pads.
Do you want that synth to be analog or digital? Digital synths and analog synths are very different in the way they operate and sound.
You may even go ultra-specific and want a synth that has built-in percussion sounds or can be manipulated using a drum machine.
As you can see, there are plenty of questions to ask when looking for the perfect synthesizer. Starting with these basic ones will get you on the right path.
Navigation
Are you somebody that likes tweakability and doesn't mind hitting buttons, turning knobs, and adjusting sliders?
On the other hand, maybe you are somebody that enjoys having lots of presets to work with it is fine with driving through menus to make adjustments.
Before settling on a synthesizer, read up on the way that users navigate through it. The last thing you want is to struggle with the workflow that you're chosen synthesizer provides.
Size
Are you looking for a synthesizer that you can take with you on the go?
In that case, you might look for one that has 25 keys or fewer. A portable synthesizer can be a great choice for an independent touring musician or someone who likes to travel while still having the ability to make music.
On the other hand, 25 keys might feel a bit limiting to you. If you only plan on using your synthesizer at home or in the studio, or you simply want a larger range without playing around with octave buttons, you might consider getting a synth that is 49 keys or larger.
Build
If you're looking at beginner synths, you probably shouldn't expect the best of the best in terms of build quality. With that said, you don't have to get a synth that feels like a toy just because it's budget-friendly.
Look for metal casing, durable rubber knobs, and even with wood paneling. There's something about solid build quality that can make a hardware synth much more fun to play.
You might consider your own experience as a beginner.
Do you already have a musical background playing piano?
If that's the case, you might want to find a synth velocity sensitivity or aftertouch, as it'll give you a much more realistic feel.
Stepping Foot Into the Synth World
A hardware synth is a big investment for many, especially if you're using to paying relatively nothing for software synths. However, the tactile nature and excellent sound quality is highly worth the investment.
Start by checking out some of the synths above to get an idea for what you like!