There's never been a better time to get into music production than the roaring twenties. Reduced manufacturing costs, combined with advances in technology, mean that kitting out your home studio costs less than a trip to see Hamilton on Broadway.
For any computer-based recording process, an audio interface is an essential part of the chain. And for those of you just starting out on your musical journey, there's a whole bunch of cheap audio interfaces out there that will get the job done, without jeopardizing your pizza addiction/kids' college fund.
In this article we're going to look at the best budget audio interfaces on the market today, broken up into two sections - models under $100, and models under $200. You'll get an overview of each audio interface, along with specs, and reasons for and against spending your hard-earned moolah on each model.
Finally, we'll take a look at all the things you should take into consideration when choosing a budget audio interface that's right for you. By the end of this article, you'll be armed with a stack of knowledge, and the confidence to buy the best audio interface for your budget.
Ready? Let's start with budget audio interfaces under $100.
Best Budget Audio Interfaces Under $100
1- Behringer U-Phoria UMC202HD

Quick Look
2 In / 2 Out
24-Bit / 192kHz Resolution
Midas Preamps
48v Phantom Power
Latency-free direct monitoring
The Low-Down
Behringer are well known for delivering up gear to musicians strapped for cash, and this budget USB audio interface is no exception. Delivering pro quality 24 bit / 192 kHz recording capability this audio interface will get sound in and out of your laptop or desktop with the minimum of fuss, and not take up too much valuable desk real estate.
The included USB cable supplies bus power to the interface, the two mix/line combo inputs are housed on the front of the unit, along with a single headphone jack, and two line outputs are found around the back.
The Behringer U-Phoria MC202 is compatible with both Windows and Mac operating systems and works well with pretty much any recording software (Cubase, Garageband, Logic etc). A small handful of users report issues with drivers for Windows, but some nifty Googling will help in that department.
The mic preamps are designed by Midas and deliver great quality audio whether you're using condenser or dynamic mics. There are some reports of the preamps not working well with ribbon mics, due to the low output on this type of mic. A workaround would be to use an external preamp, or a Cloud Lifter, but honestly, if you're dead-set on using a ribbon mic you may be better off saving up for an audio interface that's higher up the price ladder.
The build is (according to Behringer) 'like a tank'. The metal chassis does look sleek, and the controls play nicely with the user - no reports of wobbly knobs, or dysfunctional buttons. Personally, I wouldn't recommend testing the tank theory by throwing it down the stairs, but it's fair to say that most users find the quality of the build pretty sturdy, and suitable for recording on the move.
In terms of added extras, there are better software bundles on other budget audio interfaces within this price range, but if you already have the gubbins you need to record and produce music you could do a lot worse than the Behringer U-Phoria.
Pros & Cons
+ Good quality preamps
+ Durable build quality
- No MIDI connection
- Not a whole lot in the way of bundled software
2- M-Audio M-Track Duo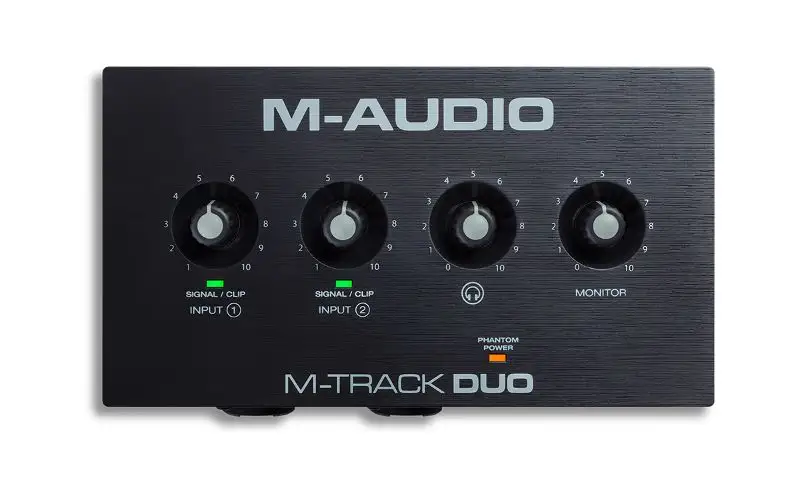 Quick Look
2 In / 2 Out
Direct monitoring feature
48v Phantom Power
The Low-Down
M-Audio are well known for their impressive range of MIDI controllers and audio interfaces, and the M-Track Duo is one of two budget interfaces in their arsenal.
The two TRS/XLR combination inputs on the front of the unit use Crystal preamps, and the switching feature makes it easy to capture great audio quality from both line and instrument level sources, as well as supplying phantom power for condenser mics.
The headphone output has an independent level control, although some users complain about a lack of volume in this department. Worth bearing in mind if you're planning to use the interface in a noisy environment.
For the price you pay the sound quality is actually pretty decent, definitely enough to get you recording music without breaking the bank, or compromising on the quality of sound.
M-Audio claims the sleek form of the M-Track makes it easy to carry around in a backpack or gig bag, but it's worth noting that some users report the build feeling a little light and flimsy. So perhaps don't skateboard while it's in your bag.
All in all, though, the M-Track Duo is one of the best cheap audio interfaces on the market - one of the others being its little brother, the M-Track Solo. If you're looking for a straightforward audio interface that'll give you the basics to record music at an affordable price, this could be your knight in shining armor.
Pros & Cons
+ Small footprint - great for portability
+ Easy to set up and get a recording
- Unit build feels a little cheap
- Some users complain of a weak headphone output
3- IK Multimedia iRig Pre HD iOS Microphone Preamp & Interface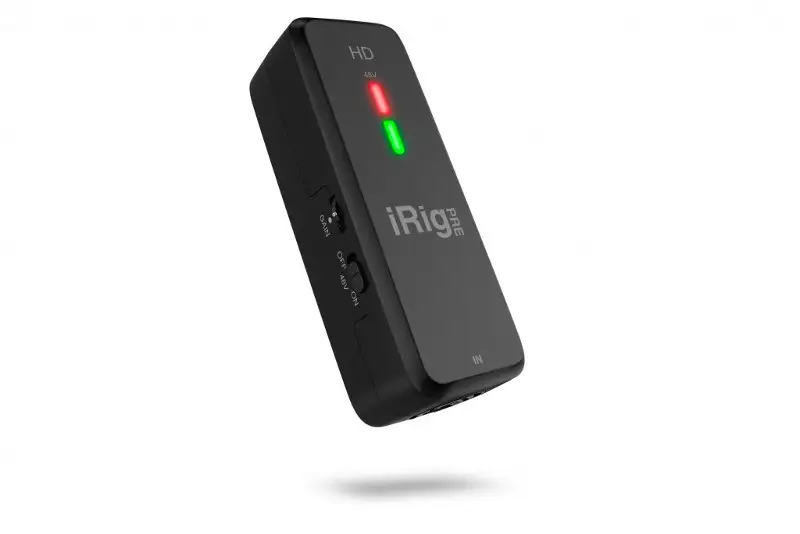 Quick Look
Audio interface for Android & iOs devices
24 bit/96kHz recording resolution
Balanced XLR input
The Low-Down
This is not your regular audio interface that's geared towards studio recording. Rather, the iRig Pre HD is designed specifically for mobile recording, in particular for engineers who prefer to capture on portable devices like tablets and phones.
This audio interface is pretty basic; it has one balanced XLR mic input, with a high-quality preamp, and a phantom power switch on the side for condenser mics. An adjustable gain range control is also on the side of the unit. The gain control can be a little sensitive so adjust with care!
Output from the 1/8" headphone jack is adjusted from the other side of the unit, where you can also switch on (or off) the direct monitoring feature.
The preamp is bus-powered from whichever device you're connected to. The box includes USB-A, USB-C, and lightning to micro USB cables which cover most bases, but if you want to use the +48V phantom power you'll need to pop two AA batteries into the unit.
Recording up to an impressive-for-it's-size 24-bit/96kHz sample rate, this iRig model delivers a clean sound, even when using a dynamic mic. You may have to dial up the gain quite a bit in this situation, but the preamp doesn't add any noise to the signal.
It may not tick all the boxes that other models in this article do, but it's worth listing; if you want high-quality sound with complete portability this is a great budget audio interface.
Pros & Cons
+ Great quality sound for mobile devices
+ Great for live streaming directly from your phone/tablet
- Only one input
- Doesn't always play nice with windows-based software
4- Presonus Audiobox USB96

Quick Look
24 bit/96kHz recording and playback
Two XLR/line inputs
MIDI I/O connectivity
The software bundle includes Ableton Live Lite
The Low-Down
The Audiobox USB 96 from Presonus is a nifty little budget audio interface that just scrapes in under $100 (before taxes), and for the price offers a lot of features.
Two combo inputs record at up to 24 bit/96 kHz, making this an ideal budget interface for singer-songwriters and engineers needing a portable solution to complement their studio setup. Onboard phantom power means you can use condenser microphones for recording, and the 'mixer' knob on the front of the unit enables you to blend the input and output signal of the interface to avoid latency issues when laying down tracks.
The Audiobox is the only audio interface in our sub-$100 category to have MIDI connectivity, which is a huge boon for musicians wanting to remote control their external hardware synths from their DAW.
The software included is one of the better bundles in this price range, including Presonus Studio One Artist, Ableton Live Lite, and a suite of plugins from Studio Magic. In short, everything you need to start making music right off the bat.
All these features, and the less-than-three-figures price point, make the Audiobox a strong contender for the best budget audio interface. For the musician just starting out on their recording journey, this USB audio interface offers plenty of elements that will come in handy as they grow, without having to shell out for a new interface anytime soon.
Pros & Cons
+ Works well with ASIO for windows
+ Great software bundle
- Currently not recommended for use with Apple silicon based Macs
- No instrument pad / Hi-Z input
5- Miditech Audiolink III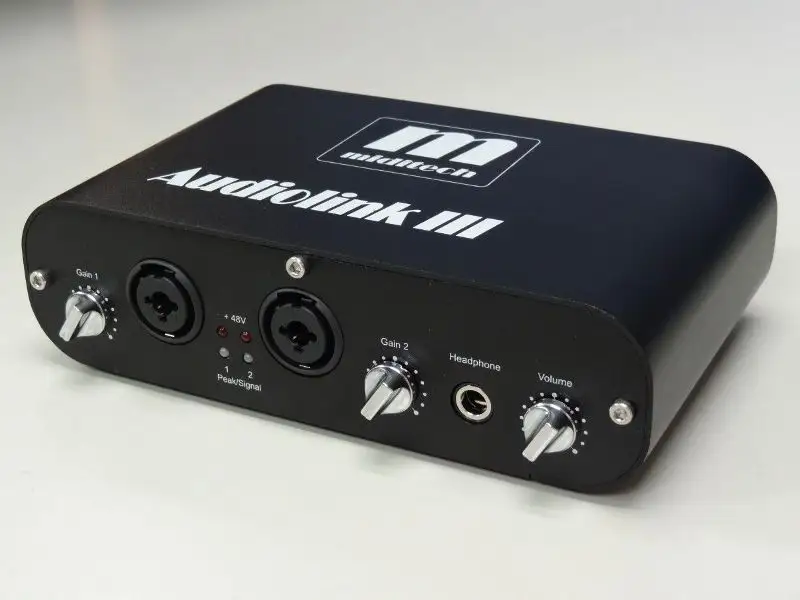 Quick Look
16 Bit / 48kHz recording capability
2 combo inputs & 2 Hi-Z inputs
The Low Down
German company Miditech are, as their name suggests, better known for their MIDI-oriented studio gear. But for whatever reason, they decided to also make a budget audio interface - oddly enough, without any MIDI connection. Perhaps this is to encourage customers to also purchase a MIDI interface from them. Who knows? Anyhoo, I digress.
I decided to put the Audiolink III in the best budget audio interface list because of two features that make it stand out - maybe these are just the features you're looking for.
Firstly, the two combo XLR inputs have independent switchable phantom power, so one input can be used for a condenser mic while the other can play host to a guitar input.
The other interesting addition to this interface is the stereo line inputs on the rear of the unit. It's not clear from the manufacturer's website if these are indeed line-level inputs - but the name would suggest they are. Handy if you're regularly capturing input from a synth, or e-drums, and want to leave the combo inputs open for mics.
Other than that, it's a simple enough unit that works for both Mac and Windows systems. Some users have complained of a low dynamic range when recording with dynamic mics, but again, at this price point, super-high quality recording is not really an option.
Pros & Cons
+ Individual phantom power switches for each input
+ Hi-Z inputs in addition to XLR/Line combo inputs
- No 24 Bit recording
- No zero-latency direct monitoring option
Best Budget Audio Interfaces Under $200
1- Native Instruments Komplete Audio 2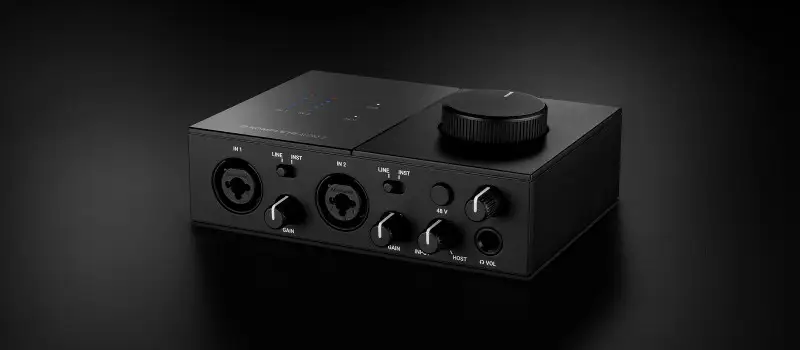 Quick Look
24 Bit / 192kHz recording capability
2 XLR/Line inputs
48V phantom power,
Line/instrument switchable
The Low-Down
The Komplete Audio 2 is one of the babies of the Native Instruments range of interfaces, and while it lacks some of the features of its bigger brothers the price point makes it a great budget audio interface for users who want to record with high-quality audio resolution.
Each of the two inputs on the front of the unit can use phantom power or be switched between instrument input or line-level input. Zero-latency monitoring is disguised as an 'input/host' knob, essentially allowing the user to adjust the balance between the two. Be warned, you'll need to run host recording software in order to make use of this function.
The top of the interface houses a giant volume output knob (me like), and metering LEDs to monitor your input levels. Handy, but perhaps not the best placement for them if you're working from a desk-based home studio.
I'm a big fan of the NI range of instruments, and the bundled software included with this interface is a great entry-level offering for the newcomer to NI. If you already own some (or all) of the NI plugins you might want to look at other interfaces that carry more of the features you need.
Pros & Cons
+ Great bundled software included
+ High-resolution recording quality
- No support for anything below Windows 10
- No MIDI connections
2- Focusrite Scarlett Solo 3rd Gen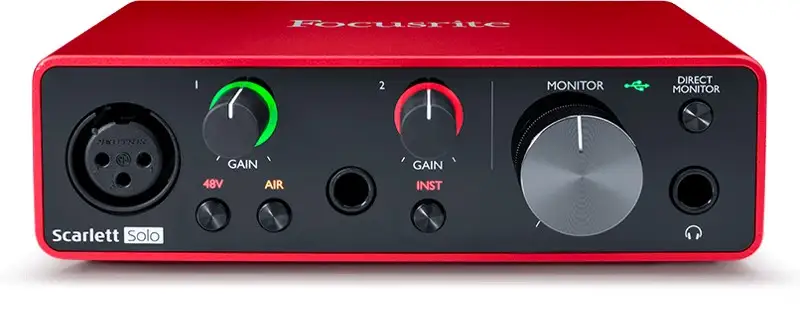 Quick Look
24 bit / 192 kHz recording resolution
1 mic, 1 instrument input
iOs compatibility (iPad Pro)
Low latency monitoring with native plugins
The Low-Down
The Focusrite Scarlett Solo is a simple audio interface at an affordable price, ideal for solo artists, singer-songwriters, and dare I say it- even podcasters, who want the sound of some of the best audio interfaces without as many knobs and buttons.
In fact, setting up the Scarlett Solo is a piece of cake, providing you RTFM follow the instructions. Make sure you install the software before plugging in the unit, otherwise you'll unleash great gnashing of teeth as your computer tries to figure out drivers etc. to make everything work. Once you've installed the software, you can plug in the interface and away you go.
One XLR input and one line/instrument input allow the user to record up to two channels simultaneously, at an impressive sample rate (192kHz is not to be scoffed at). The mic channel can be sweetened using Focusrite's magic 'Air' button, which adds high-end detail to the signal.
Low latency monitoring can be achieved using native plugins included with the unit, so you get to have your musical cake and eat it, so to speak - listen to the lush reverb on your voice, or the shimmering delays on your guitar, as you record. If that all seems a bit much you can simply hit the direct monitor button to get a clean sound for monitoring.
Speaking of lush reverbs, the bundled software that comes with this budget audio interface is pretty sweet. In addition to a three-month subscription to Pro Tools, users also get the full Focusrite Red plugin suite, with access to new plugins and offers every few months.
For a musician just beginning to kit out their recording studio, this would be an excellent choice for a budget audio interface, giving you great quality recording capability and a whole bunch of software gadgets to beef up your productions.
Pros & Cons
+ Excellent bundled software
+ Transparent sound quality
- Only one mic input
- Not USB 3.0 compatible
3- Presonus Studio 24c
Quick Look
2 In/2 Out
MIDI In/Out Connections
24 bit / 192 kHz resolution
LED input/ output monitoring
Low latency monitoring
The Low Down
The second offering from Presonus in our rundown of best budget audio interfaces is the Presonus Studio 24C. It comes in just under $200 (unless you can find it on sale), but even so, its wealth of features and bundled software make it one of the best audio interfaces for a project studio just starting out.
XMAX-L mic preamps power the two mic/line inputs giving a really clear sound at an impressively high resolution. Monitoring with low latency can be achieved by using the 'Mixer' knob to blend the input and playback signal, but this only gives you a (summed) mono signal, which some users may find hard to work with.
Around the back of the unit is the single headphone output, stereo line outputs, and 5-pin MIDI in/out connections. These are always worth having on any audio interface (IMHO), so the fact you can get them on a budget model is a big plus.
The bundled software is very much the same as the earlier Presonus model we looked at; Studio One Artist, and the Studio Magic plug-in suite. If you're looking for the best budget audio interface that includes everything a budding producer needs the Presonus Studio 24C is the one!
Pros & Cons
+ 5-pin MIDI ports are always useful
+ Impressive feature set and included software for the price
+ Compatible with Apple Silicon-based Macs
- Direct monitoring mono only
- One additional headphone output would be nice for collaborations
4- Universal Audio Volt 2 Audio Interface

Quick Look
2 in / 2 out
24 bit / 192 kHz resolution
MIDI in/out connections
Optional 5V DC power supply
The Low Down
Universal Audio make a lot of high-end audio gear, and their venture into the budget range includes the Volt 1 and Volt 2. As you may have guessed, the Volt 1 only has one input. For $50 more you can get twice as much recording power in your pocket with the Volt 2. I will say that that is the only difference between the two, so if UA is what you have your heart set on and you can't stump for a Volt 2, the Volt 1 will also do the job.
The two inputs can be used with mics (dynamic and condensers), or you can plug in your musical instruments and play away. Either way, the mic/line preamps can be sweetened with the 'vintage' buttons, which add a tube-like saturation to the signal. Professional results on a budget.
In addition to sounding great, the Volt boasts a stylish, rugged build quality, and ships with a tidy software package that includes recording software, instruments, and effects from some big names.
Pros & Cons
+ Excellent audio quality at a budget, from a trusted company
+ Good build quality and presentation
+ Vintage preamp mode for tube-like saturation
- Phantom power switch resets when powering on
5- Audient iD4 MKII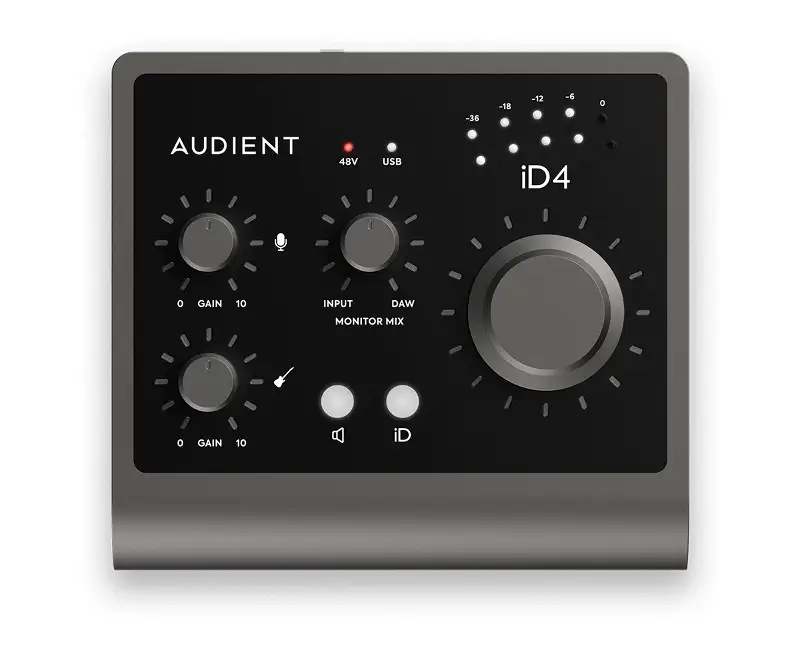 Quick Look
24 bit / 96kHz resolution
1 mic/line input (combo), 1 1/4" instrument line in
Great dynamic range
USB 3.0 connectivity for ultra-fast speeds
The Low Down
This budget audio interface from Audient just scrapes into our sub-$200 category, but with its USB 3.0 data transfer speeds, low noise floor, and superior quality sound (not to mention its sleek design) it's definitely worth a mention.
While the unit is listed as a 2 in/2out model, only one of the inputs supports an XLR connection (the other is a JFET 1/4" jack for instruments). Depending on what you're planning on recording this could be a deal-breaker. On the plus side however there are dual headphone outputs, both driven by a powerful headphone amp, so you'll never struggle to get the headroom you need in your monitor mix (but watch your ears, kids).
One feature I like on the iD4 is the big virtual scroll wheel, which can be assigned to control a variety of onscreen parameters. While a useful feature for some (especially if you use a lot of automation in your productions), others may find it niggly since there's no visual feedback as to where your settings are at when you come back to a session.
For the solo musician who's already settled in with their recording software and just needs great quality sound for under $200, this offering from Audient could well be the best budget audio interface.
Pros & Cons
+ Excellent quality sound
+ 2 headphone outputs
+ Low noise floor
+ Audio loopback available
- Only one mic input
- 'Virtual' knob resets on start-up, so no physical cues to settings
Buyer's Guide
It's all very well reading about all the affordable audio interfaces on the market, but with so many options out there, just what exactly should you be looking for?
This comprehensive buyer's guide will list some of the things you should take into consideration when choosing an audio interface for your recording studio. Each musician's needs will be different, so think carefully about what you are planning to do with your music.
Price
This may seem a little obvious, but even if you're looking to get the best budget audio interface you still need to know what your budget actually is. So before you even start looking, decide what you can afford, and limit your search to audio interfaces within that range.
Connectivity
Next up, think about how you're going to use the interface. Hook it up to a laptop? A phone? A tablet? Most audio interfaces at this price point use a USB connection and supply bus power. If you want to record vocals in (say) Garageband on your iPad you'll need an interface that's class-compliant, and may well need to shell out for an additional adapter to connect.
Ins/Outs
You'll need to bear in mind what you'll be plugging into your shiny new audio interface. This covers many types of connections - mic and instrument inputs, as well as midi connectivity, and headphone and monitor outputs.
In
If you're recording vocals (or an instrument that requires miking up) you'll need at least one XLR input on the interface. If you're using a dynamic mic you're golden, but remember that a condenser microphone requires phantom power, so if that is your weapon of choice make sure the audio interfaces you're looking at offer that option - to be honest, most do, but it's worth double-checking.
If you plan to use musical instruments, like the guitar you shred so effortlessly, you'll want an instrument input. If you want to record guitar and vocals at the same time, you'll need multiple inputs in order to do this.
Most modern models combine an XLR and instrument input as one connection - commonly known as a combo input. Be aware that often on budget audio interfaces the phantom power is delivered to all inputs and can't be tailored individually.
If you're planning on using a keyboard workstation that doesn't offer USB connectivity to input MIDI data, you'll want a MIDI in connection to your audio interface. You could buy a separate MIDI interface, but that's one more USB slot taken, and another set of drivers to mess things up.
Out
On budget audio interfaces the outputs typically are a set of stereo line outs that you can hook up to your studio monitors. At this price range, you're not likely to get additional options for monitor outputs, but hey, a turkey day sale could prove me wrong. And for most artists working on a budget, one set of stereo outputs is adequate. If you're a DJ you might be looking for a double stereo line out, and RCA connectivity, so you can have one feed for the audience, and one for lining up the next cue.
If you want to harness the power of your hardware synths in your digital audio workstation your audio interface will need a MIDI out connection. If you're using a MIDI keyboard controller that offers MIDI in/out you may be able to work around this by hooking up your hardware to the MIDI out of the keyboard controller.
The other form of output you'll DEFINITELY need if you're recording live instruments is a headphone output. No worthy audio interface, budget or otherwise, comes without at least one of these, but it's handy to have a separate level control for your headphones.
Shake It All About
Just kidding. But there are more things to bear in mind when choosing an audio interface. We are not done yet!
Recording Resolution
As the saying goes, garbage in, garbage out. When you record through an audio interface, your analog signal gets converted into digital data, and this is affected by the sample and bit rate resolution. The higher the number, the better the quality. So, even if you're on a budget try to aim for the highest possible sample and bit rate resolution you can get within the price bracket. Even the cheapest models offer a minimum of 24 bit/48kHz, which is the minimum you should aim for. Just because you're on a budget doesn't mean you can't get high-quality audio.
Latency and Monitoring
This is a particularly important aspect if you're planning on recording vocals. Nobody likes recording with the dreaded latency effect (a delay that occurs as the signal is processed inside your digital audio workstation and sent back to the audio interface). You'll want an interface that offers a zero-latency monitoring feature to avoid this. Often this is a simple switch, or dial, that routes some of the incoming signals directly to the output thus avoiding the lag of processing.
The downside of zero latency is that you don't get to experience any effects that are happening inside your DAW. If this is critical for you (for instance, if you're using a virtual amp stack with your guitar) you'll want a unit that offers low latency as a compromise.
Durability and Portability
Where is your audio interface going to live? If it's just going to sit on your desk as a permanent studio fixture it doesn't necessarily have to be sturdily built. If you're a mobile musician though, you may want to take into consideration the chassis build to see if it's designed to be on the road. Consider also the weight of the unit; a laptop is heavy enough without adding several extra pounds to your backpack load.
You don't want knobs falling off after a couple of months of hard use either. If you're going to be in the studio every day, tweaking settings, changing gain, and switching the phantom power on and off, you'll want a durable build quality to make your investment last.
Bundled Software
Finally, nearly every audio interface comes with a software package. If you're starting from scratch and need recording software and virtual instruments, it might pay you to go a bit higher up the price scale and get an audio interface that includes these items so you can literally start recording as soon as you open the box.
Check to see what the software bundle is for any interfaces you've got your eye on. Make sure you're not doubling up on anything if possible. And if you have all the software you need, compare models to see if you can trade off a giant software bundle for premium quality audio.
Conclusion
There's a lot to unpack here, but we hope you've found this guide to the best budget audio interface useful in your quest to make music. Now go forth, and set the world on fire with your tunes!