Have you recently been considering embarking on your music production journey, but don't know where to begin?
With so many options out there, it can definitely feel a bit overwhelming at first glance. The endless ocean of DAWs, plug-ins, etc. can ironically make you feel like a fish out of water, completely lost and unfamiliar. No worries, we've got you covered.
Today we'll be discussing the best digital audio workstations for beginners. Whether you're a complete beginner who's in need of being pointed in the right direction or someone who's been dabbling a little bit, there's something in this article for you.
Worried about your operating system? Mac users and PC users alike will find something of value here as well.
Let's begin with the basics...
What is a DAW?
A digital audio workstation (DAW) is exactly what the name implies. It is the central hub where audio can be worked on digitally, combining many elements of the recording process into a piece of software.
Traditionally, music was created in various stages, involving many different parts, sometimes even taking place in different locations. Upon finishing the recording aspect, producers and artists would then have to send the material to be mixed then later mastered, and finally pressed and distributed. Record labels would typically spend a fortune on albums from conception to completion.
DAW software simplifies this chain by allowing you to perform all of those tasks within the software itself. This is also known as being 'in-the-box'.
You're able to record, mix, edit audio tracks, master, sequence and more all within this DAW. Most times, all that is needed to create amazing music nowadays is an audio interface and your passion.
The convenience of a digital audio workstation allows you to make music at your pace, without having to spend a fortune at big name recording studios.
However, keep in mind that some DAWs can be relatively pricey, especially for someone who's just beginning, so figure out your purpose for purchasing well beforehand. Fret not, as some DAWs come with a free version or trial period to get you started.
So ask yourself this simple question...
Why a DAW?
There are many DAWs out there with many different capabilities, so think about the role you'd like to play.
Are you someone who's interested in electronic music production or do you want to tap into the audio engineering side?
Or maybe you'd like to just be an artist and need the best DAW software to capture your audio recordings.
Knowing the role you'd love to play will further narrow down your choice when selecting your DAW.
Speaking from experience, when starting out there's no absolute best DAW for beginners, only the right DAW software for you to get the job done. It really comes down to personal preference until you're knowledgeable and comfortable enough to later expand purposefully.
Mastering your tools is essential for growth and can't be stated enough.
1. Garageband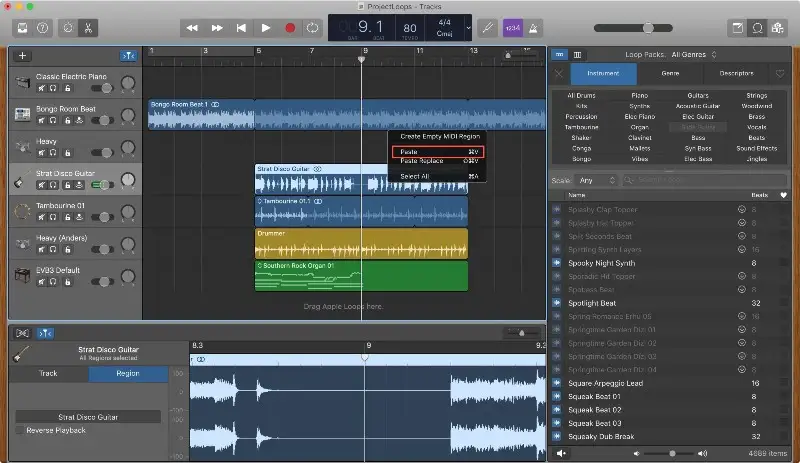 Our first DAW for beginners is Apple's Garageband. It is estimated that there are at least 1.8 billion Apple users in the world. Seeing that Garageband comes bundled for free with every Apple product, this means that nearly 2 billion people have instant access to recording software.
Garageband is a very fitting name in that the approach resembles that of a novice jam session. Imagine a session with a few buddies trying out new ideas in a sort of no-rules kind of vibe. The cool thing is, you're able to capture that same essence almost like a one man band man/woman.
The user interface is very simple, allowing you to dive right in. You're able to plug in your mic or guitar and record audio as well as load up midi tracks, selecting from a handful of virtual instruments. Even if you don't have a midi keyboard, you're still able to jam out with a virtual keyboard.
It has really proven itself to be an excellent beginner friendly DAW, especially those who need to get their ideas out quickly. Songwriters can enjoy thousands of loops of various genres, powerful synths (which are tweakable also) and a cool 'Drummer' track which functions as your own session drummer.
Garageband comes with all the essential tools you need to complete your songs, offering up to 255 audio tracks and a handful of effects like visual eq, compression, and reverb.
Making music should be a fun and pressure free process, and this is where Garageband shines.
More info on Garageband here
Pricing
Free
Pros
Powerful entry level workflow
Available on all iOS and Mac devices for free
Cons
Mac Os ONLY
2. Logic Pro X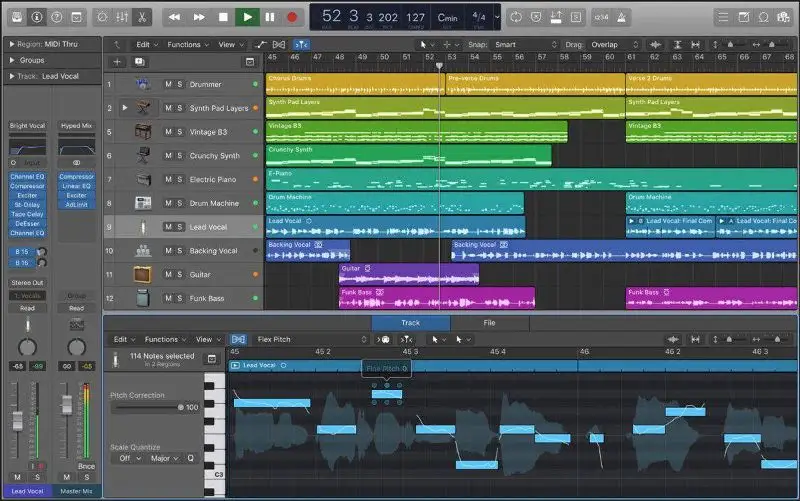 Our next best DAW for beginners is Apple Logic Pro X. Assuming that Garageband may have piqued your interest, Apple's flagship DAW is simply a powerhouse. For those who may have experimented with Garageband already, Logic Pro offers everything included in it's predecessor plus more.
It's extremely feature rich, praised for it's sound quality and editing capabilities. I sometimes like to think of Logic as a friendly rival to Avid Pro Tools, offering much of the same functions but definitely created with music producers in mind.
Logic has an intuitive interface, sleek with the ability to color code and group tracks (Track Stack) for better organization when working.
Logic features one of the best sample libraries, coming bundled with over 70 GB of samples, virtual instruments and loops. I'd say that's more than enough for beginner producers.
It allows you to get a taste of instruments and loops from virtually every genre across the board, from Rock to R&B and even to Cinematic material. Also for up-and-coming composers, Logic has a nice scoring feature which automatically converts your midi tracks to a music score. No pencil required.
The latest version of this DAW features a cool 'Drum Machine Designer' for those who love to build and tweak custom drums. The ' Quick Sampler ' and 'Drum Synth' modules are built into it for advanced editing capabilities.
Logic may or may not have a bit of a learning curve to a complete novice. However I'd say once an artist experiments and finds their creative workflow, they'll find more than enough within Logic to satisfy their creative urges.
More info here
Pricing
$199.99
Free trial available
Pros
70 GB sound library
Alchemy VST synth
Cons
Mac Only
3. Ableton Live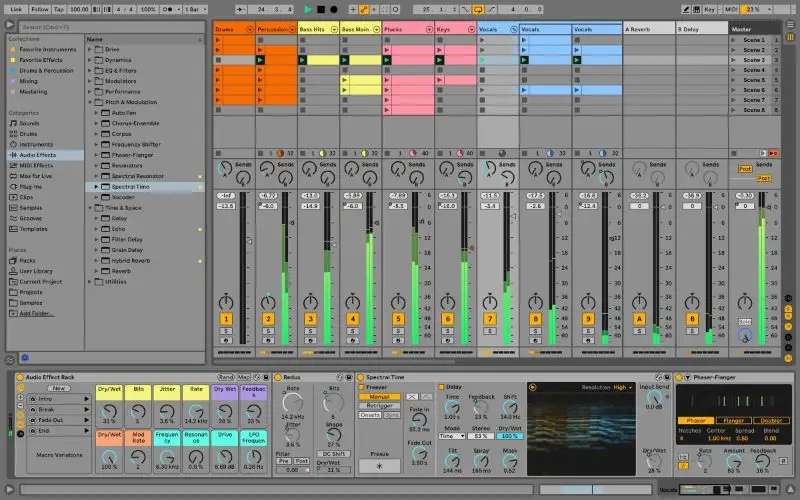 Coming in at the number 3 spot on our list of best DAWs for beginners is Ableton Live. When it comes to electronic music production, Ableton really shines. It currently is my DAW of choice for various reasons.
I personally love this DAW for it's powerful sample editor. It has a cool warp feature which allows you to time stretch and manipulate samples to create something interesting, all without compromising sound quality.
Hip hop producers as well as electronic producers will really enjoy the MIDI sequencing and the ability to automate nearly everything. This is sure to keep your compositions interesting.
Upon first glance, Ableton greets you with its 'Session View' which serves as a quick way to get a myriad of ideas out. Session view functions using something called clips and scenes. In a sense it will eventually look like a giant wall of sound, with material recorded in various tracks with different takes.
After experimenting, you have the ability to mix and match these different clips together to build your track as you see fit.
You later can take these clips and transfer them to the 'Arrangement' section to lay your track out horizontally and further build. This has proven to be an extremely intuitive workflow, enabling me to work fast and worry about arranging later.
Beginner producers will love the fact that this digital audio workstation features an unlimited undo function. So have no fear of failure when you're creating.
The name 'Live' also reveals that Ableton is great for, you guessed it, live performance. The bundled effects such as the Looper can really spice things up if you're looking to perform.
Ableton Live comes in three versions respectively titled intro, standard, and suite, each increasing functionality as you upgrade.
The intro edition comes in at $99, featuring a 5 GB sound library with around 1500 sounds, 4 software instruments, 21 audio effects, and 8 midi effects.
All in all, Live is a powerful DAW, featuring more than enough to get started as well as an interesting approach to music making. Possibilities are nearly endless!
Available for Mac/PC
More info on Ableton here .
Pricing
$99 Intro Edition
Pros
5 GB sound library
Session view workflow
Cons
Slight learning curve
4. FL Studio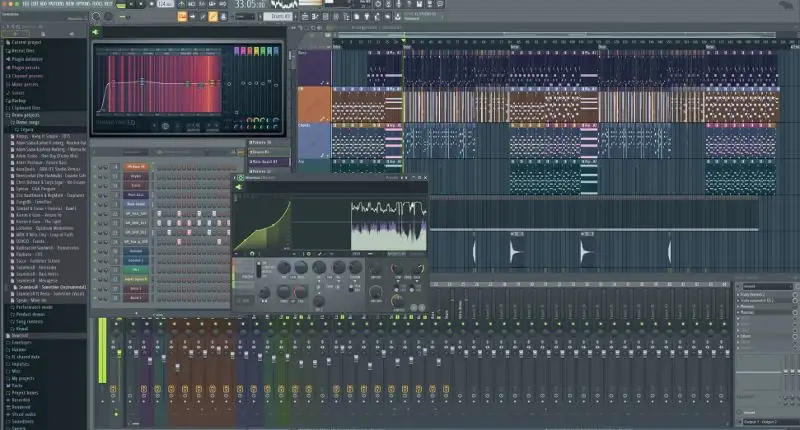 Fruity Loops (Fl Studio) was quite literally my very first DAW, in which I downloaded the trial and the rest became history. The ease of which you can create beats is almost second to none. I found myself making around 5+ beats per day.
Initially created for PC users over 20 years ago (Mac now supported), FL Studio was released with one word in mind - simplicity. The click-style step sequencer has made itself famous to many hip hop bedroom producers, although MIDI keyboards are supported as well. The step-sequencer in conjunction with the piano roll has the potential to generate a speedy workflow.
The entry level version of FL Studio comes with 83 instruments and effects as well as all of the samples and loops included in the higher tier versions.
It's worth mentioning that FL Studio features a powerful glitch FX module named 'Gross Beat'. This FX plugin is perfect for real-time or rendered gating, glitch, repeat, scratching and stutter performances. It really adds a different dimension to samples or even your track as a whole.
I'd like to add that the stock sound library isn't as rich sounding as other DAWs and the audio recording capabilities aren't nearly as efficient as other digital audio workstations.
If that isn't a deal breaker, I'd say that FL Studio is one of the best DAWs for electronic based music production. Jump right in by simply dragging and dropping your samples in and begin clicking to find a groove.
Available for PC/Mac
More info on FL Studio here
Pricing
'Fruity' Intro $99
Pros
Fast workflow, build patterns effortlessly
Cons
Stock samples aren't full sounding
5. Bandlab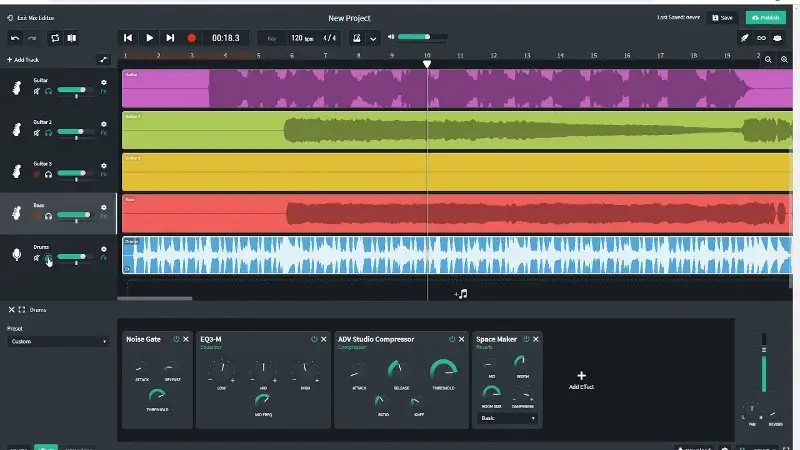 Our next best DAW for beginners is Bandlab which markets itself as being truly unlimited. It is an entirely free DAW which gives you access to unlimited tracks, unlimited projects. unlimited cloud storage and a community of fellow musicians to further inspiration.
The Bandlab UI is definitely geared towards beginners, as you'll see that everything you need to get started is within reach. Available for use on your phone or in your browser, Bandlab is truly a virtual studio in your pocket.
Don't be fooled by it's free price tag, as Bandlab offers many tools, rivaling full fledged DAWs. The only deciding factor is the creativity you bring to it. I had a bit of fun fooling around with the drum machines module, adding saturation effects and bass boost for interesting results.
Out of the gate Bandlab comes with over 10,000 royalty free loops, 200+ free MIDI compatible virtual instruments, and universal effects that work cross-platform.
Seeing that all of your projects are stored within unlimited cloud space, you'll never lose a step as you can take your compositions on the road with ease. There's nothing like being able to get your ideas out whenever inspiration strikes, and this DAW fills that void.
As a beginner I understand how important it is to sometimes have a second opinion. If you're in need of an extra push, Bandlab affords you the opportunity to collaborate with other creatives in real time. Bounce ideas off of each other until you reach satisfaction and later share the song directly within the platform.
Lastly, the tip jar function allows patrons to directly support you and your work, with you receiving 100% of the tips. Not a bad way to encourage artists to keep going I'd say.
Bandlab gives you the ability to produce music without limitations, something that seems to be a bit a breath of fresh air when looking to begin your music journey.
Available for iOS/Android/Mac/PC/Chromebook
More info here
Pricing
Free
Pros
Unlimited tracks/projects/cloud storage
Cons
iOS app needs a bit of work
6. Presonus Studio One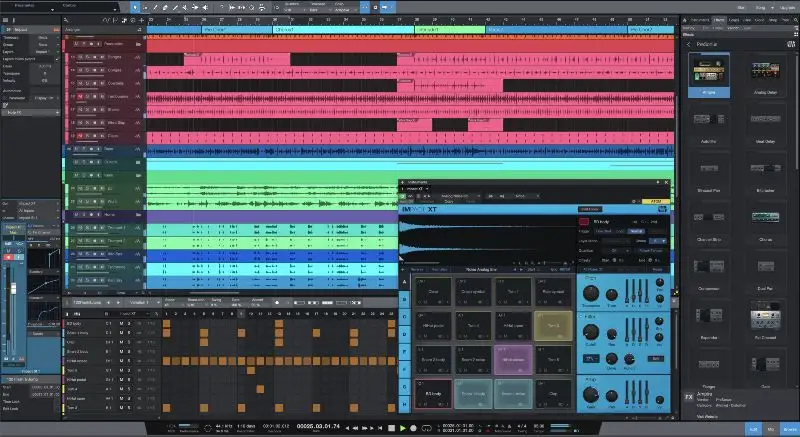 Presonus Studio One is the would-be composer's dream. Featuring all the essentials as any other DAW from VST plugin support to the ability to record live instruments, Studio One really shines when it comes to music notation. It's integrated with Presonus Notion software which converts your midi files to printed scores.
Studio One comes with unlimited audio and instrument tracks, virtual instruments, buses, and FX channels. It also features five powerful virtual instruments including: Mai Tai polyphonic analog modeling synthesizer; Impact XT drum sampler; Presence XT virtual sample-player; Mojito monophonic subtractive synthesizer; and Sample One XT live sampler.
Presonus Studio One also claims to have invented the drag-and-drop style workflow that most DAWs feature, enabling you to drag samples, effects, virtual instruments, etc. into your session. If you're fan of this style of music making, you'll feel right at home.
Analog audio engineers who may be beginning digitally, will love the Studio One mix engine, as it mimics the analog circuitry of mixing consoles.
Side note, Presonus also makes the 'Audiobox', one of the first audio interfaces I ever owned and it serves as a perfect companion to this DAW software. Know that nearly every DAW is going to require at least an interface to get the most out of it, as you'll be able to record vocals and live instruments smoother. In fact, there are some bundles which feature the Audiobox interface and the artist version of Studio One together.
Available for Windows/Mac
More info here
Pricing
Prime Version - Free
Artist Version - $99.95
Pros
The UI is gorgeous
64 Bit recording
Cons
Requires subscription Presonus Sphere for access to more sounds and features
7. Cubase Elements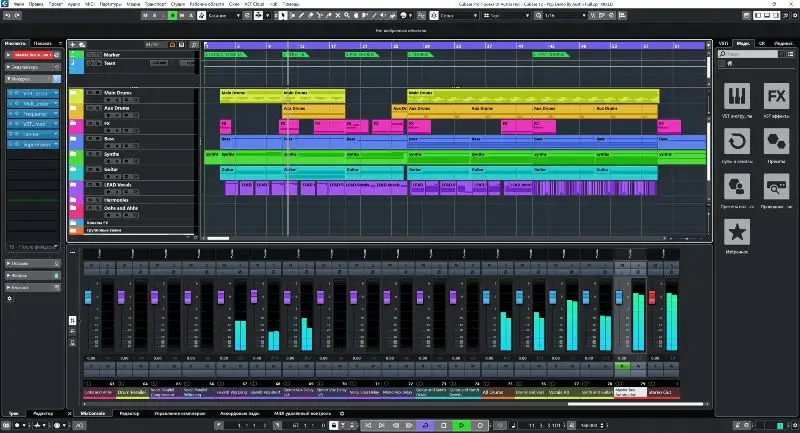 Our final best DAW for beginners is Steinberg Cubase Elements which needs no introduction. Steinberg has been a pioneer in the audio world for a very long time now, and its flagship product doesn't fail to deliver.
This digital audio workstation features every single tool you need to take your track from start to finish. Whether it's a drum machine or punch in/out recording capabilities, all the way to a great sounding mixer, Cubase Elements has you covered. You're also able to warp samples similar to Ableton.
Music production is made easy with its Sampler Track which lets you import your own samples and play them chromatically and manipulate them with the onboard filters, controls and two LFOs.
Elements comes with up 64 MIDI tracks, 48 audio tracks, and 3 VST instruments for use. It also comes with around 1000 sounds/samples.
More info on Cubase Elements here
Pricing
$99.99
Pros
Industry standard DAW with many creative tools
Cons
Very few
Conclusion
Hopefully our quest to help you find the best DAW for beginners has either given you inspiration to immediately grab one or at the least narrowed down your search.
Remember that in the beginning, making music should be all about experimentation and fun, until your skills see that you need to expand and upgrade. Don't think too hard, just assess your options, make a choice and begin creating! The sooner you dive in, the sooner you'll begin to develop your unique workflow. As a beginner you want to create music on your own terms and a DAW allows you to do just that. Have fun!