Are you a Windows user who's interested in production? Stick around because we'll be looking at the best DAW for Windows. Except for Apple's Logic Pro, most modern DAWs have cross-platform capabilities, so finding one suitable for you shouldn't be a problem.
What is a DAW?
Simply put, a DAW stands for a digital audio workstation, and it's a piece of software that allows you to record, edit, and mix your music. DAW software comes complete with everything a musician needs to take their tracks from zero to completion.
Things To Consider When Choosing a Windows DAW
When selecting a DAW there are a few factors to keep in mind such as the price, sound library size, and/or your intended use. Knowing the role you'd like to play helps also, as there are many DAW options out there that cater to certain niches. An engineer may have different needs than, say, a songwriter or musician.
Equally important, if you're just a beginner, you obviously wouldn't need a program with a steep learning curve. And respectively, a professional would be looking for recording software with a few extra bells and whistles to help smooth out their process.
These are just a few thoughts to consider when deciding on the best DAW software for you and your workflow.
The Best DAWs for Windows
1. Avid Pro Tools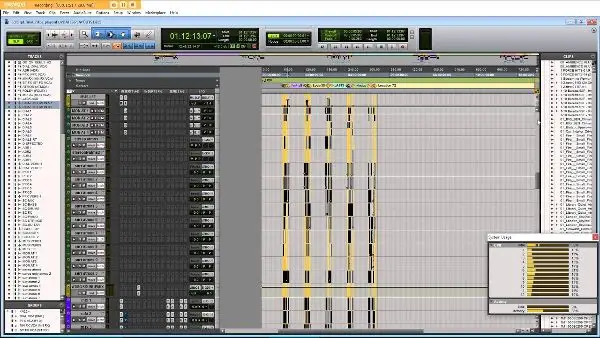 When it comes to digital audio workstations, Pro Tools leads the way in terms of pure professionalism. Pro Tools is the industry standard for music software, due to its high-quality editing tools and nearly endless capabilities. Seeing that it's featured in recording studios across the globe, I'm pretty confident that you or someone you know has heard of Pro Tools.
It features excellent multitrack recording, with up to 256 simultaneous recording inputs for the Pro tools ultimate version, and up to 16 for the basic version.
Professional engineers feel right at home with Pro Tools due to its renowned mixing environment and audio editing. The bussing/aux track combo really opens up possibilities, and the smart tool allows you to sculpt your recordings easily.
One thing about Windows in comparison with Mac is the ability to further upgrade your hardware after purchasing. You're able to continue to expand on RAM and HD space, giving you more power, speed, and space to work with. Pro Tools can make use of this power in its 'Pro Tools | HD' systems, designed for those working with large amounts of audio, such as in post-production.
The latest version of Pro Tools comes bundled with Celemony Melodyne 5 essential, a dynamite vocal pitch correction tool.
As far as virtual instruments are concerned, the software comes with 8 powerful plugins such as a Mini Grand piano, a Drum machine, and a vacuum tube synthesizer to name a few.
There are also tons of professional audio processing effects plugins to experiment with, like vintage reverb and delays, all the way to reel tape saturation.
You're also able to keep projects in sync with avid cloud collaboration which allows you to work on sessions remotely. The old days of emailing projects to fellow artists are a thing of the past.
One of the main downsides to this software is the lack of support for VST plugins, as you'll be prompted to use its native AAX format.
All in all Avid Pro Tools is one of the industry leaders in DAW software, and seeing that it's compatible with PC, by default that makes it one of the best pieces of DAW software for Windows.
More Info Here
Pricing
Artist - $9.99/Month
Studio - $31.99/Month
Flex - $99.99/Month
Features
Professional recording software
Elastic audio
Fast and Fluid Comping
2. Cakewalk by Bandlab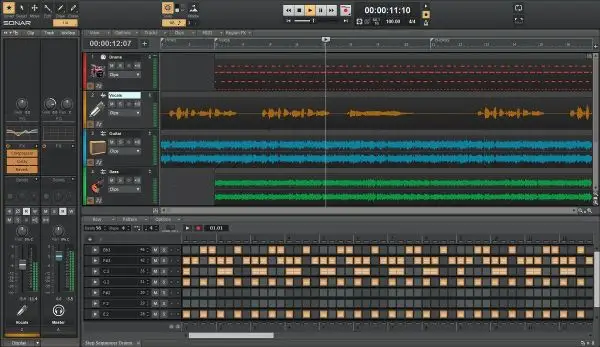 If you've been searching for a budget-friendly DAW for Windows, Cakewalk by Bandlab may be for you. It's a complete DAW for windows packed with everything you need for your productions such as convolution reverbs, analog modeling, and even built-in mastering tools. The best part about all of this is the fact that Cakewalk is entirely free. That's right, it costs zero dollars.
You get nearly all the features of the most professional DAWs packed into a 100% free DAW. Cakewalk by Bandlab continues the Sonar DAW legacy from years ago.
Cakewalk has a 64-bit mix engine which gives you clean and accurate mixes, as well as VST3 support. Unlimited audio and midi track count also ensure your creativity is never capped.
The UI itself is clean and pretty simple to navigate. It's also semi-customizable, giving you the ability to move the entire transport bar from the bottom to the top, or vice versa. The GUIs of the audio FX plugins are done nicely as well, with most of them bearing a vintage look.
The software comes complete with a piano roll, drum cell sequencer, score editor, and automation tools. It's also expandable via sample packs containing loops of various genres.
Professional production doesn't necessarily need to be expensive, and Cakewalk sees to it that the average producer has everything they need within reach, all under a free price tag.
More Info Here
Pricing
Features
Full-fledged DAW that's completely free
64-Bit Mix Engine
Unlimited Track Count
3. Image line FL Studio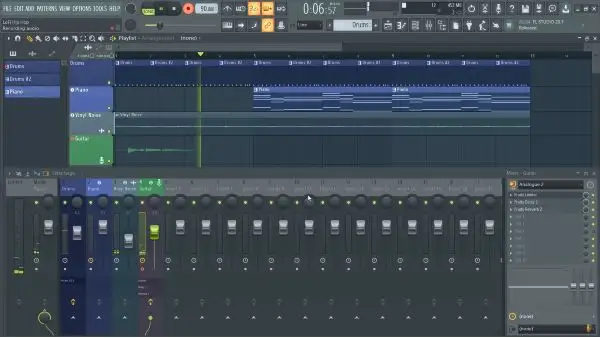 FL Studio is sure to ring bells in studios everywhere, from the most extensive down to the smallest bedrooms. Producers of electronic music rave about it due to its ease of use, more specifically its midi sequencing.
FL Studio (Fruity Loops) was originally a PC exclusive, up until recent years when it finally expanded onto the Mac platform.
The feature that makes FL stand out is its sequencer and piano roll combo. Music producers can create drum patterns filled with fast triplet hi-hat rolls in a breeze.
In addition to the usual things you can edit once in the piano roll such as velocity, note length, etc., FL has a cool ghost note feature that allows you to faintly see the midi data of other tracks in your song.
This speeds up the workflow, enabling you to create counter melodies and rhythms without having to switch to those respective tracks.
Although it may appear to be simplistic, it's quite powerful under the hood, coming bundled with software instruments such as 'Flex', 'Gross Beat' and 'DirectWave'. The assortment of mixing plugins is sure to help you completely mix your tracks from beginning to end as well.
I would add though that although the stock drum samples may be what you need to get the job done, they surely aren't the best of the best. You'd probably be better off importing your own samples to get the sound you want.
FL Studio makes this easy, as you're able to keep a directory of your custom sample folders on the sidebar, which makes it simple to drag and drop them in and out of your project.
If this doesn't satisfy you, FL Studio has a shop filled with sample packs and loops allowing you to keep expanding your sound library.
From an engineering standpoint, recording vocals isn't as user friendly as other DAWs
When it comes to the best DAW software for Windows, you'd have to rank FL Studio up there in terms of its ease of use and unique, yet fast workflow.
More Info Here
Pricing
Fruity Edition - $99
Producer Edition - $199
Signature Edition - $299
All Plugins Edition - $499
Features
Excellent Sequencer/Piano Roll
Gross Beat Time FX
Flex Synth
4. Bitwig Studio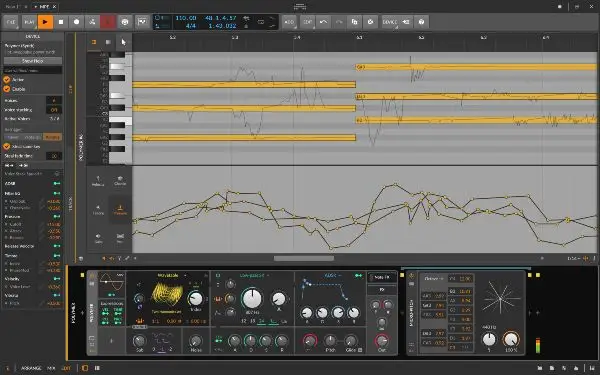 Bitwig Studio is an excellent Windows DAW for those looking for a program with a unique approach to audio production. Its style is almost reminiscent of Ableton, in terms of featuring both a linear and a non-linear workflow.
It makes use of Audio clips, which can be spliced, repitched, stretched, and scaled. Also, when your tempo changes, the audio clips follow. If you happen to record multiple takes, you'd be able to comp any audio clips you may have.
Bitwig Studio comes in two distinct versions, one being a 16-Track version, and the other is the full DAW without limitations.
Both editions support VSTs and come with 32/64-Bit bridging, delay compensation, and crash protection to ensure that your projects stay safe when working.
There are only about 13 instruments that come in the full version, however, Bitwig Studio has a powerful tool called 'The Grid' which is a modular sound environment that lets you route, and connect pretty much anything. This is perfect for the sound design enthusiast, as you're able to build a poly-synth from scratch or even a unique audio effect custom to you.
'The Sampler' is also a powerful tool that enables you to manipulate audio, cycling through various playback modes such as pitch-based, granular, or wavetable options. It'd be interesting to see how a simple vocal sample could transform when ran through different textures in the sampler.
Although Bitwig Studio is one of the youngest DAWs on our list, it's definitely a powerful piece of music production software worth checking out.
More Info Here
Pricing
Bitwig 16-Track - $99
Bitwig Studio - $399
Features
VST Crash Protection
The Grid Modular Synth
5. PreSonus Studio One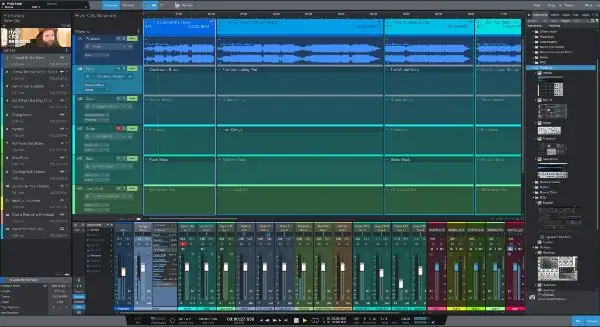 Studio One by PreSonus is the answer for those Windows users in need of a powerhouse that does it all, from composing to mastering, and even all the way to preparing setlists for live performances. Studio One frequently makes the best DAW list and with good reason.
The pioneer of the drag-and-drop workflow allows you to drop pretty much anything into your session, from samples to effects and software instruments. There are a handful of effects and virtual instruments to choose from, each with professional quality.
Lovers of drum machines might feel at home with the native 'Impact XT' plugin that allows you to load one-shot samples or full loops which sync to your song. Equally important is the 'Sample XT' module which might be a sampler's best friend. It functions as well as any sampler might, giving you the ability to auto-slice, deconstruct, stretch and morph samples until your heart's content.
If you happen to be an engineer more than a producer, no worries as Studio One has more than enough gems to keep you satisfied as well. For example, the Mix Engine FX recreates true analog circuit behavior, modeled component by component from the actual hardware. When plastered across your mix, this is sure to add some analog glue.
Another cool feature I found worth mentioning was Studio One's Retrospective Record function which allows you to capture notes and ideas without pressing record. This is perfect for those times when you've been auditioning but forgot to hit the record button.
PreSonus Studio One has many plugins, samples, and features worth checking out, whether you're a pro or beginner. There's more than enough to stimulate your creativity.
More Info Here
Pricing
Artist Edition - $99
Professional Edition - $399
PreSonus Sphere Edition - $164.95/YR
Features
Built-In Mastering Tools
Excellent Sounding Native Effects
Arranger Track
6. Ableton Live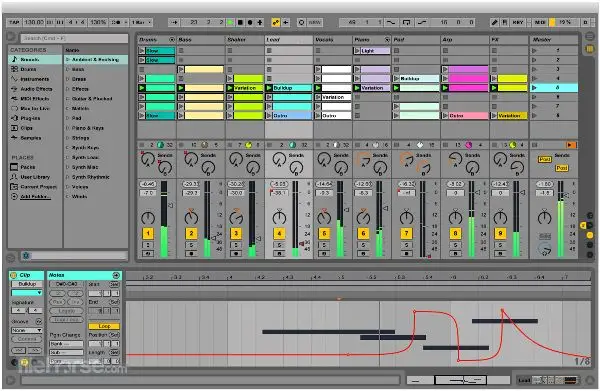 Our quest for the best DAW software for Windows leads us to Ableton, which is one of the leading DAWs for electronic producers, although it certainly isn't limited to just electronic music. It really allows you to push your creativity to the max, especially with the host of bundled effects and sounds.
What makes Ableton stand out is its unconventional workflow which makes use of a non-linear styled approach. Its session view enables you to load a myriad of samples, loops, and even recorded material into clips and scenes.
These scenes can be mixed and matched together to create interesting results that you may not have thought of when working linearly. Sometimes a certain element may sound out of place on its own, but when triggered with another element, things sort of gel together.
Working without the constraints of a timeline helps, and I truly live by the Session view, as it's allowed me to open up my creative process a bit.
Live comes packed with powerful audio processing effects, such as its Glue Compressor and Corpus to name a few. The Glue Compressor powered by Cytomic is modeled after the mix bus of an '80s console. I'm able to drive my sounds into it without distortion which is a huge win for me.
Its audio effects rack enables me to chain together multiple effects for interesting combinations which can even be saved for future recall.
In addition to audio/midi effects, Ableton also comes with a cool bundle of instruments to play around with as well. And with a 70 GB library of sounds, there are more than enough samples to dive into.
Live may also be the best DAW for live performances, as the name entails. Once the audio production is finished, there are some nice tools to help you out on the stage. The ability to map different parameters to a few macro knobs will enable you to do some interesting things mid-show, and you're also given the ability to control external hardware as well.
Lastly, Ableton is a beast when it comes to manipulating audio. Its warping features allow you to contort, repitch, and change the tempo of any audio clip you see fit, all without sacrificing sample quality. It also comes with nondestructive editing, and unlimited undo.
Ableton Live was really designed with the artist in mind, as there are many tools to experiment in ways you wouldn't believe. It is awesome music production software whether in the studio or on stage.
More Info Here
Pricing
Intro - $99
Standard - $449
Suite - $749
Features
70 GB Sound Library
Brilliant Audio Warping
Great in Live Performance
Conclusion
The best DAW for Windows comes down to personal preference as each has features that may or that not appeal to you.
As mentioned earlier, owning a PC gives you the ability to optimize your system via post-purchase upgrades. So maybe software that can take advantage of this extra power might serve you well.
These are just a few options to point you in the right direction, as ultimately the final decision will come down to what resonates with you most.
Cheers!