As a foundational instrument in western music, having access to the sound of a piano in your VST arsenal is crucial. The good thing is that there are plenty of high-quality free piano VSTs on the market that can deliver the true sound of a physical grand piano, upright piano, or electric piano.
Today, we want to break down some of the best free piano VSTs on the market.
1- Spitfire Audio LABS - Soft Piano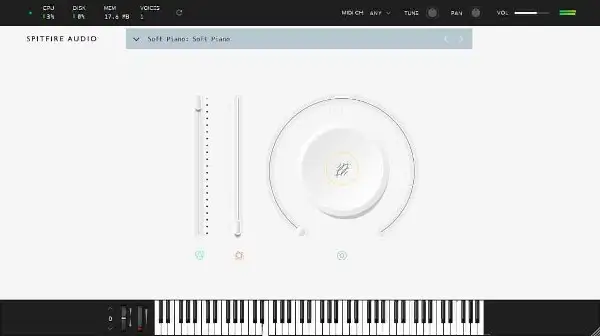 Beautifully-captured acoustic sampled piano
Minimal user interface
Multiple piano types in a single plugin
Spitfire Audio, a company based out of Londo, is known for crafting some of the best orchestral libraries in the industry. While you can easily end up spending thousands of dollars on libraries that were made in collaboration with famous composers, such as Hans Zimmer and Eric Whitacre, LABS is totally free!
Spitfire LABS is unique in that it is a single piece of software that houses multiple VSTs. However, the Soft Piano plugin is one of our absolute favorites, covering the sound of felt-covered piano hammers, perfect for those who are seeking out a more muted sound for their productions.
This piano sound certainly won't work for everything, though if you're working on more contemplative music, it is an excellent choice. If you're looking for piano sounds that are better for soundtrack work, we recommend downloading the LABS Modular Piano or Piano Pads.
2- Sample Science Room Piano V3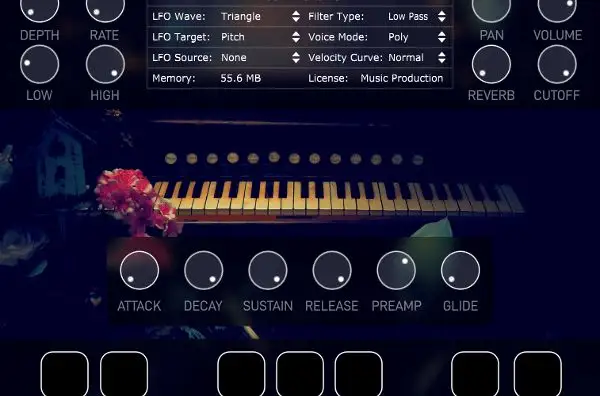 Lightweight 60MB build
ADSR amplitude
Highpass and lowpass filters
Multi-LFO
Included room reverb
Three voice modes (legato, monophonic, and polyphonic)
Sample Science is a company with a wide variety of cool freebie plugins. However, one of our favorite free plugins that they offer is their Room Piano plugin, which is a lightweight free piano VST that uses samples from a beautiful-sounding upright piano.
While it provides an excellent sound when you use it on its own, we truly love it for layering underneath synth sounds, as it has the perfect amount of spike to help make your synth parts a bit more rhythmic and pop out of the mix.
There are a few built-in effects in the plugin, making it a bit more versatile than the Soft Piano from Spitfire Audio, including filters, an LFO, and built-in reverb controls. You can maintain a natural upright piano sound or make it sound like a synthesizer. It's totally up to you!
The one downside to this plugin is that it only has two note velocities for every three semitones. While this keeps the file size low, making it easier on your CPU, it's not nearly as dynamic as some pianos. For this reason, it's better for layered sounds than for solo piano work.
3- Ivy Audio Piano in 162
Six-microphone adjustability
Recorded at 96kHz
Five dynamic levels and two round robins
Separate on and off pedal samples
Realistic sympathetic resonance
Stop reading for a second, close your eyes, and picture a grand piano in your head. We guarantee you are thinking of a piano that looks like a Steinway Model B. This grand piano has been the cornerstone of concert grand pianos for more than 100 years. Ivy Audio was able to sample the beautiful sounds of a Model B with meticulous style to create the 162 grand piano VST.
Simon Dalzell, a University of Arizona graduate, recorded this incredible piano with a six-microphone set up to capture all of its nuances.
Now, just because Dalzell was an undergraduate at the time does not mean this sounds like some kid's school project. In fact, it is one of the most dynamic and expressive free piano VST plugins on the market today.
Though the interface is quite simple, you have the ability to blend the sounds of the close and ambient microphones. This blending ability puts you in the seat as the recording engineer, determining how you want the piano to sound.
While this grand piano plugin was made to be used in the Native Instruments Kontakt platform, it can also be used standalone.
4- Soundmagic Piano One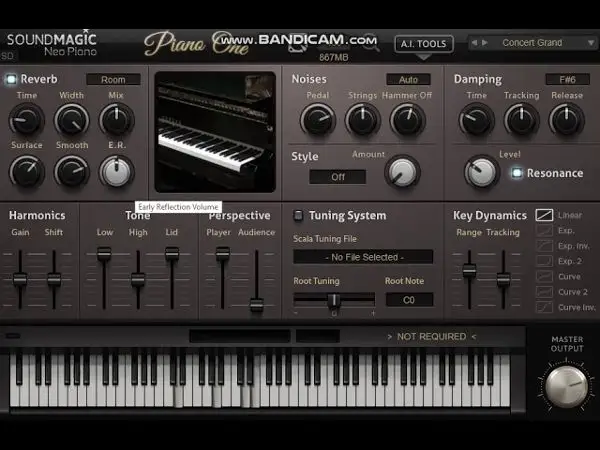 The hybrid sample modeling engine
Sound of the famous Yamaha C7
Limited 18-second note duration
Built-in auxiliary sound controls
Soundmagic Piano One is one of our absolute favorite free piano VSTs, as it is based on one of the most iconic grand pianos of all time — the Yamaha C7 Concert Grand Piano.
You'll find the same Hybrid Modeling Engine found in Soundmagic's Piano One as you'll find in the company's other paid VSTs, offering a realistic balance between modeling and sampling. You get the flexibility of a modeled VST with the expert realism that you can only get from sampling.
We were surprised to see just how jam-packed the features on Piano One were considering the fact that it is a free piano VST. You can control some of the auxiliary piano elements using the control panel. For example, you can set the volume level of the pedals or alter the "action" of the piano with seven different velocity layers. It's surprisingly dynamic for a free piano VST.
Overall, if you're in the market for a piano that gives you the basic sound of a grand piano, then this is the one for you!
5- Bigcat Instruments Iowa Piano

Sampled Steinway Model B Piano
Under 200MB
Uses the Native Instruments Kontakt platform
Another small-sized free piano VST is the Iowa Grand Piano from Bigcat Instruments. This free piano VST was built using a collection of open-source Steinway Model piano samples captured at Electronic Music Studios at the University of Iowa.
While there aren't many options for mixing microphones to get a specific sound, you can use the built-in EQ, envelope controls, velocity curve options, and reverb to better fit this piano plugin into your productions.
Unfortunately, Bigcat Instruments went defunct a few years ago, though there are still many free instruments and Kontakt libraries available for download on the company's website. While the Iowa Piano is certainly our favorite, they have other options, including the Salamander Piano, the Whisper, and the City Piano, each of which represents a different piano model.
6- Electronik Atmos 2 Piano

Three velocity layers
Filter and LFO control
Built-in reverb
Attack and release controls
Free updates for donators
If realistic piano sounds aren't for you, or you want the sound of an electric piano to add to your arsenal, then we highly recommend checking out the Electronik Atmos 2 Piano . This free piano VST has a dark, cinematic sound to it, perfect for ambient or atmospheric scoring.
One of the things that set this particular free piano VST apart from the ones above is that it has an atmospheric pad option built into it, allowing you to blend the sound of the dry piano with the pad to create underlying drones. For a more subtle effect, we like to leave the pad turned down.
However, in sparse productions, you can crank the level of the Atmo Lvl knob to wash your track in a spacey ambiance. There are some additional controls to manipulate the piano sound as well, including pitch modulation and warping, perfect for giving your listeners a slight feeling of unease.
7- Bitsonic Audio Keyzone Classic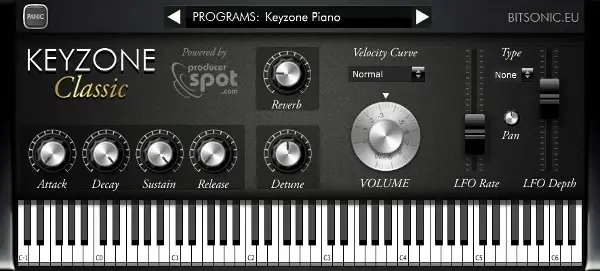 Five presets to choose from
ADSR control
Adjustable velocity curves
Adjustable LFO and Depth
Keyzone Classic is certainly a classic free piano VST if there ever was one. It has been on the market for quite some time and has been updated quite a bit. We really love the sound of this piano and the interface is super clean and easy to navigate.
To really get the sound where you want it to go, you'll probably want to add a bit of reverb and EQ , especially if it feels like it's sitting on top of your mix instead of within it. There are five presets to choose from, including Yamaha Grand Piano, Steinway Grand Piano, Rhodes Piano, Basic Electric Piano, and Piano from Keyzone 1.
While there are certainly stronger free piano VST plugins on this list, Keyzone Classic is a good option if you need a quick piano sound that you can pull up for arranging or background parts in your production.
8- Versilian Upright

71 included samples (250-500MB of space)
Three velocity layers
Sampled in tritones with close and wide mics
Decays up to 30 seconds long
When it comes to the sound of the upright piano, the Versilian Upright piano plugin might be our favorite. As a bit of background, a Berklee student decided to capture a few recordings of upright pianos in his dorm's basement.
Surprisingly, he captured what would become one of the most realistic free piano VST plugins available. Right off the bat, it sounds good without any additional EQ or reverb. Of course, there are a few reverb controls if you feel that it needs a bit of space.
Beyond that, you get a few simple controls, including ADSR, Pan, and Volume.
9- DSK Grand Piano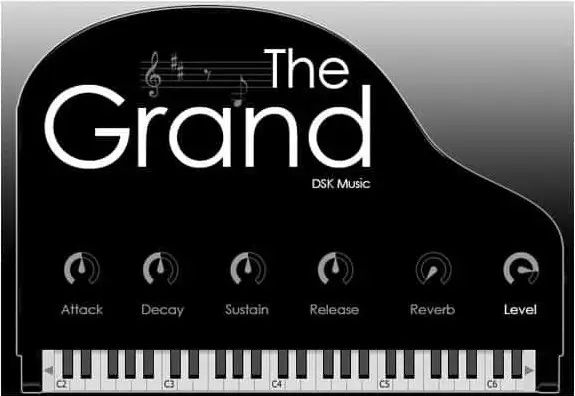 Three piano types (Concert Piano F, Concert Piano P, and Grand Piano)
Multiple velocity layers
Micro-detuner and amp envelope controls
High-pass and low-pass filters
Reverb and flanger effects
Another classic free piano instrument is the DSK Grand Piano . Yes, there might be some serious pianists that rip on its simplicity, though when you need a quick, lightweight piano to get the job done, it excels.
You get three types of grand pianos to start you off, as well as a number of simple sound modifications to help you fit your piano within the rest of your mix. While it's not as minimal as Spitfire Audio's Soft Piano, there aren't many controls.
DSK's piano is slightly less crispy than some of the other instruments on our list, but it gets the job done if all you need is a standard piano sound and a simple interface to match.
10- Bigcat City Piano

Four velocity layers
Works in Native Instruments Kontakt
Proper release samples
Reverb, EQ, and envelope controls
City Piano is another piano VST from Bigcat that comes with four velocity layers. Compare that to most of the other instruments on this list that only come with three and you have more expressive and dynamic piano instruments.
The crew over at Bigcat sampled an acoustic Baldwin Baby Grand to make this VST. You'll also find a few parameters to mess around with, including volume, pan, and ADSR, very similar to Bigcat's other free piano VST plugins.
They definitely took the simple route in crafting a piano sound, though you still get a semblance of warmth and authenticity that helps it fit in mixes really well. While you can use it in standalone mode, it also works great in the Native Instruments Kontakt platform.
11- Skerratt London Piano

Charming upright piano sounds
ADSR, volume, and pan controls
Simplistic interface
If you're looking for a saloon-style piano to put in your rock or country mixes, then the Skerratt London Piano from Bigcat is a great choice. Like the other Bigcat plugins on this list, the London Piano has a very simple interface with effective controls. While they provide users with ADSR controls, you don't get much else.
Of course, with upright piano plugins, simplicity is usually the best route. Having a charming and happy sound is more than enough!
12- RDG Audio Free Piano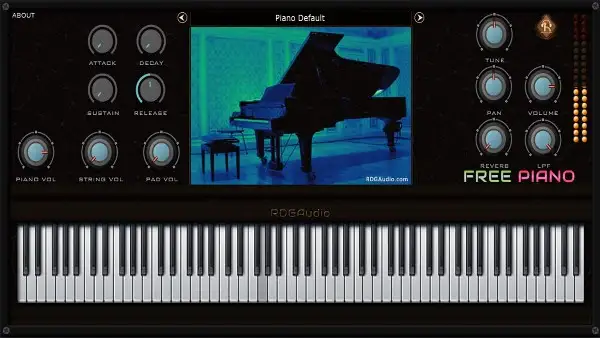 Tons of great presets included
Three layers of sounds (piano, strings, pads)
12 parameter controls
Four mic positions
Round robin sampling
If you want something that provides a bit more than your standard piano, then we recommend checking out RDG Audio Free Piano . This unique plugin layers your piano with string sounds, perfect for adding width and depth to your productions. You don't need to load up multiple plugins when you essentially have a small orchestra in one!
This is certainly a "new-age" piano plugin compared to a few others. You get three layers of samples for added dynamics and about a dozen parameters to shape the sound how you want it. If you need a bit more, RDG has some nice expansion packs out, including Piano Auto Sustain and Piano Staccato.
13- EVM Grand Piano

Delay and sustain controls
Octave and presence buttons for tone shaping
Tune knob
Multiple velocity layers
When you need a piano that is sharper, brighter, and has a harpsichord-style sound to it, the EVM Grand Piano is a great choice. It almost sounds like it was pulled straight out of the Baroque era. Compared to many other free piano plugins on this list, this one is great for faster-paced counterpoint styles without getting cloudy or losing any sense of clarity.
For super complex mixes, it acts as a wonderful accent instrument, especially with such a strong, bright attack.
The interface might just be one of the simplest on the list, which looks like a virtual 1U rackmount. It's super practical and is great for small screens. As of right now, this free piano plugin is only available for Windows systems.
14- 4FrontPiano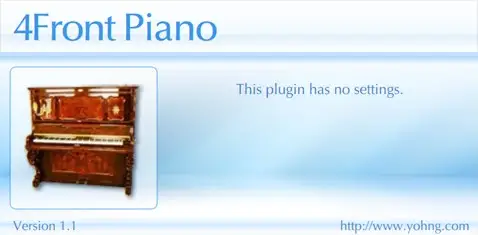 Sound of a parlor piano
No additional parameters
Clean, bright, tack-like sound
One of the other good upright piano plugin options is the 4FrontPiano . We know we said the EVM Grand was one of the simplest, though this one tops the simplicity list without any additional parameters and controls. You get what you get from the moment you open this plugin, which is actually quite helpful.
If you are looking for the sound of an old-school parlor piano, then this one is one of the best choices. You almost get a hint of tack piano in there, though if your tack piano didn't have an ultra-bright hammer hit at the front end.
When EQ'd and put through a tape saturation plugin with a bit of added wobble, it's great for making lo-fi music.
15- Salamander Piano V3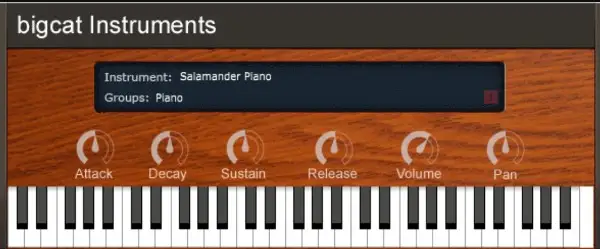 ADSR, Volume, and Pan Controls
16 velocity layers
Simple interface
Warm, round sound
Salamander is a surprisingly versatile free piano plugin with 16 velocity layers . Compared to many on this list that only has three or four, this gives you plenty of room to craft dynamic tracks. We love the simple wood-grain interface that only features a few controls, including ADSR envelopes, volume, and pan.
The overall sound can best be described as warm and round, though we know those are probably some of the most overused adjectives in music. This is likely due to the fact that you get minor-third string resonances in three layers, all of which were captured by a high-quality pair of AKG C414 microphones a few inches above the strings.
16- Mokafix Glue Reeds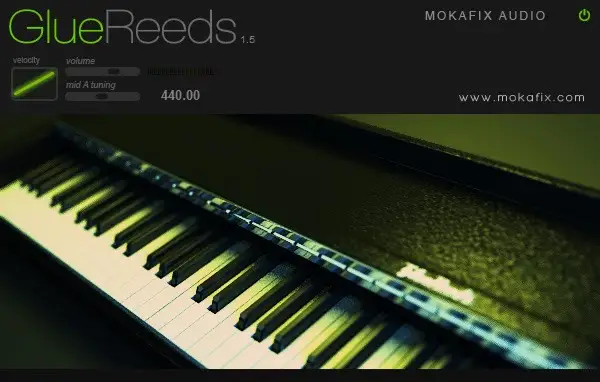 Reed-based electric piano VST
Velocity curve controls
Seamless dynamic response
Only available for Windows
The Glue Reeds electric piano is quite unique in that the developers took the synthesis route when creating it. It is a one-of-a-kind reed-style analog keyboard that makes use of sticky pads instead of your traditional hammers. With soft, sticky pads, the sound is much softer than what you would get with other electric piano instruments.
Some might almost describe Glue Reeds as synth-like.
It's certainly an out-of-the-ordinary sound that would be great for 70s-style fusion, though the beauty of it being so unique is that you could take it to new frontiers and make something that sounds innovative.
It is definitely the quirkiest of the piano plugins on our list, which is why we love it so much!
17- Safwan Matni Jazz Baby

Soft grand piano sound
No controllable parameters
Only available for Windows
If the name doesn't say it all with this piano, then we truly don't know what will. You get a warm, romantic sound that transports you straight to a smoky lounge in the city. Most upright pianos tend to sound bright with tons of attack. This soft piano is the complete opposite, delivering a sound that hits the nail on the head for lounge tracks, so much so that you can almost see candlelight in front of you when you play it.
There aren't any controls on the Safwan Matni Jazz Baby , though having to commit to the already great sound it provides is actually quite nice.
18- Tascam CV Piano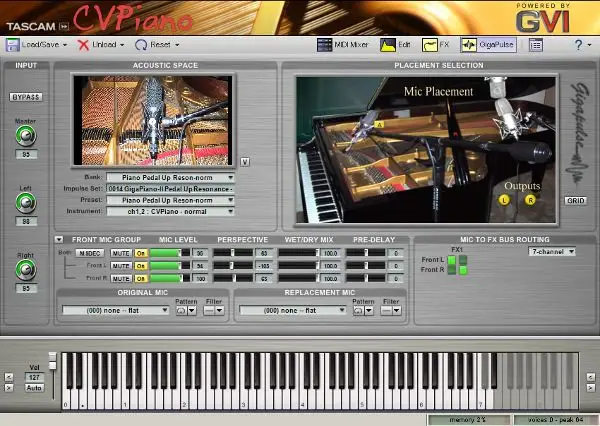 Based on a Kawai Grand
Spectral morphing technology
Tons of adjustable parameters
Light on CPU
Tascam CV Piano is last on the list of our best free piano VSTs, offering a unique approach to traditional sampling methods. The group at Tascam used CV (continuous velocity) technology and spectral morphing to create dynamics that feel bright and lively. This approach is far from using multiple velocity layers with different volumes.
While you might think this type of technology would produce a sterile or unnatural sound, it's actually one of the best-sounding piano instruments on this list. Beyond that, the CV Piano is super easy on CPU, great for those who can't afford to buy the latest ten-thousand-dollar Mac (most of us, right?).
Whether you want to play it solo or mix it in with a dense production, the Tascam CV Piano is ultra-powerful. It's almost surprising that this piano doesn't get more attention, as it certainly deserves it.