In-ear monitors were once a luxury afforded only to wildly successful artists. Nowadays, everyone is getting in on the action, and some folks are even using them in the studio to replace bulkier, over-ear headphones.
There's tons of benefits to using in-ear monitors (often referred to as 'in ears' or 'IE'), both on stage and in the studio; comfort, sound quality, and hearing protection being among the top reasons.
As is the case with most music gear there's a legion of options for in ear monitors on the market today, with models for every wallet size. Here at eMastered we've compiled a list of the best in ear monitors your money can buy, no matter how much of it you're willing to part with.
And if you're new to the world of in-ear monitors, we have an FAQ section at the end of the article to demystify what's involved.
Ready? Let's dive in with a rundown of our best in-ear monitor picks for 2023.
Our Picks For The Best In-Ear Monitors In 2023
Before we begin this review section I'll pop in a caveat; all the headphones in this section are designed specifically for monitoring purposes, either on stage or in the studio. They can be used for an at-home listening experience (spinning some Drake on Spotify, or catching up on the latest episode of The Last Of Us for instance). But they are principally designed for live performers and musicians, not armchair audiences.
1. MEE Audio M6 Pro In-Ear Monitors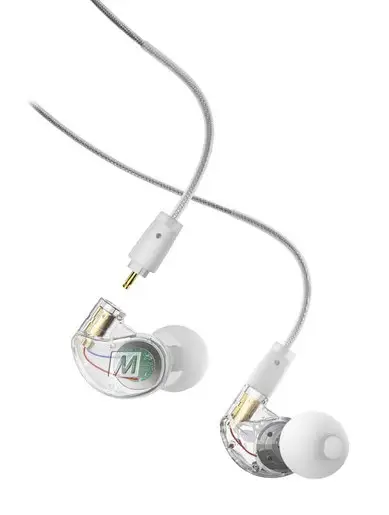 Quick Look
Universal IEM
Single dynamic driver
Over-ear cable configuration
Range of accessories in the box
Price: $
Why Buy?
The MEE Audio M6 Pro is now in its second generation having built up a solidly dependable name for itself among users.
The previous model sported an MMCX cable, which has bene replaced with a regular audio cable in this second gen model. Presumably this is a way of keeping these in-ear monitors affordable. Either way, at this price point, the lack of an MMCX cable isn't going to be a big deal.
With a frequency response of 20Hz - 20kHz the single driver is doing a lot of work. Despite this most users report that the audio quality is good on stage, and the sound isolation does a decent job of keeping out stage noise.
The headphones come with two cables - standard audio, and headset. Also included in the box are 6 sets of silicone ear tips, and a set of memory foam tips. Additionally you get a carry case (always handy), 2 shirt clips, and a 1/4" adaptor.
These accessories mean the M6 can carry out double duty as in ear monitors and a casual listening experience.
For $50 you wouldn't expect the same amazing sound you'd get from a $3,000 set of custom in ear monitors. But the M6 Pro is an amazing set of in ear headphones for an absurdly low price. With the optional extras you can add to the kit, including a bluetooth cable, they make for a very affordable set of headphones that can be used to call your folks before you head on stage and use them as your in ear monitor.
Pros & Cons
+ Inexpensive in-ears that double up for casual listening
- At this price point you won't get a great sound onstage
2. Shure SE215-CL In-Ear Monitors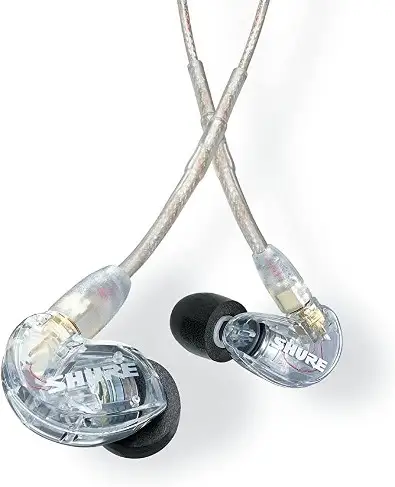 Quick Look
Universal IEM
Single driver
Over-ear cable configuration
Detachable MMCX cable
Price: $
Why Buy?
Shure are a solid name in the audio world, and their SE215 in-ear monitors offer an affordable entry point for performers wanting to dip their toes into the world of in ear monitoring.
There's two versions of the SE215 series: Pro, and regular. The headphones themselves are the same. The only difference between them is the cable. In the regular series the standard cable includes a mic and controls for operating music players and phone calls on iPhone and Android deices. In the Pro series you get a single, no frills MMCX cable.
The good news is the cables are detachable so you can switch between pro use and casual listening as you glide from stage to tourbus.
For the price the sound quality is reasonable. With only one driver to deal with the entire frequency range some of the bass end is inevitably lost, and the highs can get a bit harsh at higher volumes (watch your ears kids!).
The headphones come with switchable foam and silicone buds of different sizes, allowing the user to find the perfect fit for their ears. For the aesthetically driven musician the headphones come in 4 color options - clear, black, blue, and purple.
Overall the SE215 is a great entry point in ear monitor for performers who don't want to splurge before they've got comfortable using IEMs on stage.
Pros & Cons
+ affordable
- single driver only
3. Mackie MP-320 Dynamic Triple Driver In Ear Monitors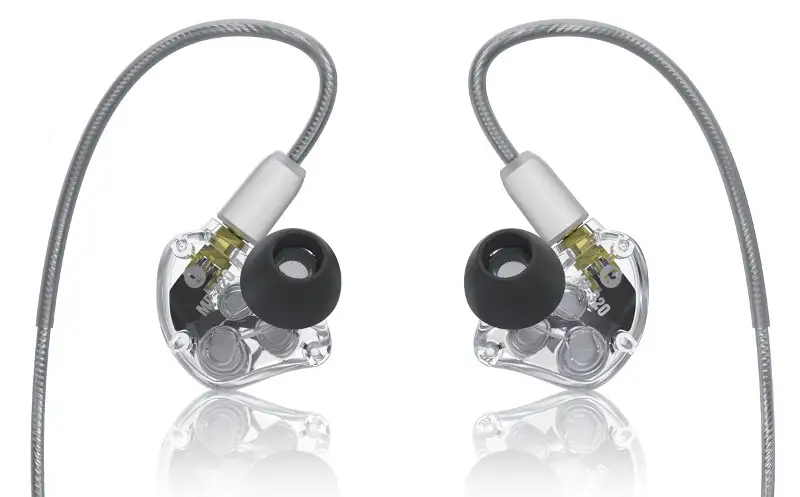 Quick Look
Universal IEM
Over-ear cable design
Triple dynamic driver
Detachable cable (MMCX connector)
Up to 40dB sound isolation
Price: $$
Why Buy?
Once you've experienced the magic of using in ear monitors during a live performance you'll be an instant convert. And then you'll want to start shopping around for bigger and better models to get the ultimate ears experience.
Even among universal IEMs (as opposed to custom molded ones) you can pick and choose according to your budget.
The Mackie MP-320 in ear monitors are the first headphones on our list to use multiple drivers, and are still relatively affordable.
Having different drivers means you get a nice balanced sound, with users reporting a clear and punchy low end - great for drummers - and clarity in the mid and high frequencies.
The headphones come with 4 sets of different ear tips in 3 different sizes. Changing the tips can be a little frustrating, taking longer than you'd expect for such a simple task. On the other hand, once you've found a nice snug fit you probably won't be changing them out again.
The ear pieces themselves are slightly larger than the Shure SE-215s, so if you know your ear canal is smaller than the average Jo(e) be prepared for the MP-320s to be uncomfortable if worn for long periods of time.
If you're looking for multi-driver in ear monitors for under $300 the Mackie MP-320s are definitely worth considering.
Pros & Cons
+ triple driver IEMs at an affordable price
- changing ear tips can be finnicky
4. Audio Technica ATH-E70 In-Ear Monitors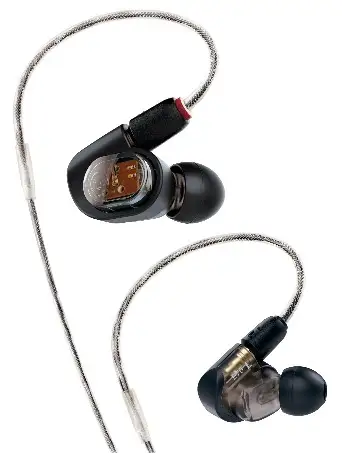 Quick Look
Universal IEMs
Over-ear flexible memory cable
Audio Technica-designed A2DC cable
3 balanced armature drivers
Includes 4 sizes of silicone ear tips, plus memory foam tips
Price: $$
Why Buy?
The ATH-E70 headphones from Audio Technica are another affordable 3-driver set of in ear monitors that are great for stage and studio use alike.
What makes them different from other IEMs is the cable.
Specially designed by Audio Technica engineers for all their headphones the A2DC cable is designed to improve connectivity, reduce cable rotation, and is specific to audio. The MMCX cable was originally designed for wireless devices, not audio, so the AT engineers built a new cable for all their headphones to ensure true sonic representation.
The ATH-E70s produce a natural frequency response across the spectrum thanks to the three balanced armature drivers. The only thing these drivers don't respond to well is being dropped, so if you're known for being a klutz it's worth adding an extended warranty when purchasing.
Like the Mackies above, the ear pieces on the E70s are slightly larger than their Shure counterparts. This snug fit will create extra sound isolation to help manage stage volume but again, if you know your Toby Jugs are on the small size they may not be right for you.
Pros & Cons
+ great natural sound quality
- drivers susceptible to damage from drops
5. Sennheiser IE400 In-Ear Monitors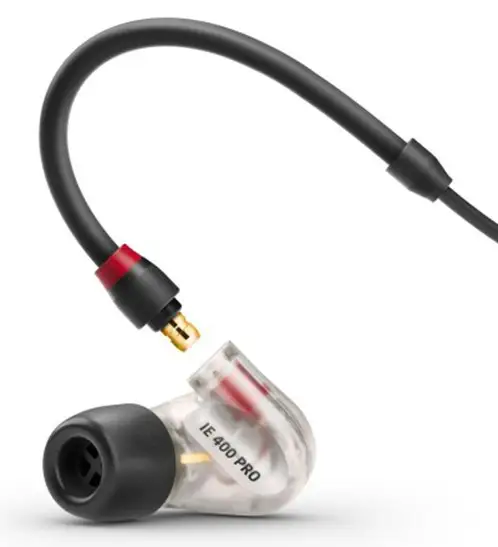 Quick Look
Universal in ear monitors
Single 7mm dynamic driver
Detachable cable with durable connection
Up to 26dB passive noise reduction
Distortion-free sound
Comfortable ear-mold design for extended use
Price: $$
Why Buy?
The Sennheiser IE400s in ear monitors are the same price as the ATHE70s above, yet they cone with only a single driver.
If you're wondering how they made it on to our list of best IEMs it's because the driver offers incredible sound reproduction thanks to Sennheiser's own TrueResponse technology.
This tech allows the single driver to produce a powerful sound that's free from distortion, resonance peaks, and overlapping frequencies, even at high volume.
So while it may only be one driver to rule them all, it's a well-oiled machine that bypasses the normal rule of more drivers = better sound quality. The IE400s give a more cohesive sound than IEMs using multiple crossovers.
The ear pieces are designed to look like custom molds. They're not; some users even find the plasticky build a little cheap looking and easy to scratch. But that's an aesthetic thing. What's important is the comfort these headphones offer. Even with long periods of use they don't produce any ear fatigue, thanks in part to their lightweight design.
In the box you get 3 sets each (S, M, L) of both silicone and foam ear tips, along with a 1/4" adapter, and a cleaning tool. If you've never used in ear monitors before, be warned; they get hella gunky hella fast. You'll need something to clear them out after each gig, and a dedicated tool is the best way to do this without damaging the headphones.
Pros & Cons
+ excellent sound quality across the spectrum
- build quality may feel lacking
6. Westone Audio Pro X 50 In-Ear Monitors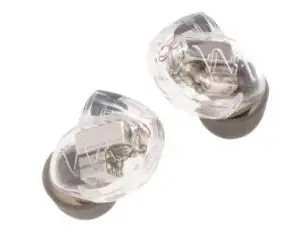 Quick Look
Universal IEMs
5 balanced armature drivers
Up to 25dB noise reduction
Accessories include 5 sets of silicone & foam tips, & hard case
2 year warranty
Price: $$
Why Buy?
Westone were one of the first companies to develop the custom in ear monitor way back in the 80s, for bands like Rush and Def Leppard.
Since then they've been developing their drivers, and while you can still splurge out multiple thousands of dollars on a set of Westone in-ears, there are models available that will suit your wallet as well as your ears.
The ProX50 in-ears are one of Westone's universal models, shipping with foam and silicone tips in multiple sizes to suit any size ear. The trick is to find the right size for your ear canal through trial and error.
Once you've found the right size tip you'll discover the 5 drivers deliver a crystal clear sound, with plenty of plenty of punch for a kick drum or bass.
One downside to the X50s is the cable. While it's super-light - so light in fact that you may forget you're wearing headphones - multiple users complain of the cable getting easily tangled, or not fitting snuggle around the ear. This latter issue can be addressed by purchasing (at an additional cost) some cable ear guides, although to me it seems a bit daft to not include at least one set of these with the original product.
Cable issues aside, the sound quality is great, and these in-ears are comfortable enough to wear throughout an entire show.
The ProX50s are at the very top of our 'lo-mid range' price bracket. At $650 it's an investment, but we think it's a good balance of money versus sound quality.
Pros & Cons
+ sound fantastic
- cable can be problematic
7. Shure SE846 Gen 2 In-Ear Monitors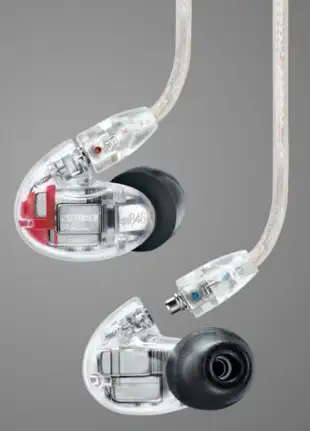 Quick Look
Universal in-ear monitors
4 balanced armature drivers
Customizable nozzle inserts for different frequency responses
Up to 37dB noise reduction
2 yr warranty
Price: $$$
Why Buy?
These 2nd generation 4-driver in-ear monitors from Shure offer a few useful features that set them apart from other Shure models.
Firstly, a low pass filter creates the effect of a tiny sub-woofer system in your ear to create deep rounded low end with no muddiness.
In order to give you the best sound on stage (and off) the SE846s also offer customizable frequency responses. This is achieved by way of 4 removable nozzles which offer balanced, warm, bright, and extended sound signatures. The extended nozzle increases image clarity and adds an airiness to the sound; the balanced nozzle enhances clarity and detail; the warm insert adds bass presence; and the bright (unsurprisingly) augments high end detail.
Finally, the 846s come with an additional 'communication' cable - read: you can use it to make calls and control your Discover Weekly when it goes out of control.
While it shouldn't be a consideration when choosing IEMs, being able to use them for a casual listening experience does make your money go further.
If you are planning on using them this way, you'll be pleased to know you can turn them into bluetooth headphones with a wireless receiver (sold separately).
Anyhoo, the point is, are they any good for mixing in the studio, or for a monitor mix when you play live?
TL;DR - yes.
Clean mid-ranges and crips highs are paired with rich, satisfying low ends (thanks to that low pass filter). Being able to change your audio experience with the removable nozzles means you can find the perfect solution for your on stage sound, or mix with the confidence that you're hearing every frequency.
A generous range of ear sleeves are included in the box to ensure you get the perfect fit for your ears. And remember that experimenting with the buds is essential if you're going to experience the true capacity of any in-ears.
Finally, the MMCX cable is sturdy enough to handle whatever blood sweat or tears you throw at it. It'll stay over your ears and won't tangle or break.
Are they pricey? Yes. Are they worth the money? I'd say yes. But if you're hesitant about splashing out this much on a pair of in-ears try out a less expensive pair of Shure in-ears to see if you like the fit and sound quality. Things will only get better from there.
Pros & Cons
+ interchangeable frequency responses
- expensive if you've not tried Shure IEMs before
8. Westone Audio Mach 80 In-Ear Monitors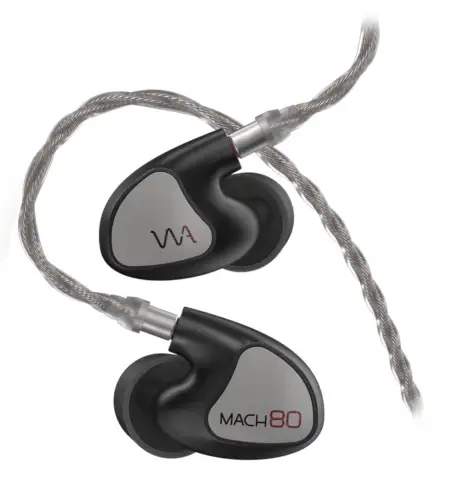 Quick Look
Universal in-ear monitors
8 balanced armature drivers
Over ear cable wth T2 connectors for increased lifespan
Ships with hard carry case
Price: $$$
Why Buy?
In the upper echelons of our mid-tier price range sits the Westone Mach 80 in-ear monitor headphones.
I don't know the science behind how they do it, but Westone managed to pack a whopping 8 drivers into these tiny examples of audio goodness. With dual low and mid drivers, and quad high drivers, the sound is phenomenal, delivering transparency across the frequency spectrum.
Obviously the sound in your in-ears is only as good as the fit you get from the tips. Westone make finding the perfect fit easy by including 5 sizes each of their silicone and foam tips.
The UltraBaX cable is twisted and laced with silver-plated copper wiring, and has very low impedance, so the audio signal is as pure as pure can be (or at least as pure as your fellow band members can make it).
The included hard carry case is water- and dust-proof, and will keep your investment safe as you travel from gig to gig.
At close to $1,600 these in-ears are not for the faint-hearted. But you'll be putting you money in the hands of the business that invented in-ear monitors in the first place, and can rest assured you'll get a great sound.
Pros & Cons
+ 8 drivers = excellent sound quality
- at this price point you may want to consider custom in-ears
9. Westone ES80 Elite Series Custom Fit In Ear Monitors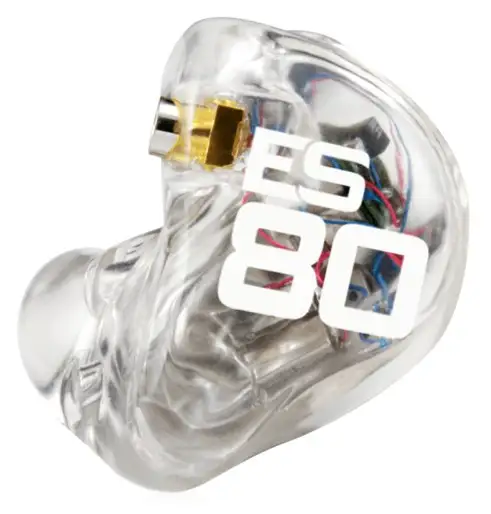 Quick Look
Custom fit in ear monitors
8 drivers, with 3-way passive crossover
Up to 25dB of noise reduction
Hard case included
Replaceable MMCX audio cable
Price: $$$$
Why Buy?
We're now entering the custom IEM world. If you don't know what custom IEMS are, take a look at the section below. But I'd highly recommend trying out some universal IEM systems before you think about custom moldings.
With that out of the way, The Elite Series from Westone are very similar to their universal models, with the added benefit of having the ear buds made to precisely the shape of your ear canal.
In the case of the ES80s you're getting the same 8-driver/3 crossover technology as the Mach 80 headphones, but with a better seal for sound isolation.
These in-ear monitors start at around $1.900, plus the cost of your audiologist - unless of course you already have a mold for your ears. Even if you do already have a mold, it's worth getting goo put in your ears again as the human body is nothing if not ever-changing.
With the added seal from this custom in ear monitor you get an even better sound on stage. The cold poured acrylic that makes up the earpiece shells give even more purity to the sound, while the canal section responds to body temperature for an increased seal, no matter how hard you're playing.
The ES80s are a big investment, but the same goes for any custom in ear headphones. These are a great set of in ear monitors with a phenomenal frequency range.
If in doubt try out a universal Westone model to see if you like the sound before you take the plunge and get custom iems.
Pros & Cons
+ stunning sound quality, and a perfect fit
- expensive for a newbie
10. 64 Audio U18s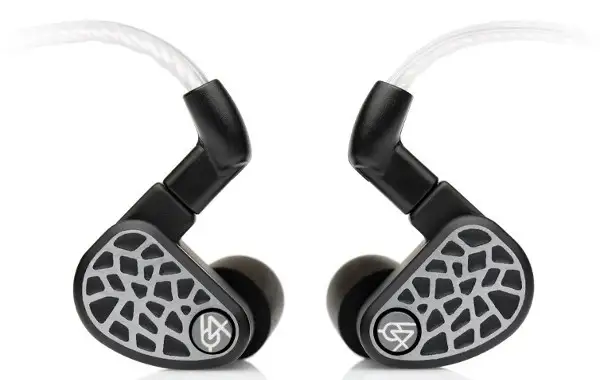 Quick Look
Universal in ear monitor
18 balanced armature drivers
4-way passive crossover
APEX pressure release
Price: $$$$
Why Buy?
Last on our list are the impressive universal in ear monitors from 64 Audio.
With a mind-boggling 18 drivers packed into each earpiece, the U18S headphones deliver stellar sound to your lug holes, thanks to the patented technology from 64 audio.
The Tubeless In-Ear Audio (TIA) system is designed to reduce resonance and distortion, resulting in a more natural sound stage.
The APEX vent is a patented one that releases air pressure in the ear canal while at the same time maintaining that all important noise isolation. This makes for clean audio and long-lasting comfort. The APEX system comes with three interchangeable modules for different levels of noise reduction.
The 8-braded cable is made up of silver-plated copper wire, and has only 0.28 Ohms total impedance. Thanks to it's design it won't tangle or get snagged, letting you get on with the job of performing.
In the box are 3 types of ear tips in small, medium, and large, cleaning accessories, and a leather hard case. Oh, and a sticker. Don't forget the sticker.
You'd think that if you had $3k to blow on a pair of in-ears you'd go for some custom made IEMs. You can opt to have a pair of customs made by 64 Audio - the A18s. These are similar to the U18s, and only add the cost of your audiologist to the total price.
Whichever yoou choose - universal or custom - these 18-driver headphones will change the way you hear sound on stage forever.
Pros & Cons
+ exceptional sound and build quality
- expensive to replace due to loss/theft
In-Ear Monitoring Systems
The thing about in ear monitors is that they need to be plugged into something. If you're using them in the studio for referencing or recording that's a no-brainer. But if you're on stage, what then?
For that you'll need an in-ear monitor system. Like IEMs themselves, not all systems are created equal, and can vary from simple systems that plug in to a line-level monitor feed on the stage snake, to complex multi-thousand dollar affairs.
Note that if you want true freedom on stage you'll want the system to come with a transmitter and receiver packs to make your new headphone purchase into wireless in ear monitors.
So here's a quick rundown of recommended wired and wireless systems for in ear monitors.
1. Xvive U4 Wireless In-Ear Monitoring System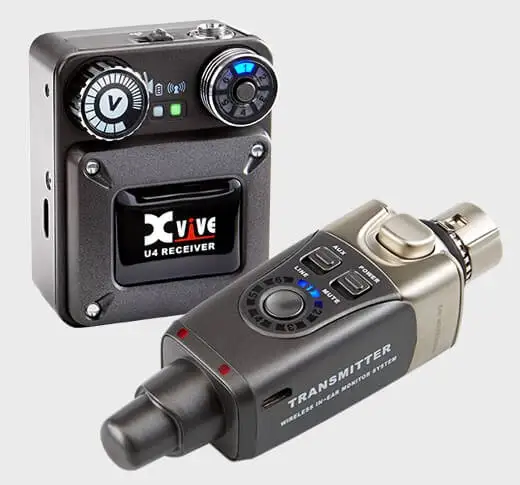 The Xvive U4 is a simple and inexpensive way to switch from using wedges on stage to having the monitor mix in your ears.
Simply plug the transmitter in to a line level monitor mix on a stage snake, or directly into a mixer, plug your in-ears in to the receiver pack, and you're good to go.
The range is limited (90 feet with a clear line of sight), but adequate enough to do the job.
What's handy about this set up is it doesn't make a big ask of the sound engineer at the venue and paired with a pair of IEMs from the lower end of the spectrum you'll have a great little mobile IEM system to take on the road with you.
This is an ideal option for solo performers or 2- to 3-piece ensembles playing smaller venues.
2. Behringer P1 Personal In Ear Monitor Amplifier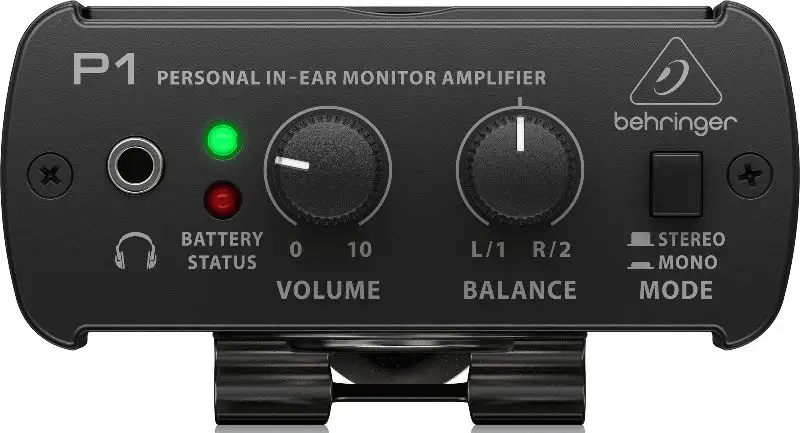 The P1 from Behringer (I know... but they're trying, and make really affordable gear) is a stupidly simple way to switch from a wedge on stage to an IEM system. With dual XLR inputs running in mono or stereo you can you can choose exactly the blend between hearing yourself and the rest of the band.
The unit itself can run on a 9V battery, or DC power supply (sold separately).
Keep in mind that this is wired option for an IEM system, but at $80 per unit is an inexpensive way to get your foot in the in-ear world.
Suitable for small ensembles or solo performers on a budget, who are IEM curious.
3. Galaxy Audio AS1400-4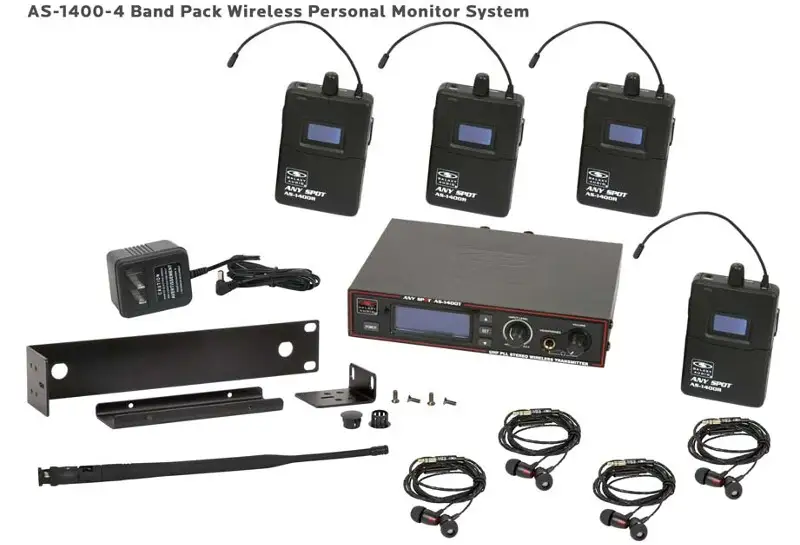 The Galaxy Audio AS1400-4 is a complete in ear monitor system, complete with one transmitter and 4 receivers - enough for the entire band.
Earbuds are included, although you'll likely want to upgrade to a better quality headphone at some point.
The transmitter can send in mixed-mono, or stereo allowing for band members to choose from one of two mixes, or to adjust the blend of L/R signals to suit their tastes.
With a large frequency range to choose from you won't have a problem finding an open channel, even in busy wireless surroundings.
The packs take 2 x AA batteries, but with a battery life of around 7 hours one pair will last you a gig or 3.
Finally, the 300 foot range should prove adequate for most venues even when plugged directly into the FOH desk.
You can grab different configurations of the A1400 with the number of receiver packs you need. If you're feeling fancy you could even get a couple of transmitters so yoou have even more monitor mixes at your disposal.
An inexpensive solution for the band that wants on stage IEMsto reduce the on-stage clutter.
4. Shure PSM300 In-Ear Personal Monitoring System
The PSM3000 wireless system offers up to 300 ft in range, with an autoscan feature that instantly finds an available channel within the frequency range and locks the pack on to it.
Shure's MixMode system allows you to blend between two different mixes to suit your needs, making this unit ideal for vocalists tired of battling the band every night on stage.
Personally, I like the large volume knob on the top of the receiver - it lets you adjust the level without distraction.
Although this in-ear wireless system is a little more pricey for a single user, it includes a set of Shure SE215 headphones so, for the time being at least, you won't need to splash out on anything else to get your IEM system up and running.
5. Sennheiser EW IEM G4 Twin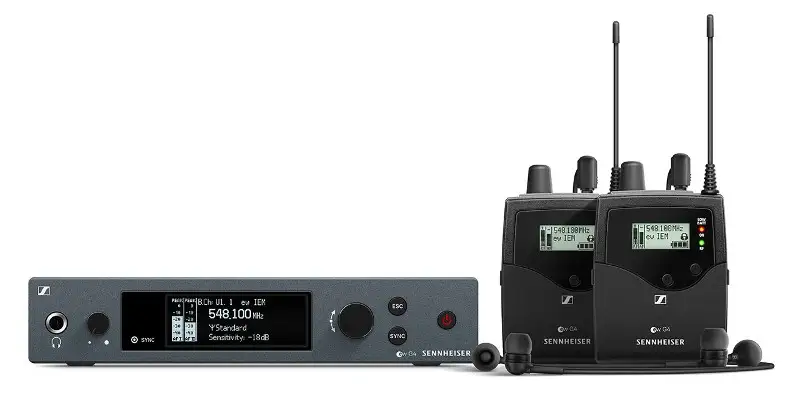 This Sennheiser wireless system includes two receiver packs, plus two pairs of IE4 headphones, so again enough to get you started but you'll want to upgrade the earpieces sooner rather than later.
Offering up to 300ft of range, and easy infrared synchronization with the receivers, the transmitter includes a high boost, an adjustable limiter, and stereo/focus mode. The headphone cable doubles up as a second antenna to eliminate audio dropouts on stage.
The G4 is pricier than it's Shure counterpart, but does include 2 receivers so a good option for 2 performers who share a similar mix on stage, such as vocalists.
Frequently Asked Questions
If you're entirely new to the world of in-ear monitoring you probably have a ton of questions. Don't worry; we got you...
Why should I bother using IEMs?
I know, we all like to straddle the wedge while slaying that guitar solo. But there's a ton of benefits for using IEMs over traditional stage monitors. Here's a few:
Reduced stage noise makes it easier to mix FOH
Less damage to your hearing from stage noise
Once you have you have your mix you'll never need to flag down your monitor engineer again
Get the same stage mix night after night, even if you have a different sound engineer at each venue
Greater clarity in what you can hear = a better performance
Say goodbye to ear-ringing after a rambunctious performance
No more lugging around hefty wedges and monitor amps - yay!
Drawbacks of using in ear monitors
That said, here's some (potential) downsides of using IEMs:
Too much noise isolation can make you feel disconnected from the audience/miss adoring fans screaming your name
Similarly, it can feel weird to play on stage and not actually feel your fellow members making noise
Headphones are a lot easier to lose than a big-a** wedge
If you set the volume too loud night after night you'll damage your hearing. Play it safe kids.
Overall though the benefits outweigh the drawbacks. You'll eventually get used to the quieter stage and you can always take one ear out if you need to hear that audience member tell you how sexy you are.
I use a backing/click track for my gigs. Should I used an in-ear monitor?
Absolutely! How have you got by this far without them? A click running through a stage monitor will be audible to the audience. And if you don't use a click and simply rely on hearing the track you can easily end up in trouble if the track is hard to hear.
Which is best: wired or wireless in ear monitors?
With tech developments in the past few years there's not really much difference in audio quality between wired and wireless. It really comes down to practicality.
Personally, I prefer wireless. There's just less likelihood for tripping over wires. But if you're a stationary performer, like a drummer, a wired option is fine.
Do I need my own mixer for my IEMs?
Not necessarily. The FOH sound engineer can simply send the monitor feed that would have gone to your wedge to your IEM system.
If you want to control individual elements of your mix though you will need a mixer, plus a way of getting all the individual signals to it from the FOH desk.
Can I use my bluetooth audio headphone for in ear monitoring?
Please don't. Maybe in a few years technology will have developed enough that the latency inherent in bluetooth will be so minimal that it's practical to use on stage.
Until then, leave the bluetooth module at home.
What's the difference between in-ear monitors and iN-ear headphones?
The two terms are interchangeable, but sometimes confused. True in-ear monitors don't color the sound and are specifically designed for performers on stage. Some headphones call themselves in ear monitors, but they're designed for the recreational listening experience enjoyed by audio purists.
Why are drivers so important?
Drivers are what turn the electrical signal into the beauty of music you can hear with your Tobys. If you have only one driver turning every incoming frequency into audible material it's doing a lot of work. If your IEMs have 18 of them the load is being shared so widely the sound is going to be incredible.
Custom or universal fit: which is best?
This really depends on how often you wear an in ear monitor, and what stage you're at on your IEM journey.
If you're just starting out, or you only play once or twice a month, universal is the way to go.
If you're a regular performer with experience using IEMs you will probably consider getting custom fit headphones at some point.
Since they're molded specifically to each ear they fit perfectly, and provide better noise isolation.
Keep in mind that with customs you're screwed if you body changes shape, even slightly. And you can't re-sell them. If you ever get tired of your universal IEMs, or want to upgrade, you can simply get a fresh set of ear nubbins and sell them.
Conclusion
Thus concludes our epic journey into the universe of in-ear monitors. Choose wisely, choose within your budget, and above all, choose a volume that protects your hearing when you use them!