It's exciting times when you first delve into the world of making music with your computer. You're fiddling around inside Garageband (other DAWs are available) and, shazzam! There's a piece of music where there wasn't one before. But it's finicky making tunes using your QWERTY keyboard or dragging pretty colored blocks around a screen. How do you get creative and really dive deep into the belly of the beast you've uncovered?
Enter the MIDI keyboard. Choose wisely, and it'll boost your creativity, improve your workflow, and make you the master of your studio setup.
If you're a beginner, the sheer number of options to choose from can be daunting. Add to this the various features that differ between models and you could easily throw your hands up in the air and walk away.
Fear not, dear reader, help is here. This article will give you the low-down on MIDI keyboards for beginners; how they work, what to look for, how to choose what's best for you, along with a rundown of the best beginner MIDI keyboards currently on the market.
But first, let's talk about what a MIDI keyboard is, and what its role is in making music.
Buyer's Guide for the Best MIDI Keyboard for Beginners
What Is MIDI?
A long, long time ago (but not in a galaxy far away) a group of folks got together and decided to create a universal code to help electronic musical instruments talk to each other. And so was born the Musical Instrument Digital Interface - or MIDI for short. MIDI transmits information between devices and isn't restricted by platforms or manufacturers. So a musical device built by Roland, for example, can talk to something built by Yamaha.
At its most basic level, this information conveys what notes are being played, for how long, and at what velocity (volume). But MIDI does a whole lot more than that. It can send patch changes, volume and pan messages, and even information that sculpts your sound, like filter cut-off and LFO parameters.
In short, MIDI does a lot of legwork for the modern producer. You don't need to understand how it works, but having some insight into how much it can do will help you as you look for your ideal beginner MIDI controller.
What's The Difference Between A MIDI Keyboard and a MIDI Controller?
While the names can be interchangeable, it's important to realize the distinction between a MIDI keyboard and a MIDI controller.
A MIDI controller doesn't have onboard sounds; you use it to play notes, which are transmitted as information, to a device that does.
To further complicate matters, a MIDI controller might not have any keys on it at all. The Ableton Push, for instance, is a controller that transmits MIDI information to Ableton Live using pads.
A MIDI keyboard does have black and white keys, like a piano. In some cases, it may have onboard sounds too, for instance, if it's a workstation synth like the Korg Kronos.
For the purposes of this article, we'll be looking at MIDI keyboards for beginners that don't have onboard sounds but do have keys. I'll use the terms MIDI keyboard and MIDI controller interchangeably.
What Is A MIDI Keyboard Used For?
As you can probably guess from its name, a MIDI keyboard can be used to play notes on a piano keyboard layout. This information is used to trigger sounds, either via external hardware or using software instruments. If you're using a digital audio workstation (DAW for short) you can record this information, and lo, your creation is born.
But a MIDI keyboard can be used for so much more. Most MIDI keyboard controllers on the market today come packed with features that allow you to manipulate a whole host of parameters in music production. These include:
pads for triggering samples (or playing finger drums);
sliders and/or rotary dials that can be assigned to things like volume, filter cutoff, and bus sends;
buttons, allowing you quick access to screens, window sets, mute controls, etc;
transport controls, allowing you to operate your DAW without ever touching the mouse.
What Do You Need To Use A MIDI Keyboard?
Since we're looking at controllers that don't have onboard sounds, one of the first things you'll need to use is a sound source. This could be an external sound module or a software synth. Every model in this article comes with some form of bundled software which includes soft synths, so you'll be able to start using your board right out of the box.
You'll also need a cable to connect to your device. If it's a hardware unit, you'll need a 5-pin MIDI cable. If you're using a soft synth then it will depend on what the host device is. Most MIDI keyboards come with a USB cable in the box, but if you're using a tablet or phone to drive the software you may need an adapter to make everything play nice.
And, unless you're planning on using your nose (not advised for accuracy reasons), you'll need your fingers to play the thing.
What Else Do I Need?
At the most basic level, assuming you have a laptop or desktop computer, you can nip out to buy a MIDI controller, and begin making music with the bundled software. And that's all you need.
But a couple of other things you might want to consider purchasing to supplement your production process include:
Audio interface: this will allow you to record external sound sources, and hook up studio monitors so you can hear your creations with pristine sound. A few MIDI keyboards also double up as audio interfaces.
Digital Audio Workstation: in order to actually record your music you'll need a DAW. If you own a Mac, you'll already have access to Garageband. Another inexpensive option is Reaper, available for Windows and Mac. Your new controller may also come with a 'lite' version of a DAW that will work for the time being, and allow you access to an upgrade path.
Software Instruments: while your controller may come with some bundled instruments, at some point you'll want to explore other sounds. There's a whole lot of them out there, both free and paid for. You can build up your collection of instruments as you work out what kind of sounds you need, or go for a bundled package like Native Instruments Komplete to cover a lot of bases.
Sustain and expression pedals: a sustain pedal will help smooth out your playing and is a useful, and inexpensive, accessory. Expression pedals control the dynamics and are especially good for long, sustained notes.
Piano and/or music theory lessons: it may be worth taking a basic piano or theory course to help you understand and make use of all those shiny keys on your controller keyboard! Some models even come with a limited subscription to online courses.
What To Look For In A Beginner MIDI Keyboard
Price
I say this every time, and I'll say it again; don't feel like you need to break the bank and get one of the expensive midi controllers tempting you. Decide what's a comfortable price point for you and base your search on that. When you've conquered the world with your tunes you can splash out.
Portability
Are you going to be producing music on the move, or will you be holed up in your studio all the time? If the idea of sitting on a beach while you crank out some beats appeals to you, then size and weight will be a big factor in your decision-making. And don't forget to use sunblock.
Size and type of keys
Not all MIDI keyboards are made equal. There are mini keys, slim keys, synth-action keys, semi-weighted keys... the list goes on. A keyboard with smaller keys is great for portability, but if you grew up taking lessons on a real piano you may find them a little awkward to work with.
Similarly, if you've never played a traditional piano keyboard before you may struggle with the action of a fully weighted keyboard controller. Velocity-sensitive keys change how loud a note sounds depending on how hard or soft you press the key, and this can be a challenge for the novice player.
A compromise can be found in controllers with synth-action keys, which are easier to play but still give you expression in playing. The in-between solution is found in keyboards with semi-weighted keys; these have slightly more resistance when playing, but not as much as real piano keyboards.
My advice would be to choose from the following, based on your ability and experience:
Beginner : synth-action; mini or regular size keys
Intermediate : synth action or semi-weighted; regular size keys
Advanced : semi-weighted or fully weighted; regular size keys
Number of keys
How many keys you need depends on your playing experience, if you're planning to be a roaming producer, and how you want to use the board. Recording your piano concerto? You'll want 88 keys. Producing EDM? 25 keys will be fine.
As a general rule of thumb, 49 keys is a good middle ground, giving you a certain amount of portability, without having to change octaves while you're playing.
Drum pads, buttons & knobs
As a beginner in creating music, you don't want to overcomplicate things with a zillion buttons, knobs, and other bits to fiddle with. But again, consider the type of music you'll be making, and what that production process looks like.
If you simply want to record some piano or organ parts into your DAW you'll need very little in the way of additional features. But most modern music production techniques benefit from being able to get hands-on with your approach. The tactile response of using faders is heaps better than trying to ride your mix using a mouse.
Similarly, using rotary knobs to control performance parameters as you play can give you a more musical result than drawing in the automation after recording. And if you're going to be programming drums, a set of velocity-sensitive pads is highly recommended.
If you're unsure about what to do, I'd recommend looking for a model that has a minimum pitch bend and modulation wheels, a handful of rotary dials, and some buttons that can be assigned to different parameters.
Connectivity & compatibility
While most MIDI keyboards can be used with any DAW, some are designed specifically for certain DAWs, or at least to be more compatible with some than others. So check to see if the keyboard you're looking at is a good fit for the DAW of your choice.
If you're planning to connect to a portable device (phone or tablet) check that the controller you chose is compatible with that device. Also be aware that most controllers are USB powered, which can put a lot of strain on your iPad battery.
Also, look at what other connections the keyboard has and see if they suit your needs. These include:
MIDI in/out connections
Sustain pedal input
Other controller inputs (e.g. expression pedal)
Bundled Software
As a beginner, you'll probably be needing to get your hands on recording software and virtual instruments. Pretty much every MIDI controller comes with some form of a software package. Check to see what's included to see if the software lines up with your needs.
The 10 Best Midi Keyboard Controllers For Beginners
Part 1: 25-37 keys
The number of keys your MIDI keyboard has will be one of the deciding factors as you look at MIDI controllers. As a beginner, you probably don't want to spend too much cash - you may need spondoolies for a DAW and soft synths - and the layout of a piano keyboard may be unfamiliar to you, so 25 keys will be plenty thank you very much.
The following MIDI keyboards all have 2-3 octaves; a decent number of keys for laying down basic parts, and all super-portable, for the roaming musician.
1. Novation Launchkey Mini Mk3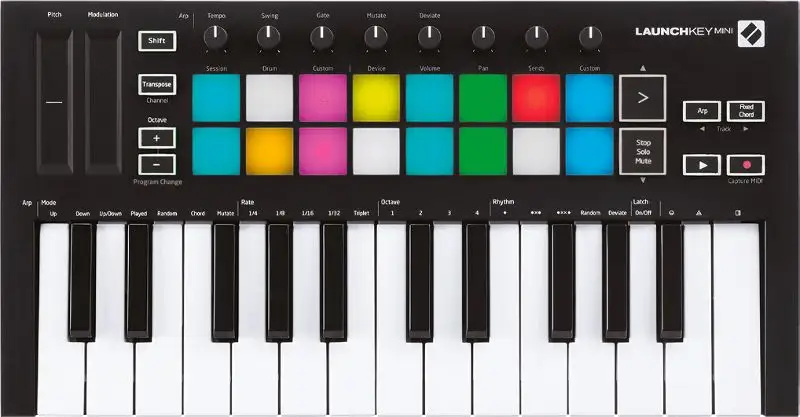 Quick Look
25 synth-action keys (mini)
Touch strip pitch and mod wheels
8 rotary knobs, 16 pads
Transpose, fixed chord mode, arpeggiator
1/8" TRS Type A MIDI out
Why Buy
The Novation Launchkey series offers some of the best MIDI keyboards for Ableton users, being designed specifically for that (admittedly great) piece of software. This mini model comes with its own copy of Ableton Live Lite, so you can get to grips with the software as you create music, before you commit to buying the full package.
What's really great for beginners is the seamless integration with Ableton - install the software, plug in the controller and you're away. While the controls are all assignable, you don't actually have to do any assigning to jump in and play with all the features this MIDI controller has to offer.
The mini keys are suitable for the novice player, or the producer who wants to spend more time manipulating samples than playing virtuoso synth riffs. The keys are velocity-sensitive, but you can adjust the curve, or turn it off completely to make life easier on your fingers.
With 16 drum pads, 8 rotary dials, and DAW transport controls, you'll have plenty of control over your production process. However, while the Novation Launchkey mini does work with other DAWs, it's so specifically Ableton focused that if you're on the fence about using that as your main recording software you may be better off choosing a more universal midi controller.
Akai MPK Mini Mk3
Quick Look
25 synth-action mini keys
8 endless rotary knobs, 8 drum pads (with note repeat)
4-way joystick for pitch and modulation control
Sustain pedal input
Why Buy
Personally, I love my little Akai MPK Mini MkII. The Mk3 is just a new iteration with some nice additional features, like the 'endless' rotary knobs and the OLED display for parameter feedback.
The MPC-style drum pads have a great feel, and a nice feature is the 'note repeat' function. This makes programming fast repeated notes a doddle - great for many types of electronic music. Perhaps less useful if you're doing straightforward singer-songwriter material.
The tiny keys may not suit everyone, but they do make this controller an excellent midi keyboard for beginners with limited playing ability. The 25 keys are enough to play synth lines and chords, or basslines, and there are always the octave up and down buttons to give you access to a further range.
The pitch bend wheel is actually a 4-way joystick that controls modulation as well, on the y-axis. For those of you used to playing with the regular two-wheel set up this may feel a bit awkward at first, but you quickly get used to it, and it can lead to some interesting 'accidents' - which I think always make the best kind of music.
The unit ships with a decent enough bundle of software - a copy of MPC Beats DAW and a handful of instrument plugins. I'd be hesitant to recommend MPC Beats as your DAW of choice, but it does function as a plug-in within other recording software, so you can access the many great kits that come with the package.
For the most part, this is a great starter midi keyboard, with the caveat that the instructions are not the most beginner-friendly, and the software package is a little complex to install.
Alesis V25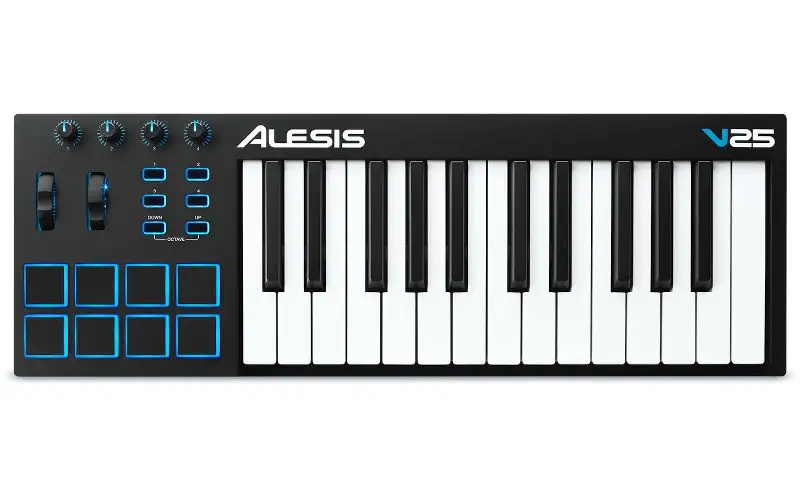 Quick Look
25 full-size, synth-action keys
Pitch and modulation wheels
4 assignable knobs and 4 buttons
8 velocity-sensitive pads
Includes Ableton Live Lite
Why Buy
The Alesis V25 is a very portable keyboard with full-size keys, a pitch bend and modulation wheel, eight drum pads, and knobs and buttons - four of each. The simplicity of the design makes it one of the best midi controllers for beginners who want full-size keys on a compact, portable board.
If this midi keyboard controller catches your eye - and why wouldn't it, with its fetching blue backlights and trim? - I'd recommend updating the firmware (via the Alesis website) before you dive into playing with it. If you're not a seasoned keys player you may also want to adjust the velocity curve (how sensitive the keys are in response to your playing). There are eight curves to choose from.
While other midi controllers may have more knobs and buttons the V25 only has four of each. However, if you're at the beginning of your learning curve this can be a good thing. Using the downloadable editor software you can configure these controllers to whatever you wish, or just use the MIDI learn function in your DAW.
The unit ships with a lite version of Ableton Live, so all you need is a laptop/pc and a spare USB port to plug into and you can start cranking out tunes pretty much straight away.
All in all, the V25 is a great first midi keyboard that comes with an affordable price tag.
Arturia MiniLab Mk II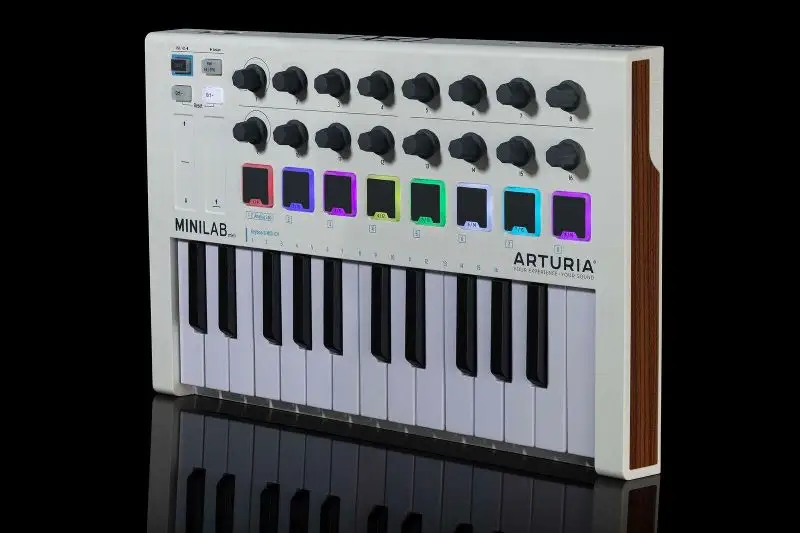 Quick Look
25 slim keys
16 rotary encoders
8 RGB pads
Pitch bend and modulation strips
Mac/PC/iOs compatible
The software includes Ableton Live and 500 sounds
Why Buy
The Minilab has been around in some form or another for quite a while. For a mobile musician, this is a great little compact model, and for the beginner, Arturia offers an affordable entry into the world of the midi keyboard controller.
A few features make this a contender for the best midi keyboard for beginners:
First of all, it's small. With the bundled software it's easy enough to throw in your backpack along with your laptop and make music on the move. It's got a durable design to withstand the rigors of the road too.
The Minilab can be used to control virtual instrument apps over iOs, as well as regular ole' recording software on your Mac/PC. Note though that while USB midi is powered from the included cable, you may need a third-party adapter to connect to your mobile device.
Third, rather than the standard eight knobs, the Minilab has a whopping sixteen rotary controllers. All of which can be edited and assigned in the free MIDI Control Center software, giving you a lot of control over your production process.
And finally, the bundled software. This includes Ableton Live (the lite version - naturally), a Grand Piano plugin, and Arturia's own Analog Lab Intro. This is essentially a go-to keyboard plugin with access to 500 sounds across the Arturia V Collection. Add this to the stock instruments and loops from Ableton and you'll have all the sounds you need to start exploring the wonders of production and sound design.
Nektar Impact LX 25+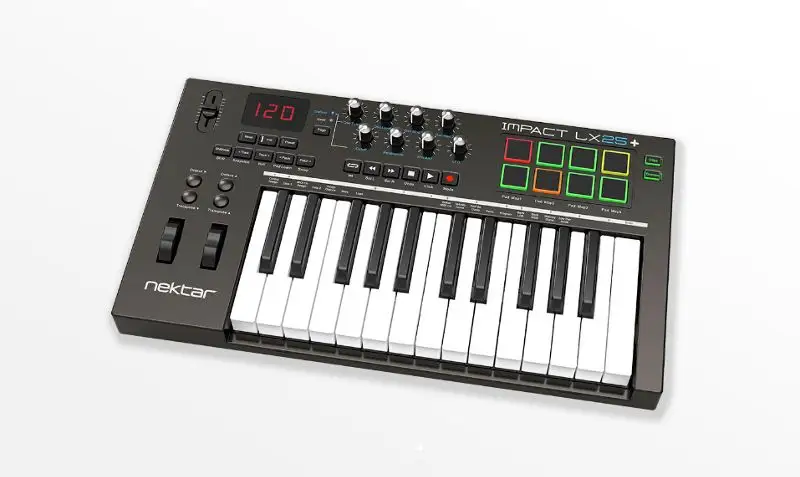 Quick Look
25 full size, velocity-sensitive, synth-action keys
Eight rotary knobs
Eight drum pads
Comes with pre-mapped controls for most major DAWs
1 fader
DAW transport controls
Why Buy
The Nektar Impact offers some of the best midi control options for any board with this number of keys. Everything is fully programmable, and settings can be stored in one of the five onboard presets.
Just the sheer number of control options on this unit makes it one of the best midi controllers on the market, but what makes it right for the beginner?
The fact that the Nektar ships with DAW integration for nearly every piece of software on the market means once the installation process is complete there's no learning curve trying to get the keyboard to talk to your DAW. It just happens. And this isn't just for the big three either. Reaper is a popular DAW among beginners due to its extensive trial period, and budget-friendly price tag. And yes, Reaper is supported on the Impact.
The full-size keys are velocity-sensitive. Some users complain that they are stiff but persevere. Even keys that play with a synth action take some getting used to, and once you've mastered them you'll be glad of the resistance to put some expression in your playing.
Nektar includes a full-color, full-size user manual in the box. In a world where most manuals are digital, this is a boon for the newcomer to midi controllers. The manual goes into detail about all the functions of this great MIDI keyboard, so it's easy to learn as you noodle around on your new gear.
There are a ton more features on this board - more than I have room for in this article. But the takeaway here is that with its intelligent mapping, full manual, and depth of control, the Impact LX25 is an amazing MIDI controller for the beginner who is ready to dive into the world of music production.
Part 2: 49 keys and above
Having more keys is generally a good thing - nobody wants to fiddle with octave up and down buttons while they're laying down tracks. But as you add more keys, you gain more controls and functionality and start using up more desktop real estate. And of course, you'll end up spending more.
The following MIDI controllers all have 49 keys or more, and as such represent a bigger investment, in terms of cash and learning, for the beginner. They will, however, 'future proof' you as your skills and confidence grow.
Novation Launchkey 49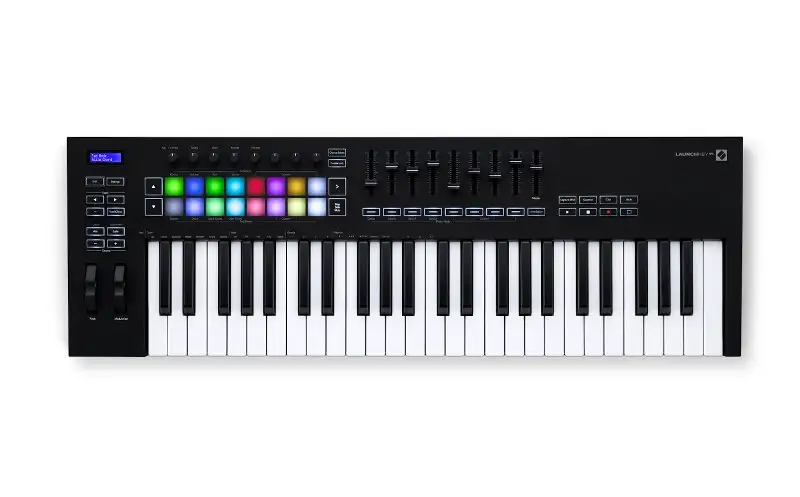 Quick Look
49 key MIDI keyboard
8 rotary knobs, 9 faders
16 RGB velocity-sensitive drum pads
Modulation and pitch wheels
Optimized for, and ships with, Ableton Live Lite
5-pin MIDI out socket
Why Buy
Like its little brother, the Novation Launchkey comes packed with a wealth of features for the Ableton Live user.
This 49-note MIDI keyboard has all the same features as the Novation Launchkey Mini, but with full-size keys (and more of them), and the addition of nine faders. Like most drum pads, the 16 RGB pads on this Launchkey are velocity-sensitive, and the MK3 has optimized the response on both the drum pads and the keys.
The larger keyboard also has a 16 x 2 character screen - it's small, but it does help give visual feedback on what you're actually doing; helpful for the beginner.
Another useful feature for the neophyte keyboard player is the Scale and Chord modes. With scale mode, the keys and pads are automatically transposed to the scale selected. You can dazzle your friends with a soaring Mixolydian synth line without having any lessons!
Chord mode allows you to play complex harmonic sequences with just one finger. Again, a really useful feature for someone just starting out in production.
The 5-pin MIDI out connection allows you to connect to external devices, but be aware the unit doesn't ship with a MIDI cable.
Novation makes life easy for Launchkey users by clearly labeling all the keys, sliders, and rotary knobs. In addition to being designed for use with Ableton Live, full integration is available for Logic, Cubase, and Reason. Plus, it works in standalone mode, allowing you to control soft synths from mobile devices, or hardware synths while gigging.
All in all, when you look at all the features, and the number of keys, this is one of the best MIDI keyboards you can get for the price, regardless of whether you use Ableton Live or not.
Novation SL 49 MkIII

Quick Look
49 velocity-sensitive, semi-weighted keys
Backlit pitch bend and modulation wheels
RGB LED feedback on keys
16 velocity-sensitive drum pads, with aftertouch
Extensive mapping options for software and hardware
Why Buy
Another contender from Novation, this is almost too complicated to be a MIDI keyboard for beginners. Not to mention the price tag... But stay with me here.
For those who are selective about the type of keys midi controllers have, this is a strong contender for the best semi-weighted keys category. Not only that, you get an amazing set of features that can be used to control software or hardware.
With 16 velocity-sensitive drum pads, an aftertouch capable of being assigned to any parameter, 8 faders, eight knobs, transport controls, and LED screens for visual feedback this is an excellent controller keyboard.
But the SL49, while being one of the best MIDI keyboard controllers, is not for the fainthearted. It will play nice with your software as soon as you plug it in but be prepared for a lengthy learning curve in order to get the most out of your new purchase. And if you're after a sizeable amount of bundled software, you bang out of luck - Ableton Live Lite and 4GB of sounds and samples is what you get. Not too shabby, but as a beginner, you may find yourself hankering for some additional synths and sounds.
However, if you're a brave novice, willing to lay down some cash on a MIDI keyboard as a long-term investment in your music production career, this could be the best MIDI controller for you.
M-Audio Oxygen Pro 49 49-key Keyboard Controller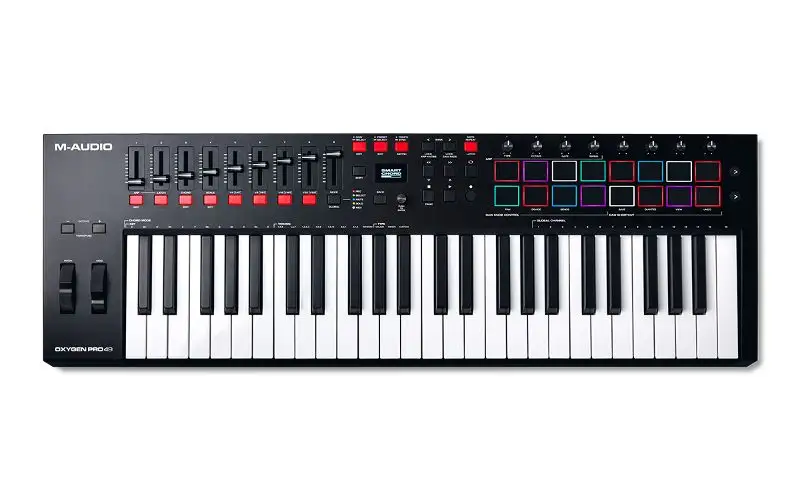 Quick Look
49 semi-weighted keys, with aftertouch and assignable zones
16 RGB velocity-sensitive drum pads
8 assignable rotary knobs
9 assignable faders
USB-MIDI and 5-pin MIDI Out connections
Why Buy
M-Audio make a lot of midi keyboards. A lot. The Oxygen Pro 49 makes it onto the list of best MIDI keyboards because of its combination of portability, affordability, functionality, and most importantly for the beginner, ease of use.
If you use a major DAW like Logic, Cubase, Ableton Live, or Reason you just select your program in the Oxygen Pro 49, and all the controls will be automatically mapped to your DAW. If you use an unsupported piece of kit (like Reaper) to make your music you may have to spend some time programming the buttons yourself though.
All the controls on the Oxygen Pro 49 also instantly map to the included virtual instruments - an electric piano, grand piano, and a good collection of synths. As with any of the best MIDI keyboards, they can also be assigned to any parameter for any other software you own.
All the preset configurations can be tweaked, and new mapping created, in the preset editor. This is available as a separate download from the M-Audio website. It's a little fiddly to use but well worth taking the time to learn if you're serious about controlling your synths, and don't want to waste time re-programming often-used parameters.
There are plenty of handy features for the beginner, like Smart Chord, and Smart Scale technology, as well as more advanced features like aftertouch, note repeat, and a built-in arpeggiator.
The keys are highly playable, and while the board is light enough to carry around on your back for gigging, the build on this new model is slightly more sturdy than earlier models. Don't plan on using it with a mobile device though - desktop or laptop only for this beast.
My only niggle with the Pro 49 is that it lacks an expression pedal input, but for a beginner, this is unlikely to be an issue, especially since this CC can easily be mapped to one of the nine faders.
NI Komplete Kontrol A61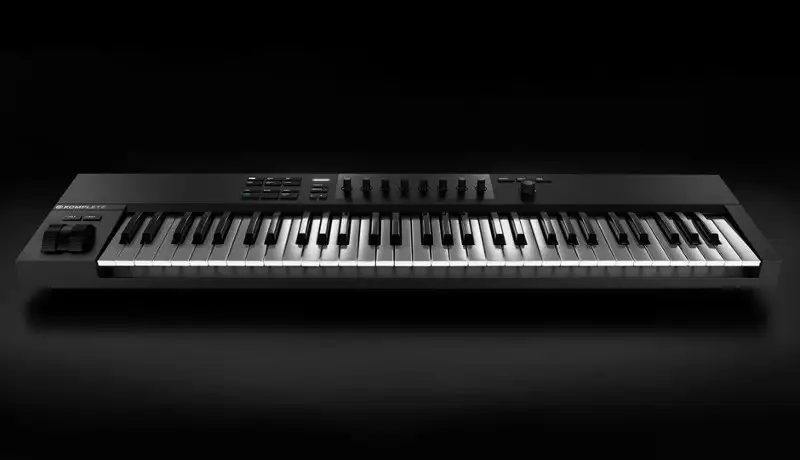 Quick Look
61 semi-weighted keys
8 touch-sensitive control knobs
Smart Play feature enables easy playback of complex scales and chords
The excellent software bundle includes instruments and effects from the Komplete series
Browse NI sounds and presets directly from the keyboard
Why Buy
If you're just starting out on your music production journey, there's a good chance you don't have a lot of virtual instruments in your sonic arsenal. If this is you, and you prefer to have more keys to tinker with, the A61 from Native Instruments could be the midi keyboard for you.
The Komplete Kontrol series of keyboards span a range of sizes and features. The A-series are probably the best controllers for beginners, as there are fewer features (and therefore complexity) to get your head around.
The 61 semi-weighted keys sit on a custom NI keybed, which has some customers raving about the response. It offers enough resistance to work if you're playing a piano patch, but light enough to do more synth-style playing.
But the real deal on this sub-$300 board is the integration with some of the major DAWs, and the bundled software. You get access to transport, mixing, and editing controls in Logic, Garageband, and Ableton Live (Cubase and Nuendo integration is promised in a future software update).
This integration allows you to capture your ideas straight from the controller without having to switch back and forth from your mouse. If you're an Ableton user already, be aware that the A61 only supports version 10 and above. (A copy of Ableton Live Lite 11 is included in the box).
The A61 also comes with a healthy selection from the Komplete collection of instruments and effects. A couple of great synths and pianos, and access to over 2,000 studio-quality sounds - drums, bass, synths, atmospheres, and more.
The best part? All these sounds can be browsed directly from the A61, using the smart tags built into the NI sound library. And once you've selected your sound, the essential parameters are pre-mapped to the A61's eight rotary knobs, so you can tweak away without further thought.
Like most midi keyboard controllers the A61 is USB powered. It doesn't have a power button to turn the unit on or off. This is far from being a deal-breaker, but something to bear in mind if powered-up units that aren't in use are something that could get on your nerves.
Little sniggles aside, if you like the idea of having five octaves of synthetic ivories to tinkle on, and need to build your sound library, the A61 could be the best MIDI keyboard for you.
Roland A-88 MKII

Quick Look
88 hammer action, fully weighted keys
Ivory-feel keys
Pitchbend/mod lever
8 assignable knobs, eight pads
USB Midi, 5-pin MIDI in/out connections
3 pedal inputs
Why Buy
While some folks may be new to the midi controller game, they may have a lot of experience at a real piano and want the responsiveness of a piano keyboard as they work in the studio.
At over $1,000, the Roland A-88 is not in a beginner-friendly budget range, but if you're a veteran at tinkling the ivories and want to start delving into the world of MIDI keyboard controllers this could be the right MIDI controller for you.
The ivory-feel weighted keys have a PHA-4 keybed, giving the user an extremely realistic action when playing. Sensitivity and responsiveness can be adjusted to suit, so you can make it play like Grandma's Bechstein if you want.
Rather than separate pitch and modulation wheels, there's a combo lever. This can be problematic when programming, but really this controller keyboard is more for beginners who want weighted keys more than synth-like features.
In terms of other controls, the A-88 is fairly straightforward. Eight knobs and eight pads are all assignable. There's no screen to give visual feedback, but with an app, you can create custom setups for controlling soft synths or external hardware, and save them for instant recall later.
The controller can be USB powered or plugged directly into the wall. The USB port also supplies MIDI information, with the option of using the 5-pin MIDI in/out ports on the back of the keyboard.
There are MIDI keyboards available with more features at a much lower price, but if you're hankering after the feel of a real or digital piano and don't want to be bogged down with a bazillion knobs, and buttons this would be an ideal MIDI controller for you.
Conclusion
What's the right MIDI controller for you? Ultimately, you're the one who has to choose. All of the above keyboards can be considered controllers for beginners, with functionality, ease of use, and a healthy set of features. It comes down to your playing style and ability, and how ready you are to dive into manipulating plugins and other parameters using a MIDI controller.
We here at Emastered hope you've found this article on the best MIDI controllers useful in your search for a MIDI keyboard. Good luck - you got this!