FL Studio is a hugely popular DAW for making music in EDM, hip-hop, and other electronic-oriented genres.
But you probably knew that already, otherwise, you wouldn't be here.
Like a boat without a rudder, or a guitarist without a pick, FL Studio is just half the DAW it could be if you don't have a MIDI controller at the helm of your studio.
Making the bold assumption that you need only one controller for FL Studio, we're about to take a deep dive into a variety of MIDI controllers of all shapes and sizes. By the time you're done reading, you'll be armed with all the knowledge you need to choose the MIDI controller with the best features for your studio workflow.
After the reviews section, you'll find some FAQs and the origin story behind the DAW formerly known as Fruity Loops.
But for now, let's dive straight in and look at the best MIDI controllers, and how to spend your hard-earned cash with smarts.
The Top 10 Best MIDI Keyboards for FL Studio: Reviews
We're going to start off by looking at dedicated FL Studio controllers - devices built specifically (and sometimes uniquely) for integration with FL studio.
Then we'll look at some other compact, 49-, and 61- key options. So no matter your portability needs, or the level of your keyboard chops, there'll be a controller with the right features for you.
Dedicated Controllers for FL Studio
Novation FL 25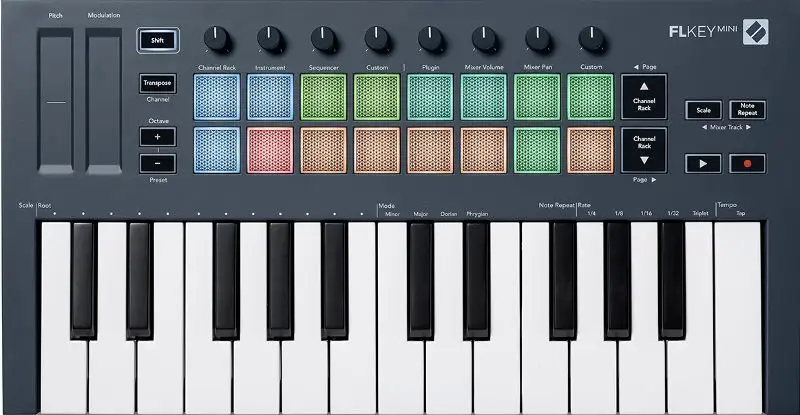 Quick Look
25 velocity-sensitive mini-keys
16 RGB velocity-sensitive pads
8 rotary knobs
Transport controls
1/4" pedal input (sustain)
3.5mm jack MIDI output
Plug-in preset browsing
The Low Down
Novation released their dedicated FL Studio keyboard controllers in the Spring of 2022. While many big brands already offered integration with FL, this series was the first keyboard controller designed specifically for use within FL Studio.
The FL 25 is a 25-note mini-key controller, with velocity-sensitive synth-action keys and pads.
The pads can be used to play directly into the Channel Rack or used to trigger FPC, SliceX, or Fruity Slicer to make your beats and melodies more lush and expressive.
Pitch and mod strips replace the more widely-used wheels, and the 8 assignable knobs can be used to adjust volume, pan, or any parameter of your choosing.
Basic transport controls can be found on the right-hand side of the keyboard, and you can browse presets for any Image Line plug-ins directly from the controller.
Other features include a scale mode (especially useful on these smaller keys!), note repeat for pad operation, and the ability to customize the pads and knobs to your specific workflow.
The FL25 ships with a 6-month trial for FL Studio Producer Edition. If you're completely new to FL, I'd recommend downloading the unlimited free trial before committing to this keyboard controller. While it does work with other DAWs, you'll lose a lot of the functionality.
Overall, the FL25 would be a great choice for the FL user entering the world of MIDI controllers for the first time.
Pros
Seamless integration with FL Studio
Affordable
Cons
Tricky to set up on Windows
Novation FL37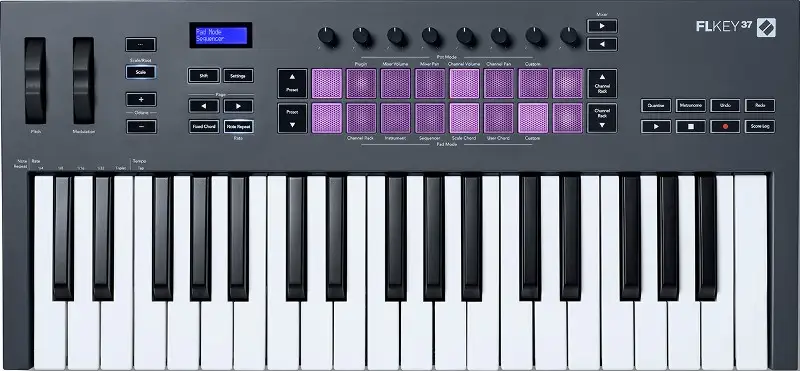 Quick Look
37 full-size, synth-action keys
16 velocity-sensitive RGB drum pads
8 knobs
Pitch and modulation wheels
Transport and sequencer controls
1 x 1/4" pedal input
MIDI Out connection
LCD Screen
The Low Down
As you may have guessed, the FL37 is the bigger brother to Novation's FLkey Mini 25. Sporting the same features and seamless integration with FL Studio as its younger sibling, this MIDI keyboard controller brings with it a few additional, and useful features.
First up, there are 12 more keys, and they're all full-size. The pitch and mod strips are replaced with bona fide wheels. Call me crazy, but I think this makes all the difference when it comes to expressive performances. Particularly if you use the mod wheel to control expression, it's useful to see where your wheel is at as you begin recording.
There are also extended transport controls, including quantize, undo/redo, and a metronome button.
The MIDI out is a 5-pin connection as opposed to the 3.5m jack on the mini-key model, which reduces cable clutter if you're using external gear.
Finally, the LCD screen gives you instant visual feedback to your parameter noodlings.
While nearly double the cost of the FLkey Mini, the FLkey 37 is one of the best portable choices for the die-hard FL fan who likes to make music on the move.
Pros
LCD screen for easy viewing of parameters
Portability with full-size keys
Did I mention seamless integration?
Cons
Tricky to set up on Windows
Akai Professional Fire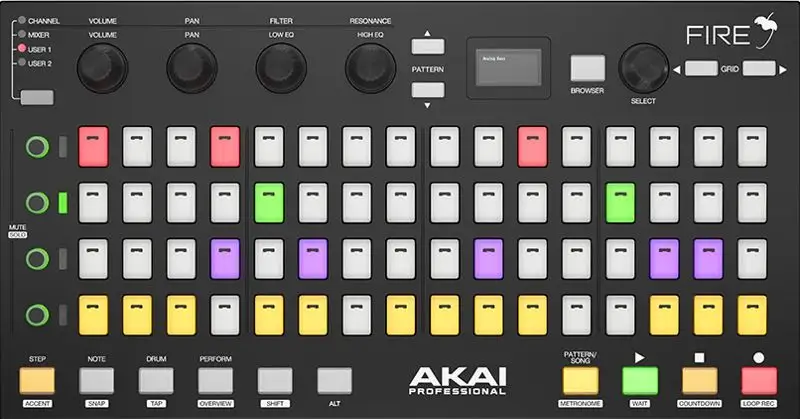 Quick Look
Plug & play integration
Competitive pricing options for FL Studio users with existing license
64 RGB pads
4 assignable knobs
Dedicated transport controls
Daisy chain up to 4 units for a powerful matrix of pads
The Low Down
I know, I know; this isn't strictly a MIDI keyboard controller. But this pad-based controller from Akai Professional was the very first dedicated controller for FL Studio, so deserves an honorable mention.
And, using 'note mode' you can turn the pads into a 3-octave keyboard for knocking out melodies and chord progressions. So it kinda slides into the keyboard category...
But what else can it do?
Using a dedicated browser function, users can navigate, audition, and load audio samples, recall project files, and open plugins. The bright OLED display makes this (and other parameter operations) easy to do.
Use the pad matrix to sequence directly into FL's channel rack, with the pads lighting up to show you what's happening and when. Switch to mixer mode to control volume, pan, and other fields.
The 4 knobs come in up to four banks and can be user-assigned to manipulate the parameters you use the most.
Finally, if you already own a license for FL Studio, you can choose from competitive pricing options to suit your needs. If you don't already own a copy, again, I'd recommend downloading the free trial first to make sure this is the DAW for you. Akai's Fire isn't really built for other DAWs.
For a specific type of music production, the Fire would be an excellent MIDI controller for FL, providing ways to increase workflow and boost creativity. But the lack of a keyboard and external connections may not suit some. In this case, keep scrolling; we've got more for you below!
Pros
Dives into extended FL functionality
Optional multi-device mode
Cons
Pads aren't great at velocity sensitivity
25- to 61-key MIDI Keyboard Controllers for FL Studio
Akai Professional MPK Mini MK3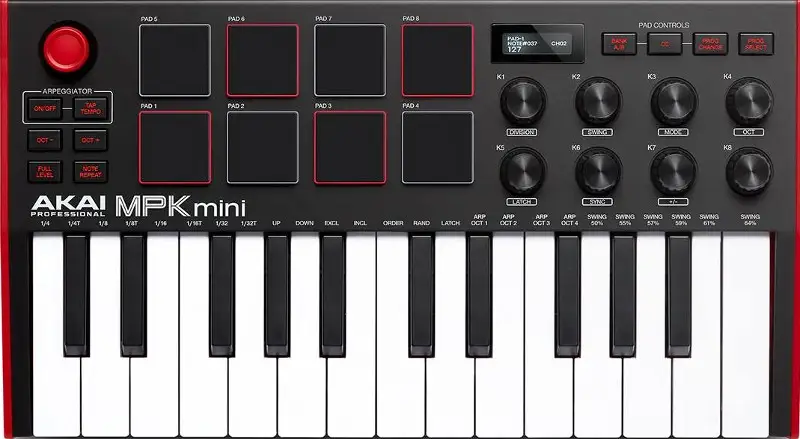 Quick Look
25 mini-key MIDI controller
8 backlit velocity-sensitive performance pads
8 assignable knobs
1 x 1/4" pedal input (sustain)
Built-in arpeggiator
4-way pitch bend/modulation joystick
The Low Down
Another offering from the Akai world, this time the seemingly ubiquitous Akai MPK Mini.
There's a reason why this portable MIDI keyboard controller pops up on every top-ten list. It can handle even the most demanding of backpack rides; the pads feel great; the keys, while small, have a decent action to them. In short, it works. Every time.
The MPC backlit pads have the option of using note repeat or full-level functionality, if you're tired of expressive finger drumming, or want to use them for sample playback.
The 8 'endless' knobs can be assigned to control any parameter in FL Studio, and you get instant feedback on what you're doing with the OLED screen.
The onboard arpeggiator can be a useful tool for creating spicy new melodies, especially with the adjustable range and modes.
The only niggle I have with it is the joystick in place of the pitch and mod wheels. For me, it doesn't give enough freedom of movement for true expression. But on such a small keyboard something has to be sacrificed, and you can always map modulation to one of the knobs.
It's worth noting that the MPK mini comes with a handful of virtual instruments, including the large MPC Beats library, and a selection of instruments from AIR music technology. These are a handy addition to the instruments included in FL Studio, and the price makes this controller worth considering for these alone.
Pros
Compact and durable
Automatically maps to FL Studio, with user programmability
Cons
Dinky-dinky keys and pitch/mod control
Novation Launchkey 49 MK 3

Quick Look
49-note MIDI keyboard Controller
16 velocity-sensitive pads
9 faders
8 knobs
Onboard arpeggiator
Basic transport buttons (play, stop, record, loop)
Pitch bend and modulation wheels
1 x 1/4" sustain pedal input
5-pin MIDI out
The Low Down
The Launchkey family of keyboards from Novation is well-known for being optimized for Ableton Live. What you might not know is that with the latest version of FL Studio (20.9.2, or above) there is built-in integration with the Launchkey MK3 range.
This new integration lets users trigger notes from the drum pads (and, obviously, from the keyboard itself), and control FL mixer volume and pan, plus transport, all directly from the keyboard.
We're looking at the Launchkey model with 49 keys. If you want something smaller you're better off choosing from their FLkey range, which is modeled on this family of keyboards.
With more real estate comes more controls, and the Novation Launchkey 49 has plenty of them.
Use the 16 RGB drum pads to program drum patterns and trigger notes, or use the new Custom Mode update to assign DAW shortcuts to the pads for a faster workflow.
The Custom Mode is a neat feature that allows users to design the Launchkey controls exactly how they want. You do have to download additional (free) software in order to take advantage of this, but if you're a power FL user this will definitely be worth your time.
Any of the nine faders can be used to control volume in the FL mixer, or tweak instrument parameters while you're using FL Studio. The same applies to the knobs, which also double up as the arpeggiator controls.
A small LCD screen lets you know what's happening. It could be bigger, but it's better than nothing.
The 49 velocity-sensitive keys are synth action. The keybed is not too shabby at all and, provided you're not trying to play Chopin's Nocturnes, it's more than capable of handling any musical tasks you throw at it (don't throw things at your keyboard btw) .
All in all, this is a great value controller keyboard for FL studio, with a lot of features to play with, both in and out of FL.
Pros
Works in standalone mode
Large selection of controls
Cons
None from where I'm standing
Alesis V49
Quick Look
49-key, velocity-sensitive synth-action keyboard controller
8 backlit drum pads
4 knobs
6-mode arpeggiator
Pitch and modulation wheels
1 x 1/4" sustain pedal input
The Low Down
Sometimes you just want a way of playing in those lush chord progressions and sweeping synth lines, without having a thousand buttons screaming at you to push them. And that's where the V49 comes in.
The Alesis V49 is a MIDI controller that prides itself on simplicity and playability. It's an affordable (under $200) 49-key option that has just enough features to help you while you're making music, without over-complicating things to the point you'll spend half your time reading the manual (pro tip: googling your question will often yield quicker results) .
The velocity-sensitive keys are pretty decent to play considering they're synth style rather than semi-weighted, and you can add expression to your performance with the pitch and mod wheels.
The 8 velocity-sensitive pads come with full level and note repeat features so you can sound like an 808 if that's your bag. While these can't be reassigned to CC messages, the 4 rotary encoders can be, so you can still control essential parameters in FL.
The V49 doesn't have a lot of controls, but sometimes that's what you need to be creative. If you're looking for a simple, clutter-free MIDI keyboard for FL, the Alesis V49 would be a good choice.
Pros
Super simple to use, and clutter-free
Very affordable 49-key option
Cons
Not a huge amount of controls
Nektar Impact LX61+

Quick Look
61-key synth-style keyboard controller
8 velocity-sensitive drum pads
9 assignable faders and buttons
8 assignable knobs
Transport controls
Pitch and modulation wheels
Sustain pedal input
The Low Down
It's easy to assume that when you're making electronic music you don't need a huge span of keys to play on. And while for the most part that may be true, if you've ever experienced the frustration of running out of octaves just as you're getting into the flow of a good take, you'll know how important it is to have the right number of keys for your workflow.
61 keys may seem like overkill, but with the Impact LX61+ the price certainly isn't. Sure, it's not the greatest keybed on earth, but it's sufficient for most programming needs. And the RGB velocity-sensitive pads are a gem to play on. In fact, it's so easy to program flams on them you sometimes wish for a full-level button.
The onboard transport, navigation, mixer, and instrument buttons all map to corresponding FL controls. But if these don't float your boat you can simply re-program them, and save them in one of the 5 user presets. Yes, folks, the multitude of knobs, buttons, and faders are all user-programmable. I'd recommend using the onboard MIDI CC assign to program your most oft-used functions, and save the MIDI learn functionality for on-the-fly changes.
In order to access all the features on FL Studio you have to head to the Nektar support pages and follow their instructions. It's not rocket science, but it's also not plug-and-play.
If you're looking for an affordable 61-note keyboard for FL studio, the Impact LX61+ could be the best MIDI keyboard for you.
Pros
Affordable 61-key MIDI controller for FL Studio
All buttons, faders, and knobs are assignable = user domination!
Cons
Setting up in FL takes a bit of shenanigans
Arturia Keylab 61 MKII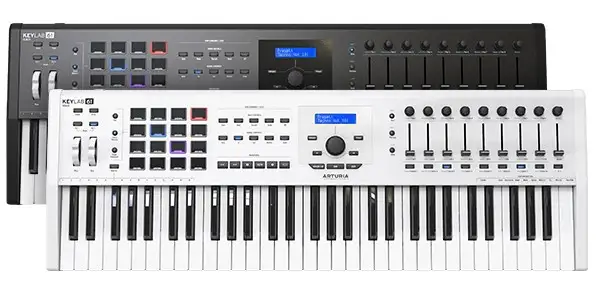 Quick Look
MIDI controller with 61 keys, semi-weighted, aftertouch enabled
16 velocity-sensitive pads
9 faders, 9 knobs
MIDI I/O
5 external pedal inputs (sustain, expression, 3 x aux)
CV I/O
Includes access to great Arturia soft synths
The Low Down
The Keylab 61 is one of the best MIDI keyboards you can get in its price range (around $500-600 at the time of writing). With the wealth of controls and external connectivity available you'd be hard-pressed to find a more comprehensive controller for any DAW.
So why's it a good choice for the FL Studio user? Simply because of all of those knobs, buttons, and faders, with an excellent keybed to boot (the semi-weighted keys are a joy to play). Plus, you get a ton of external connectivity via MIDI, pedals, and good ole CV connections (if you're an analog type of person).
On top of all this, you get a strong, lightweight aluminum build that rocks its presence wherever you are and a whole bunch of excellent virtual instruments from Arturia's own sound library. (Which, incidentally, you can browse directly from the controller).
If you're a serious player, the keylab would be a great MIDI keyboard for FL. And since it's so versatile you could use it in other scenarios too - controlling other DAWs; onstage with an analog rig; or simply noodling around with all the software instruments that ship with the keyboard.
It is, however, quite the outlay, so it's more suited to the experienced FL user and/or keyboard player.
Pros
Excellent build quality
Huge amount of controls and external connections
Cons
Could be above some people's budget
FAQs
Do I need a keyboard to use FL studio?
Not necessarily. You can program all your beats and notes using your QWERTY keyboard. But having some pads at least will make the process much, much smoother. And having a couple of octaves of keys to fiddle around on will open up creative spaces for you. If you're worried about your playing ability, you can use the Smart Chord and Smart Scale features that some of the above models have.
How do I know which MIDI controller is the right one for me?
As a music producer, you'll always be evolving. A better question to ask is, 'which MIDI controller is the best one for me right now ?'. To answer that you'll need to consider things like:
Budget: don't get something you can't afford. You can always upgrade as you build your skills.
Portability and durability: If you're planning on taking your board on the road, make sure it won't fall apart after a couple of trips.
Number and type of controllers: this is somewhat restricted by the size of the keyboard, but decide how you use FL Studio and which controls make sense for you.
Number and type of keys: If you grew up playing on a pinnanah (technical term for piano) you'll probably want full-size keys. Mini keys are great for portability but can be fiddly to play anything moderately complex.
External connectivity: do you have external synths you want to hook up to FL Studio? You'll need MIDI outputs on your keyboard. How about a sustain pedal for smoothing out those tricky passages? Not all controllers come with pedal inputs!
How do I connect my MIDI keyboard to FL Studio?
First of all, make sure you're up to date on all software and firmware for both your controller and FL Studio (yay, free lifetime upgrades!).
Then, in FL Studio:
From the toolbar, select 'Options > MIDI settings'
Select 'Input Settings', select your keyboard, and click 'Enable'
Press a pad or a key to confirm FL is receiving MIDI from your device
A Brief History of FL Time
If you've been left wondering where the FL in FL Studio comes from, you need to travel back to the end of the last millennium. FL began its life as a 4-channel drum machine app and sported the name Fruity Loops.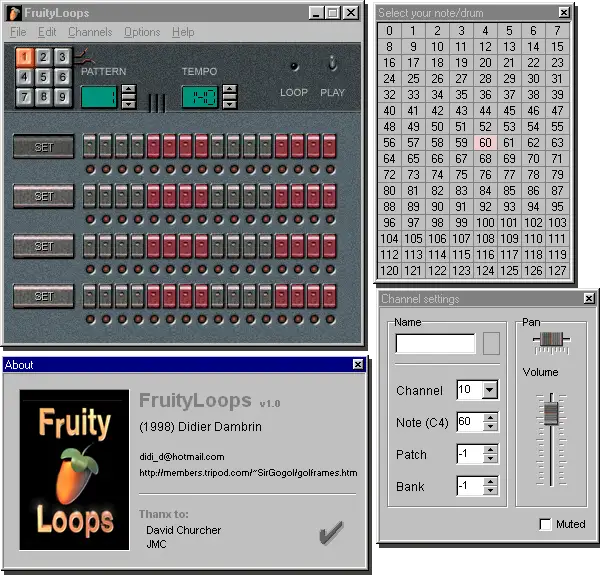 It was MIDI only, and according to Image Line (the developers behind FL Studio) it was never 'really' released. Everyone in the late 90s seemed to have a copy though.
More features were added until in version 3, the software began to resemble the DAW you see today. In 2003, the name was changed from Fruity Loops to FL Studio after a well-known cereal brand threatened legal action. The folks in marketing also thought it would help the company earn money, as they had suffered at the hands of software piracy during their early years.
More than twenty years later the DAW is on version 20+, and is a major player in the electronic music scene with its feature-packed workspace.
Conclusion
FL Studio is an excellent DAW, with a supportive community of users, and a promise of lifetime free upgrades that mean you only pay for the software once.
Now that you know what the best MIDI keyboard for your work with FL Studio is, get ready for a surge in creativity. May the FL force be with you on your music producer adventures!