There seems to be a bit of magic about the way in which technology continues to improve the ins and outs of daily life. Keeping us connected in ways never imagined possible.
This proves to be an exciting time to be alive especially if you're a creator, as more possibilities continue to open up, allowing more freedom and flexibility.
As a musician, I'm able to begin my session at a studio in New York, and have some friends on the West Coast apply finishing touches.
Most times all that is needed is a digital audio workstation and internet access and we're good to go.
As a traveler, I remember wishing for more convenient ways to create music while in transition. Carrying a whole heap of hard drives to coincide with my traditional digital audio workstations proved to be a handful.
There was also the inevitable fear of leaving a hard drive or two behind in some airport, losing most of my own music in the process.
I was inadvertently dreaming of an alternative and an online digital audio workstation came as an answer.
Today we'll be discussing the best online DAWs for your music needs.
Maybe you would like to easily mix music from anywhere or have the full freedom to create music wherever inspiration strikes.
Whether you're a seasoned music pro who's looking to switch things up a bit or a beginner looking for something simple to produce music, we've got you covered.
If you are a complete beginner who happened to stumble upon this article, we'll cover the basics, like the question...
What is a DAW?
A digital audio workstation or DAW is a piece of software (sometimes hardware) that is used for music production, recording, mixing, and editing.
Digital audio workstations combine many of the separate components of the music creation process into an app that allows you to have a recording studio at your fingertips.
You may be familiar with industry-leading DAWs such as Ableton Live or Fruity Loops. And if you're reading this on an Apple product, you may have knowledge of Garage Band.
Traditional DAWs usually come bundled with gigabytes of sounds and loops, as well as virtual instruments.
They feature close to everything you need to go from conception to completion.
What is an Online DAW?
An online digital audio workstation is exactly what the name implies.
It puts the elements of a DAW into an all-online program. Perfect for those who are on the go or in need of a collaborative online music studio.
Though not always as extensive as a full DAW, they usually come with enough creative tools to get the job done, as well as mobile apps to keep the creative process going.
While some of these online DAWs are offered for free, some may require a monthly subscription.
However, compared to their more full DAW counterparts, you'll definitely save a buck and a little bit of time, as most online digital audio workstations offer an entry-level approach to creating music.
Who says that making music needs to be expensive or complicated?
Here are the best online DAWs for your music creation needs.
1. BandLab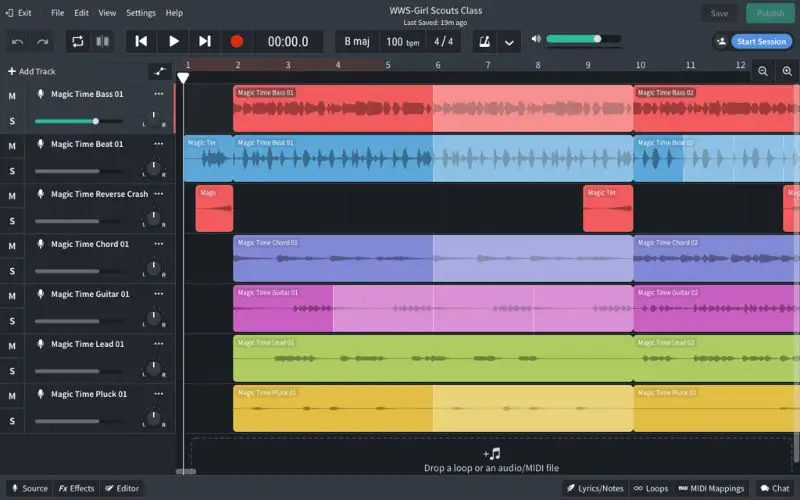 If you're looking for a top-notch 100% free online DAW, look no further than Bandlab .
It's an award-winning DAW that feels like a recording studio in your pocket. Bandlab makes great use of the cloud, allowing you to collaborate in real-time while keeping everything consolidated with unlimited storage.
Upon signing in, I noticed that the UI is beautiful, sleek, and simple enough to get started right away.
It almost feels like the Bandlab environment could be the brainchild of Instagram and an online DAW, seeing that you're able to follow artists and keep up with their music via posts on a vertical feed.
Bandlab comes bundled with premium Universal FX, 10,000+ royalty-free loops, and over 200 virtual instruments such as a drum machine.
This free DAW also works across multiple platforms such as Windows, Mac, Android, iOS, and Chromebook.
If you need an online DAW that's unlimited, Bandlab has got you taken care of. With a free account, you'll get to save unlimited projects, and have access to unlimited algorithmic mastering, unlimited high-quality downloads, and unlimited collaborations.
The ecosystem over on Bandlab is the perfect environment for creative inspiration, as you're able to invite different artists to work on your songs easily. In a sense, you're surrounded by music, which is always good.
Also, there's an interesting tip jar feature that gives fans the ability to directly support their favorite artists.
It's truly a world-class sound studio anywhere, anytime.
Highlights
No software needed
100% Free DAW
Real-Time Collaboration
Auto-Pitch real-time pitch correction
Packages
2. SoundTrap by Spotify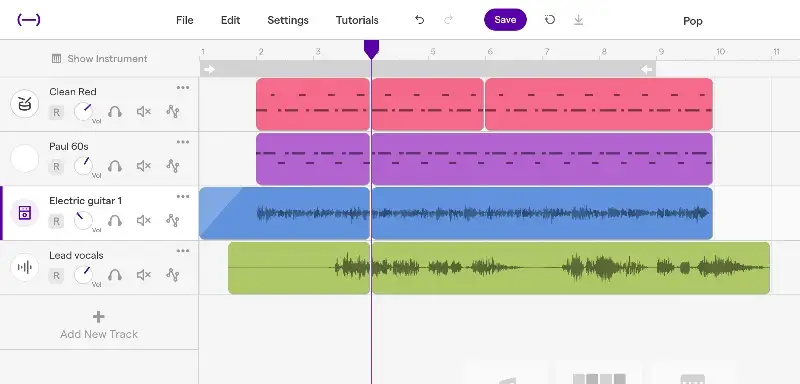 Soundtrap by Spotify is an in-browser daw that offers the opportunity to connect with creators in real-time across the globe.
With SoundTrap you have a dedicated production program in your hands, perfect for beginners to dive in and make music.
The free version comes with 430 sounds and instruments, 4740 loops, and the ability to save unlimited projects as well.
This online digital audio workstation breaks down into basically two tiers labeled 'Music Makers' and 'Storytellers'.
The Music Makers package is perfect for artists and music production, while the 'Storytellers' package offers cool features for your podcasting needs.
With the subscription to the 'Storyteller' package, you're able to publish the podcast directly to Spotify!
All tiers give you access to over 150,000 sounds from freesound.org as well.
One of the coolest highlights of this digital audio workstation is the Antares Autotune pitch correction tool integration. Autotune is truly one of the hallmark vocal effects of our time. This is the perfect solution for keeping those voice recordings tight and on the pitch.
Soundtrap allows you to capture audio files in its respective 'Soundtrap Capture' app, giving you the space to jam out and collaborate with other artists in real-time.
It's cross-platform which makes making music online a breeze. There isn't an Android app as of yet, though it's coming soon.
Soundlab by Spotify seems to be an online music DAW capable of instant creation and connectivity, linking artists from around the globe in a convenient way.
Highlights
Automation
Antares Autotune Integration
Capture Audio anywhere
Packages
free
Music Makers - $7.99/Month
Music makers supreme - $11.99/Month
storytellers - $11.99/month
3. Amped Studio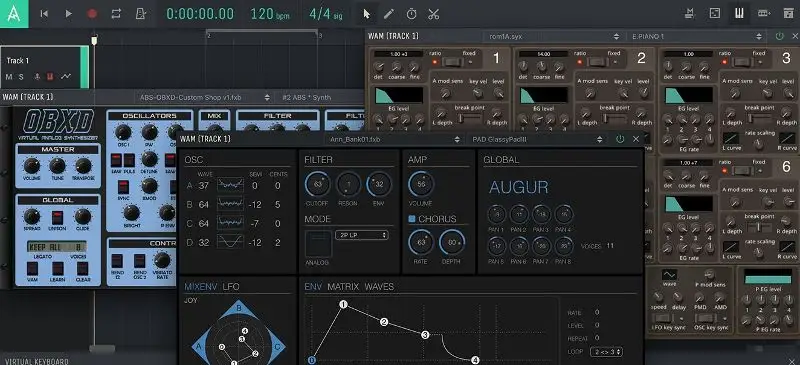 Our next online music DAW is Amped Studio which offers instant access to music recording, sequencing as well as midi controller support.
The user interface is clean and dark-themed, which might be easier on the eyes, featuring the track panel on the left side and the sound browser on the right side.
Amped Studio also features tracks in a cool hybrid manner, allowing you to play midi content and audio all on the same track.
You're able to use this DAW online and offline and thanks to it being a Progressive Web App (PWA) for Chrome-based browsers, you're able to almost seamlessly keep the flow going without having to worry about WiFi.
Amped Studio supports instrument connection as well as VSTs, leaving you with much flexibility if you have third-party virtual instruments.
Amped Studio comes in a free and paid version, with the paid version offering more sample libraries, effects, and instruments.
Premium members also enjoy project sharing and automation of device parameters. Also, for lovers of grit and saturation, this online DAW features the cool 'Distortion' plugin which can really add some interesting heat.
Being an online audio editing program as well, podcasters and recording artists alike are able to record their voices from anywhere.
Amped Studio's Hum & Beatz feature allows you to turn a humming melody into midi notes and your beatbox into drum patterns.
All in all, Amped Studio has more than enough crucial features to get your creativity going. It's very reminiscent of a full-fledged DAW online.
Highlights
Hybrid tracks, allowing audio and midi on the same track
Packages
Free
Premium - $4.99/Month
4. Audio Tool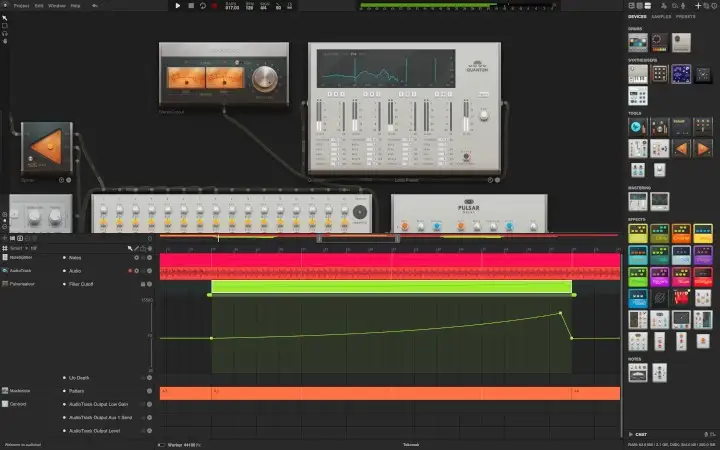 Meet Audio Tool, a powerful free online DAW with much to offer the modern musician. It comes loaded with over 1,000,000 cloud-based samples and a ton of effects.
Immediately what caught my eye was the vintage feel applied to each of their effect modules.
Being the drum programming nerd that I am, I couldn't help but notice their drum machines. There's a nice retro touch to two of them, reminiscent of the Roland 808 and 909 respectively.
However, the main beast is the 'Machiniste' drum machine plug-in which allows 9 slots of 30-second samples. A little ingenuity here would prove to be useful for the electronic producers who love to chop samples.
This digital audio workstation also features the ability to collaborate in real-time, inviting other artists to your studio to provide feedback and ideas. All are kept in sync via video, audio, and text chat.
Audio Tool features 5 powerful synthesizers for your music needs. The 'Heisenberg' functions as a traditional subtractive synthesizer as well as a phase modulation synthesizer.
Support for your Midi controller allows you to play all of the virtual instruments, controlling software parameters with the knobs on your hardware.
The effects that stood out to me were the 'Rasselbock' which is a re-sampler that can offer a healthy dose of inspiration via its vital sequencing capabilities, and the 'Quasar' reverberation plugin based on a 1997 plate algorithm.
Audio Tool has an ample selection of tools including a mastering fx section, giving engineers the freedom to process audio files in many ways. Guitarists will love the cool selection of stompboxes as well.
Highlights
1,000,000 cloud-based samples for download
Vintage style effects
Packages
5. Soundation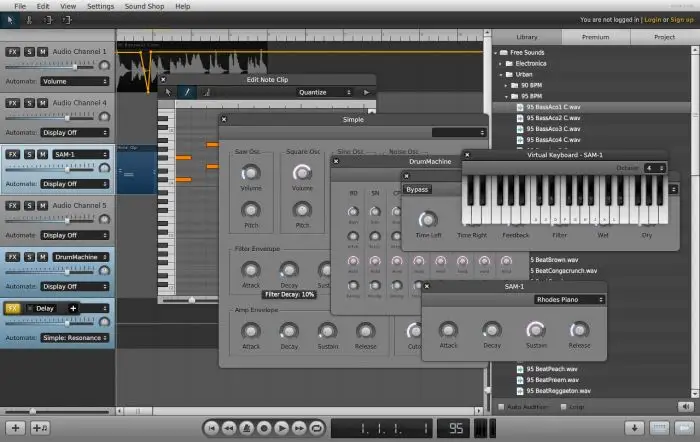 Soundation is one of those online digital audio workstations that just feels right. It offers a powerful approach to creating music, containing many elements found on traditional desktop DAWs.
This online DAW has a sleek interface, with the ability to color-code clips, similar to Ableton Live. The workflow is straightforward, perfect to jump right in.
It comes complete with time-stretching, channel automation for any parameter, and pitch shifting capabilities.
The basic account comes with 700 royalty-free loops, 5 virtual synthesizers, 4 sample players, and 14 real-time effects for your audio processing needs.
Premium members can enjoy up to 12,000 sounds and loops, and an 8 band parametric EQ allows you to sculpt sounds professionally.
Another highlight is the fact that you're able to bounce your stereo mix down to wav files, ensuring to keep a lossless format. I'm sure music audiophiles will appreciate this fact.
Not only is Soundation an online DAW, but it's also a growing community as well. Creators have the ability to publish their songs directly to the Soundation community, growing their fan bases in the process.
Highlights
Publish songs directly within their environment for fan base growth
Packages
Starter - $9.99/Month
Creator - $14.99/Month
Pro - $49.99/Month
Conclusion
When searching for the best DAW for your music tastes, you'll first have to consider a few factors. Are you in need of the convenience of all online digital audio workstations? Or are you a creator who needs the complete extensiveness of a traditional DAW?
One would likely then take into account the price points. Seeing that full DAWs are usually on the more pricey side of things, a free online DAW that captures the essence and functionality of its larger counterpart would serve as an excellent answer.
Upon diving into online DAWs I've found that they have an interesting way of attempting to bridge the gap between past, present, and future music creation. They seem to offer a bit of everything for all types of creators:
The guitarist in London who needs a simple DAW online with amp sims to record some licks.
The awesome singer in Asia who's been rehearsing her part, but can't make it into the studio.
The electronic producer in Africa who would love the ease of laying down perfect drum music via an online sequencer.
The engineer in New York who requires quick access to editing features quickly
The music enthused journalist in California who's been thinking about starting a podcast to chronicle their favorite artists.
At a minimum, the beauty of the times enables them all to sign into a DAW online, connect with each other, and jam out, all in real-time. This is a very organic style of working that has the potential to produce great music in the process.
Online DAWs serve as a central node, connecting artists on opposite ends of the globe, getting our music heard further and faster.
There seems to be an unlimited layering of possibilities that continue to be unraveled as we continue this musical journey. It's exciting to ponder the ways we'll be able to create music in the future.
Who knows, maybe we'll see virtual instruments from VST giants make appearances in an online DAW soon.
If any of these online DAWs happen to sound attractive, enjoy the process of experimenting until you stumble across the best DAW that suits your music production needs.
You're seconds away from a recording studio. It's as simple as opening up a new browser tab and playing 'til your heart's content. Until next time!