The metronome is an essential practice tool for any musician - but what if you don't have immediate access to one? Fortunately, there are plenty of free online metronomes available that can supplement your practice sessions while on the go or recording at home.
Below, we'll compare and contrast some of the best online metronomes available so that you can start enjoying productive, guided practice. We'll also share some qualities to look out for when nailing down the right metronome for your needs.
Why Should I Use a Free Online Metronome?
Metronomes can help you play with more accuracy while practicing, performing, or writing music. You can also use these tools to help you learn how to count music, or hold a beat to different time signatures. Physical metronomes are helpful, but they aren't always the most convenient-- luckily, there are plenty of free online metronome tools we'll discuss below you can use for the same purpose.
What to Look For in an Online Metronome
Here are some key features you'll want to consider when tracking down the best free online metronome for your needs:
Visual Representation
Online metronomes tend to vary in how they're presented-- some may look like a hardware metronome, while others might just show a beat flashing from one measure to the next. Finding the right visual representation is more or less based on personal preference.
BPM Toggle
With any metronome, you'll need to be able to set a certain number of beats per minute, otherwise known as BPM. Most online metronomes allow you to toggle this with some sort of slider tool, but having a "tap to tempo" tool is also extremely helpful, especially in live practice settings.
Tempo Markings
Tempo markings like adante, largo, etc. can help you make sense of how a piece of music is performed in relation to a conductor's instructions. Having these terms paired with specific BPMs can help you learn these words.
Subdivisions
Some metronomes allow you to input additional beats in between each measure for more precise counts. This is an important feature for any musician that might not be playing on the downbeat or strong beats of a piece.
Advanced Features
Some online metronomes have additional features, like accounting for swing, light and dark modes, and built-in practice timers to help you track your progress.
The 15 Best Online Metronomes
Without further ado, here are some of the top online metronomes you can use to accompany your practice sessions:
1. Metronome Online
The Metronome Online holds a configuration similar to its hardware counterpart. You can set your tempo by tapping the beat or selecting it on the metronome, separated by tempo markings. The online metronome also has a built-in practice stopwatch, several sound options, and a couple of time signatures to choose from.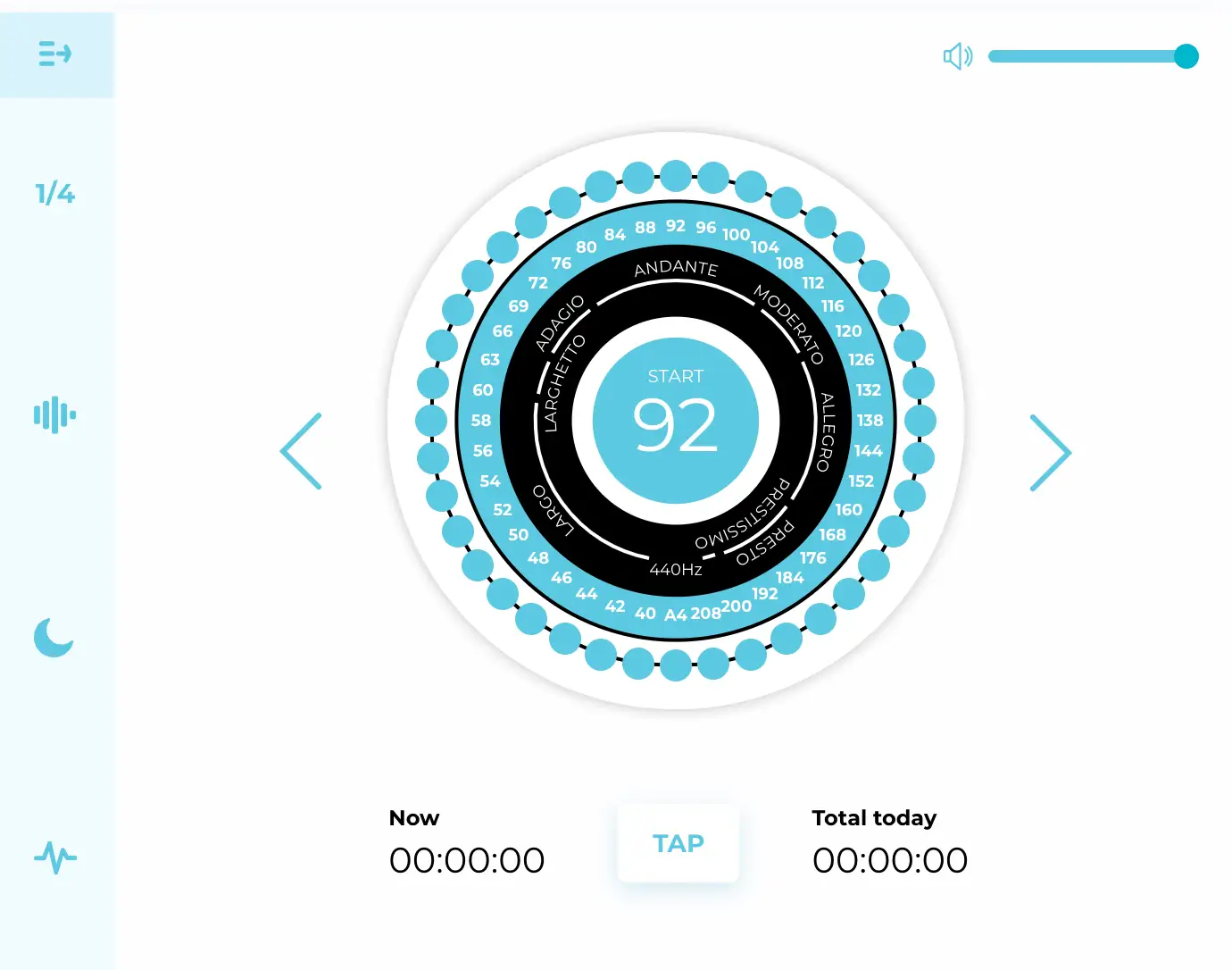 2. Jamplay Online Metronome
Jamplay offers a great free online metronome that allows you to cycle between several time signatures. Simply tap for tempo or adjust the slider to set your BPM. Each beat flashes once you hit the play button for a clear visual representation of the tempo.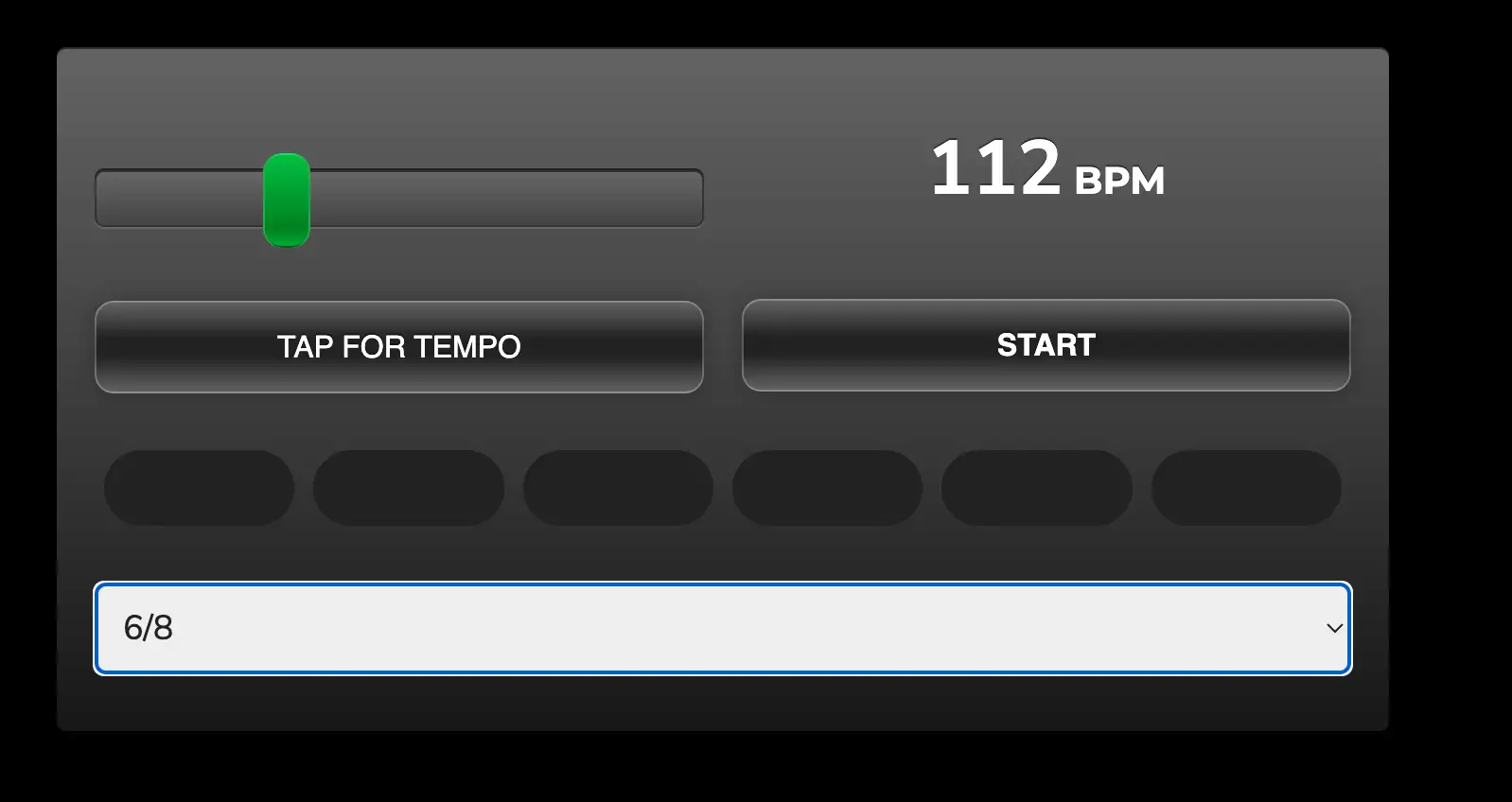 3. Google
While it may not have the most advanced features, it's worth mentioning that you can pull up a free online metronome by simply searching "metronome" on Google . This will then reveal a tool built into the search engine, that allows you to quickly set a 4/4 BPM ranges from 40 to 218 BPM. It's fairly bare bones, but it can get the job done in a pinch when you just need a click track to help you stay on top of practicing your musical instrument: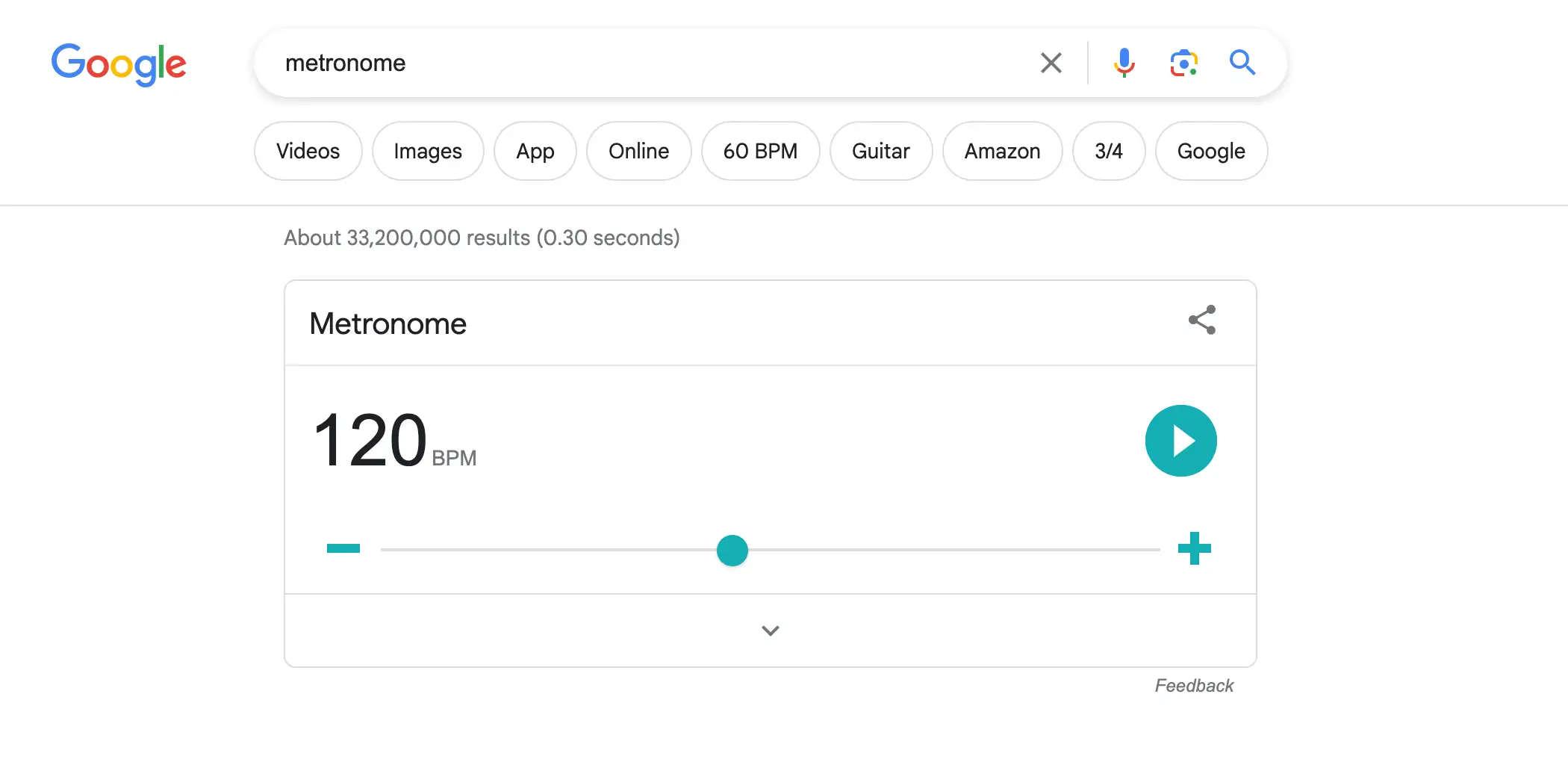 4. Metronome Online
Metronome Online provides you with a simple, free online metronome that includes some select advanced features like a quick toggle between light and dark mode. You can set a timer, stress notes, and add in additional subdivided beats.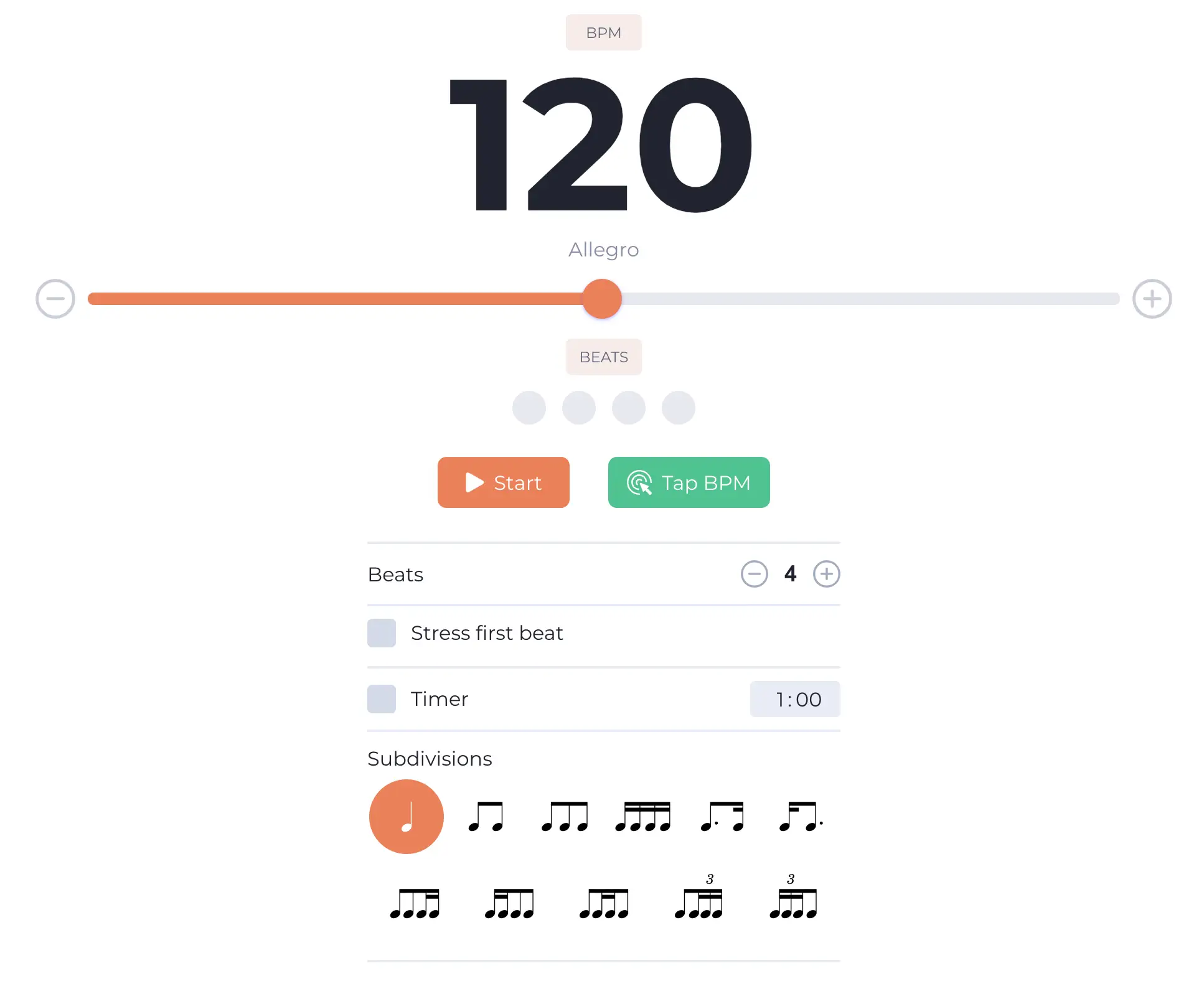 5. Online Metronome
The Online Metronome app provides a free metronome that makes it easy to account for swing, accents, and performing in several time signatures. You also have the opportunity to set different sounds for various clicks which can be particularly helpful for rhythmic practice.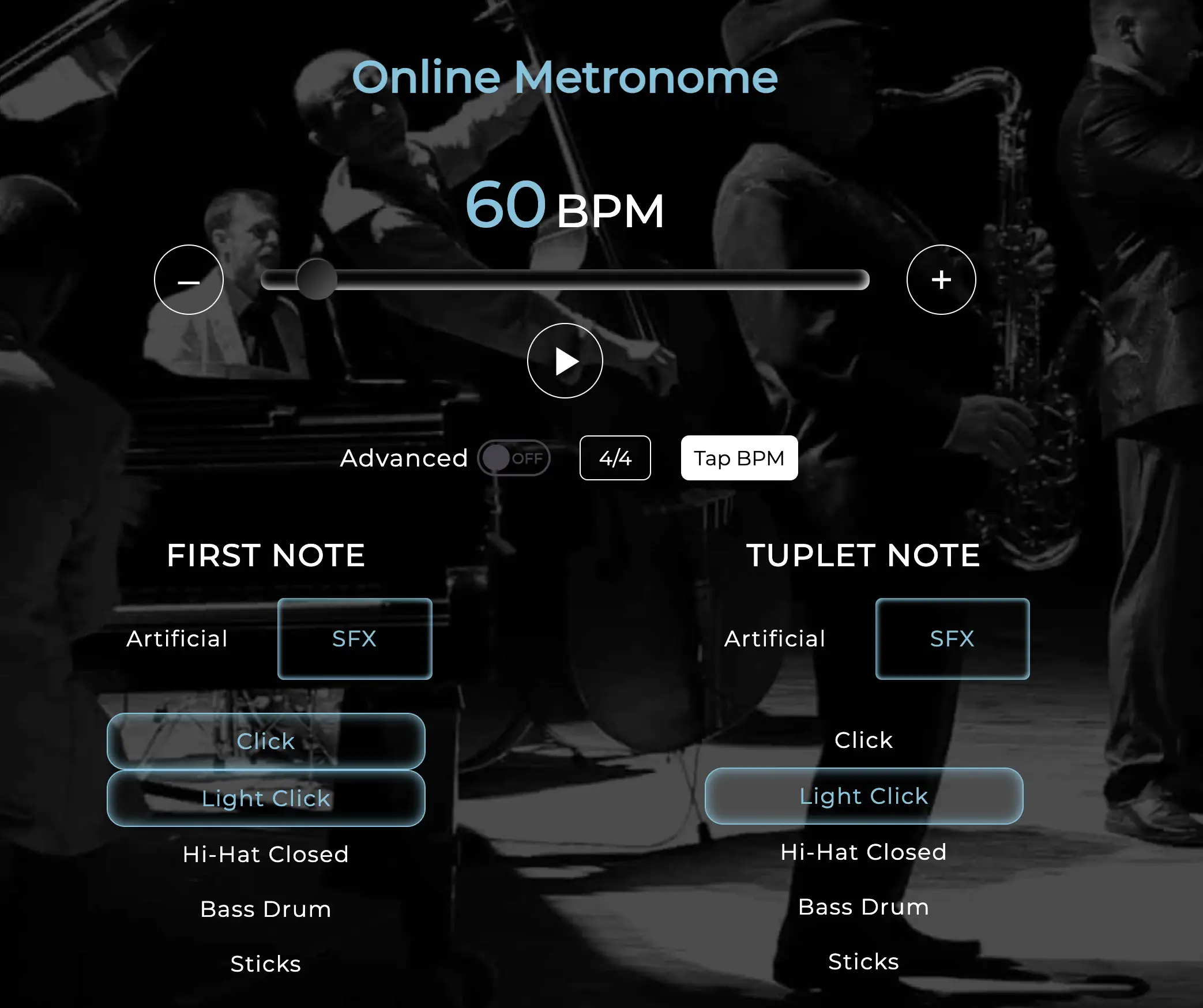 6. Violinspiration Online Metronome
The free online metronome provided by Violinspiration provides plenty of subdivision toggles for those more complex pieces. You can set the tempo, add in nuanced subdivisions, and quickly adjust the time signature. This free online metronome also provides a full-screen mode for additional focus.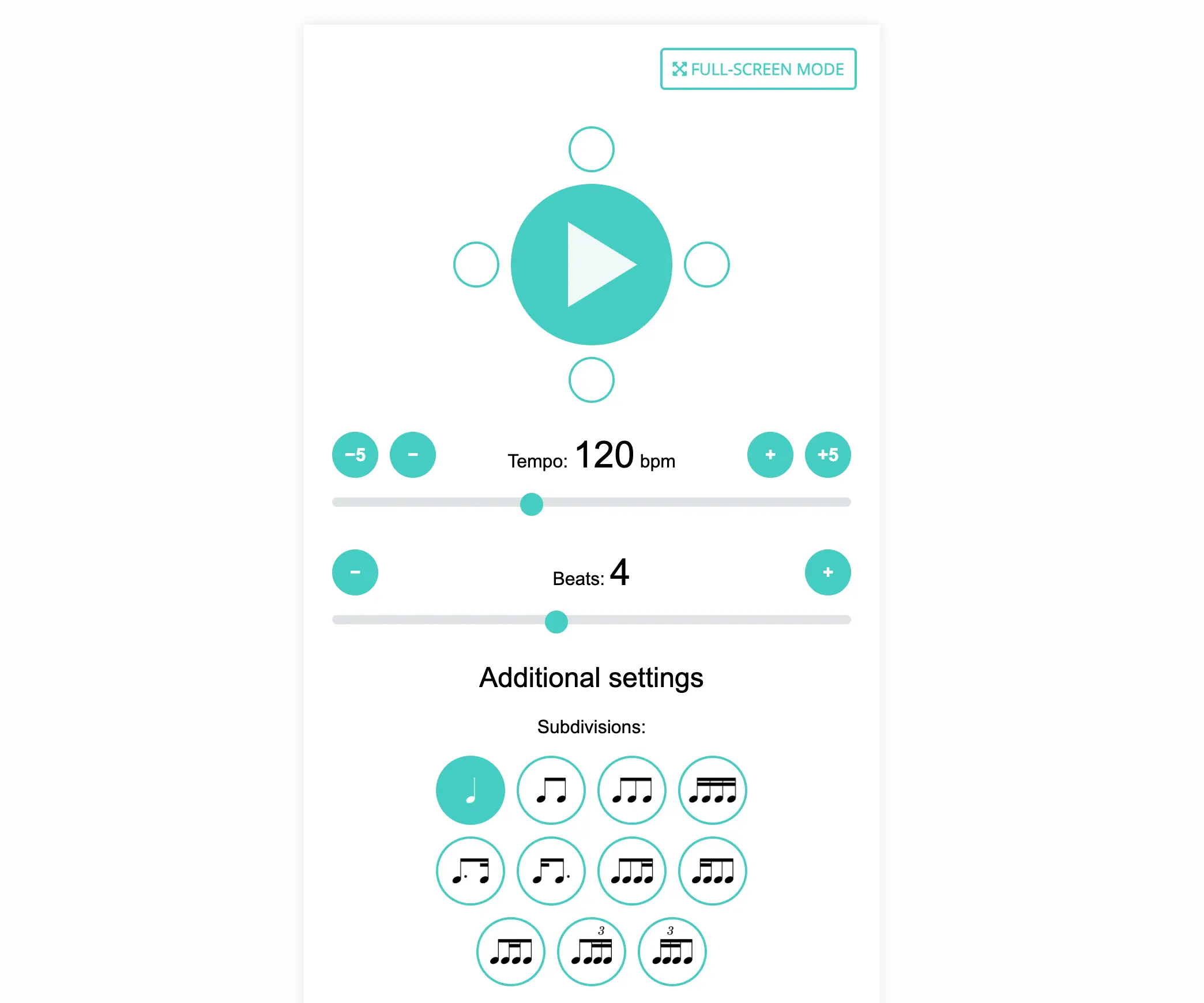 7. 8notes Free Online Metronome
For a visually simple online metronome, head to the 8notes free online metronome. This metronome lets you set the metronome in a 2/4, 3/4, and 4/4 time signature with BPMs ranging from 40 to 208. You can also opt to use drum beats for something a bit more realistic sounding.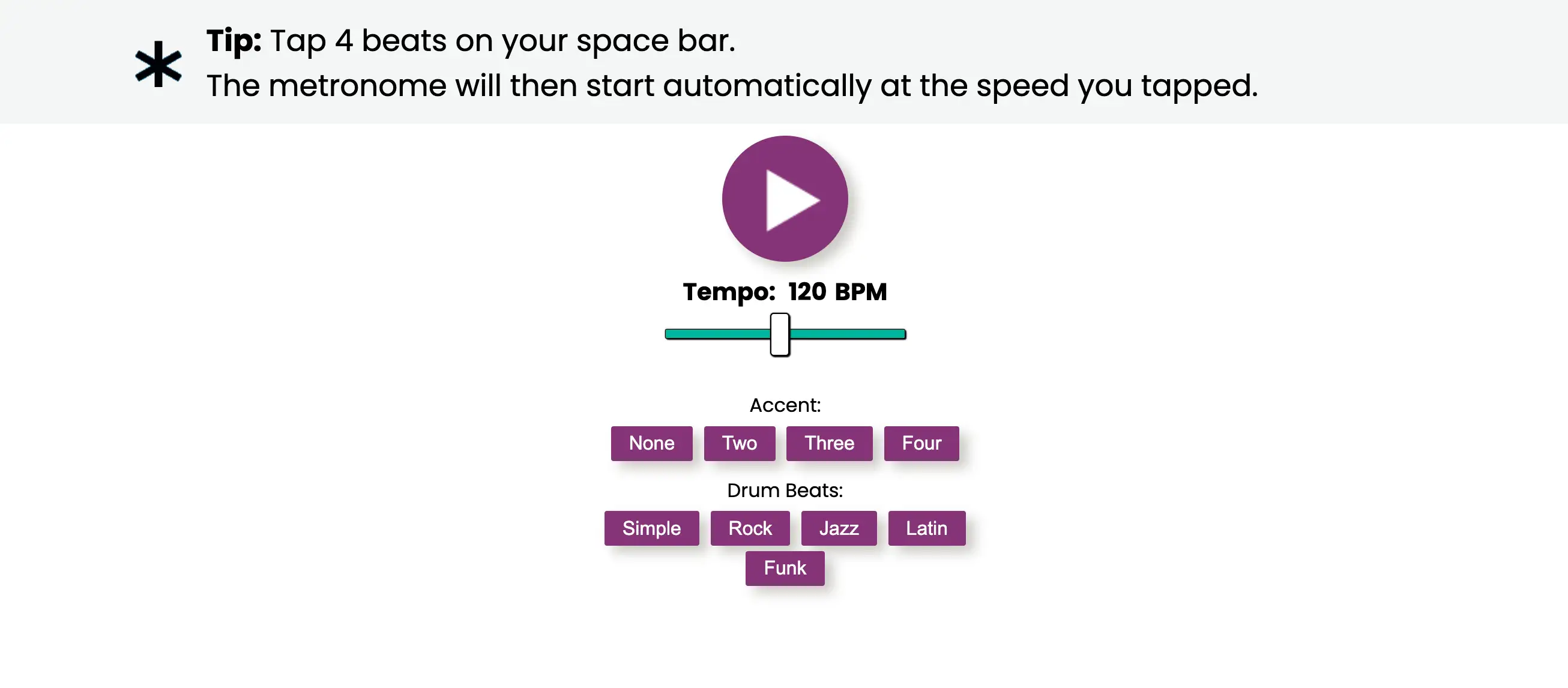 8. iMusicSchool Metronome
iMusicSchool provides an intuitive electronic tool with highly visible metronome tempo markings. This online metronome allows you to stress the first beat and subdivide down to sixteenth notes and triplets. You can tap in the tempo or adjust with the slider, complete with tempo markings corresponding to your chosen BPM.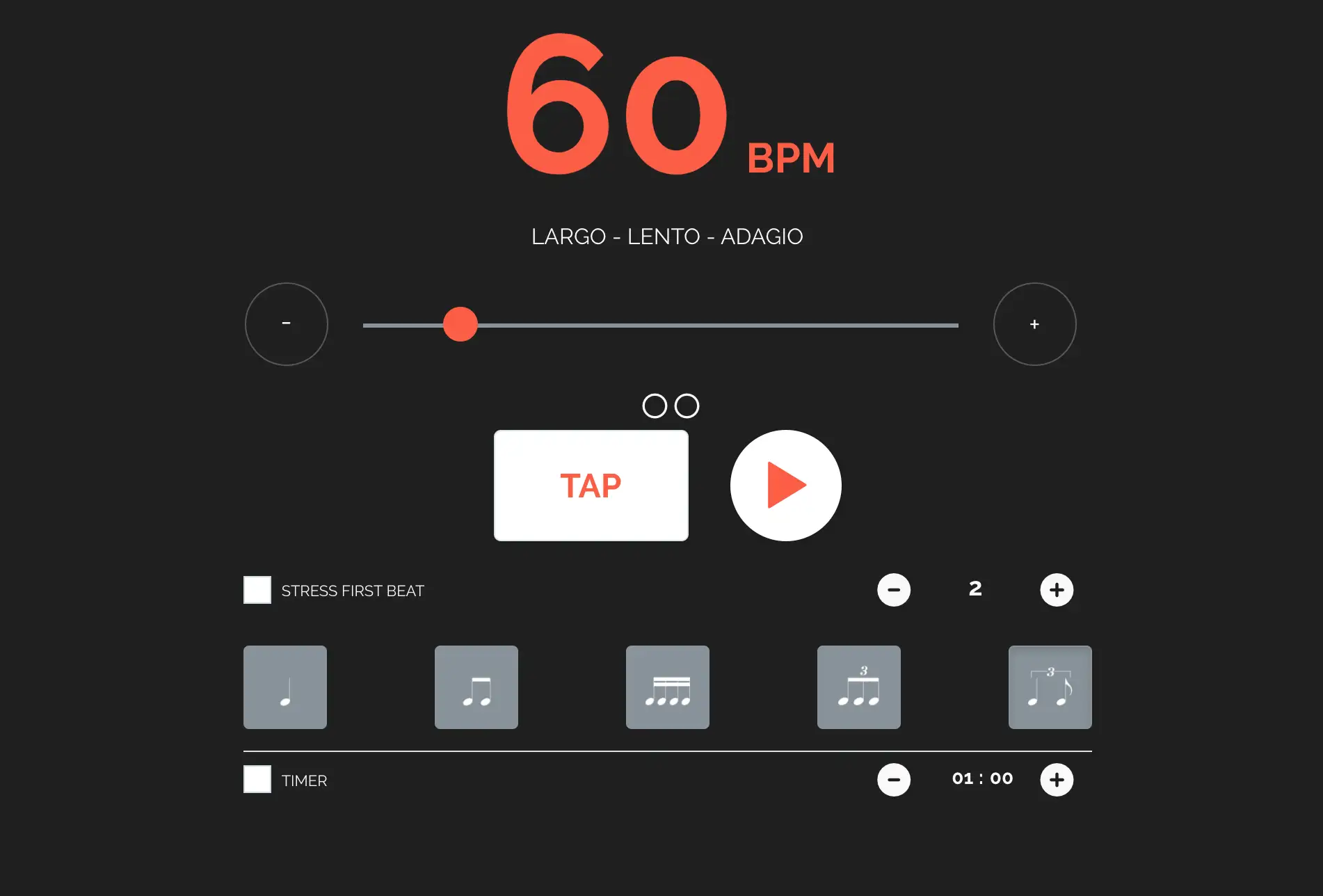 9. The Online Metronome
As the name suggests, The Online Metronome provides a clean user interface and functional metronome paired with corresponding music notation based on your set tempo. Simply drag the slider or use the plus or minus buttons to adjust your BPM. You also have the option to add in beat subdivisions.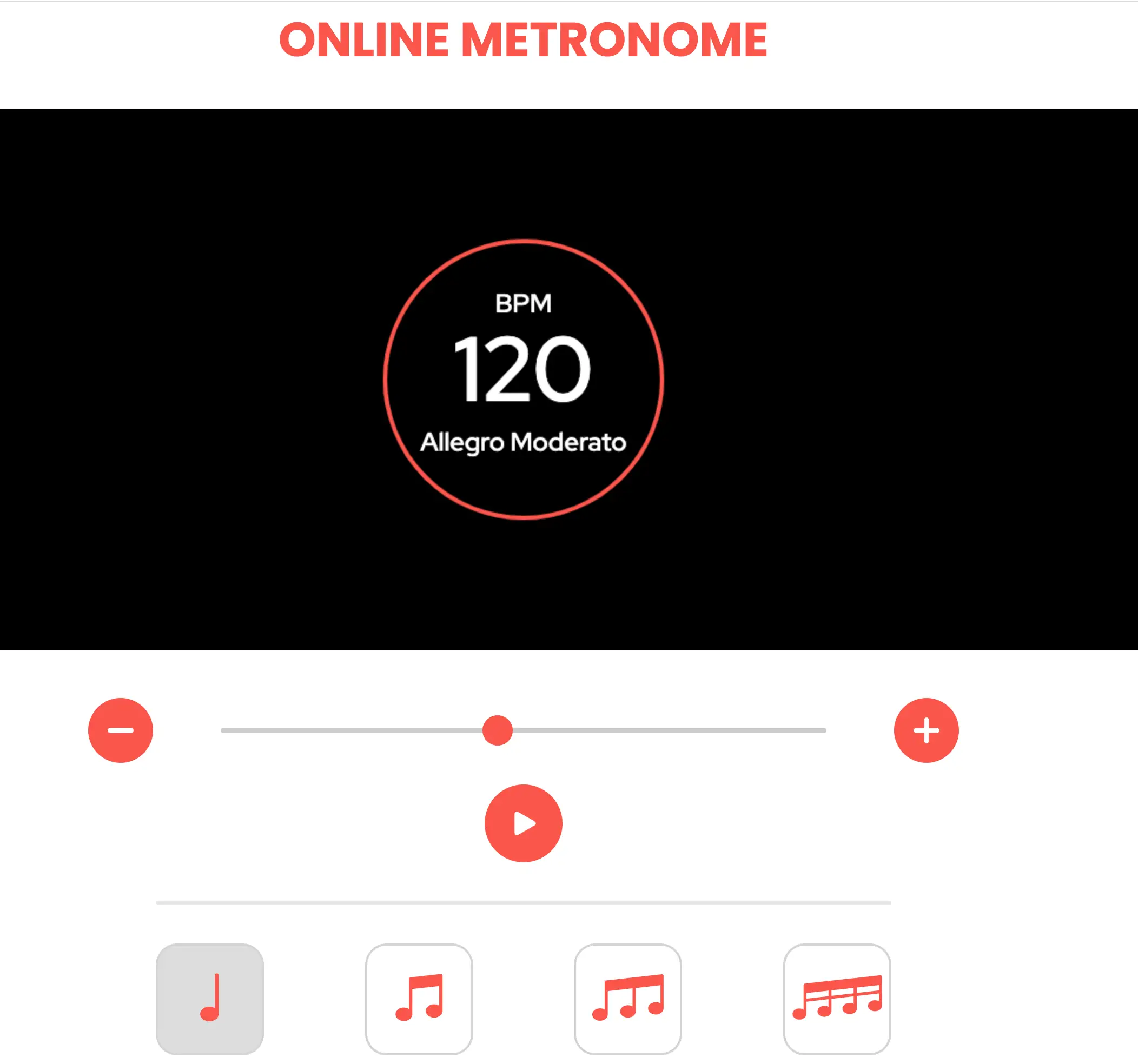 10. StudyBass Online Metronome
StudyBass offers a clean online metronome with both simple and advanced features to accommodate musicians across the board. With this metronome, you can set the click track, add subdivisions, and adjust the output volume control to your liking.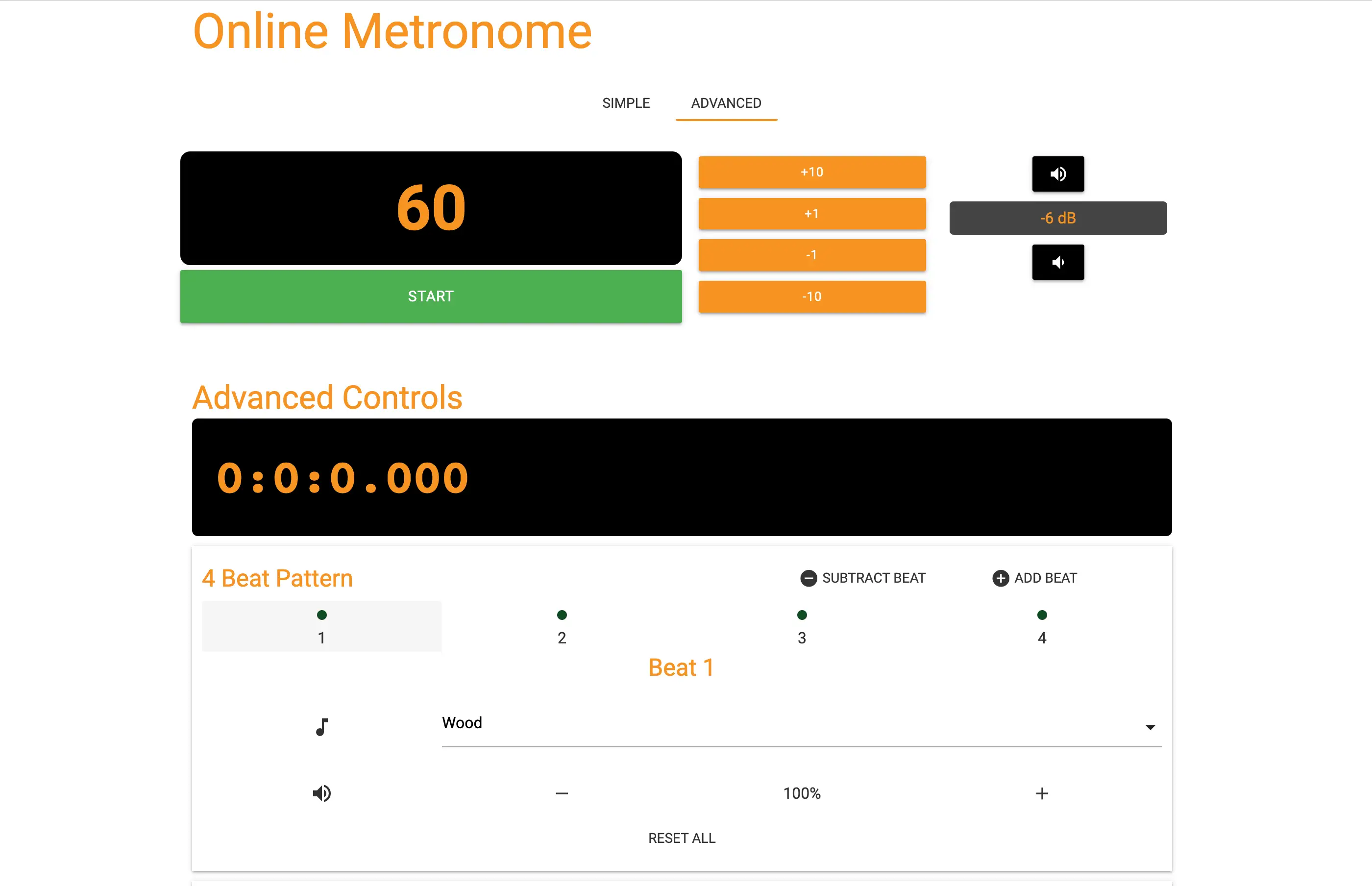 11. Online Stopwatch Metronome
Online Stopwatch offers a simple online metronome that provides the option to go into full-screen mode for optimal focus. Simply move the slide of the metronome to set the BPM in a 4/4 time signature. Note that you cannot set a custom tempo with this metronome.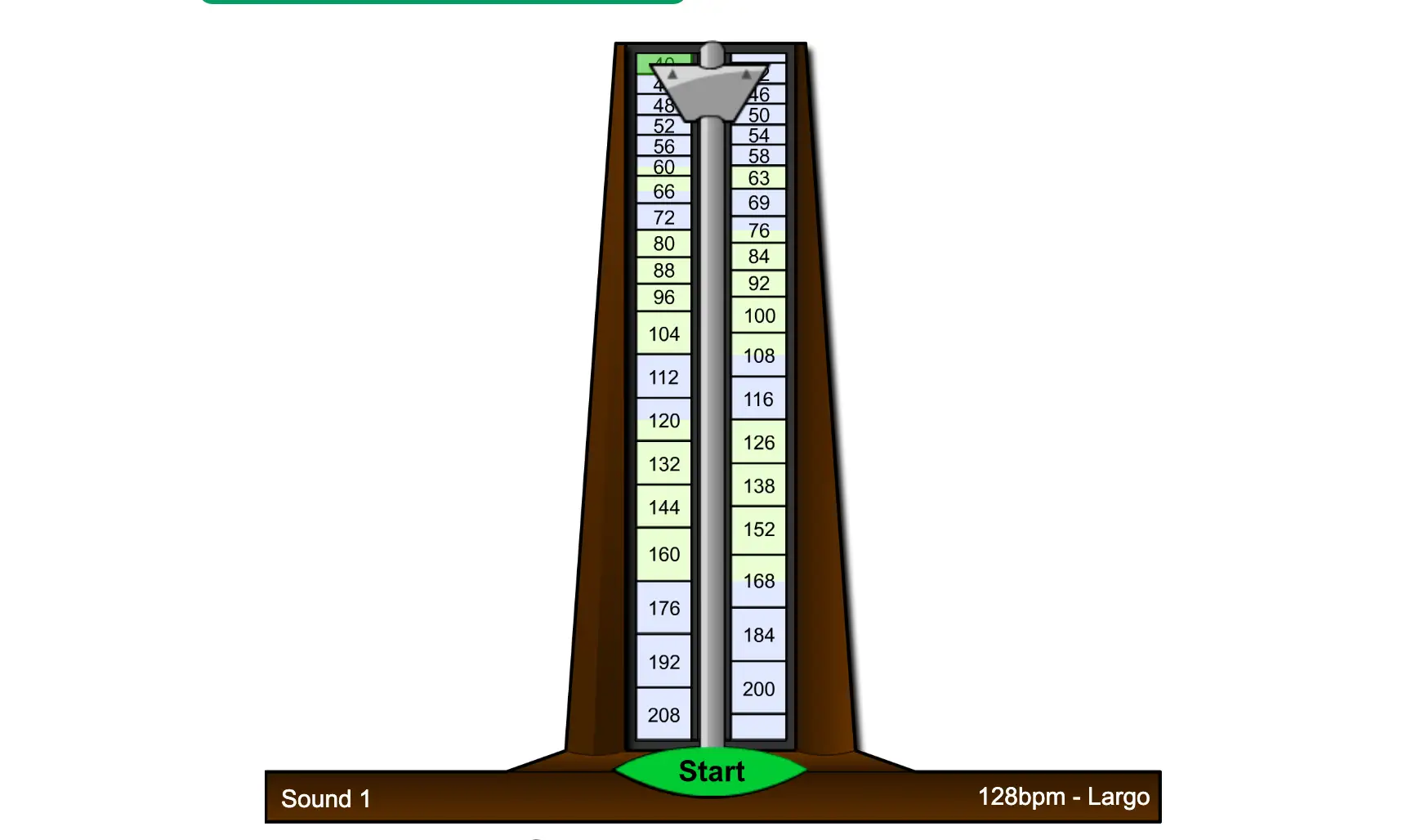 12. FluteTunes Online Metronome
If you're looking for an online metronome with a more simple visual representation of the four beats per measure, FluteTunes metronome might be perfect for you. This metronome flashes from one beat to the next providing a clear representation of where you're at in a piece. You can tap tempo, quickly change time signature and adjust the volume control with a couple of clicks.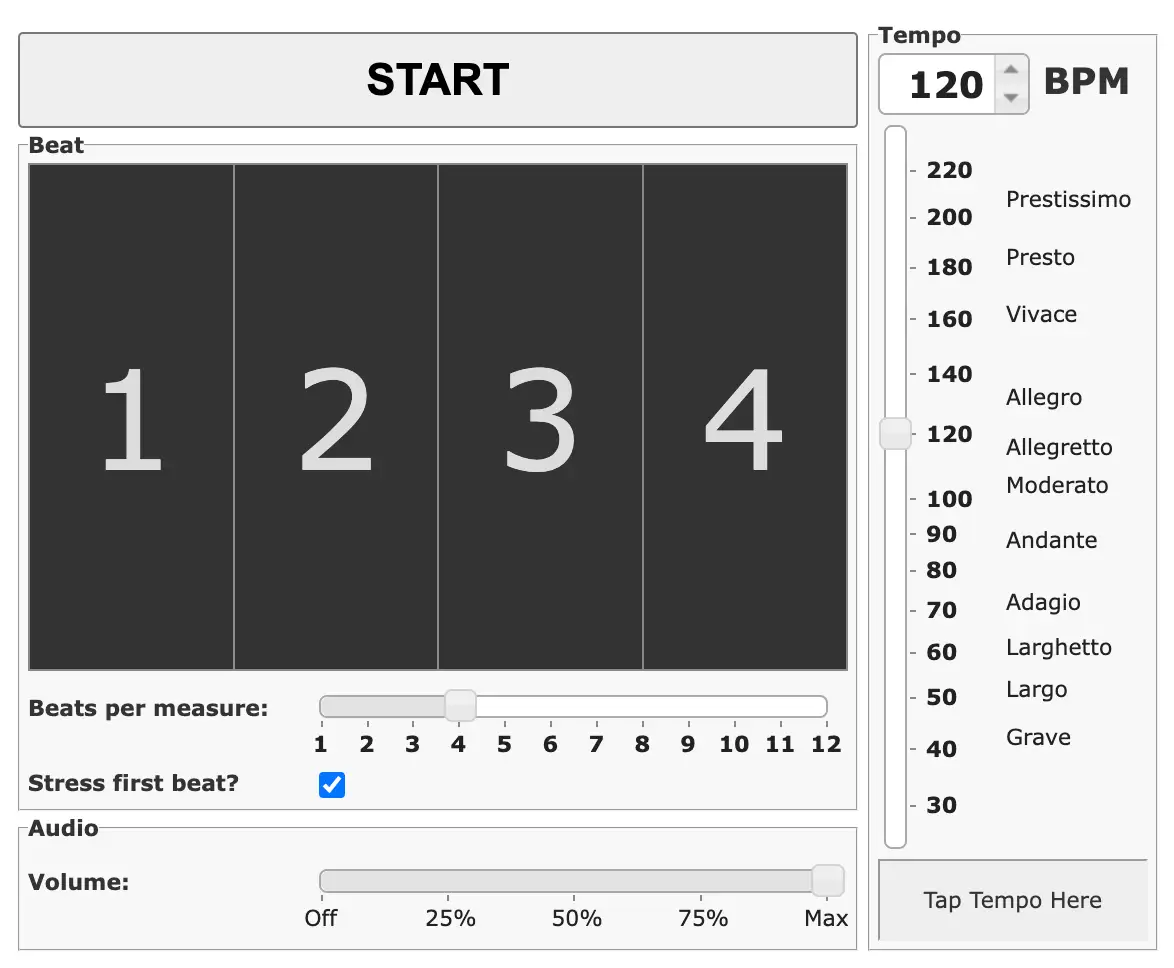 13. Virtual Sheet Music Online Metronome
Virtual Sheet Music offers an impressive online metronome complete with the classic hardware visualization. Choose between a realistic, percussion, or electronic version for the sound and adjust the tempo by moving the slider or tapping directly on the provided button.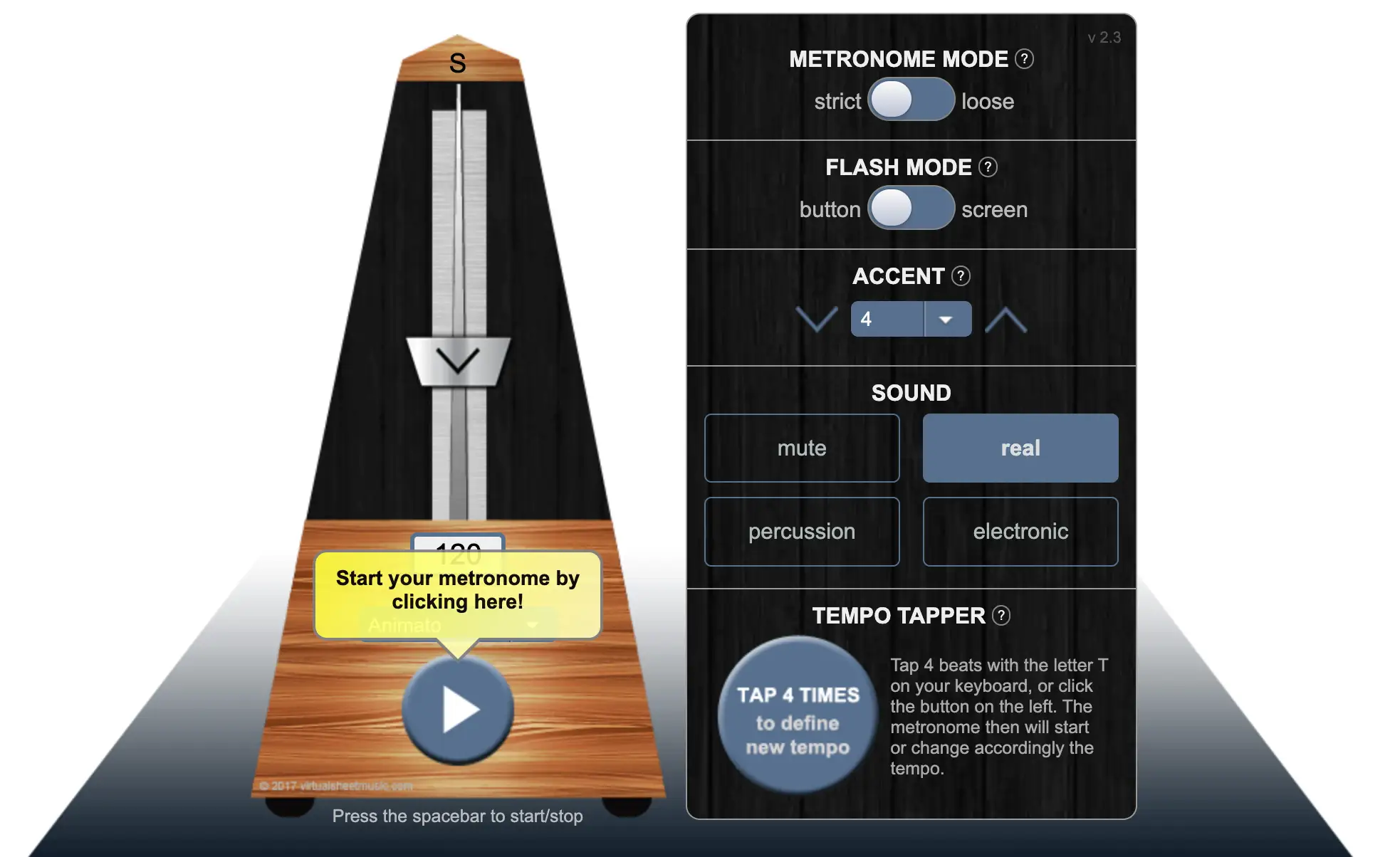 14. Drummers' Pulse
It stands to reason that drummers or rhythmic experienced musicians might need a bit more features than the typical online metronome. Fortunately, Drummer's Pulse delivers. This metronome allows you to set the play button via your keyboard, MIDI control, or even call out your desired tempo. It's easy to adjust the tempo markings, time signature, and change emphasis to hit on any beat. You can also cycle through several sounds while you work through your rhythm parts.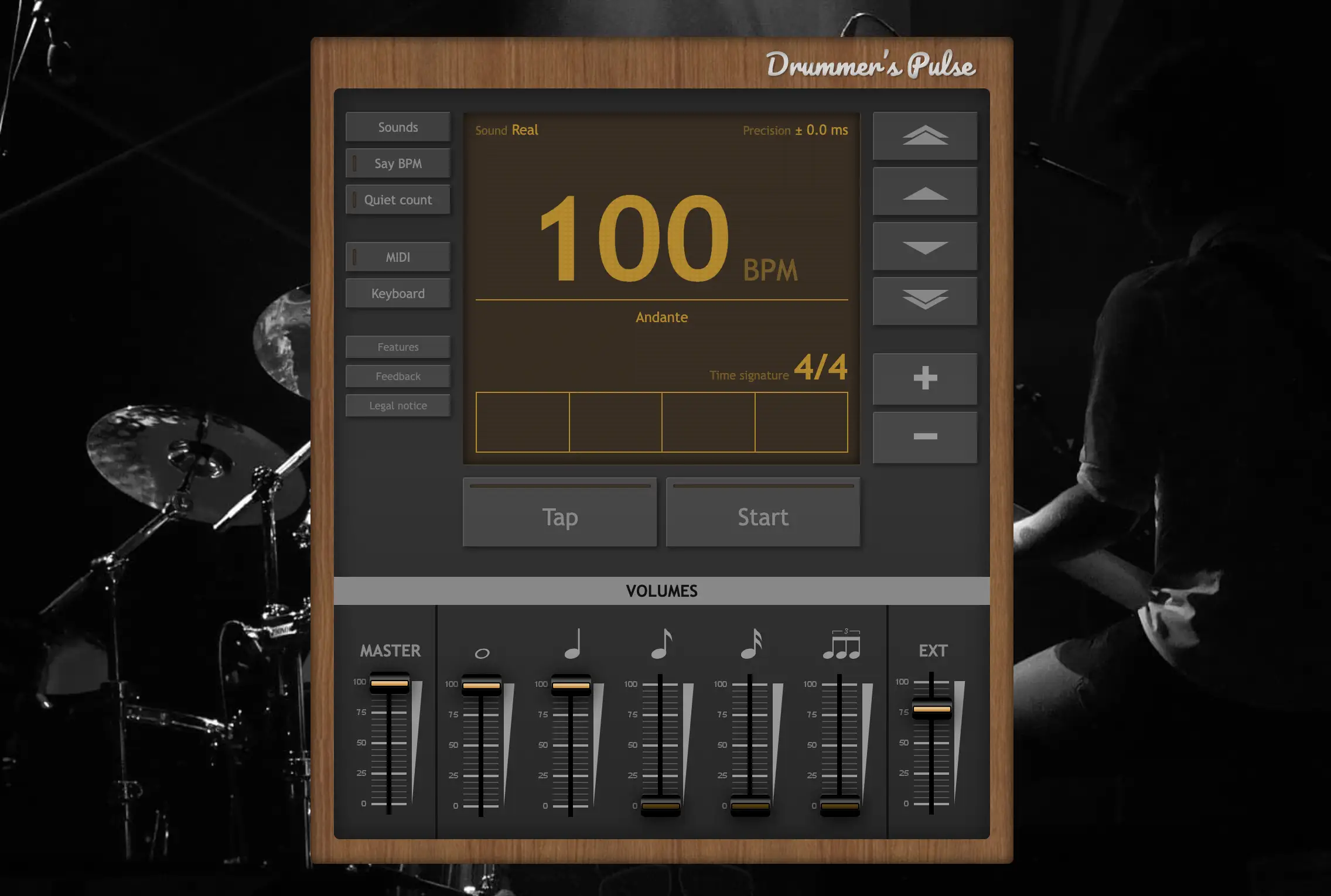 15. Bonus: Use Your DAW!
Don't forget that all digital audio workstations from Logic Pro to Ableton Live have built-in metronomes to help you count off while tracking or just practicing. You can open up your DAW and set the output to your monitors whenever you're in a pinch.
How to Use an Online Metronome
So you've landed on the best interactive metronome for your practice session, music lessons, or just to keep the beat! Use these steps to put the metronome to good use:
Set the BPM and time signature. To start, set the BPM or beats per minute for your song of choice. If you do not have an exact number listed on your piece, you can use the tap tempo function to tap in your beats. If you use this button, try to tap them as evenly as possible to get an accurate click track. If your metronome supports a time signature, put that in as well. In most cases, you'll be working in common time or 4/4.
Set the beat stress or beat emphasis. Some online metronomes will allow you to set how many beats occur before a slightly different sound enters the click track as a way to help you effectively count over a long period of time. Most set the metronome to have this alternate click at the first beat of every measure, but you may find it helpful to employ the click more or less regularly.
Practice at a slower and faster tempo. A great way to master a piece is to have the capacity to play at several different tempos. If you're working through difficult passages, slow down the tempo and slowly work your way back up to a higher tempo.
Start playing with an d without your metronome track. Once you feel comfortable, start practicing with and without your metronome. Check your progress by recording both versions and comparing the rhythmic accuracy to identify your problem areas to work on.
Online Metronome FAQs
Nailing down the right practice session tool can take some trial and error. Use these commonly asked questions and answers to help guide you to the ideal online metronome.
Are Wittner metronomes worth it?
Some musicians may prefer the tactile nature of a physical metronome, with Wittner being one of the most reputable brands in the business. That being said, if you're just looking for a tool to provide tempo marking, you might be able to get the job done with a free online metronome.
What metronome app has no ads?
There are several metronome apps as well as free online metronome tools that do not have ads or require payment. We cover a full list in this comprehensive guide, but Google's metronome and The Online Metronome, along with many others allow you to keep a steady tempo without additional distractions.
What is the highest metronome BPM?
Most physical metronomes tap out at a BPM around 200 (typically 208). However, many online metronomes can provide a steady pulse with ranges up to 300 BPM or more.
When should I use a metronome?
You should use a metronome whenever you're practicing or performing something that requires a precise, desired tempo according to a piece's time signature. You can either use the tap tempo button or manually input the BPM of a piece before kicking off the first beat.
It's clear that metronomes are an instrumental tool across any music practice. Fortunately, there are free online metronome tools should make it easy for you to practice your music from virtually anywhere! Enjoy using these free tools to improve your musical skills.