In order to build a successful music career, you have to do a lot more than craft music. Model musicians aren't just great at their craft, they also know how to market themselves on just about any platform. Part of this skillset is knowing how to craft an excellent musician bio.
Writing your own artist bio can feel somewhat unnatural, to say the least, but it's an essential skill to master alongside other industry professionals. Below, we'll walk you through the components of an effective musician bio and showcase a couple of exemplary musician and band bios. This way, you'll have no trouble writing your own music bio at any stage in your career. Let's dive in!
What Is A Musician Bio?
So, what is a musician biography and why is it important to your success throughout the industry? A great musician bio helps you communicate that you're professional, driven, and proven to succeed throughout the business of music. It can also help curious fans develop more of an insight into who you are as an artist, and help strengthen your artist-to-fan connection.
With that in mind, an effective musician bio is different from the short bio you share with an employer or family members. A musician bio is special because it's crafted strategically around your artist statement and achievements, helping you to grow your fanbase.
Your musician bio will be used in multiple places, essentially serving as your pitch as an artist. In some cases, potential fans and people within the industry may read your music artist bio long before getting a taste of your music. Therefore, your musician bio should help draw in future listeners, and effectively describe your sound with words alone.
Why Are Musician Bios Important?
It may not seem so at first glance, but a strong musician bio can have a real impact on your music career. Musician bios are certainly secondary to the music itself, but they can be the professional hook that draws others to your sound.
It's also a skill in itself to understand how to pitch yourself as a musician, and crafting a strong artist or band bio is a great place to start. After all, how are you supposed to market yourself if you aren't able to effectively describe your art? Marketability goes a long way within the music industry, so take the time to write your own artist bio even if you plan on hiring someone to write your official artist bio for you.
In any case, you still need to know how to describe yourself to someone in person, so writing up your bio can help you refine your pitch.
Where Should I Put My Musician Bio?
So where will others find your musician bio? And where should you place your musician bio? Here are a couple of essential spots that should include your music artist bio.
DSPs
Digital streaming platforms or DSPs are one of the key places to host a music bio. Oftentimes, outlets like Spotify serve as a music discovery tool, and an artist bio might help convert a passive listener to a loyal fan while your audience is just getting to know you. It's prominently displayed within your artist profile and can be updated regularly based on your release schedule.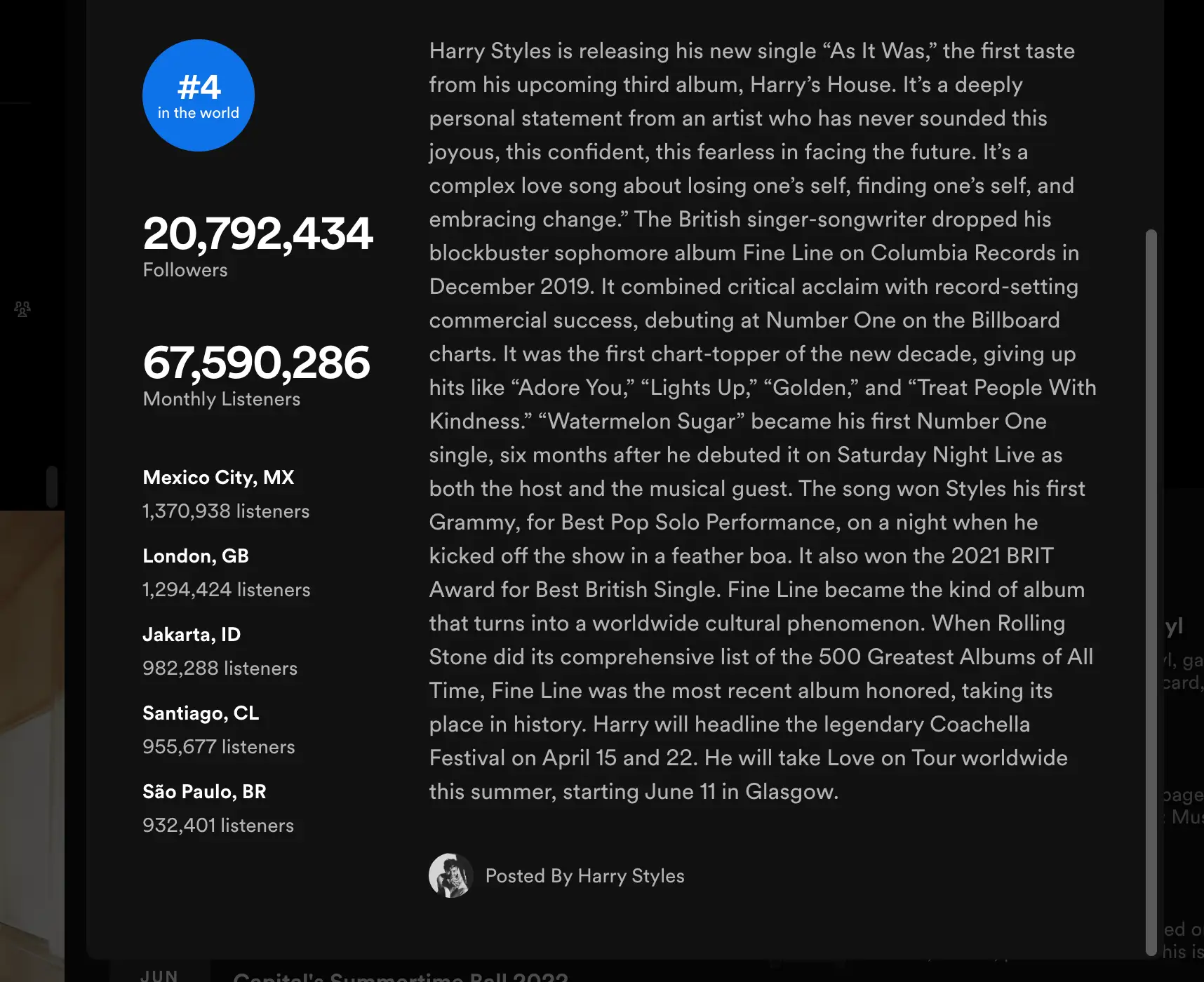 Social Media
Social media has noticeably less real estate than other outlets for music bios. However, a couple of curated words can help new eyes gain an understanding of who you are and where you hope to go as an artist.

EPK
An EPK or electronic press kit is a standard for anyone pitching themselves throughout the music industry. EPKs can be used to pitch your band to promote, book gigs, help you get signed, you name it! Basically, the EPK is the standard pitching tool throughout the music industry that every musician should have. One of the most important parts of an electronic press kit is having a great artist bio to serve as the foundation for all other assets.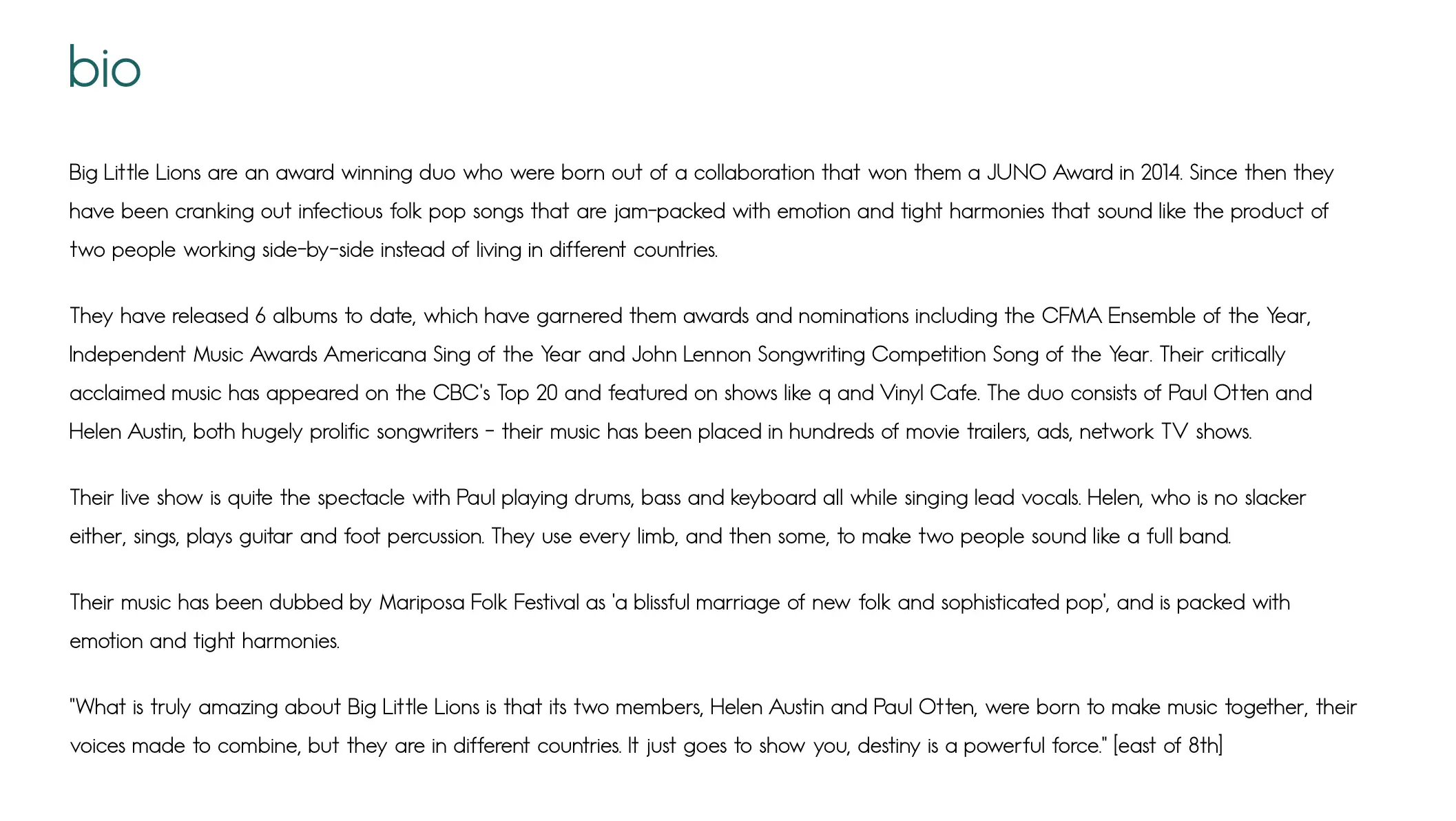 Notes
You should also have a version of your musician bio written in your phone notes or somewhere easily accessible for pitching and other purposes. You'll never know when you'll need to pull out an elevator pitch of your music and artistry, so make sure to update and refine your mission statement regularly. If you don't know who you are as an artist, no one will.
Writing A Musician Bio: 9 Essential Considerations
There are several key ingredients that come with crafting a great music bio. Thankfully, we have the recipe! Here's exactly what you should include in your artist bio.
1. Have Different Bios For Different Situations
As discussed, there are several situations where you'll need to use a musician bio. Understandably, different situations require various types of bios, so you'll want to have a different musician bio for each of the following scenarios:
The Elevator Pitch
This is the short and sweet musician bio that you have memorized if someone asks what your music sounds like. It shouldn't detail your entire musical history, and should more or less include what music genres you cover or some famous artists might help someone get a sense of your sound. One approach that may work well is describing your sound as [INSERT FAMOUS ARTIST] meets [INSERT FAMOUS ARTIST].
For instance, you might tell someone that you sound like "Lorde meets Radiohead" or something of the sort, to peak people's interest all while describing your sound.
Social Media
You don't have a lot of text real estate when it comes to social media, so you'll need to choose your words wisely when coming up with an artist description for your TikTok, Twitter, Facebook, or Instagram bio. This could be as simple as few words that describe what you do like "Nu-metal drummer" or "Electropop Producer". Condense down your key points to a sentence or less.
The Mid Length Bio
The mid length bio has a bit more context than the short bio. You might see this type of bio used in press pieces, as a part of an EPK, or shared by the artist. This bio can expand on your genre-inclusive musician bio with examples of your career highlights, and relevant background information on where you came from, and where you plan to be as your career moves forward.
The Full Length Bio
In the full length bio, you have the opportunity to share your full musical journey as well as all of the key points included in the short version of your bio page. These long bios are usually hosted on a website page, through DSPs, or shared by press to help listeners understand new artists. In this bio type, you might include personal stories and showcase the highlights of your debut album or release.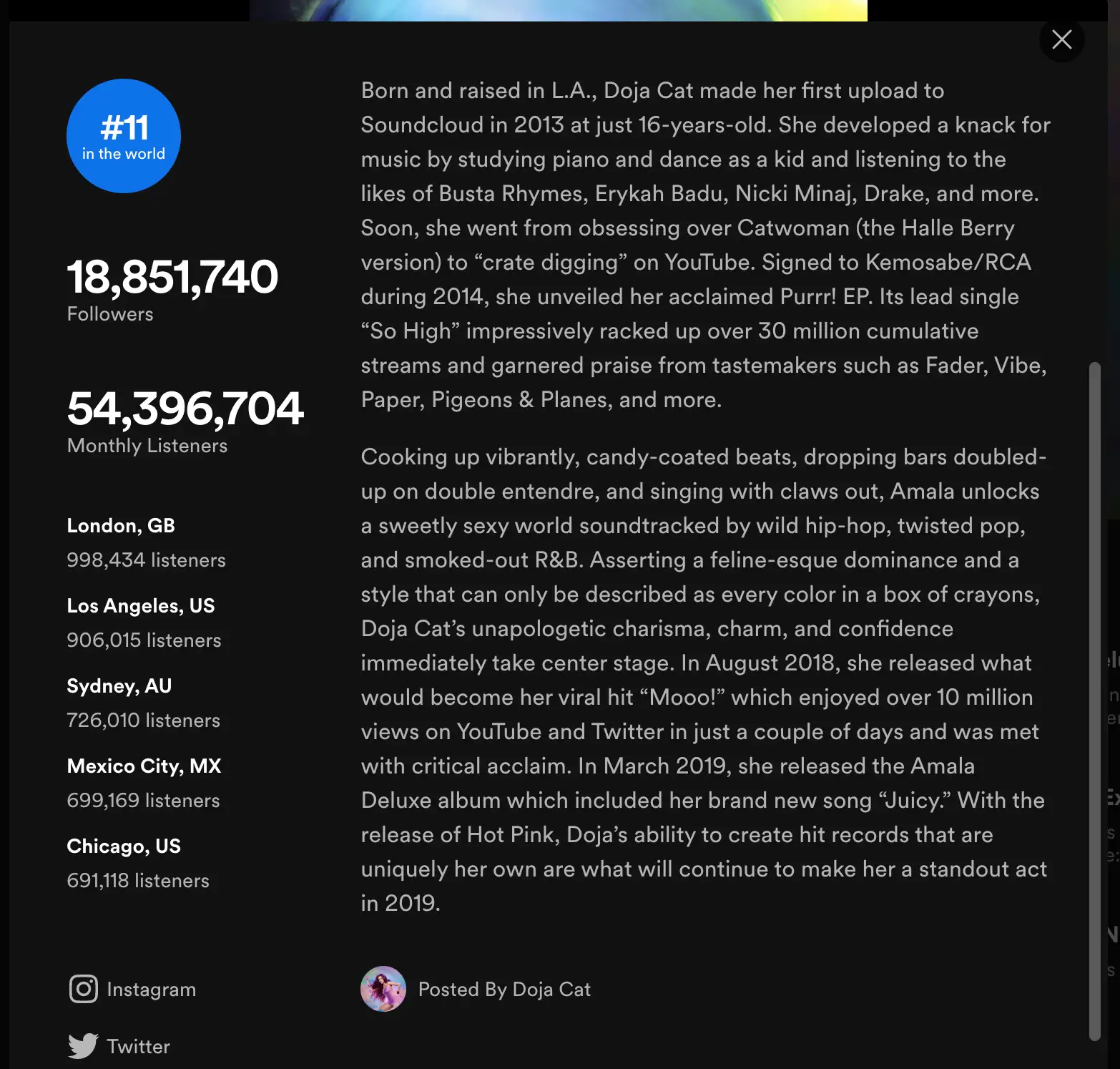 2. Write A Strong Hook
In order to write a masterful bio as a musician, your bio needs to have a strong hook, just like a story. This could be an interesting fact, a couple of words that encapsulate who you are as an artist or the shocking origins of your creations. Read other artists' bios and take note of what draws you to read some over others.
Figure out what your mission is. Why are you making music? What does music mean to you? This mission can be your "artist statement" and serve as a key point to why listeners should check out your music. Are you creating music to shed light on an important topic? Do you have a unique, genre-bending production style? Figure out what makes you unique as an artist, and weave it into your artist narrative.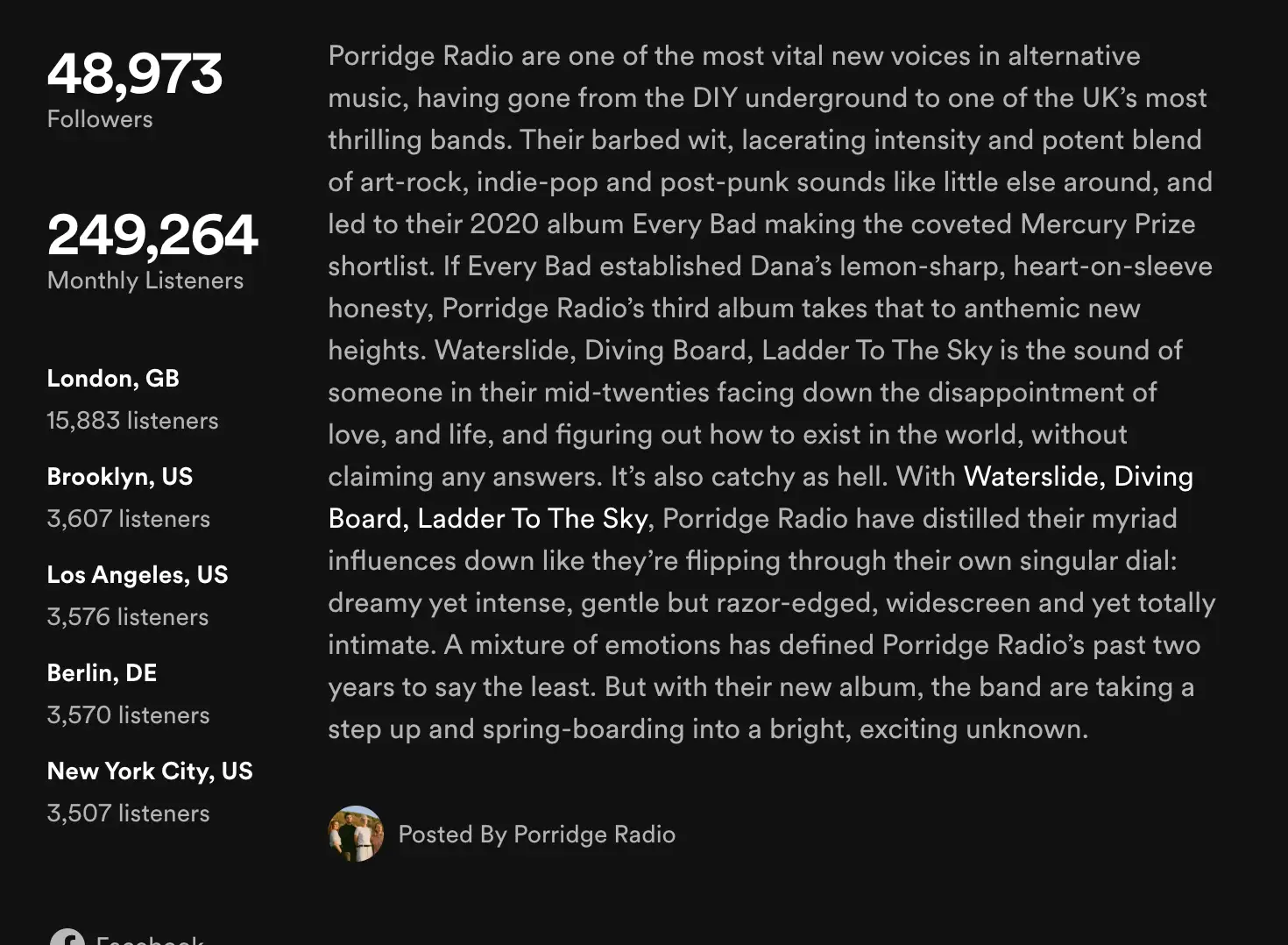 3. Speak In Your Own Voice or Third Person
Most industry professionals will advise that you write your artist bio in the third person. For one, this may give off the aura that you didn't write your own bio, and that you have a team to write it for you which can speak to your professionalism. On another note, it's just the industry standard as you can see from this famous musician's bio with examples showcasing her accomplishments throughout her career: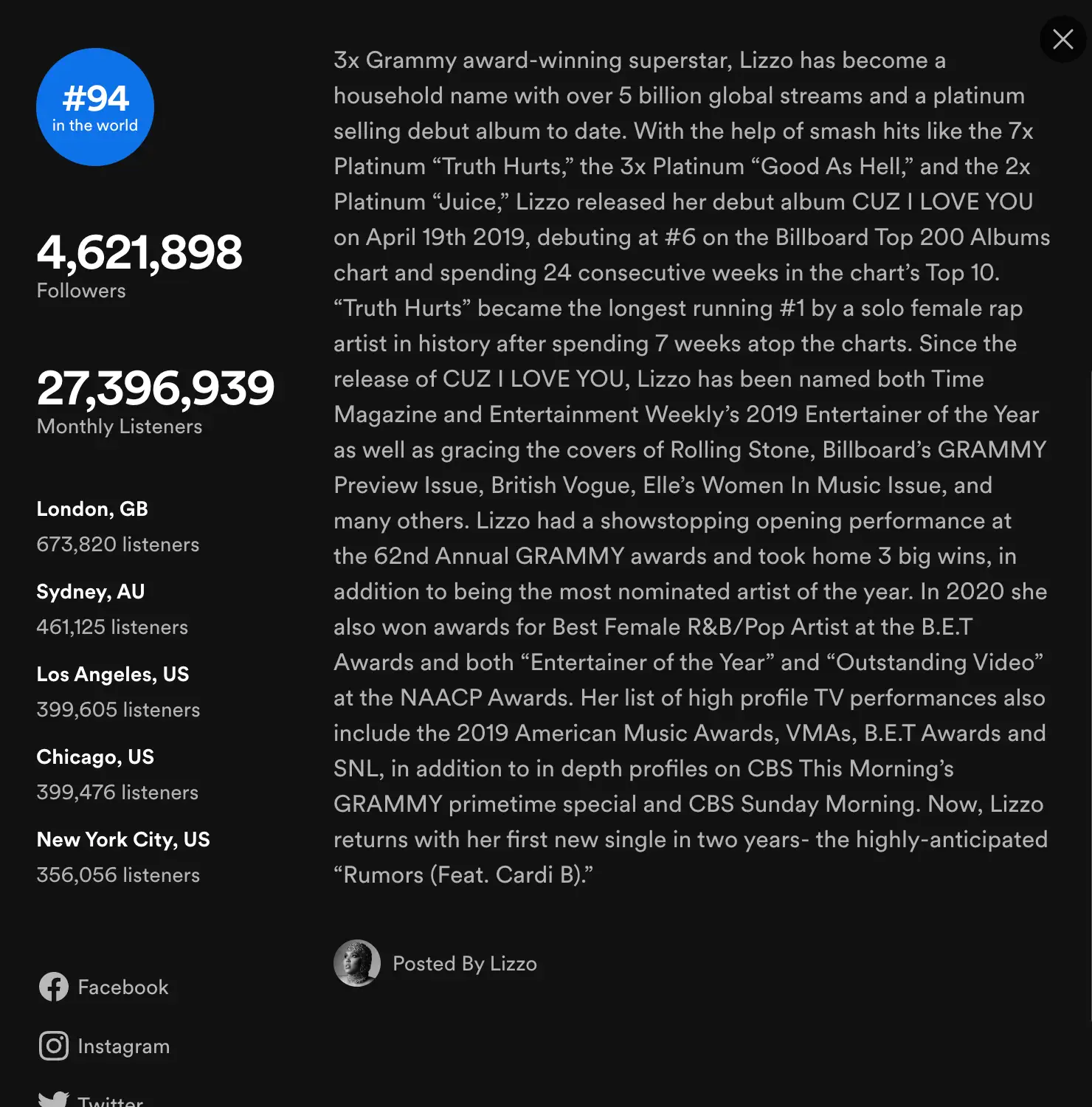 Most musician bios use active voice vs passive voice to make writing more direct, and easy to digest within a quick read.
In some cases, it may pay to speak in your own voice. Your long bio might be more formal, but shorter, 1st person bios can be more personal. Having that personal touch can help keep visitors engaged and make it easier for new listeners to get a first impression of your artistry.
A great example of this more personalized bio can be seen with indie pop artist Maude Latour: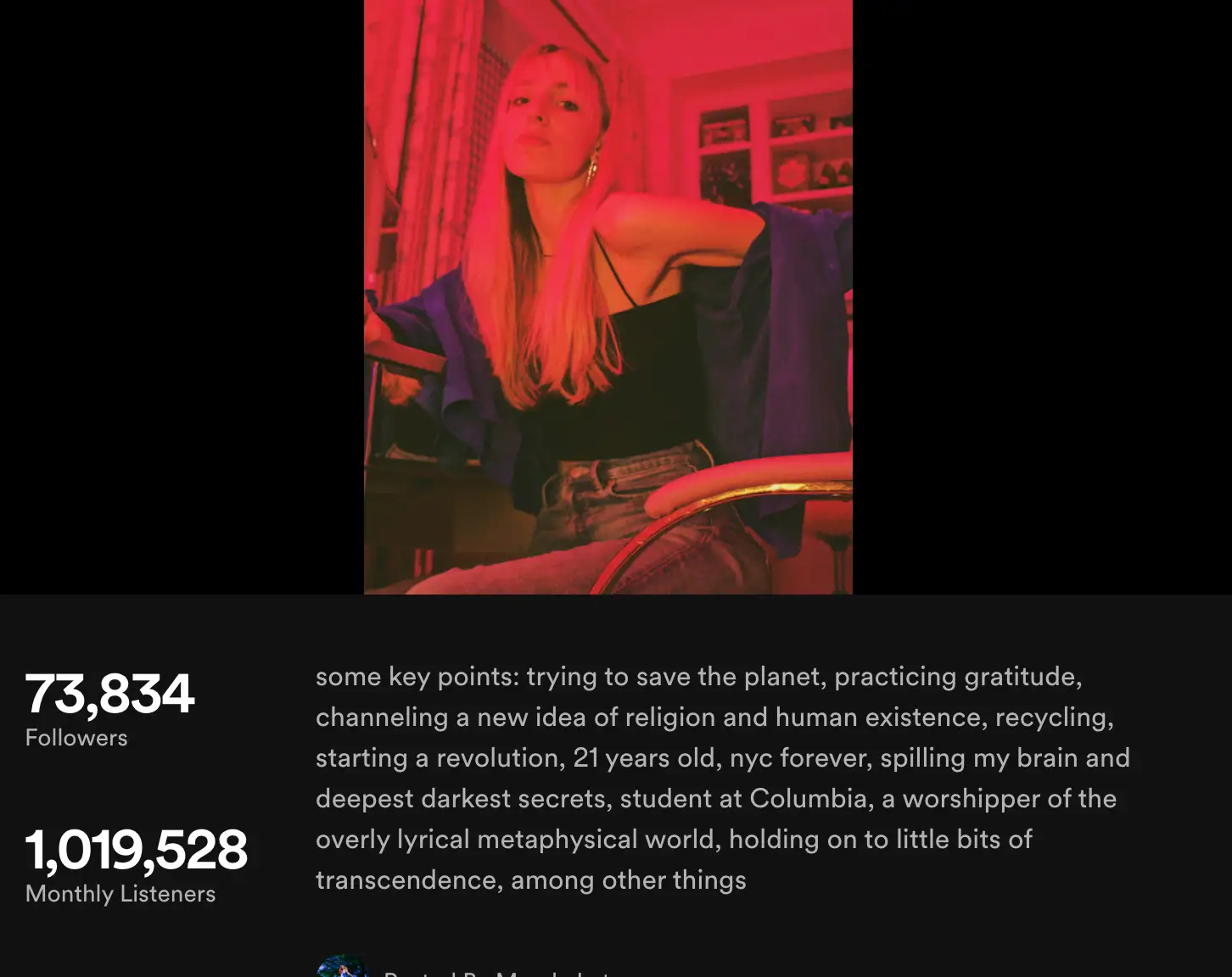 It's not a polished sample musician bio, but it does give you a keen sense of who she is and what she stands for. This short artist bio also aligns well with her brand as a creative tell-all songwriter, spilling confessional lyrics throughout her alt-pop sound.
4. Include Similar Artists
If you're just starting out, you might not be playing shows or have a lot of new songs to talk about in your music bio. When in doubt, include more recognizable artists within your bio to draw in like-minded listeners. This can make it easier for you to target a specific audience and cultivate a more dedicated fanbase.
It also makes it easier for blogs to cover your creations, since positioning your tracks appropriately will be easy. Spotify also links out directly to mentioned artists, making it easy for your listeners to trace your references.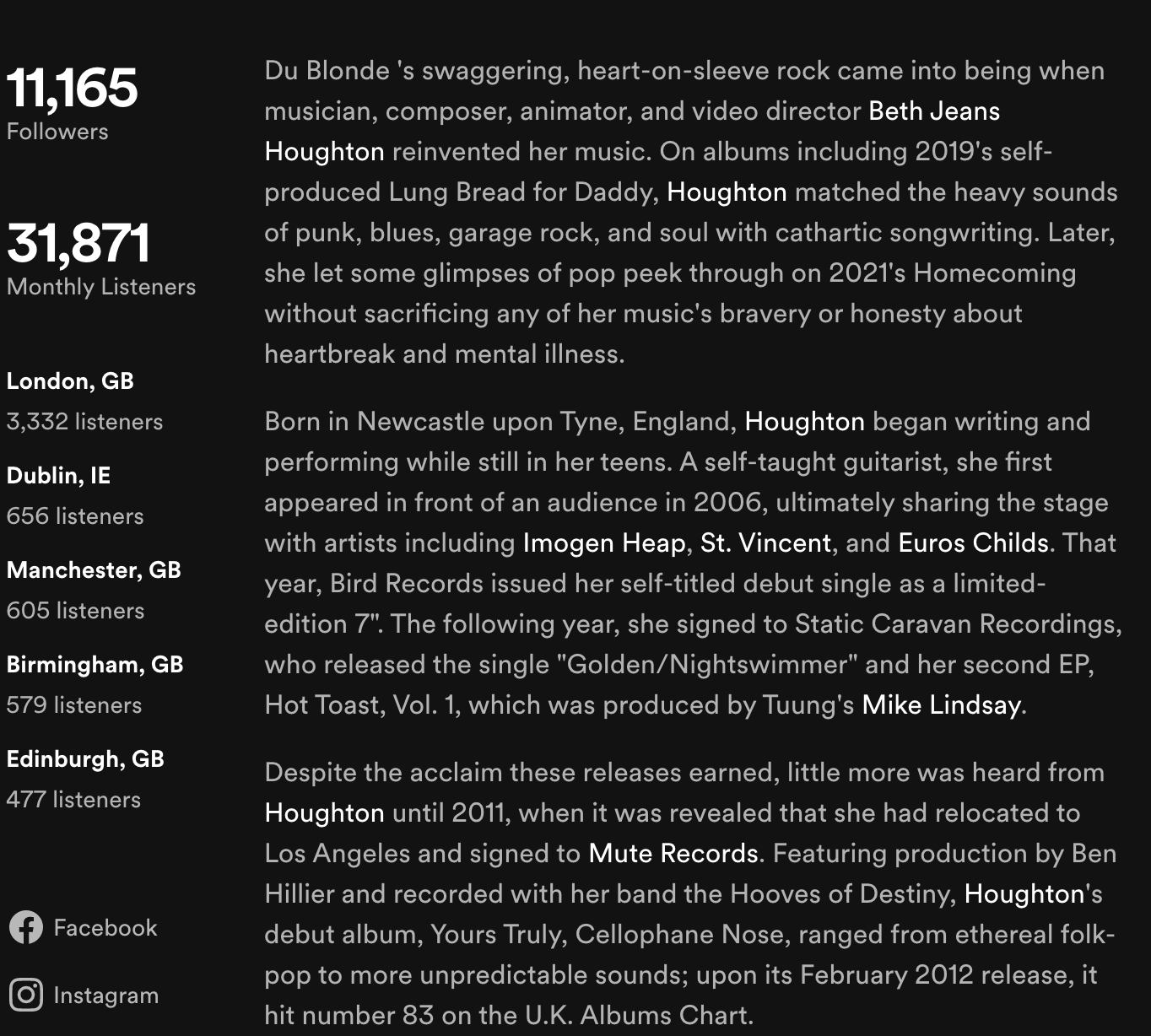 5. Keep Your Bio Up To Date
Within your bio, you can share news to build anticipation surrounding your release. Be sure to mention any notable music videos, upcoming tours, or a few notes on what your latest album means to you as an artist.
Your artist bio page should stay current with mentions of new material with every release. The mention can be brief, but including it gives listeners a reason to dive back into your discography, which is the ultimate goal of any piece of music press.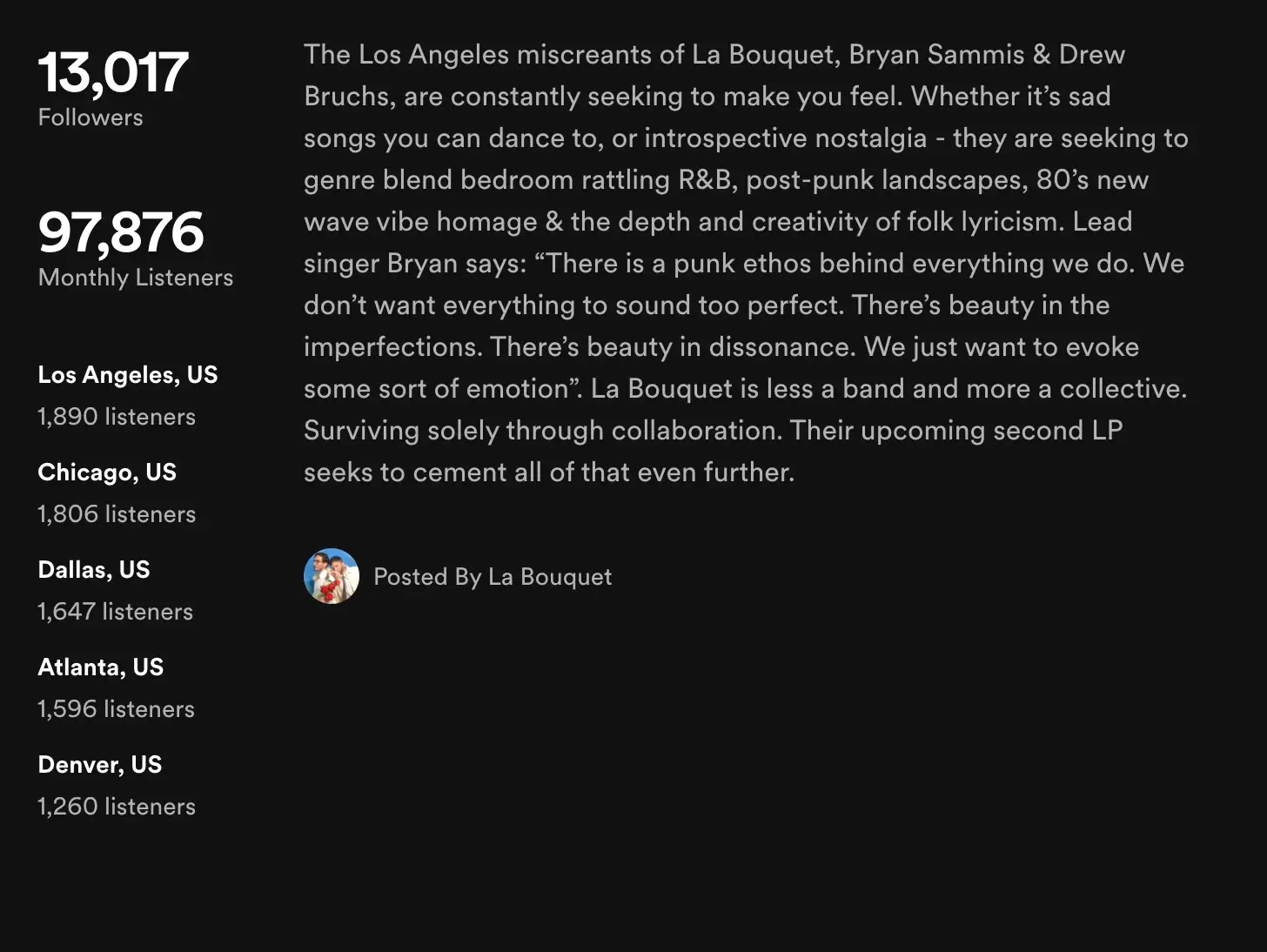 6. Include Some Press Quotes and Accomplishments
It's common to include a notable accomplishment or two in your short and long bio pages as a musician. This can help provide social proof, especially if you aren't a part of a well known band (yet). One of the easiest ways to do this is by embedding a quote from a blog you've been featured in, or sharing a positive review of your latest release.
You can also include what sorts of playlists you've been featured on, testimonials from other artists, or any other projects you're working on. Ultimately, your artist bio needs to center primarily around your music, but working in testimonials or other interesting facts about you can help make you more compelling as an artist.
If you're in a band, it might make sense to introduce each founding member with a quote on their artistry.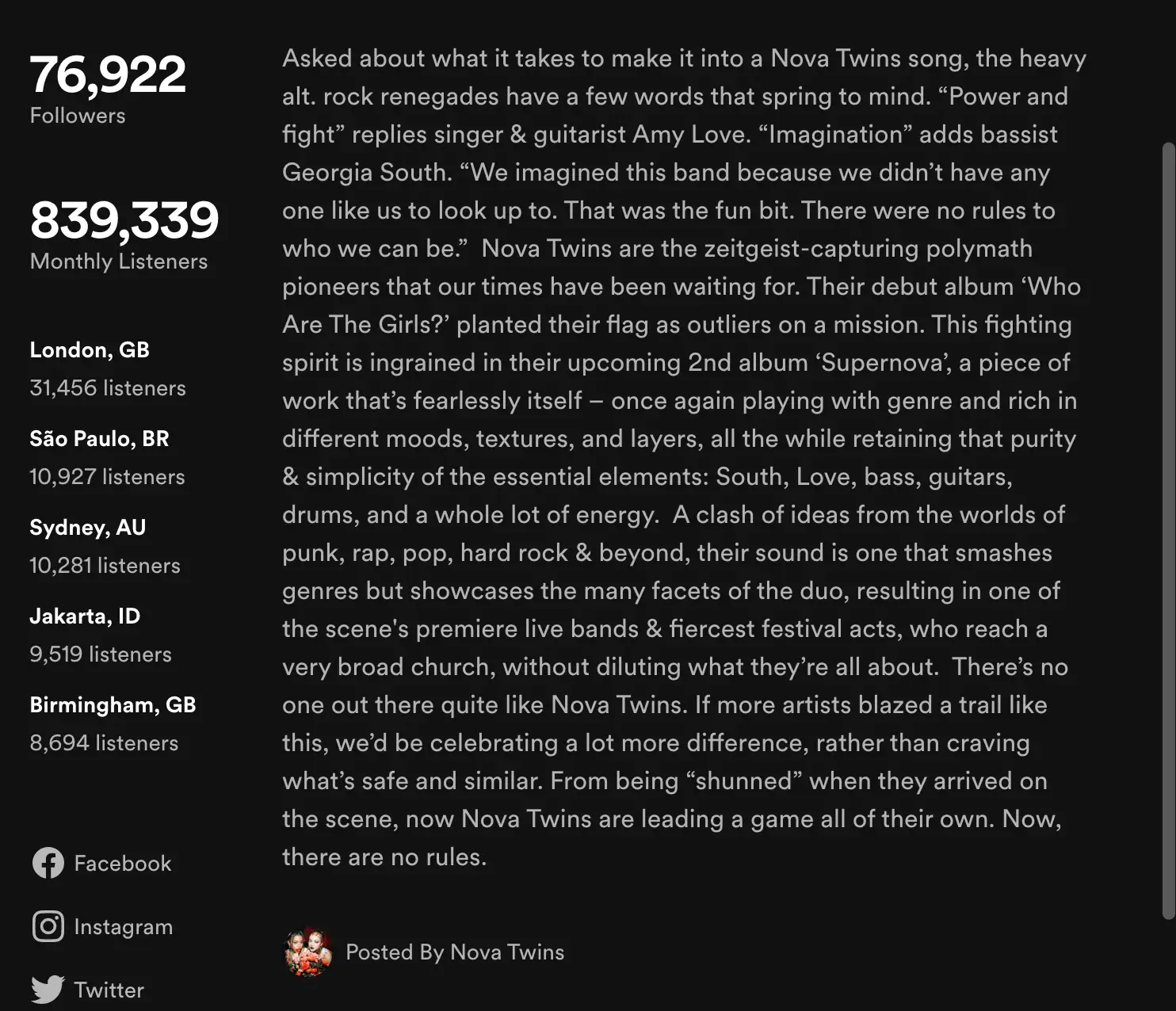 7. Source From Samples
Feel free to draw inspiration from other artists and bands. Screenshot a few examples from some of your favorite artists and note what you like about each artist's bio. Do you like the artist's bio because it showcases an inspiring story? Or is it because the artist writes about his or her work in an approachable manner?
There isn't one "correct" formula when it comes to writing a bio page, so figure out what resonates with you in the music business, and apply the same sentiment to your own artist statement.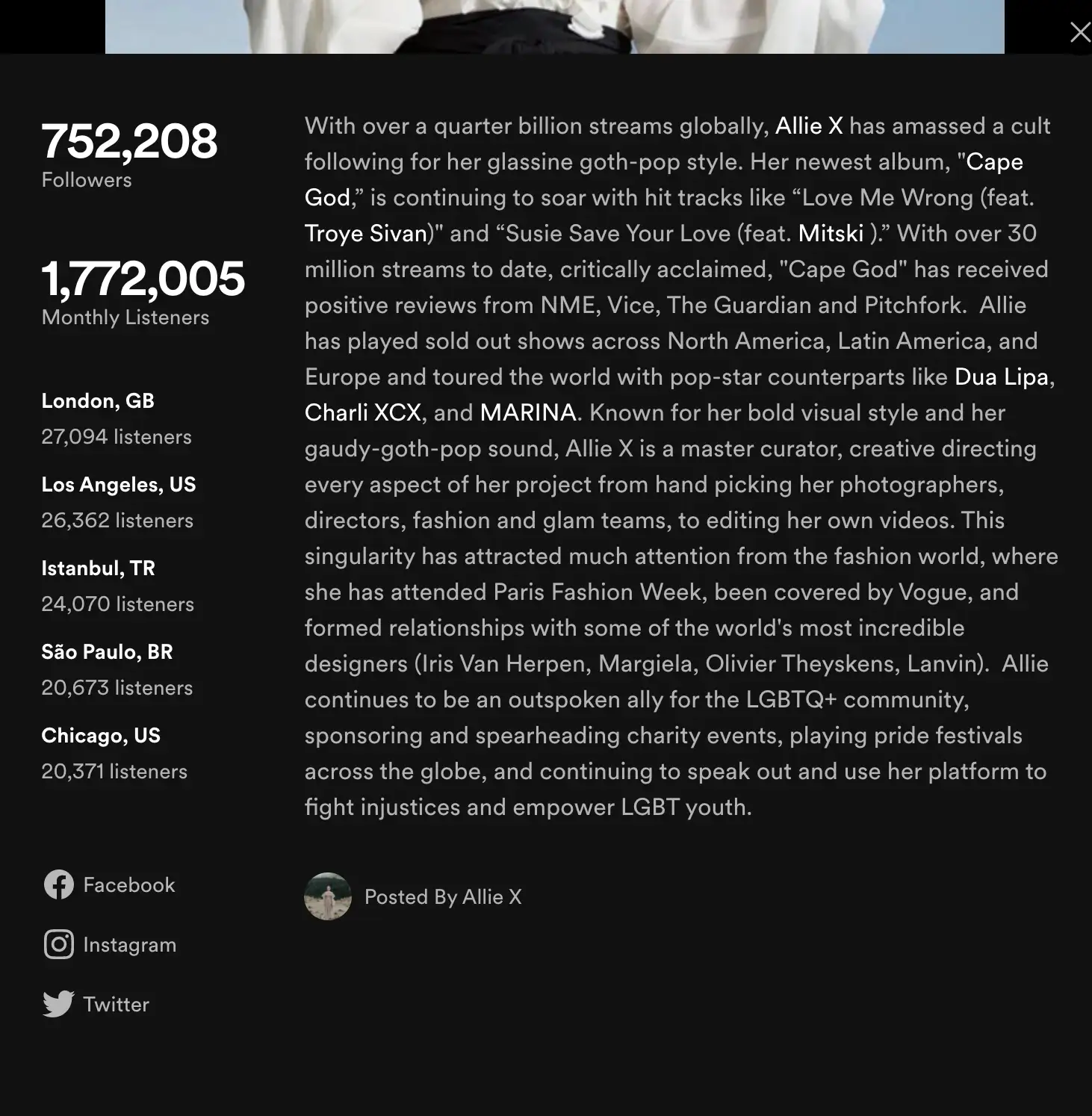 8. Proofread and Ask For Feedback
There's nothing that reads more unprofessional than a written bio that doesn't have proper spelling or grammar. Note, there might be a worthy exception when it comes to more personalized, first-person bios, but generally speaking, your musician and band bios should be as eloquent as possible, free of error.
If you really want to make your musician bio shine, create a couple of different versions and send them out to friends and trusted voices in the industry. Ask for feedback and take advice from others to heart! Someone will probably use your artist bio to determine their first impression of you as an artist, so you'll want to take your time with this.
9. Remember A Musician's Bio Is Just One Piece Of The Puzzle
There's no denying that having an effective bio as a musician is important. However, remember that this is just one component that comes with being a successful artist. Having a strong musician's bio is great for social proof, but if your art or music simply isn't there, it's not going to hold on its own. Similarly, if you can prove that you're an amazing artist and have something unique to bring to the table, your artist bio doesn't need to be perfect to land you opportunities.
Just try your best to craft a musician bio that's true to you and describes your sound as an artist. A strong bio can help you excel throughout the business when talking professionally about your music, but it isn't going to break you into the industry on its own.
Have fun building your own musician bio as an artist!