So, you've outgrown your trusted Focusrite Scarlett 2i2*. You're ready to take your productions up a notch and start recording with more simultaneous inputs.
And for that, you need the best 8-channel audio interface your hard-earned cash can buy.
Granted, there are not as many 8-channel options as there are the number of entry-level 2- or 4-input interfaces . But there's still a lot to choose from. So here at eMastered , we've put together a comprehensive guide to help you choose from the best 8 channel audio interfaces on the market, to find the optimum solution for your studio.
Before we dive headfirst into the features of each one, it's worth noting that some interfaces are described as having 16, 24, or more, simultaneous inputs. While the blurb isn't an outright lie, often the total number includes an ADAT or other digital audio input, as well as the analog connections.
In this article, we're choosing 8 channel audio interfaces that have at least 8 analog inputs. So you can rest assured you'll have the capacity to fully mic a drum kit, or capture your 8-piece kazoo orchestra as it performs its latest opus.
With that caveat out of the way, let's begin.
(* Replace with any 2 channel audio interface of your choosing ).
Budget 8 Channel Audio Interfaces
1. Behringer U-Phoria UMC1820 USB Audio Interface

Quick Look
In: Analog: 8 x XLR-TRS combo; Digital: 1 x Coax (S/PDIF), 1 x Toslink (ADAT)
Out: 2 x 1/4" TRS (main out), 8 x 1/4" TRS (line out)
Connection: USB 2.0 Type B
A/D Resolution: 24-bit/96kHz
Software: None
The Low Down
Love 'em or hate 'em, Behringer make audio interfaces at an affordable price, giving the budding producer the opportunity to kit out their studio on a budget.
The Behringer U-Phoria UMC1820 is no exception, boasting a whopping 18 total inputs for less than $300.
What's the catch? Only three that I can think of, but we'll get to them later. First, let's look at the good stuff.
The Behringer U-Phoria UMC1820 is a rackmount interface, designed to sit in one place more or less permanently. On the analog front, it has eight combo inputs with Midas mic preamps, all of which include +48V phantom power for condenser mics.
You can even hook up Behringer's very own ADA8200 mic preamp unit to the ADAT input of the UMC to create more mic preamps for your recording needs.
The AD/DA converters (to my jaded ears at least) deliver decent sound quality. You can get better, but not with this many channels, much less at this price point. More about the sample rate later.
The two headphone outputs can make use of an A/B source select button for cueing - useful for DJs or folks running backing tracks while performing live (it happens). They also have independent-level controls. If two monitor sources aren't enough for you, there are 8 line outs that you can send to a separate headphone preamp unit, so each musician gets their own monitor mix. Direct monitoring is achieved by blending the source and playback signals via a knob on the front panel.
There's no software bundle with this audio interface, so if you're looking to cover all bases with one purchase you may have to look elsewhere. On the plus side, the Behringer U-Phoria UMC1820 comes with 5-pin MIDI in and out, so hardware hookup is a doddle.
Those catches I mentioned earlier? They're minor, considering the price of the unit but...
a) Phantom power is delivered to channels in blocks of 4, so for channels 1-4, and/or 5-8, it's either all on or all off. Plan your condenser inputs accordingly.
b) If you're running Windows, you'll have to download drivers separately. Not the case with Macs - it's true plug-and-play in the Appleverse.
c) You only get a maximum 96kHz sample rate. Which, on the plus side saves you an awful lot of HD space from recording at 192kHz, and everyone streams these days anyhoo.
Overall, the Behringer U-Phoria UMC1820 gets my vote as the best 8-channel audio interface for engineers on a budget.
Pros
Excellent value for the budget studio
Cons
Only 96kHz sample rate
Have to download drivers for Windows use
2. M-Audio AIR 192|14 Audio Interface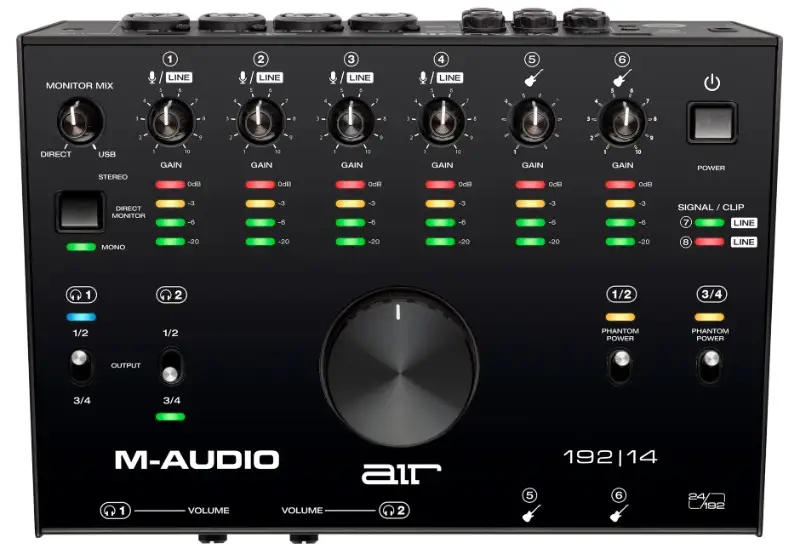 Quick Look
In: Analog: 4 x XLR-TRS combo, 2 x 1/4" (Hi-Z), 2 x 1/4" (line)
Out: 2 x 1/4" TRS (L/R), 2 x 1/4" TRS (3/4 out)
Connection: USB 2.0 Type C
A/D Resolution: 24-bit/192kHz
Software: Ableton Live Lite, virtual instrument plug-ins, and effects by AIR, MPC Beats
The Low Down
Another great 8-channel audio interface that doesn't burn a hole in your pocket is the M-Audio AIR 192|14. And this one is a bus-powered desktop model so, in theory, at least, you can chuck it in your bag and go rogue with your recording. And if you're worried about build quality, this audio interface has an all-metal chassis designed to withstand even the fiercest of moody bass player grimaces.
The front panel features two Hi-Z instrument inputs - ideal for the singer/songwriter scenario. Around the back, you'll find a further four XLR/TRS inputs (for your kazoos). These come with phantom power that routes to two channels at a time. In addition, there are two line-level inputs for people who still use real synths.
The Crystal microphone preamps need a bit of help on the gain front, but despite this deliver the goods with low noise.
Two headphone sockets have an independent volume control, and the additional 3/4 line outputs allow for further monitor mixes. If you like your headphone mix hot, be aware that the volume on the headphone outputs is not as high as on other audio interfaces. This is, however, probably a good thing since we're all vulnerable to cranking sh*t up beyond the realm of sensible.
Speaking of monitoring, while not truly latency-free, the Type C USB connection allows for fast round-trip speeds which minimize latency whether you're tracking or listening. If latency is still a beast of a burden, use the monitor mix control knob.
MIDI connection is provided via a 1/8" jack. It's an additional cable to plug in, or a connection to go wrong, but hats off to M-Audio for supplying adaptors in the box.
While it lacks digital features, the M-Audio Air does provide a lot of versatile connectivity, whether you're recording guitar (and kazoo!), sampling vinyl, or tracking a small combo set-up. It's affordable, portable, and comes with a sweeping range of plug-ins.
Pros
Low latency
Dedicated Hi-Z and line inputs
Portable
Cons
MIDI connections are 1/8"
No digital connections
3. Tascam US-16x08 USB Audio Interface

Quick Look
In: Analog: 8 x XLR, 2 x 1/4" (line/instrument), 6 x1/4" (line)
Out: 8 x1/4"
Connection: USB Type BV
A/D Resolution: 24-bit/96kHz
Software: None
The Low Down
Yes, OK, this is technically a 16, not an 8-channel USB audio interface. But for what you get for your money, I'd be a Bond villain not to bring it to your attention.
For under four Benjamins you can get your hands on a USB audio interface with enough inputs to tackle even the most demanding ensemble, plus you get onboard DSP processing to boot. Yes, folks, you read that right. DSP processing for under $400.
Hot or not? It depends on your needs.
The US-16 boasts a lot of input connectivity, including the capacity to handle pesky Hi-Z instruments like guitars and basses. The preamps deliver a decent sound, and phantom power is provided to the XLR inputs in groups of 4 (channels 1-4, and 5-8). Six of the line inputs on the rear of the unit also have switchable gain settings.
You also get a bunch (well, eight) line-level outputs to send signals out for monitor mixes and outboard processing. MIDI connections are taken care of too, in regular 5-pin format.
The onboard DSP processing can give each input channel 4-band EQ and compression letting you capture exactly the sound you're after.
Or not? If you're running a Windows machine you may get issues with the supplied audio drivers. Some users recommend using Asio4all instead, although a recent driver update from Tascam may have solved the issue.
The space between the gain pots on the front panel is small and may prove problematic when fine-tuning input settings. There's also no monitoring meter, so you'll need to listen to see if your signal is clipping.
Additionally, there's no bonus software included as a marketing gimmick, and no digital input, therefore no expansion possibilities.
All that said, this model from Tascam is one of the best value USB audio interfaces your money can buy if you're after a multi-input model. You're not going to get the sound quality of Abbey Road, but on the other hand that album was recorded using way fewer channels of audio.
Pros
Cons
Only 96kHz sampling rate
No input/output metering
Mid-Range 8 Channel Audio Interfaces
1. Focusrite Scarlett 18i20 3rd Gen

Quick Look
In: Analog: 8 x XLR-1/4" combo; Digital: 1 x Coax (S/PDIF), 2 x Optical (ADAT)
Out: 2 x 1/4" TRS (main out), 8 x 1/4" TRS (line out)
Connection: USB Type C
A/D Resolution: 24-bit/192kHz
Software: 3-month Pro Tools subscription, Ableton Live Lite, Hitmaker expansion bundle
The Low Down
For those of you in love with your Scarlett 2i2, but wanting more channels, check out the Focusrite Scarlett 18i20 3rd Gen. Even if you're not coming from a Focusrite family of USB audio interfaces it's worth taking a closer look.
Delivering 8 analog channels of audio, with additional digital connections available, the Scarlett 18i20 is an affordable solution for the producer who needs more inputs without breaking the bank.
All eight of the XLR/TRS inputs feature award-winning Focusrite preamps with phantom power, giving you transparent, low-noise recordings, with great dynamic range. Two of these inputs are conveniently located on the front panel, with the other six tucked around the back for more permanent cabling inputs.
The back of the interface is where you'll also find multiple digital connections. Use these to add a further eight channels using a dedicated mic preamp unit. Although be warned this will only give you a 48- or 96kHz sample rate.
All the inputs are monitored with a bright LED bar-graph display, so you'll know when the drummer is hitting things too hard (which is generally all the time). The graph also indicates when there's MIDI activity happening.
For low latency tracking, you can either monitor using native effects or use the direct monitor circuit to bypass any latency whatsoever. A slew of line outputs on the rear of the unit, plus the two independent headphone sockets give you access to an array of monitoring options for every situation.
The magic Focusrite 'Air' feature - a button that adds high-end sparkle to your recordings - is hidden away in the included Focusrite Control app. This is a little cumbersome if you're used to pushing a physical button on smaller Focusrite models, but the effect does crisp up your recordings, so hey, what's a couple of mouse clicks?
But the app does come in useful for many other features too. You can use it to route audio and cue mixes, monitor sends, and loopback for sampling (or podcasting) via your Mac/PC/iOs device. For some users, this could be a real game-changer.
Another nifty feature of the Scarlett 18i20 is the onboard talkback functionality via the built-in talkback mic on the front panel.
It's worth noting the bundled software that comes with this audio interface. In addition to DAW software, you get the Focusrite Red Plug-in suite (for native low latency monitoring), access to the Plug-In Collective, which offers tons of free downloads every month, and access to other essential effects and modeling software. Basically, everything you need to start recording like a pro.
The build quality on the Scarlett 18i20 is solid, and the sound quality matches it. If you're looking to raise your game in the producing field and don't want your food budget reduced to eating rice and beans for a year, this is a great option for you.
Pros
Great quality audio for the price
Solid build quality
Cons
Some input features can only be accessed via the Focusrite Control app
2. Presonus Studio 1824c

Quick Look
In: Analog: 8 x XLR-1/4" combo; Digital: 1 x Coax (S/PDIF), 1 x Optical (ADAT)
Out: 2 x 1/4" TRS (main out), 8 x 1/4" TRS (line out)
Connection: USB Type C
A/D Resolution: 24-bit/96kHz
Software: Studio One Artist, Studio Magic Plug-In Suite
The Low Down
A strong competitor to the Scarlett 18i20 is the Presonus Studio 1824C. In fact, the two are so similar the decision may come down to whether you like the sound of Xmax preamps over those on the Focusrite Scarlett, or your preference for bundled software.
Like the Focusrite, the Presonus Studio 1824C comes with eight analog inputs, all including Presonus' own Xmax preamps. The two inputs on the front panel can also handle guitars and basses with instrument preamps that are low in noise. These and the six mic/line connections around the back are balanced for line inputs.
Xmax preamps are widely known to be rich and clean, with a deep sound. The AD/DA conversion is crystal clear and able to capture audio without compromise at up to 192kHz.
If you need a boost in channels, you can use the ADAT connection to add a further eight connections.
Keeping an eye on levels is easy thanks to the clear LED bar graph display. And the onboard DSP allows you to create four stereo monitor mixes using the included Studio One Artist (or any other version of Studio One), or the included UC Surface software. The latter is great to use on a mobile device if you're wearing the engineer and musician hat at the same time.
As with the Focusrite Scarlett, there are eight line outputs on the rear of the unit, along with the main L/R out, giving you plenty of options for outboard processing, or monitor sends. This is also where you'll find the BNC word clock connection and MIDI in/outs.
Two independent headphone outputs are on the front of the unit, along with mute, mono, phantom power, and line input buttons.
This audio interface ships with a copy of Studio One Artist, and the Studio Magic Plug-in suite. Between them, they'll give you everything you need to start recording. If you already have your DAW of choice the software bundle will be of little value to you, but this is still a solid USB audio interface, delivering some of the best audio in its class.
Pros
Sturdy and affordable 8 -channel audio interface
Cons
No direct monitoring via the front
3. Roland UA-1010 Octa-Capture USB Audio Interface

Quick Look
In: Analog: 8 x XLR-TRS combo (2 x HiZ); Digital: 1 x S/PDIF (Coaxial)
Out: 2 x 1/4" TRS (main out), 6 x 1/4" TRS (line out)
Connection: USB Type B
A/D Resolution: 24-bit/192kHz
Software: Ableton Live Lite
The Low Down
The Roland UA-1010 is not the youngest of USB audio interfaces, but if you're after a compact(ish) audio interface with inputs and outputs to match your growing production tasks, it's a solid choice.
Eight combo inputs are split between the front and rear panels. The first two on the front also offer Hi-Z compatibility. There are also digital coaxial inputs and outputs on the rear. The preamps are Roland's own VS variety, promising transparent recording at up to 24-bit/192kHz.
Each of the inputs has independent phantom power, plus a low cut filter, phase invert, and digital compression to tame those wild peaks.
If you're feeling lazy (or you're a drummer) you can take advantage of the auto gain-setting feature which, as you may expect, automatically sets the optimum input level for each channel. This is great for a fast and dirty full band recording, or handy if you're playing drums while recording yourself.
There's an internal 40-bit DSP processor to provide latency-free monitoring with some nice Roland effects, plus you can take advantage of up to four independent software-controlled monitor mixes.
And by all accounts, the sound quality this interface delivers competes with all the new kids on the block ( remember them? ).
Since it's a compact unit, the lack of real estate means a lot of the features and functions are accessed via a scroll wheel and buttons, relying on the small screen to give you visual feedback on exactly what is going on. If you're on the go, this may be a small compromise to make for such a lightweight and portable piece of kit, but if you're planning on being in one studio, this could soon become cumbersome.
Does it boast the same features as some of the newer models? No. But the goal here is recording quality audio, and this interface from Roland does exactly that. If you're after a sturdy workhorse consider the UA-1010.
Pros
Compact 8-channel audio interface
Automatic gain sensing
Onboard DSP processing
Cons
It's an old interface
Not a lot of headroom on the headphone output
Accessing some features may be fiddly
Premium 8 Channel Audio Interfaces
1. Focusrite Clarett+ 8Pre

Quick Look
In: Analog: 8 x XLR-TRS Combo; Digital: 1 x Coax (S/PDIF), 1 x Optical (ADAT)
Out: Analog: 10 x 1/4"
Connection: USB-C
A/D Resolution: 24-bit/192kHz
Software: Ableton Live Lite, Hitmaker Expansion Bundle, 3-month Pro Tools subscription
The Low Down
The Clarett+ 8Pre is the bigger brother to Focusrite's Scarlett 18i20, for those of you with more moolah to throw at your studio.
It's similar in appearance and function to the 18i20, but the big difference is all under the hood. The eight Clarett+ mic preamps boast huge amounts of headroom and an ultra-low noise floor. The magic Air feature is also available on these, adding in a model of the transformer-based ISA mic preamp to add an extra sheen to your recordings. As with the Scarlett, it appears this function is only accessible via the software controller.
While most of the line/mic inputs are around the back of the audio interface, two combo inputs on the front double up as JFET instrument inputs. These preserve the original tone of your guitar and bass, and the included plug-in suite could bypass the need to lug an amplifier around.
Focusrite claims the AD/DA converters are new and improved. They weren't bad in the first place, but they now offer a higher dynamic range signal-to-noise ratio, ensuring a nice clean sound (which you can choose to f**k up later).
The ADAT connection brings an additional 8 channels of input when used to connect another interface, and the 5-pin MIDI in/out enables you to hook up external synths and the like.
10 analog outputs give you access to a multitude of monitor or outboard processing sends. You can fiddle in detail with your routing using the included Focusrite Control app, which gives you access to all of Clarett's internal features.
The round trip latency on this audio interface is low enough that you can track with your favorite plug-ins while monitoring in real-time. The manufacturers are so confident in this that there's not even a direct monitor option to switch to. That alone is worth the price of this beast.
One missing on this USB interface, which the Scarlett has, is the built-in talkback mic. The Dim and Mute buttons are there, but if you want to communicate with your recording artist you'll have to figure out your own routine or learn ASL.
Pros
Crystal clear, studio-grade recording
Cons
Can be problematic for Windows users
No built-in talkback mic
2. RME Fireface UCXII USB Audio Interface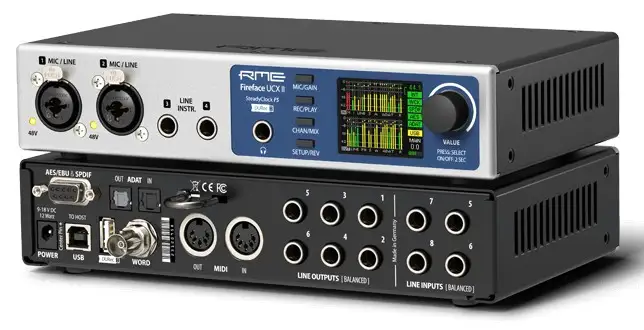 Quick Look
In: Analog: 2 x mic/line combo, 6 x 1/4"; Digital: 1 x Optical (ADAT), 1 x Coaxial (S/PDIF)
Out: 6 x 1/4" TRS
Connection: USB Type B, Firewire 400, Firewire 800
A/D Resolution: 24-bit/192kHz
Software:
The Low Down
Think of RME and you'll think of high-end, high-quality audio interfaces. The UCX II is no different, but when you look at the massive number of features, plus the exceptional audio quality, the price tag seems very reasonable.
Let's take a closer look.
The UCXII is a half-rack size audio interface, packing in features that would normally be spread out over two or three 19" panels. Four inputs on the front include 2 line/mic inputs, and 2 line/instrument inputs. Around the back there's a further 4 1/4" analog inputs, plus the usual array of digital and MIDI connections, plus the word clock out.
A notable feature is the DURec connection, which allows users to record directly to an external hard drive. This is great for rehearsals, gigs, or jam sessions. Since the audio interface can operate in standalone mode you don't have to cart your 'pooter to that seedy bar your band has a gig at next week.
The UCXII comes fully loaded with RME's TotalMix FX Engine - a dual chip-powered DSP engine that keeps one side for monitoring, and the other for FX, allowing for latency-free processing.
Each channel on the interface can access 3-band EQ, reverb, echo, low-cut filter, compressor, and expander while tracking, so you'll never need to worry about your CPU collapsing mid-session.
Another feature of note, which may make this interface a winner for you, is the DC coupling on the outputs, which enables CV/gate information to be sent to modular synths and other hardware.
As you'd expect from an interface that does this much, it's not bus-powered, but the 12V DV power supply is included in the box, so we can be thankful for small things.
If you're an analog synth-type producer, looking to track multiple inputs-outputs simultaneously, this offering from RME could well suit your needs.
Pros
Excellent quality compact audio interface
Actual latency-free monitoring and processing
DC-coupled outputs for CV/Gate control
Cons
The onboard display can get a little cramped
Only 2 mic preamps
3. Universal Audio Apollo x8 Thunderbolt 3 Audio Interface

Quick Look
In: Analog: 4 x XLR (mic/line), 2 x Hi-Z, 8 x line; Digital: 1 x Coax, 2 x Optical
Out: 2 x main outputs, 8 x 1/4"
Connection: USB-C / Thunderbolt 3 (backwards compatible to 1 and 2)
A/D Resolution: 24-bit/192kHz
Software: Access to the entire UAD plug-in library
The Low Down
Universal Audio's Appollo x8 audio interface is a sweet-sounding, ultra-fast audio interface, packed with DSP processing goodness.
The AD/DA conversion is in a class of its own, with a natural sound you've probably heard on your favorite recording. The circuitry involved gives you the widest dynamic range and the lowest noise floor of any audio interface.
The 6-core HEXA Core processing unit built into the interface means you can track through preamps from heavyweights like Neve, API, and more, or run a huge amount of UAD plug-ins while producing in your DAW, all at low latency and without any complaint from your computer.
If you're a fan of the UA sound, you'll love the software bundle that's included with the Apollo x8 interface. The Realtime Analog Classics bundle includes legendary name compressors and amp simulations.
Finally, the 8 analog outputs can be used for up to 7.1 surround monitoring. The support for surround sound includes speaker calibration and fold-down, so if you work in film, tv, or games this is a boon.
With only four mic preamps you're a little limited in what you can record unless you have other Apollo interfaces lying around to combine with it.
On the other hand, the Apollo x8 is a great centerpiece for your studio if you don't need more than 4 simultaneous mic inputs. The low latency it offers, plus the incredible range of industry-standard preamp emulations included, will raise your music game and boost your productivity.
Given its price tag, the Apollo x8 is not an audio interface to be considered lightly. But we can all dream, right?
Pros
7.1 surround sound monitoring support
6-core onboard DSP
Cons
Only 4 mic preamps
Hella expensive
Our Verdict:
In terms of overall features and affordability, the Presonus Studio 1824C is a solid choice. It'll get you recording larger ensembles without busting a hole in your crypto wallet.
But as always, which interface you choose depends on a) your budget; and b) your needs. Not all audio interfaces are made the same, and some of the above will work for your studio, while others won't.
There'll always be new audio interfaces coming onto the market, and you'll always be able to sell your existing interface when you're ready for an upgrade. The important thing is not to wait too long - make a choice then get out there and maketh the music!