When you're just starting out as a musician or producer, the world of home recording can seem intimidating. Aside from the technical aspects of recording, there's a dizzying number of audio interfaces to choose from.
Which begs the question: what is the best audio interface for beginners?
Have no fear, dear reader, eMastered has your back. In this article, we're going to look at the ten best audio interfaces for beginners.
We're going to assume that you already know what an audio interface is, and what role it plays in the studio. If you're completely in the dark about this, head over here to get the scoop on all things interface-y.
Before we dive into the nitty-gritty of what's hot on the market, let's find out what to look for, and what to avoid, when choosing your audio interface.
Best Beginner Audio Interface: Buyer's Guide
There's more than one way to skin a cat, and in the world of recording music that translates to there being many ways to get audio in and out of your Digital Audio Workstation (DAW for short).
But don't overcomplicate your home studio with an all-singing, all-dancing, mega-mega audio interface, just because it's the one they use at [insert your dream recording studio here].
As a beginner, it's best to keep things simple.
You can always upgrade your hardware if you outgrow it. With current advances in technology, the chances are that by the time you've outgrown your beginner audio interface, there'll be better models on the market that suit the level of ability you're at.
So here are some things you may want to ruminate on before choosing your audio interface.
Inputs
How many simultaneous channels of audio do you want to record? Realistically.
Most beginner musicians will need two at most, relying on overdubs for multitrack recording.
And what kind of sound sources will you be recording? Guitars and basses will need a Hi-Z line input. Keyboards, and external sound modules, will need line-level inputs.
Mics will obviously need an XLR input, and if you're using a condenser microphone you'll need 48v phantom power. Luckily all the interfaces we're looking at in this article have both.
Learn your recording chops on a small setup, and when you're ready to start using a multi-mic setup on a drum kit you can get an audio interface with more input channels.
Outputs
A simple pair of stereo outputs, plus a headphone socket, will be enough for the producer just starting out. It's unlikely you'll need a separate output for monitoring while you're still learning the ropes.
One thing worth noting though is if you collaborate with someone - a singer for instance - you may want to choose an interface that has two headphone jacks, so you both can hear what's going on when recording using a microphone.
Audio Quality
If you're new to the recording game you may be baffled by the bit depth and sample rate resolution numbers being flung around by different interfaces. Bigger is better, right?
Well, yes. But as a beginner musician, you don't need to go nuts. Most budget audio interfaces offer a bit depth and sample rate that is more than adequate for a rookie producer.
Remember, The Beatles recorded some of their most influential music on a 4-track tape machine. Focus on your creativity, not on who has the biggest sample rate.
Latency
Latency - the amount of time it takes to send an audio signal through your audio interface, into your DAW, and back to your interface outputs - is the bane of many a producer.
Higher-end interfaces can eliminate latency through various bits of audio wizardry. Budget audio interfaces can offer low latency, and some have zero-latency direct monitoring - blending a combination of the return signal and the input signal.
Ultimately, it's not something you can get away from easily, but you can learn to live with what your interface offers. If it's essential that you monitor with plugin effects in place be sure to go for an interface that offers low latency.
Compatibility and Connection Types
Most audio interfaces are cross-platform compatible, but if you're planning on using a mobile device for recording make sure the interface you choose is compatible with its operating system.
Similarly, does your Mac/PC/laptop have the right connection type to hook up to the audio interface? The advent of USB-C connections on a lot of newer interfaces means they aren't compatible with older computer connection types.
MIDI
If you want to use an external sound source for playing back sounds, or plan on hooking up a hardware synth/keyboard for inputting notes you'll need MIDI connectivity on your interface.
Not all audio interfaces have MIDI connections, and as a neophyte at music making it can be simpler not to have to worry about external MIDI. Instead, consider using a MIDI keyboard controller for inputting notes, and use 'in the box' sounds for all your synth/keyboard sound needs.
Bundled Software and Extras
Pretty much any audio interface you pick will come with a suite of bundled free software and extras to entice you. Some of these are 'lite' versions of popular software (Ableton Live is possibly the most ubiquitous bundled DAW software across the market), and some of them can be fully-functioning programs.
All this is marketed as the user being able to "make music right out of the box". This is true. But it can also lead to bloated systems and a multitude of forgotten plugins that you never really use.
All this is to say, focus on the hardware and what it will bring to your home studio. Don't be distracted by the shiny extras that the marketing team at Audio Interface Company LLC cobbled together. Run away!
Even if you are an absolute beginner, and have no DAW , and no instrument or effect plugins, you'll be better off choosing those based on your production needs.
One caveat to this is that if the free software offers an inexpensive (i.e. cheap) upgrade path to the full version, AND this is the software you're already considering, then let it be an influencing factor. Just not the deciding one.
Price
A newcomer to music production has a steep learning curve ahead of them. With this in mind, it may well be worth your while (and your wallet) not to spend a huge amount of moolah on your first audio interface.
You don't need to spend thousands of dollars on a schmancy audio interface with a ton of features you don't even know (yet) how to use. A good budget audio interface will have all you need to begin your recording journey.
It's almost guaranteed that in a few years, when your recording needs have outgrown a smaller interface, you'll be able to get one with more inputs, more features, and higher recording quality, for way less than you can right now.
So, choose conservatively, and when you've honed your production skills you'll be ready to move on to the next phase of your recording career with better knowledge, and pick an audio interface to match your needs at that time.
Best Audio Interfaces For Beginners: Reviews
Alrighty, enough of the pep talk. Let's dive in and look in detail at some of the best audio interface options for beginners. (Note that any price ranges given are approximate, and are subject to change).
1. Focusrite Scarlett 2i2 3rd Gen


Quick Look
Connection Type: USB 2.0
Compatibility: Mac/PC/iPad Pro
Resolution: Up to 24-bit/192 kHz
48v Phantom Power: Yes
Inputs: 2 x XLR-1/4" combo (mic/line/Hi-Z)
Outputs: Left/Right/Headphones x 1
MIDI: No
Software Included: Ableton Live Lite, 3-month Avid Pro Tools subscription, Focusrite & Hitmaker Expansion Plugins
Price: < $200
The Low Down
We're starting off this rundown with an oldie but a goodie. The Focusrite Scarlett comes in many forms - six to be precise - and the Scarlett 2i2 remains a popular model for beginners and pros alike.
The bus-powered Scarlett 2i2, now in its third iteration, boasts upgraded mic preamps on each of the two mic inputs, and a magic 'Air' button. Based on the Focusrite ISA console transformers, when activated this mode gives recordings a brighter, more airy quality.
A really nice touch for beginners is the 'Gain Halos' on each of the input volume controls. These give you a color-coded visual reference to see how close your incoming signal is to clipping. Stay in the green, and everything is good. If it's orange, dial things back a bit. For the novice recording engineer, this is a great tool to have as you learn your craft.
For monitoring your performance while recording, the Scarlett 2i2 offers supremely low latency, even while using native effects. If you'd rather hear things in the raw you can simply flip a switch on the Scarlett 2i2 and use the Direct Monitor function. The headphone and monitor outputs have an independent volume control, which is handy if you're recording in the same room as your monitors.
Considering the sound quality, and the robust build, the Scarlett 2i2 offers excellent value for money for the newcomer to music production.
Why Buy
Easy & intuitive to set up and use
Great audio quality
Robust build
2. Focusrite Scarlett 4i4

Quick Look
Connection Type: USB 2.0
Compatibility: Mac/PC/iPad Pro
Resolution: Up to 24-bit/192 kHz
48v Phantom Power: Yes
Inputs: 2 x XLR-1/4" combo (mic/Hi-Z); 2 x 1/4" (line)
Outputs: 4 x 1/4" line outs / Headphones x 1
MIDI: Yes
Software Included: Ableton Live Lite, 3-month Avid Pro Tools subscription, Focusrite & Hitmaker Expansion Plugins
Price: < $250
The Low Down
While we're in Focusrite Scarlett territory the 4i4 is worth a mention for audio recording novices who need a little more input options.
While keeping all the features of the Scarlett 2i2, the 4i4 gives an additional 2 lines of simultaneous recording capability, and a total of four line outputs, giving the user options for multiple tracking and monitoring situations.
What would you do with all these input and output options? As a beginner, I'm not sure you'd need them. But the reason we're including the Focusrite Scarlett 4i4 in this list is that it has MIDI in/out connectivity. For any musician who wants to use their hardware workstation in the studio, this is a must-have.
Another plus for the Focusrite 4i4 is its virtual loopback technology. For podcasters or streamers who need a simple audio solution, the 4i4 is an affordable option.
Why Buy
MIDI connections for hooking up your favorite hardware synth
Increased recording capacity - up to 4 simultaneous inputs
Virtual loopback for simple streaming or podcasting
3. Behringer U-phoria 204HD

Quick Look
Connection Type: USB 2.0
Compatibility: Mac/PC
Resolution: Up to 24-bit/192kHz
48v Phantom Power: Yes
Inputs: 2 x XLR/TRS combo, 2 x 1/4" inserts
Outputs: L/R out, 2 x stereo RCA, 1 x headphone jack
MIDI: Yes
Software Included: None
Price: <$120
The Low Down
I'll be brutally honest here; Behringer tends to get a crappy rap when it comes to audio. But the quality of sound you get from the Behringer U-phoria is decent. Dare I say it, good. Certainly good enough for a beginner diving into the world of DAW recording for the first time.
So don't let audio snobs dissuade you from what is an extremely affordable, easy-to-use, and solid audio interface that's packed with features.
While the U-Phoria only has 2 inputs, there's the option of using line inserts on the input signal - great if you're coming from the analog world and want to use an outboard compressor or preamp on your signal.
There are also two playback outputs, in addition to the main L/R out. For a beginner, I'm not sure these are entirely useful, but if you're a DJ just starting out these are a great tool for cueing up tracks, plus you can monitor what's on each output using the A/B button on the front panel.
There's also MIDI connectivity, which is a must if you want to hook up outboard synths or drum machines and have your DAW play them.
There's no software bundle with this best budget audio interface, although that's really a blessing in disguise. You can just get straight to making music without any distractions.
Why Buy
Solid metal chassis and sturdy build quality
Simple & easy to use; no downloads are needed to get up and running
Insert options and MIDI connectivity make it a great choice for an old-school analog person entering the world of audio interfaces
4. Presonus Audiobox USB 96


Quick Look
Connection Type: USB 2.0
Compatibility: Mac/PC/iOs
Resolution: 24-bit / 96 kHz
48v Phantom Power: Yes
Inputs: 2 mic/line combo
Outputs: Left/Right Out, Headphones
MIDI: Yes
Software Included: Studio One Artist, Studio Magic Plug-in Suite
Price: < $100
The Low Down
The Presonus Audiobox USB 96 is another hot contender for the best budget audio interface. Its simple control panel, and bundled software, make it an ideal choice for beginners. And since you can nab it for just less than a Benjamin at the moment it's an affordable entry point to the world of music production.
You'll notice that the maximum sample rate for recording is 'only' 96kHz. This is still more than enough for a beginner (remember The Beatles reference earlier?). The Presonus has good enough mic preamps to ensure you capture quality audio in your recordings.
Achieving minimal latency is handled by the internal mixer, where you can blend the incoming signal with the audio playback. It's not true zero-latency monitoring, but again, as a beginner, this isn't going to be your big concern. Learning the ropes is.
Speaking of which, the bundled software that comes with the Presonus Audiobox USB 96 contains enough goodies to get you making music right away. Studio One Artist is the baby brother of Presonus' flagship DAW software, Studio One.
Studio One is becoming a popular choice for professional composers and producers and is packed full of features, with a user-friendly interface. If you're new to the world of creating music on a DAW it's a great way to learn the ropes.
Couple that with the pretty decent recording quality, the MIDI connections, and the sturdy steel chassis - not to mention the great price - the Presonus Audiobox USB 96 is a great choice for beginners on a budget. If you're coming into production on the ground floor, this audio interface will give you all the tools you need to make music for years to come.
Why Buy
Excellent value desktop/mobile audio interface,
Great for starting your recording career on an iOs device
Easy to set up - even for folks who aren't tech-savvy
5. Native Instruments Komplete Audio 2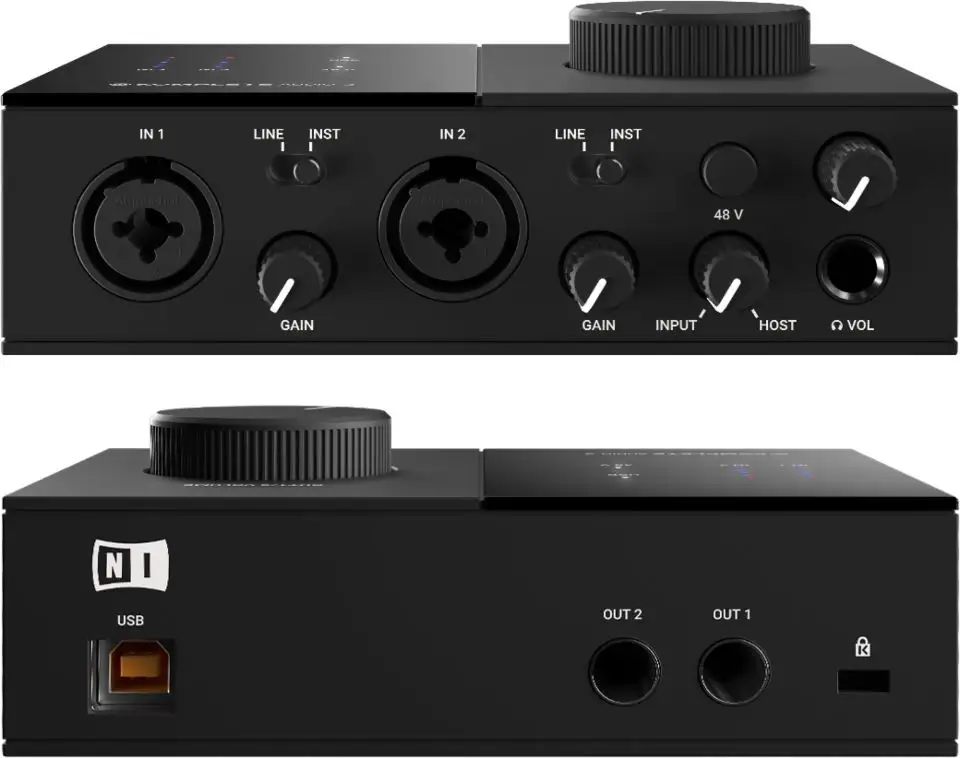 Quick Look
Connection Type: USB 2.0
Compatibility: Mac/PC
Resolution: 24-bit/192kHz
48v Phantom Power: Yes
Inputs: 2 x XLR-1/4" combo (mic/line/Hi-Z)
Outputs: 2 x 1/4" TRS, Headphone jack
MIDI: No
Software Included: Ableton Live Lite, Maschine Essentials, Komplete Start bundle of instruments and effects
Price: <$140
The Low Down
Native Instruments offer a handful of audio interfaces, ostensibly to lure users into the Komplete universe of instruments, effects, and controllers. However, the Komplete Audio 2 is more than just a pretty gateway experience - it's actually a solid audio interface that delivers pro-level audio quality with a simple design and user experience.
The rugged build and 'big knob on top' design make it great for live use too.
I chose Audio 2 to be on this list because the simplicity of the controls makes it beginner friendly. Simply plug it in and start recording. (Windows users will have to download a separate driver for the unit to work, but hey - you're probably used to that...).
The other factor that pushed this audio interface onto the list is, yes, the bundled software. If you're new to the production world and have zero plugins in your library, the Audio 2 package will get you up and running, and give you access to some fantastic sounds. The upgrade path is affordable too when you're ready to dive into more sound design.
So, if you're excited about NI software and need a simple, rugged interface, the Audio 2 is for you.
Why Buy
Simple interface
Easy to use
Affordable entry-point into the excellent sonic world of NI instruments and effects
6. Mackie Onyx Producer 2.2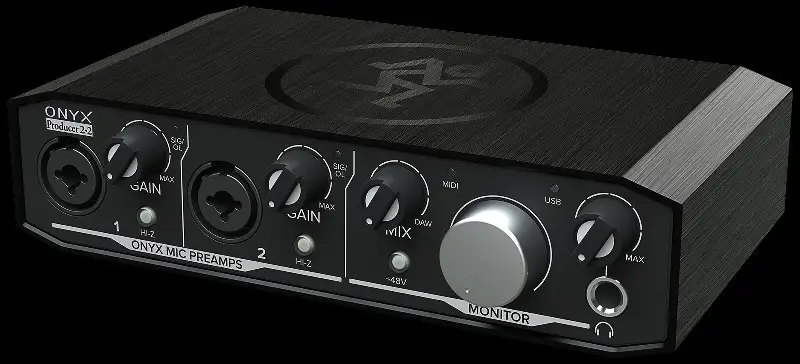 Quick Look
Connection Type: USB 2.0
Compatibility: Mac/PC
Resolution: 24-bit/192kHz
48v Phantom Power: Yes
Inputs: 2 x XLR-1/4" combo (mic/line/Hi-Z)
Outputs: 2 x 1/4" line outs
MIDI: Yes
Software Included: Waveform OEM DAW, Mackie Essentials FX Plugin Collection
Price: <$200
The Low Down
By now you'll be getting the gist of things; all the interfaces on this list are simple to use, and won't bamboozle your brain with multiple inputs and outputs. The Mackie Onyx Producer 2.2 is no different.
With its 2 inputs, MIDI connectivity, and superior AD-DA converters, the Onyx will give the beginner musician or content creator everything they need to record and produce quality audio without breaking the bank or making the process confusing.
There are two things that make this audio interface stand out for the beginner:
It comes with a full-featured DAW software program with no restrictions - Waveform OEM. While not one of the big players in the recording field, it does boast the ability to work on Linux systems. So if you're a Linux devotee (you know who you are) this could be a great audio interface/software combo for you.
Secondly, just about everyone who owns a Mackie Onyx comments on how rock-solid the build is. When Mackie says it's 'built like a tank' they are clearly not messing around. If you're planning to do some rough-and-tumble mobile recording this interface will serve you well.
Why Buy
Superior build quality
Onyx preamps sound great
Full-featured DAW included
7. Audient iD4 MKII USB-C Audio Interface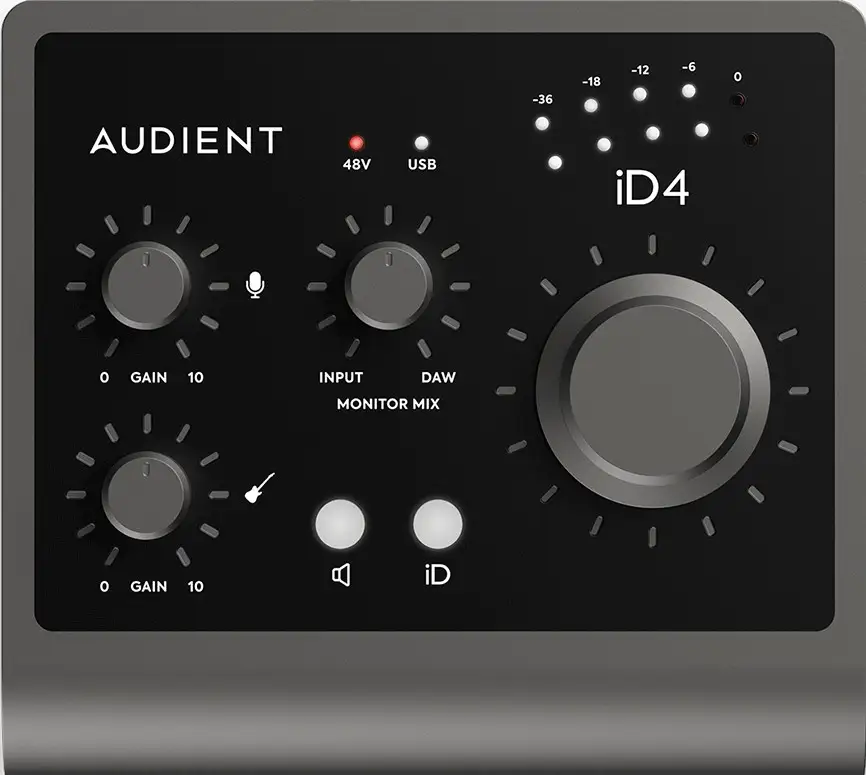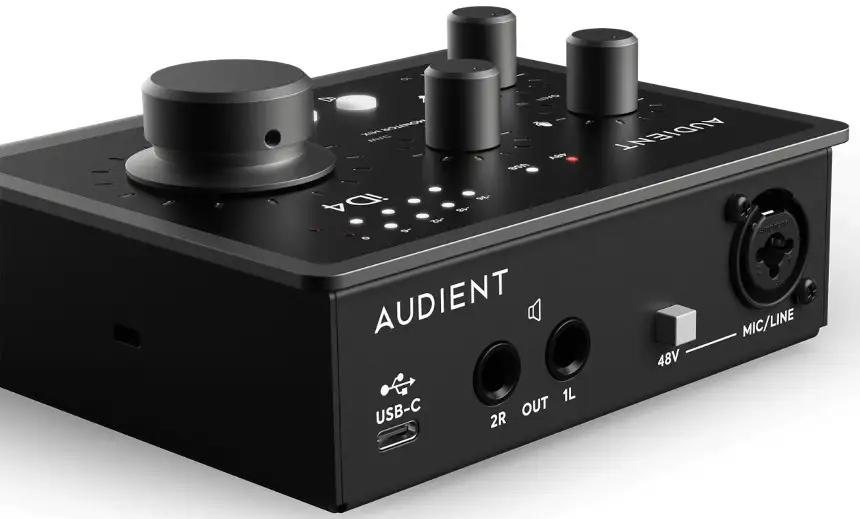 Quick Look
Connection Type: USB-C (3.0)
Compatibility: Mac/PC/iOs
Resolution: 24-bit/96kHz
48v Phantom Power: Yes
Inputs: 1 x 1/4" (instrument), 1 x XLR-1/4" combo (mic/line)
Outputs: 2 x 1/4", 2 x headphone jacks (1 x 1/4", 1x 1/8")
MIDI: No
Software Included: ARC Software Suite - includes access to Cubase LE3, and plugin instruments/FX
Price: <$200
The Low Down
At first glance, you may be forgiven for asking why the Audient iD4 made it onto this list. All the other interfaces we've looked at have at least two instrument inputs, and the iD4 only has one. It has no MIDI! It only has a resolution of 96kHz!!
Take a breath, and let's look more closely at this deceptively cool audio interface.
For starters, it has a noise floor 30,000 times quieter than the signal level. That's supremely low noise on your recordings.
Secondly, while the Audient iD4 lacks multiple instrument inputs, the dedicated JFET input on the front of the interface is modeled on inputs from classic valve amps, giving a great sound for your guitar or bass.
This is also the only interface on the list with two (that's right two!) headphone sockets, allowing you and your collaborator to listen to your own mixes as you record simultaneously.
As a bonus, the giant volume knob on the top of the box can instantly map to your recording software or plugins, allowing you to control parameters without reaching for your mouse.
In conclusion, the Audient iD4 is a pro-sounding interface that's simple to use and comes with some great features. My verdict is that it's an excellent bus-powered interface for beginner musicians whose primary focus is on guitar-oriented music.
Why Buy
Ultra-low noise recording
USB connectivity is compatible with modern devices
Pro-quality mic preamps and AD-DA converters
The volume knob doubles up as a parameter controller in your DAW/plugins