Congratulations! Your axemanship has reached dizzying heights, and you've reached the point where you're ready to record your shredding for the rest of the world to hear.
And if you're planning on using a digital audio workstation to do your guitar recording you'll need an audio interface. Maybe these boxes of mystery have held little interest for you in the past, being confined to the realms of EDM producers (or so you thought).
But if you're confused by the array of different audio interfaces out there, fear not, dear reader. Here at eMastered we've made life simple for you, and compiled a list of the best audio interfaces for guitar, along with a buyer's guide on what to look for.
Read on, and you'll have all the knowledge you need to choose wisely.
What To Look For When Buying an Audio Interface for Guitar
With all the many features available to you, what exactly should you be looking out for when browsing guitar audio interfaces?
Budget
You can spend anywhere between $50 and $5,000 (and upwards) on an audio interface. Decide what's a comfortable price range for you before you start looking. We don't want you eating rice and beans forever. If price is a major issue, you should check out our list of the best budget audio interfaces .
Audio Quality
Most interfaces nowadays record at a sample and bit rate that far surpasses what could be achieved a decade or so ago. At the very minimum, even budget interfaces will record at 24/48. If you know you need a higher bit and/or sample rate, keep this in mind as you browse.
Inputs And Outputs
How many channels do you need to record at once? If you're in the mood for using a multi-mic set-up on your amp you'll need more than one mic input to capture the sound you've created.
If you have an electro-acoustic, electric, or bass guitar you'll need an interface with a high-quality instrument input.
If you have outboard synths or keyboards (who are you?) you'll need MIDI capabilities to make use of them. MIDI inputs and outputs are harder to find on budget models since most people make use of a dedicated MIDI controller.
Finally, how will you be listening to the results of your labors? At a minimum, you'll need a headphone output, but ideally, you'll be hooking up a pair of studio monitors to a stereo feed out.
Latency
The bane of pretty much every musician ever, latency can seriously affect your performance when recording.
Many audio interfaces offer zero-latency direct monitoring, but be aware this only routes part of the incoming signal to the output. That's fine if you're using outboard gear to create your sound. But if you're recording with software effects or amp simulations you'll want an audio interface with the lowest possible latency, in order to capture your finest performance without having to edit it all later to get it in time. After all, you're not a drummer...
Compatibility
Nearly every audio interface will work on Mac or PC, but if you're planning on using mobile devices with your new toy be sure they play nice with each other.
Another thing to consider in this area is power. A lot of interfaces, especially portable ones, are USB bus-powered. This will quickly drain a battery on an iPad, leaving you halfway through the set with no sound. Fortunately, there's often a workaround for this, using an adapter and an external power supply (normally sold separately).
So if mobility is your thing be aware there'll be additional costs involved.
PS: If you're a mac lover, you might be interested in our selection of the best audio interfaces for mac .
Phantom Power
This might seem obvious to some, but if you're planning on using condenser mics to record guitar be sure that the interface you choose has phantom power.
The 10 Best Guitar Audio Interfaces
1. IK Multimedia iRig HD 2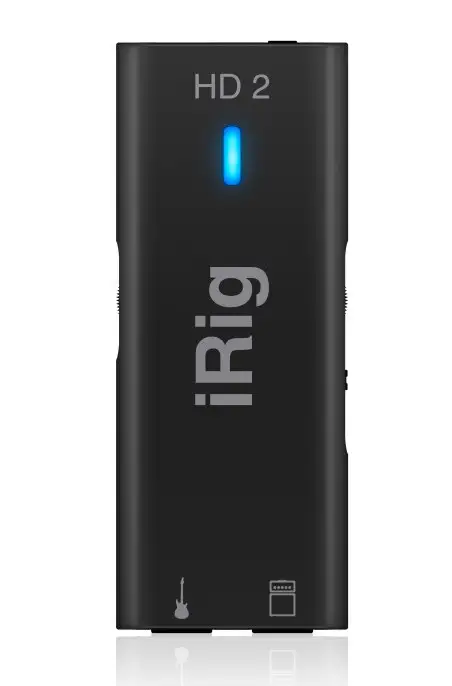 1/4" hi-Z input jack
1/4" amp output
24 bit/96kHZ recording resolution
iOS Compatible
This highly portable device from IK Multimedia boasts great sound quality while fitting in the palm of your hand. It's an affordable solution for guitarists who want to rock out at full volume without disturbing their neighbors, or for someone who needs an affordable way of recording their guitar directly into their PC. It even works for the gigging musician who likes to keep all their pedals virtual.
Yup, this little nugget has a 1/4" amp out, meaning you can send the output of the iRig directly to your guitar amp without an adapter. The included modeling software from AmpliTube functions as a standalone application (as well as a plug-in for your DAW), so you can tweak the sound on your device, and send the output straight back to the amp.
The 1/4" input has a control to adjust the input gain so you can reign in the levels when necessary, and the 24-bit A/D converters do a top-notch job of turning your audio into zeroes and ones.
In addition to the amp output, there's a 1/8" headphone jack. Since most users experience very little latency when using the included software, this means you can make an ungodly noise at 3 am using just your iPhone and your trusty ax.
The IK Multimedia iRig HD is USB powered, which means if you're using it with a phone or tablet the juice is going to run out quickly. The workaround is a charging device (sold separately), but this is a little on the steep side.
Ultimately, this is a compact solution for either someone who just needs to record their electric guitar directly into their laptop/desktop or for folks who want to jam without disturbing those around them.
2. Apogee Jam +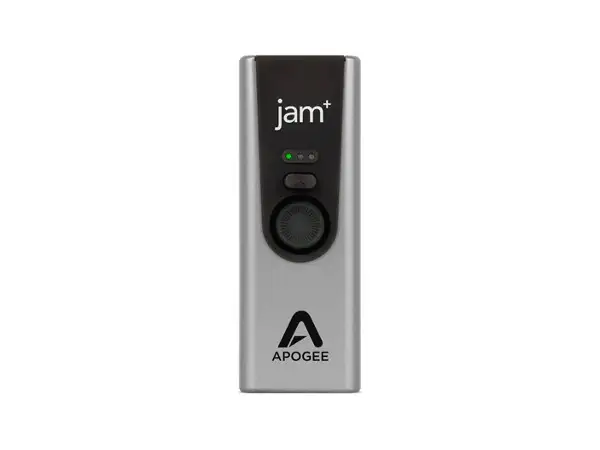 1-in, 1-out (headphone only)
24 bit/96kHz recording resolution
'Overdrive' mode for more realistic sounding virtual amps & effects
Works with Mac, PC, and iOS devices
Similar to the iRig, this portable audio interface from Apogee is a little higher in price and only has a headphone output - no piping out your sound to an amp with the Apogee.
The good news is that the Jam+ works on all operating systems, including later versions of iOS, and users have had success working on a Windows 10 Surface.
It's an easy-to-use interface, which just plugs in and works, without the need for running through additional software (as is the case with the above iRig). In order to hear what's plugged in, you need to use the headphone socket on the Jam+.
If you're wanting to use the audio interface to jam along with your favorite songs, this can be achieved with the Tonebridge app from Ultimate Guitar, allowing you to hear both your guitar and whatever you're streaming. A bonus for anyone wanting to practice to tracks.
The quality of the sound from the single Hi-Z input is great; Apogee's converter technology renders your audio at an impressive 24-bit/96kHz. Furthermore, you can engage the 'Overdrive' mode to add a little extra realism to virtual amps and effects in the included BIAS FX2 software.
An adapter is sold separately turning the instrument input into a microphone input for dynamic mics.
3. Positive Grid RIFF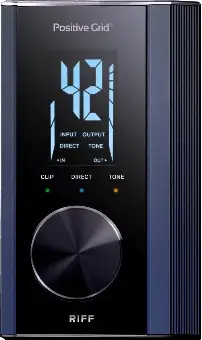 1-in, 2-out USB audio interface
24-bit/96kHz recording capability
114dB dynamic range
Built-in preamp and overdrive settings
The Positive Grid RIFF is similar to the two audio interfaces above; in essence providing everything you need to play, practice, or record your guitar while connected to your computer or mobile device.
Like the iRig and the Jam+, the RIFF has a 1/4" instrument input to plug your guitar straight into. From there you can use the included BIAS FX software to shape your sound using a large selection of amps, pedals, and effects. The software will even display chords for millions of songs in real-time as you play along.
A nice touch in this guitar audio interface is the built-in tone selection on the RIFF, allowing you to choose from three preamp presets.
You can output your sound using the 1/8" headphone jack, or via the 1/4" stereo line out. The direct mode function gives you access to zero-latency monitoring, but bear in mind my warning from earlier - this won't include any of the processed signals.
The RIFF comes with two USB chords - one for connection to Windows and Mac, and the other a USB cable for lightning connection to iOS devices. Some users report issues when connecting to Microsoft however.
Similar to the iRig, and the Jam+, this audio interface is ideal for guitarists wanting a simple recording solution, or a compact way to hear themselves practice. If you're more serious about recording, you'd be better off looking at one of the interfaces below.
4. M-Audio Air 192/6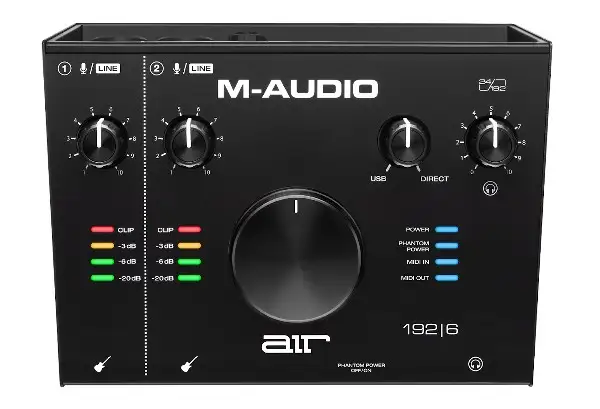 Flexible input routing: 2 x XLR/TRS combo inputs, 2 x 1/4" instrument inputs
24-bit/192 kHz resolution
5 pin MIDI in/out connection
2.59ms round-trip latency (dependent on buffer settings and hardware capabilities)
For those of you serious about guitar recording, you've come to the right place.
The M-Audio Air is packed with features, affordable, portable, and comes with plenty of input options.
If you're plugging in your bass or electric guitar direct, you can use one of the two instrument inputs on the front of the unit. If you need to capture an acoustic guitar, simply plug a mic into a combo input on the rear of the unit (phantom power is available if you're using a condenser mic). If you're doing multi-mic positioning there are two of these inputs, each powered by Crystal's excellent mic preamps.
For adventurous guitarists, there's 5-pin MIDI connectivity on the rear of the unit, allowing you to connect instruments, such as external synths and modules, or drum pads, and have them controlled by your digital audio workstation.
And if you don't have one of those, you're in luck. The M-Audio Air comes with a tidy software package, which includes Ableton Live Lite, amp modeling software, and a slew of effect plugins.
Considering the cost, this is a great beginner audio interface, giving you great quality audio recordings, and enough recording software in the box to get you making music right away. Windows users beware though - some folks report issues with Windows drivers 'forgetting' the device.
5. IK Multimedia AXE I/O Solo

24-bit 192kHz
1 x 1/4" instrument input, 1 x combo input
Dedicated controller inputs
Switch for active and passive pickups
Includes software by AmpliTube and T-RackS
Our next offering from IK Multimedia is a simple 2-in/3-out audio interface that looks like it could handle its own on any stage (or battlefield).
What distinguishes the IK Multimedia AXE from other audio interfaces is its slew of guitar-oriented features. There's a switchable setting for active or passive instruments, and two dedicated controller inputs (which can be assigned in the downloadable controller panel software).
There's also a dedicated re-amp output, so if you can't decide on your guitar tone for a take you can simply capture a clean version, and run it out to your amp after the fact. Twiddle away with different amp, stompbox, and microphone settings, without having to re-record.
Two input modes allow you to send your audio signal through either the transparent PURE preamp or add a little analog color to the signal with the JFET input stage.
A word of warning to Windows users (it's always them somehow); remember to reboot after attaching the audio interface to your PC's USB connection.
My only gripe about this audio interface is that isn't compatible with USB 3.0 - so if this little beauty has got you buzzed make sure you have a USB 2.0 connection on your 'pooter!
6. Focusrite Scarlett 2i2 3rd Gen

2-in, 2-out
Recording resolution up to 24-bit/192kHz
Switchable 'Air' mode sweetens the input sound
Bundled software includes Ableton Live Lite and a 3-month subscription to Pro Tools
To paraphrase one leading digital publisher, Focusrite makes interfaces that perform to a high standard at a very modest price. And while the Scarlett isn't a dedicated guitar audio interface like the AXE, it is a great model to consider when thinking about recording guitar.
First of all, the Scarlett USB audio interface offers simple plug-and-play functionality - no need to download any additional drivers (unless you particularly want to). The Scarlett also offers support for iPad Pro, so you can plug in your USB-C iOS device for mobile recording too.
The two XLR/TRS combo inputs are powered by excellent quality microphone preamps and have the option of adding 'Air' to your audio signals. The Air mode essentially adds a modeled effect based on the Focusrite ISA console transformers, giving your audio inputs a brighter, open sound.
The unit offers extremely low latency while using native plug-in effects, so you can hear exactly what your performances sound like as you're recording. Note that, for the recording guitarist who creates his or her tone in the box, this is much better than zero-latency direct monitoring.
In addition to excellent sound quality, and comprehensive inputs and outputs, this audio interface ships with a decent software package, including Ableton Live (the Lite version), the Focusrite Red Plug-In Software Suite, and access to the software by other leading manufacturers.
With its reasonable price point, the Focusrite Scarlett is a strong contender for the guitar-playing musician who wants to get into the world of digital recording.
7. Native Instruments Komplete Audio 2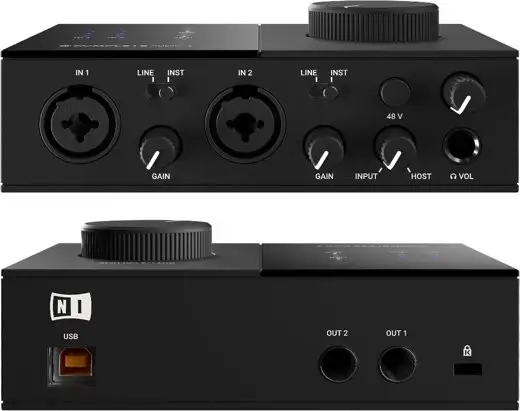 2-in/2-out USB powered audio interface
24 bit/192kHz audio quality
VU meter for monitoring levels
The software bundle offers a gateway to the Komplete series of software instruments & effects
This simple-to-use audio interface from Native Instruments is a good option for those of you looking for an entry-level guitar audio interface, and want to beef up your software library at the same time.
The unit offers a decent quality mic preamp on the two combo inputs, and the Hi-Z instrument inputs record guitar and bass without any issues. You can also use the two inputs to record a line-level instrument in stereo.
The knobs on the audio interface are sturdy, although the unit itself does feel a little plasticky. The five-segment VU meter on the top of the box is handy for monitoring input levels, and something you don't often find on audio interfaces in this price bracket.
Included with the unit are the rather excellent Solid Bus Compressor and Replika delay plugin, along with a bunch of other instruments and effects. The software is a little finicky to download and install and be aware it's all cut-down versions of NI software.
That being said you can do a lot worse than the full Komplete software bundle of instruments and effects, and the package you get with the Audio 2 gives you access to a discount on the full software package.
My verdict? For a budding guitarist-producer looking for an entry-level audio interface and an upgrade path to a bajillion sounds this offering from Native Instruments fits the bill.
8. Universal Audio Volt 176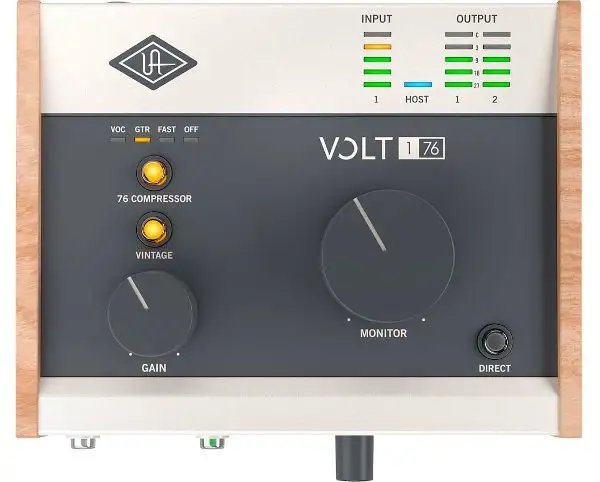 1-in/2-out USB-C Audio Interface
24-bit/192kHz Resolution
MIDI I/O
Built-in FET Compressor
At first look, this audio interface offering from Universal Audio may seem a little overpriced: one mic/line input for that price? But when you look at what's inside this magic box of wonders you'll see it's actually one of the best, if not the best guitar audio interface for folks who hanker after a professional analog-type sound in their recording adventures. Plus, it looks sexy.
What makes the Volt 176 so special is the analog circuitry on board. In addition to the mic preamp boasting a sound similar to Universal Audio's classic 610 tube preamp, there's a built-in FET compressor based on the classic 1176. This comes with three push-button modes, for vocals, guitars, and 'fast' sources (read: drums, and anything else with quick transients).
Despite the old-school look (and sound) of this audio interface, it comes ready to go for Mac, PC, iPad, and iPhone. So wherever you are you can plug in your iOs device and get recording. There are even reports that it works on Linux systems without any need for tinkering. Universal Audio have clearly done a great job building this machine.
If any of the numbers above don't mean anything to you, you might be better off going for one of the audio interfaces that boast more inputs. But if you're a solo musician who wants amazing quality sound, and can afford a little more than a budget price, the Volt 176 is a great option for you.
9. IK Multimedia AXE I/O

2-in/5-out USB Audio Interface
Up to 24-bit/192kHz recording resolution
1/4" amp/re-amp line out
MIDI I/O
Onboard tuner
Although IK Multimedia are perhaps better known for their software instruments and effects; when it comes to guitar audio interfaces they have created an absolute smasher.
As you've probably guessed, the AXE I/O is the bigger brother to the IK Multimedia AXE Solo. And for a reasonable price, you get a lot more to play with than you'd expect.
Not one, but two Hi-Z instrument inputs mean you and a friend can jam together and record what you do in real-time. A pair of XLR/1/4" combo inputs with phantom power and two Class A mic preamps mean you can record an acoustic guitar with a multi-mic setup using your favorite condenser mics.
Other additional features include the onboard tuner, an assignable preset button for switching between presets in the included AmpliTube software and MIDI I/O 5-pin connections
Like the IK Multimedia AXE Solo, you can choose between active and passive pickups, as well as add some mid-range warmth to your digital amps with the JFET input stage. The amp/re-amp line out is also on the larger model, as are the external control inputs.
And, like its younger sibling, the AXE I/O is not compatible with USB 3.0 (boo!).
While a direct monitoring blend is available, many users report experiencing low latency, even on a low buffer setting, which is a nice bonus, especially if you're using it onstage. Be warned if you're doing this though; it runs on its own (included) power supply, rather than being bus-powered like many other interfaces.
These are small niggles though, and hey, nobody's perfect. It's still one of the best guitar audio interfaces around. Whether you're a seasoned pro, or just starting out, this offering from IK Multimedia will give you a run for your money.
10. Audient iD4 Mk II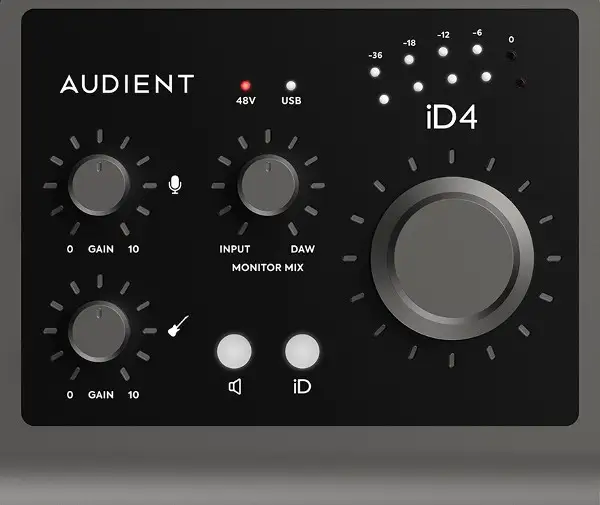 2-in/2-out USB 3.0 connectivity
24-bit/192kHz
1 x JFET instrument input
Dual headphone outputs
iOS device compatible
The iD4 offers fantastic value for home studios and mobile producers and is a great choice for recording guitar.
Whether you're using the dedicated JFET instrument input, or the mic/line combo input (with phantom power), you'll be pleased with the resulting sound thanks to the Audient console mic preamp. And with its USB connection catering to 3.0 you'll get a quick connection between your laptop or iOS devices, as well as low latency on round trip speeds.
In addition to the TRS main speaker outs, you get two headphone outputs - rare in this class - powered by an amp capable of delivering up to 600Ohms. Surely enough for even the loudest session (but watch your ears, kids).
The big volume knob also doubles as a virtual scroll wheel for adjusting onscreen DAW or plugin parameters. Personally, I think this is a nifty feature to have, especially if you're working on a laptop. However, since this knob also controls the volume of the headphone output there's no physical reference point to gauge what the setting is at. Also, the settings don't save if you switch computers or unplug the interface. It's not a dealbreaker in my book, but if you're the kind of person who likes to see where things are at, it's worth bearing in mind.
Niggles aside, this is a great little unit. Its snazzy gunmetal housing looks great and has a solid construction. The audio quality leaves users more than happy, and you even get enough software bundled with the device to get you up and running as soon as you plug it in.
For the solo or beginner guitar-playing producer the Audient iD4 is an affordable, professional-sounding way to get your awe-inspiring licks recorded.
But wait...
Ok, I know I said the ten best guitar audio interfaces. But for the audio purists among you, I had to include one more...
11. Universal Audio Apollo Twin Mark 2 Duo
10-in/6-out Thunderbolt 3 audio interface
2 mic/line inputs, one Hi-Z input
Sub-2ms latency
Core processing in unit
A full suite of classic analog processing included
This is an audio interface for the professional player who is very discerning about their guitar audio, and one with plenty of spare spondoolies to throw around.
The Universal Audio Apollo Twin has exceptional microphone preamp technology and AD/DA conversion. Couple that with the Duo Core Processing handled by the unit, and you won't be complaining about how your guitar sounds.
The Hi-Z guitar input on the front of the unit is complemented by further inputs and outputs on the rear. Two combo line/microphone inputs, plus an optical in; and an L/R monitor out, with two further 1/4" line outs.
Something lacking on the Apollo Twin is connectivity for MIDI instruments, but since the unit is clearly geared towards audio heads that's not really a surprise, or really necessary. For the price, it would also be nice to see more headphone outputs, too.
The Universal Audio Apollo Twin utilizes a thunderbolt connection, which ensures super-low latency but also means you need a suitable port available, and a computer powerful enough to run it. The manufacturer does state Windows support, but there are also plenty of folks complaining about this area, so, you know, Windows beware...
Commanding a high price range, it's not for the faint-hearted. But when you consider all the inputs and the crystal clear sound quality, this is a guitar audio interface that would suit the professional level producer/guitarist.
Conclusion
There are about as many great guitar audio interfaces out there as there are great guitar solos. Each has different features and compatibility and can vary wildly in price. Think hard about the kinds of features you need, before listening to what other people tell you is the best guitar audio interface. And don't forget to keep your eyes peeled around the holiday season (especially Turkey Day) for great guitar audio interface deals.
Go forth and shred - you got this!