Making music at home has never been easier.
Choosing an audio interface has never been more complicated.
It's easy to get overwhelmed by the sheer number of audio interfaces on the market, all seeming to perform the same functions. Even if you try and limit your choices by price point, the list is still longer than the Stones' discography.
So here at eMastered we decided to take some of the pain out of shopping for a great audio interface, and put together a comprehensive round-up of the best audio interfaces under $200 on the market today. We've also included a buyer's guide to help you decide what you should be looking for when choosing the box of your dreams.
Buyer's Guide for Audio Interfaces Under $200
So you already know you need an audio interface. And you know your wallet won't stretch beyond $200.
In this guide, we're not looking at budget audio interfaces necessarily - just great audio interfaces under $200 (at the time of writing). We'll cover models designed for the road, ones with multiple inputs and outputs, and simpler models that drip sonic elegance. Basically, what's the best your hard-earned money can get?
Some features will be on all the models we look at. These include:
48v Phantom power
USB Bus powered
At least one headphone output
Zero latency monitoring - generally via a direct monitoring input control
But how will you choose between them?
The answer lies in what you're planning to record, and where you'll spend your time doing that. Here are some things to consider as you browse our list:
Durability
If you see yourself as a roaming producer, you'll want a sturdy interface that can handle the rigors of the road (check out the Tascam US-2x2 for durability).
Number Of Inputs and Outputs
If you're planning on recording your 4-piece kazoo ensemble performing together, you'll need an interface with enough simultaneous inputs to handle the racket (check out the Behringer U-Phoria UMC404). Solo singer-songwriters will need fewer inputs - two will probably be enough for your needs.
If you want to hook up a pair of studio monitors to your interface you'll need balanced TRS outputs.
On the flip side, there's no point paying for a whole bunch of inputs if you don't need them. Save your money and put it towards a gear upgrade in the future. Like death and taxes, gear upgrades are an inevitable fact of life.
Types Of Connections
All the interfaces we'll be covering have at least one mic input, but what other types of connections do you need to consider?
Guitarists and bassists will need Hi-Z inputs for their axes, and if you have outboard MIDI gear you'll also want MIDI connectivity. If you're a guitarist who also likes MIDI (who are you? Do you even exist?) the IK Multimedia AXE I/O solo has everything you need.
Make sure your laptop or pc has a compatible port to connect with your interface, including USB type, and version number. Most of the interfaces use USB 2.0, but a handful of interfaces are now adopting USB 3.0, which doesn't always play nice in USB 2.0 ports.
Included Software Bundles
Finally, think about the software library you currently own. Is it up to scratch? Are you missing key components? Or perhaps this is your first foray into the world of digital recording and you'll need a full complement of software to help you make music.
Compromise
Unless you're Elon Musk you'll find yourself having to make compromises between what you really, really want, and what your bank will actually let you buy. Decide for yourself what features are a must-have on your interface, and what you can live without.
Ready?
Grab a beverage of your choosing, sit back, and browse through our curated collection of audio interfaces for under $200. You're in good hands.
The 8 Best Audio Interfaces Under $200
1. IK Multimedia AXE I/O Solo - Best for Guitarists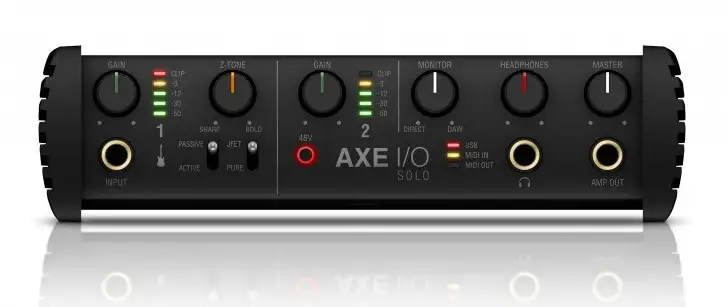 Quick Look
Recording Resolution: 24-bit/192 kHz
Inputs: 1 x 1/4" (Hi-Z); 1 x XLR-1/4" combo input
Outputs: 2 x 1/4" (line out); 1 x 1/4" (amp out)
Headphone jacks: 1 x 1/4"
Connection type: USB 2.0 (Type B)
MIDI in/out
2 x 1/4" external controller inputs
The Low Down
It's not often guitarists get a specially designed piece of kit in the world of digital recording, but IK Multimedia have really stepped up to bat with their AXE USB audio interface.
The single instrument input on the front has a lot of tonal options. It can be switched between passive and active pickups; great if you play with a variety of guitars (I've only ever known one guitarist who stuck with a single guitar for everything).
There's also the option of choosing between an analog style JFET input stage, or for more clarity and dynamic range, a PURE stage.
You can also use the Z-tone rotary to dial in tones that suit the amps and stomp boxes in the virtual collection that comes with the interface.
Yes, the software package is also aimed at guitarists. AmpliTube 4 Deluxe is included in the bundle, with 140 cab impulse responses, stompboxes, and amp simulations to choose from. You can scroll through presets for these from a knob on the front of the unit, to make life a little easier.
Also included in the software bundle is a selection from IK Multimedia's T-RackS FX plug-in suite. And just in case you hadn't gotten around to choosing your DAW, they handily include a license for Ableton Live Lite in the box.
But we're not done yet. Still, on the guitar front, there are a couple of pedal/switch inputs so you can use your favorite expression pedals or switches to control the included software. And for the indecisive among you, there's an amp-out jack, allowing you to re-amp your DI'd tone after you're done recording.
The audio quality is crisp and clean, with quality AD/DA converters and, of course, phantom power is available for the single mic input if you're recording a source with a condenser mic.
Finally, there are also 5-pin MIDI connections (in/out) so you can use the interface as a hub for MIDI controllers too. This is especially handy if you're working on a laptop with limited USB ports. One port to rule them, I say.
Swooping in at just under $200, the AXE I/O is the best audio interface under $200 if you're a guitarist wanting to up their music production game.
Pros and Cons
+ Lots of extra features specifically for guitarists
- Only one mic input
2. Focusrite Scarlett 2i2 - Best For Beginners

Quick Look
Recording Resolution: 24-bit/192 kHz
Inputs: 2 x XLR TRS combo
Outputs: 2 x TRS
Headphone jacks: 1 x 1/4"
Connection type: USB 2.0 (Type C)
Compatible with iOs devices (USB-C iPad Pro)
The Low Down
Ah yes, the Old Faithful. No rundown of quality audio interfaces would be complete without the trusty Focusrite Scarlett 2i2. And there are some good reasons it remains so popular today.
The great-sounding Scarlett mic preamps will have your vocals sounding spick and span, and if that doesn't suit your tastes simply engage the 'Air' button to add a little high-end dimension to your music.
The gain controls feature a handy monitoring halo to let you know when your signal is getting too hot. While it's not as helpful as a real metering display, it certainly beats the ambiguity of signal and clip lights.
The Scarlett 2i2 features two combo inputs that are switchable between line and instrument levels, and the high-performance AD/DA converters will give you studio-quality sound wherever you record. The Scarlett 2i2 has a solid build quality so you needn't be afraid of chucking it in your backpack for that recording session in the park.
Low latency monitoring can be achieved using the native plug-in effects - handy if you like having a spot of reverb on your vocals to help you stay in tune (it's a thing). There's also the option to use the direct monitor button (either in stereo or mono), but unlike other interfaces, there's no way of controlling the mix of input and playback.
The Focusrite Scarlett 2i2 is a solid choice for beginners, due to its simplicity and ease of use.
Pros and Cons
+ Low latency monitoring with native plugin effects
- USB drivers can be tricky to install
3. MOTU M2 - Best For Musicians Who Need MIDI Connectivity

Quick Look
Recording Resolution: 24-bit/192 kHz
Inputs: 2 x XLR/TRS combo (mic/line/Hi-Z)
Outputs: 2 x 1/4" (main out); 1 x stereo RCA
Headphone jacks: 1 x 1/4"
Connection type: USB 2.0 (Type C)
MIDI I/O
Compatible with iOs devices (needs adapter kit, and powered USB hub)
The Low Down
In a similar vein to the 2-in, 2-out of the Focusrite Scarlett 2i2, the M2 from MOTU (Mark Of The Unicorn, for those interested) offers comparable functionality, with a few choice extras.
The M2 interface offers the same two combo input options as the Scarlett, catering to mic, line, or Hi-Z inputs, each with individual gain control. Both channels have independent phantom power, which is not something you'll always find on audio interfaces in this class. Score one for MOTU.
Speaking of outputs, there's a stereo RCA output option in addition to the TRS outs, in case you need an unbalanced option. These aren't separate outputs, just an additional feed in case you need one.
A feature that sets the M2 apart from its peers is the full-color LCD metering display on the front of the interface, giving the user a complete view of what's going in and out of the box. At most, other interfaces give you dotted lights to show activity, but here you get a complete visual representation.
The MOTU M2 offers outstandingly low latency thanks to its USB drivers; 2.5ms round trip latency is definitely within the realm of playability. If that's not enough both of the inputs have independent zero latency monitoring buttons. There's not a direct monitoring mixer, but at the push of a button, the incoming signal is also routed to the output of the interface.
And while the M2 doesn't have a magic button to add air to your recordings (there are always plug-ins for that - check out the free Fresh Air effect from Slate Digital), it does offer MIDI connectivity and loopback functionality.
Included in the software bundle are lite versions of Ableton Live, and MOTU's own Digital Performer. Add to that a ton of virtual instruments, and a whopping 6GB of loops and samples, and you have everything you need to make music in the box. Except for the inspiration. That's on you.
In a nutshell, the MOTU M2 offers musicians who need MIDI connectivity a great-sounding audio interface for under $200.
Pros and Cons
+ Only interface in this class that offers full LCD level meters for inputs and outputs
- Type C USB connection - not suitable for older macs/PCs
4. Tascam US-2x2 HR - Best for Durability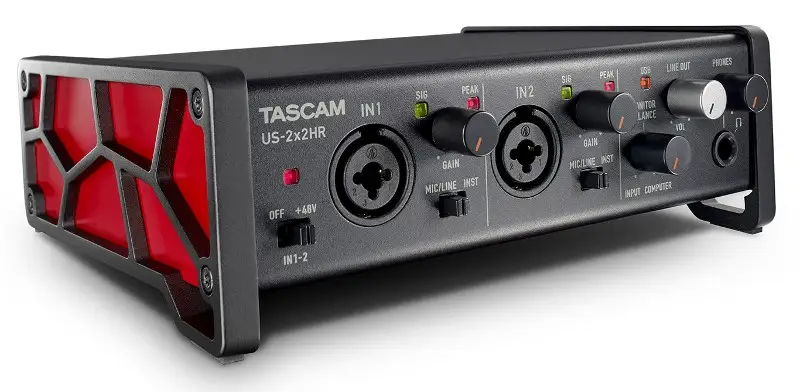 Quick Look
Recording Resolution: 24-bit/192 kHz
Inputs: 2 x XLR-1/4" combo
Outputs: 2 x 1/4" (main out); 2 x stereo RCA
Headphone jacks: 1 x 1/4"
Connection type: USB 2.0 (Type C)
MIDI I/O
Compatible with iOs devices
USB bus powered, or use optional 5V DC adapter
The Low Down
For you musicians who like to play rough, the Tascam US-2x2 is an audio interface built to withstand even the kind of treatment Keith Richards (allegedly) reserved for hotel TVs.
It's a rugged interface, with a tough metal jacket, and a design that for some reason makes me think of 'Predator'. It's going to stand up to whatever life on the road holds for you.
Aside from its badassery build quality, the US-2x2 offers much of what you'd expect from an audio interface in this price range.
The two inputs are built to accept TS or TRS inputs, so you can plug in instruments and line-level audio gear, as well as mics. The US-2x2 does have phantom power, but it's one switch to rule them all here. At least it's on the front panel, rather than having to fiddle around the back.
Indicator lights show USB connection, phantom power, and signal and peak levels, and you get independent control over your line out and headphone level. There's a monitor balance dial, to give you zero-latency direct monitoring as you track. If you're a Windows user, you can push the limit of the USB drivers and set the audio buffer size as low as 4 samples, and try tracking with the signal returning from your DAW. I've heard good reports on this supremely low latency.
MIDI connectivity and a decent software bundle (Cubase LE, & SampleTank SE) round out the features this interface offers.
The US-2x2 is solidly built and captures pristine audio. And if you're a Linux user, you'll love that this interface works on that OS without any additional drivers.
Pros and Cons
+ Solidly built to withstand heavy workloads
- None really for this price point
5. Zoom U-44 - Best For Versatility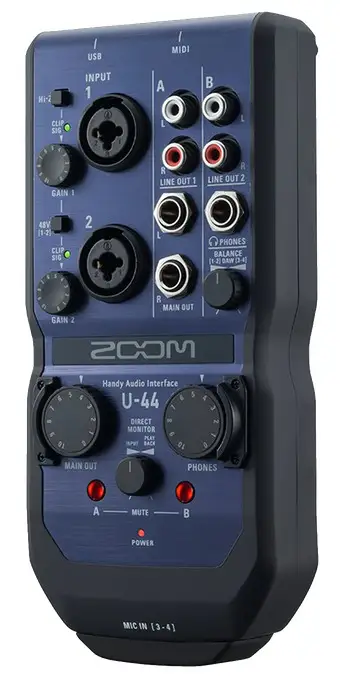 Quick Look
Recording Resolution: 24-bit/96 kHz
Inputs: 2 x XLR/TRS combo (1 Hi-Z); 1 x 10-pin mic input (Zoom H-series mic capsules
Outputs: 2 x 1/4" (main out); 2 x stereo RCA
Headphone jacks: 1 x 1/4"
Connection type: USB 2.0 (Type B or Micro-B)
MIDI I/O
Digital in/out (1 x Toslink, 1 x Coax)
Compatible with iOs devices
USB bus powered, or use optional DC adapter, or 2 x AA batteries
The Low Down
If you need a nimble and versatile audio interface as you go about your engineering duties check out the Zoom U-44. It's not as pretty as other audio interfaces and isn't really designed to be a permanent desktop audio solution for your studio. But if you're inclined to race about recording a guitar session in the morning, a podcast interview in the afternoon, and capture on-set sound for a film in the evening, before playing DJ at your mate's wedding, the U-44 is the perfect tool for you.
A true plug-and-play audio interface, the U-44 has two combo inputs, one of which can be switched to accommodate passive instruments. You also have the option of recording through one of the digital inputs.
In addition to these, an adaptor on the top of the interface allows you to connect Zoom proprietary mic capsules. These versatile mics (sold separately) include stereo pairs, shotgun capsules, and mid-side capsules. In short, everything you need to capture audio for sound design, film, or even the audience going nuts during your latest sellout show.
On the output front, there are a lot of options, including 1/4", RCA (two pairs), and S/PDIF, plus an independent headphone feed with a direct monitor mix.
You can also use the U-44 as a standalone mic-preamp or AD/DA converter. Yes, you can finally digitize your mom's Engelbert Humperdinck vinyl collection, choosing between 44.1 and 48kHz sample rates as you do so.
As if this wasn't enough, there are 5-pin MIDI in/out connections, and the option to power the whole caboodle from AA batteries, or a DC adapter. And to top it off, the nice folks at Zoom include a copy of Cubasis LE and Ableton Live Lite. Audio: sorted.
Pros and Cons
+ Extremely portable and versatile for multitudes of different uses
- Not really great for a desktop audio interface
6. Universal Audio Volt 2 - Best For Analog Addicts

Quick Look
Recording Resolution: 24-bit/192 kHz
Inputs: 2 x XLR-1/4" combo
Outputs: 2 x 1/4"
Headphone jacks: 1 x 1/4"
Connection type: USB 2.0 (Type C)
MIDI in/out
USB bus powered, or use optional DC in
Compatible with iOs devices
The Low Down
If you've ever hankered after getting a legendary studio sound out of your home recording set up, you're in luck. Universal Audio, typically known for their excellent high-end gear found in elite studios around the world, have entered the part of the market the rest of us 'normal' folks can enjoy with their Volt series.
The Volt 2 is your standard 2-in-2-out USB-powered interface, but some premium quality audio features are tucked inside.
The analog circuitry will convert your signal to the best possible digital version of itself, with industry-leading AD/DA converters.
The line and mic preamps are top-notch and can be switched to a 'vintage' mode when you want to go old school. This button gives your signal the plushness of the Universal Audio 610 tube preamps that shaped the sound of many classic records.
What's really cool is that this interface is compatible with iPhones and iPads, so you can get that classic analog sound right into your phone. The Volt 2 weighs just under 1.5lbs, so you'll have no difficulty carting it around for mobile sessions.
Another plus point for Volt 2 is that it is a true plug-and-play interface. No driver downloads are necessary, even for Linux users.
In addition to the sound quality being exceptional, you also get MIDI in/out connections, and a diverse software bundle, including software from Ableton Live Lite, Spitfire, Softube, and UJAM.
So if you live in a digital world but crave all things analog when it comes to music production, the Volt 2 is the audio interface for you.
Pros and Cons
+ Classic vintage sound in a true plug-and-play interface
- No control over the mix of direct monitoring and playback
7. Behringer U-Phoria UMC404 - Best For Outboard Gear

Quick Look
Recording Resolution: 24-bit/192 kHz
Inputs: 4 x XLR/TRS combo; 4 x 1/4" inserts
Outputs: 6 x 1/4"; 2 x XLR; 2 x stereo RCA; 2 x 1/4" L/R
Headphone jacks: 1 x 1/4"
Connection type: USB 2.0 (Type A)
MIDI I/O
USB bus powered, or use optional DC in
The Low Down
Most of the interfaces so far have been one or two-input interfaces. For those of you who need more in/out power on your audio interface, the Behringer U-Phoria UMC 404 offers a huge range of input and output options for even the most demanding project studio - all for less than $200!
The front panel hosts four combo inputs, which can handle mic, instrument, or line-level inputs. The 48v phantom power switch is a little awkwardly placed on the back of the unit, but you can find it easily enough after you've fumbled around a few times (ahem).
Note that the phantom power is routed to all four inputs at once, so be careful with mixed inputs.
Each input channel has its own gain control, also on the front panel. Next to these are the direct monitoring volume control, headphone output, and main output control.
Around the back of the unit is a whole range of output choices, plus 5-pin MIDI in/out connections.
For studio monitors, there are balanced XLR and TRS connections. For additional monitoring, there are two pairs of stereo outs, each with the option to connect via 1/4" or RCA. A switch on the front allows you to switch between these two monitor sources on the headphone output for DJ-style cueing.
There are also an impressive four insert returns, allowing you to make use of that classic analog outboard gear you swore you'd continue using. This is actually a nice work-around for the lack of onboard DSP effects (what do you expect for less than $200?); you could use one of the inserts to hook up a hardware effects unit for monitoring purposes.
With the excellent Midas preamps on the interface you'll get excellent sound quality, and a lot of routing options, for an extremely competitive price tag.
The only downside of this interface is that there's only one headphone socket. But considering all the other features you get for the money, it would be easy enough to add an external headphone amp and use one (or both) of the two additional monitor outputs for this purpose.
Pros and Cons
+ Insert points for outboard processing
+ Three output routing options
- Only one headphone output
8. Audient EVO8 - Best For Podcasters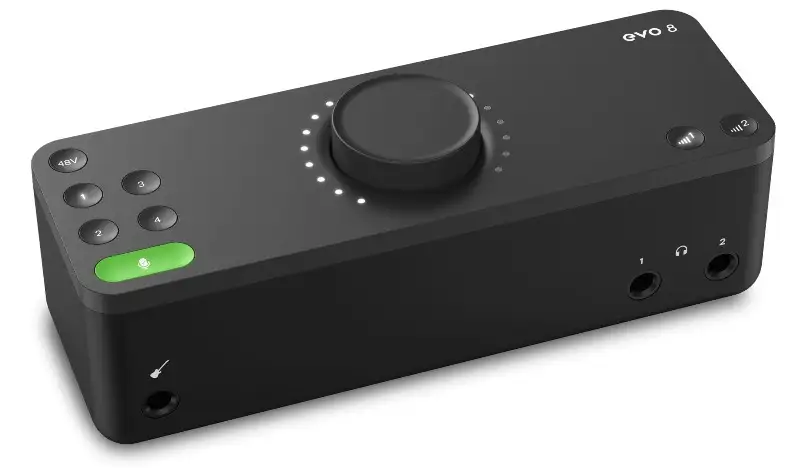 Quick Look
Recording Resolution: 24-bit/96 kHz
Inputs: 4 x XLR-1/4" combo (mic/line); 1 x JFET instrument input
Outputs: 2 pairs x 1/4" L/R
Headphone jacks: 2 x 1/4"
Connection type: USB 2.0 (Type C)
Automatic level-setting feature
Loopback functionality
The Low Down
We listed the EVO8 as the best for podcasters, simply because if you are a podcaster (and who isn't these days?) looking for a great audio interface under $200, this is the one for you. But the EVO8 is equally at home in a regular ol' rock 'n' roll recording studio.
Boasting four combo inputs, with the EVO 8 you can easily mic up and simultaneously record a small drum kit, or ensemble set up. Each channel receives phantom power individually, so you don't need to worry about mixing delicate ribbon mics with condensers.
The mic preamps themselves are super-clean and have a large dynamic range. The sample rate doesn't go as high as some interfaces, but despite this, the quality of the audio you get from this beauty puts it at the top of its class.
In addition to the combo inputs, there's a dedicated JFET instrument input which adds some nice analog-style richness to your instrument tone.
There are two individually controlled headphone outputs and two separate monitor outs. The volume for all of these, and the gain settings for the inputs, can be controlled from a handy bit of software that also saves the settings for your project inside any compatible DAW.
Speaking of which, don't be put off by the lack of knobs and dials on the interface. The EVO 8 is designed with multi-function buttons, so everything can be controlled via the interface itself.
If you're more of a hands-on engineer this might take some getting used to, since while you can control things directly from the interface it's a lot easier (and makes a lot more visual sense) to do it in the app.
The EVO 8 offers some other nifty features, including loopback functionality, automatic gain control (great if you're playing in the ensemble as you're recording), and some tasty software and sample packages.
So if you're looking for a lightweight, versatile multi-channel interface on a budget, the EVO 8 is for you.
Pros and Cons
+ Routing software allows for easy control of gain and monitor levels, saved with your DAW session
- Build quality isn't as sturdy as some interfaces
Conclusion
So there you have it - the best interfaces you can get for a price that won't hurt your wallet.
Remember that what goes up must come down and vice versa; prices may change from time to time. Keep your eye out for sales times, in case you can nab an even sweeter deal.
But most of all make a decision, and get to making music. You got this.