It's easier than ever for music makers to get started in music production. All you need is a computer, some software, and a MIDI controller to take your ideas from your fingers to your digital audio workstation. And all this can be done for less than one Benjamin (that's $100 for my non-American friends).
But picking the best cheap MIDI keyboard can be tricky, given the profusion of great models on the market today.
If you're looking to get your mitts on a budget MIDI keyboard, you've come to the right place. Here at eMastered, we've compiled a comprehensive guide to the best cheap MIDI keyboards for every budget.
But before we dive into the details on each MIDI keyboard, let's take a quick overview of what you'll need to be thinking about when you choose your MIDI controller.
A Buyer's Guide To Cheap MIDI Controllers
There's a wealth of options out there for MIDI keyboards to suit every budget, and every skill level - even complete novices. Each comes with its own unique set of features; some may suit you, and some may be more than you need. Here are some things to consider when choosing the best cheap midi keyboard for your studio. Think about what you need, and what you can live without.
Drum Pads, Knobs, and Other Controllers
If you're all about playing the notes rather than sculpting the sound, you might opt for a simpler MIDI keyboard that doesn't have a ton of controllers onboard. If you like to f**k with your sounds, you probably want a bunch of gubbins that make sonic manipulation a doddle.
Control pedal inputs
To smooth out your playing you might want a sustain pedal input on your MIDI controller. Some of the more compact models use a button for this function, although that's not the best solution. More power to the foot controller, I say.
MIDI Connectivity
Do you need to hook up any external gear to your MIDI controller? You'll need a MIDI output to do this.
Number of Keys
How many keys you need can vary depending on what real estate you have in your studio set up, and your experience as a player.
Key Size and Type
Again, this depends on your experience and playing style. If you grew up playing the piano you might find synth-action keys, or mini keys, a burden.
DAW Compatibility
Not all MIDI controllers are made equal, and some do a better job integrating with specific DAWs than others.
Bundled Software
Most MIDI controllers come with some sort of software bundle. While this shouldn't be the overall deciding factor in which board you opt for, it's worth comparing what you get. A slightly pricier MIDI keyboard may come with some software that you need, essentially saving you money.
Confused?
If you're completely new to the MIDI game I suggest you check out this excellent article to get a comprehensive overview of how MIDI works, and what it can do for your production chops.
In Detail - The Best Budget MIDI Keyboards
Everyone's idea of 'budget' is different, so I'm going to break everything down into four sections, based on price point.
In each section, we'll look at a range of MIDI keyboard controllers with a varying number of keys and features. So, whatever your production needs and financial considerations are, you'll find a MIDI controller to suit you.
Best Cheap MIDI Keyboards Under $100
1. Alesis V Mini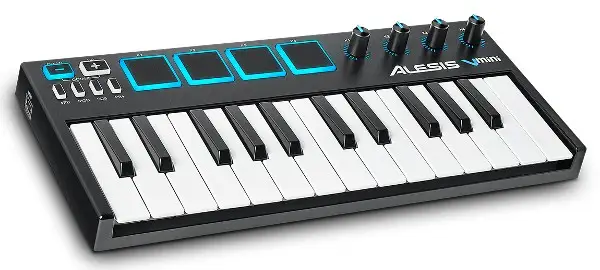 Quick Look
25 velocity-sensitive mini keys
4 assignable knobs
4 velocity-sensitive drum pads
Pitch bend, modulation, and sustain buttons
The Low Down
The Alesis V Mini is an extremely portable MIDI controller - great for the mobile musician, or someone who doesn't have a lot of room in their studio set up.
The 25 mini keys are velocity-sensitive, which can be a good thing if you know what you're doing, or a burden if you just want to plunk out the notes. The good news is you can edit the velocity curves in the downloadable editor - dynamics be gone!
There are four backlit pads so you can tap out percussion grooves with ease, or launch clips if electronic music production is your thing. These are also velocity-sensitive, and the curves can be tweaked in the editor.
The V Mini lacks any buttons that can be assigned to functions, which is a bit of a downer, but there are four knobs. These can be assigned for manipulating effect plugins and virtual instruments.
Rounding out the features on this tiny MIDI controller are four buttons assigned to pitch (up and down), modulation, and sustain, plus a set of octave shift buttons.
Given the compact size of this board, it's not surprising there are no wheels for controlling pitch and modulation. However, if portability is your thing, and you're not planning on using the controller to play virtuosic performances, the Alesis V Mini is an extremely affordable MIDI keyboard.
2. Novation Launchkey Mini 25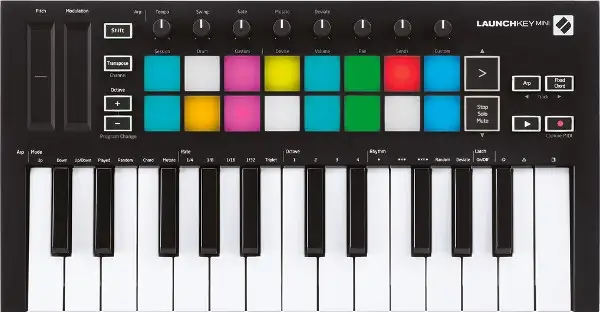 Quick Look
25 synth-action keys
16 backlit pads
8 rotary knobs
Pitch and modulation sliders
Sustain pedal input
Designed for integration with Ableton Live
The Low Down
Swooping in just under the cut-off point for this price point, the Launchkey Mini from Novation is a great budget MIDI controller for the Ableton Live user. Designed to fully control all aspects of Ableton Live with seamless integration, the Launchkey is packed with features in a compact design.
The drum pads can be used to trigger samples, clips, or you know, do some virtuoso finger drumming. The eight knobs are assignable, giving you access to tone-shaping or mixing controls. The clever folks at Novation even managed to pack in play and record/capture MIDI buttons so you spend even less time fiddling with your mouse or trackpad.
Get creative with the onboard arpeggiator and its nifty mutate function to transform your patterns and use the fixed chord mode to explore new harmonic ideas with both the keys and the pads. The pitch and modulation controls are strips, rather than the more common wheels, but they still work well for shaping your performance.
For newer music makers, the bundled software is a big draw. You get a ton of instruments, effects, and sample packs, including access to the rather excellent PlugIn Collective from Novation. With this, you essentially get new free plugins from top software brands every month.
If you don't yet own Ableton, Novation helpfully included a copy of Ableton Live Lite with your purchase. If you use other DAWs the Launchkey will still work with them, offering full integration with Logic and Reason, and support for any HUI compatible software. Folks seem to enjoy using it regardless of what DAW they use.
Given the features on the Launchkey, and the impressive software bundle set I'd say this is one of the best of the affordable midi controllers you can get for less than $100, especially if you're just starting out.
3. Alesis Q Mini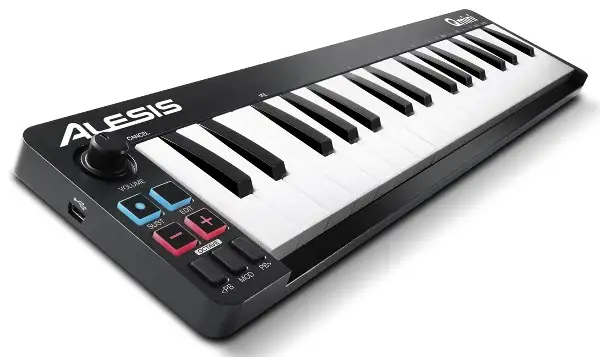 Quick Look
32 keys
Pitch bend, modulation, octave, and sustain buttons
Reassignable volume knob
Pro Tools First & MPC Beats included
Compatible with iOs devices
The Low Down
This tiny offering from Alesis packs a lot of punch for under $100. For those of you who need portability and simplicity, and want the extra half-octave to play with, this is a great cheap MIDI keyboard.
In terms of features, there's not a lot to say. 32 compact (read: mini) keys are admittedly small, but not to the point where you'll end up playing chord clusters. The feel of them is surprisingly good for such a cheap MIDI keyboard.
Pitch bend, modulation, and sustain are controlled with dedicated buttons, as is the octave selection, giving you access to the full range of a piano. Also sitting with these buttons is a volume knob that can be assigned to any parameter in your software.
The controller is USB midi compliant so you get a simple plug-and-play operation. You can also connect it to your iPad or iPhone, although this requires a separate iPad camera connection kit to connect via the USB port.
And that's it in terms of features! It may not be the best for producing complex music, but is an excellent choice for simple MIDI programming, or for use with notation software.
For those of you who need portability and simplicity, and want the extra half-octave to play with, this is a great cheap MIDI keyboard.
4. Nektar SE 49

Quick Look
49 full-size, synth-action keys
Pitch bend and modulation wheels
Assignable footswitch pedal input
iOS compatible
The Low Down
Still staying with the Benjamin limit, but this time giving you even more keys, the Nektar SE 49 offers the user 4 octaves of playing experience with a decent handful of assignable controls.
The 49 keys are synth-action, velocity-sensitive, and feel surprisingly un-cheap considering the cost of this MIDI controller. A nice aesthetic is the red trim underneath the keybed.
In terms of controls, you're not going to get a lot at this price point with this many keys. That said, Nektar does an admirable job of packing in controller functionality into the four buttons and one slider.
On the surface, the four buttons look like regular octave and transpose buttons, as you'd find on most midi keyboards. Dive a little deeper, however, and they become DAW transport controls or can be assigned to browse patches, switch MIDI channels, or select tracks.
There's one fader next to these controls, which can be assigned to any MIDI CC, like filter cut-off, panning, or effects. Furthermore, the modulation wheel and 1/4" footswitch input can also be CC assigned, giving you even more control over your creations.
It's worth noting that Logic users will need to download a separate driver in order to avoid hella-latency issues. It seems that this is the only DAW where this is the case, but considering the price and performance of this MIDI keyboard, it seems like a small niggle.
Overall the SE49 is a good MIDI keyboard for producers who value the number of keys over buttons and knobs and still want some change left over from a $100 bill.
5. Nektar SE 61

Quick Look
61 full-size synth-action keys
Pitch bend and modulation wheels
Assignable footswitch pedal input
iOS compatible
The Low Down
It will come as a surprise to absolutely no one that the Nektar SE61 is the bigger brother to the SE49, this time with 61 keys. It is a little disappointing that they didn't try to fit in a couple of extra features - buttons, perhaps? - onto this board, but that would have sent the cost over our $100 cap.
So there's nothing different between this and the SE49, apart from the number of keys, and an extra tenner out of your pocket. You still get the versatility of DAW control, a handful of CC controllers to manipulate sound, and the footswitch input, but occupy more desktop real estate.
Why did the SE61 make the list? Because it is the only 61-note MIDI keyboard you can get for under $100. If you're the kind of producer that needs 5 octaves of ivories for less than a yard, the SE61 is the best cheap MIDI keyboard you can get in this class.
Best Cheap MIDI Keyboards Under $200
1 Akai MPK Mini MkIII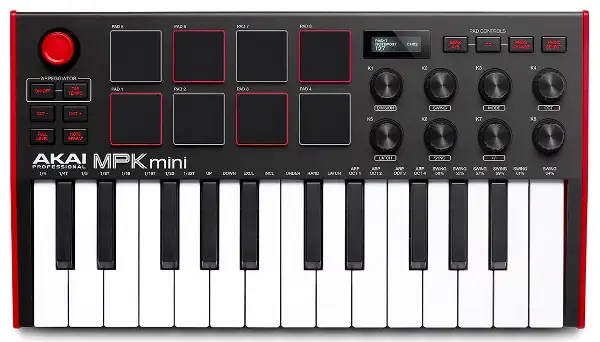 Quick Look
25 key USB MIDI controller
8 drum pads
8 assignable 'endless' knobs
4-way joystick for pitch/modulation control
Sustain pedal input
The Low Down
The Akai MPK Mini is one of the best-known compact MIDI controllers on the market, and for a good reason. While being small enough to fit in a backpack (all power comes from its USB port, so it's a truly portable midi keyboard), it packs in many features that today's producers will find useful. And that's before you look at the bundled software.
The 25 velocity-sensitive, synth-style keys actually feel solid and play pretty well. Yes, they're mini keys, but I'm a piano player, and I don't have any problems working with them when I'm taking my studio on a road trip.
In fact, all the controls on this Akai MPK Mini feel great; the pads respond well to the touch (the velocity curve takes a bit of getting used to), and the knobs feel solid. You can program these rotary knobs to control parameters in your DAW or software instruments.
The addition of the OLED screen on the MKIII means you can see what you're doing, and how much you're doing to it.
My only grumble about the excellent MPK Mini is the 4-way joystick in place of pitch and mod wheels. But honestly, if it came down to having them, or more controls, I'd stick with the layout Akai has given us.
So as a MIDI keyboard and controller, it works great - and is a true plug-and-play USB MIDI. A perk to choosing the Akai MPK mini is the Music Production Starter Kit that comes with it. Access to over 1,500 sounds, and instruments like the juicy Hybrid 3 and Mini Grand from Air Music Technology, plus the iconic MPC Beats software means you can start making cracking music right out of the box.
When you consider the excellent build of this keyboard, the included software, and the price - closer to $100 than $200 - this is truly a sterling portable controller for the mobile producer or beat-maker just starting out.
2. Novation FLKey 37

Quick Look
Complete integration with FL Studio
16 pads
8 assignable controls
Scale and chord mode for simplified music creation
The Low Down
FL Studio users around the world rejoiced in 2022 when Novation launched its first dedicated controllers for the software. Currently, there's only the option of the FLkey Mini (25 keys) and the FLkey 37. Both come in under $200, but we're taking a closer look at the FLkey 37 here since it has more controls (and more keys - yay!).
If you're not an FL user, move right along - it integrates with that software and that software alone! But if FL is your DAW, the FLkey is a champion choice as your MIDI controller.
As you'd expect, the 16 pads can trigger samples, or be used for programming drums, with the note repeat function coming in handy. The 8 rotary knobs control volume and pan or can be assigned to creative editing controls. Full transport controls for FL are located on the right side of the board, while the left side hosts the pitch and mod wheels. Plus, you get direct access to Image Line presets from the board.
There's a sustain pedal input on the rear, and unusually for this more compact size of the controller, a 5-pin MIDI out port allows you to control hardware synths. The software bundle includes instruments and effects from AAS, Spitfire Audio, AAS, and access to free software courtesy of the Novation Sound Collective.
The FLkey is a long-awaited MIDI controller dedicated to this popular DAW software. Whichever size you choose, they're great keyboard controllers for the program. Just don't buy it if you use anything else to record your music!
3. Alesis V49 MkII

Quick Look
49 keys (synth-action)
8 velocity-sensitive performance pads
4 assignable knobs
6-mode onboard arpeggiator
The Low Down
The Alesis V49 is a great budget MIDI controller for folks who want four octaves to play with and simple controller functionality.
By this point you'll know the deal - the backlit pads are velocity-sensitive; the rotary knobs can be assigned to any MIDI message, and there are octave and transpose buttons to give you access to the full piano range. A sustain pedal input allows you to smooth out your playing too.
Digging a little deeper, you'll find handy note-repeat and full-level features for the performance pads to give you the classic sound of popular drum machines and sequencers. The arpeggiator has 6 modes to inspire you with, as well as time division, tap tempo, and swing and gate controls.
If you want to get granular there's a downloadable editor for the V49 allowing you to save setups for different scenarios. I'm always in two minds about editors; more often than not, it's just easier to use my DAW's 'learn' function to quickly re-assign controls. But this could be a boon for switching between a studio and live performance setup.
The V49 is powered from the USB port and interestingly has a power switch on the rear of the unit. This is valuable for laptop users who need to conserve battery power, or I suppose if you're not using the board and don't want the soothing blue glow from the pads.
The V49 is one of those MIDI keyboards that doesn't have a lot of pizazz. It's simple, clean, and easy to use. What it lacks in controllers, it makes up for in quality of build and playability.
4. Nektar Impact LX61

Quick Look
61 synth-style keyboard controller
9 faders, 8 pots, 8 performance pads
Transport buttons supported by most major DAWs
Assignable footswitch jack
The Low Down
As we head towards the top of the $200 range, things begin to get serious. This offering from Nektar gives you 5 octaves and an impressive range of features to sate even the most demanding producer's appetite.
This is the first keyboard in our round-up to include full transport controls. Beyond just the basic play, stop, and record buttons, the Nektar also offers full automatic integration with all major DAWs; Cubase, Logic, Digital Performer, Studio One, Reason, and even Reaper.
The specific functionality of these differs from program to program, but a quick glance over the manufacturer's website shows that whatever your weapon, the Nektar will help you spend less time working your mouse and more time making music.
The pads can be used for creating drum tracks (duh), but also assigned to MIDI CC messages. They can be instantly re-assigned to play a specific note or drum sound using the 'pad learn' feature, and (depending on what software you use) come in handy for triggering scenes, clips, or jumping to marker points. To avoid confusion on this front, the pads have four colors to show which of the four pad maps is currently loaded.
Additionally, you can customize all the controls on the Nektar (even the octave and transpose buttons), and save these in user presets. These presets can be recalled at any time, even while playing, so it's effortless to go from tweaking patch parameters on virtual instruments to mixing your song.
There is so much more to discover under the hood of this controller. If you're serious about getting to grips with hardware controllers in a software world, this is one of the best MIDI keyboards in its class.
5. M-Audio Keystation 61 Mk3

Quick Look
61 full-size. semi-weighted keys
Transport and directional buttons for controlling DAW software
Volume fader can be customized
5 pin MIDI output
USB bus-powered, optional 9V DC supply
The Low Down
At first glance, this 61 note offering from M-Audio seems to lack controls.
If you're familiar with M-Audio keyboard controllers, you'll know they generally come jam-packed with pads, knobs, and faders.
Not so in the case of the Keystation 61.
Aside from the obligatory pitch bend and modulation wheels, there are a couple of octave switch buttons, a fader, some simple transport controls, and directional buttons. Not what you'd normally expect from M-Audio.
But don't be put off by the seeming absence of gubbins to fiddle with on this MIDI keyboard. It's designed to expand your creativity and reduce complications when producing music. The volume fader can be assigned to control any MIDI parameter, and the transport and directional controls allow the user to navigate around their DAW without having to touch the mouse.
The Keystation is a nimble little thing, weighing in at 9lbs. Plug it into your mobile devices with the separate Apple Lightning to USB adapter, and you have a streamlined, lightweight live rig. And don't worry; while this keyboard is USB powered, there's an optional 9V DC supply which means you won't drain your iPad battery by plugging it in.
For the musician who needs a simple keyboard controller that's light enough to travel but can hold its own in the studio, the Keystation 61 from M-Audio is a great option. Bonus points for the bundled software, which includes a neat electric piano and mini grand from Air Music Tech.
Best Cheap MIDI Keyboards Under $300
1. IK Multimedia iRig Keys I/O 25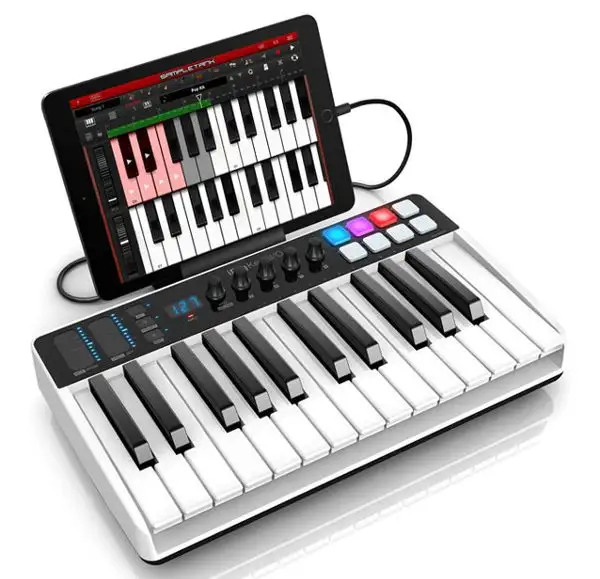 Quick Look
25 key keyboard controller and audio interface in one unit
Use with desktop/laptop/iOS devices
8 performance pads
5 rotary knobs
The Low Down
The IK Multimedia iRig is unique among MIDI controllers; it's also a 24/96 audio interface, complete with input, headphone jack, and line-outs. For the mobile producer, this is almost too good to be true.
The Nuetrik combo input also supplies phantom power to the source, so it can handle pretty much any mic or instrument you throw at it. The stereo line-outs and headphone jack give you plenty of monitoring options. To top it off, you get 24-bit/96kHz audio quality in a unit that weighs in under 3lbs.
The MIDI control department is not to be sniffed at either. The touch-sensitive control knobs, sliders, and buttons are all programmable, as are the two control strips that act as stand-ins for the mod and pitch wheels. Add to this the 8 touch-sensitive pads, and you have an ultra-compact keyboard controller that can also record high-quality audio.
To make the device even more palatable to the mobile musician, the iRig is compatible with both laptop and mobile devices. Worried about draining power from your iPad through the USB connection? Fear not. You can simply flick a switch and power the iRig from 4 AA batteries, or an AC adapter.
So, while I wouldn't recommend this as a replacement in the studio, this is absolutely the best MIDI keyboard for a roaming producer who needs to capture audio, manipulate virtual instruments, and stay within budget.
2. M-Audio Oxygen Pro 49

Quick Look
49 semi-weighted keys with aftertouch
16 assignable RGB pads
9 faders, 8 rotary knobs, 6-button transport section
Smart Chord and Smart Scale modes for non-keyboard players
The Low Down
The Oxygen Pro from M-Audio is the latest version of the long-standing Oxygen series of MIDI controllers. Its newly-designed keybed gives the user access to four octaves of velocity-sensitive playing, with aftertouch and assignable zones. Even though the keys are semi-weighted, they're top of their class, edging closer to weighted keys than synth action.
The 16 RGB Pads feature note repeat and can be used for the obvious finger drumming, clip launching, and other MIDI message duties.
The faders, buttons, and rotary knobs can also be assigned to pretty much any MIDI command, and you get a full set of transport controls to boot. The pitch and mod wheels can also be edited to affect zones on the keybed in different ways.
But perhaps the beauty of this USB MIDI beast is the DAW integration. Whether you use Pro Tools, Cubase, Ableton Live (the Oxygen ships with a copy of Ableton Live Lite), or one of the other major players, you just select your DAW on the Oxygen and it instantly maps to your software.
It also integrates with the included virtual instruments (a tasty selection from Air Music Tech) instantly.
A couple of other things worth noting are the arpeggiator, smart scale and chord functions, and the shiny bright OLED screen. Often when you're working with MIDI keyboard controllers you can lose track of where a fader or pot sits, especially if you're switching between instruments and DAW functions. This screen is easy to read and makes editing parameters a cinch.
Overall this is a great keyboard controller, suitable for studio or mobile use.
3. Novation Launchkey 61 Mk3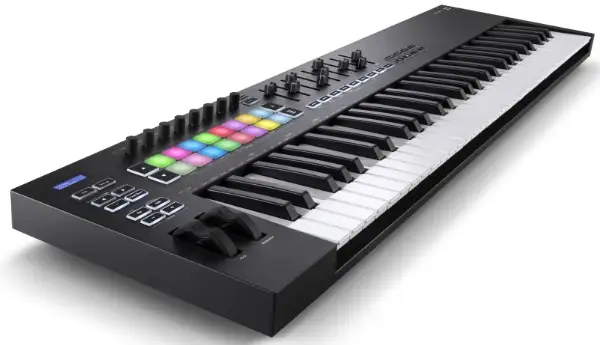 Quick Look
61 synth-style keys
16 RGB pads
8 rotary knobs
9 faders
Optimized for Ableton Live
The Low Down
Yep, you guessed it; this is the bigger brother of the Launchkey 25.
Aside from the price, there's very little difference between the two versions. You still get a sustain pedal input, a 5-pin MIDI out port, and pitch and mod wheels. There are still 16 of the delightfully colorful RGB pads, and assignable faders, knobs, and buttons.
In fact, the only thing the 61 lays claim to is the additional three octaves of ivory-tinkling capability and a dedicated arm/select button.
The Launchkey is designed and optimized for Ableton Live. But it does offer integration with most major DAWs, and by all accounts, it plays nicely with them all.
Personally, I'd be hesitant to buy a keyboard controller (even a cheap-ish one) dedicated to software that I rarely use. But if you're an Ableton user to any degree, and you crave the playing range the 61 keys offer, this is a fantastic keyboard controller for you. If you're on the fence, go for the 25-key version.
4. Native Instruments Komplete Kontrol A61

Quick Look
61 key, semi-weighted keyboard
8 touch-sensitive control knobs
TRS pedal input (sustain/expression)
Tag-based preset browsing
The Low Down
Granted, the entire Native Instruments Komplete Kontrol series is really only useful if you use Native Instruments software. And while the A61 doesn't offer as much functionality as the S-series of NI controllers, I'm including it on this list because it offers an affordable entry point into the world of NI software. And this is software that's used in hits and film scores time and again.
So for someone entering the music-making world, and needing a leg-up in the software department this could be the best budget MIDI controller. But what do you get for your USB MIDI moolah?
Five octaves of playability, with octave buttons to extend the range of the custom NI keybed, give the user an ample range to play with.
Semi-weighted keys give you the opportunity for expression without taxing the fingertips of less experienced players. The pitch bend and mod wheels are solid, adding further expression to your playing.
You can browse virtual instrument presets directly from the A61, via the OLED screen. Everything's tagged and organized in Komplete Kontrol, so you can search for the right sound for your track intuitively, and hear a preview before loading it.
Once you've chosen your patch, the rotary knobs are pre-mapped to the most convenient controls on the instrument, allowing you to tweak with ease.
There are also dedicated controls for Logic, GarageBand, and Ableton Live on the board. Integration for Cubase and Nuendo is slated to appear in the future.
So this is a great bit of kit if you have, or are interested in, Native Instruments software (including Maschine). The bundled software includes Ableton Live Lite, a couple of lovely synths, an upright and electric piano, and over 2,000 sounds and effects from the Komplete collection. And of course, there's an upgrade path to boost your sonic palette when you're ready for more.
5. Alesis Q88 MKII

Quick Look
88 full-sized, semi-weighted keys
Pitch bend and modulation wheels
Sustain pedal input
5-pin MIDI out connection
The Low Down
The final offering in this category is a simple USB MIDI keyboard that offers basic controller functions, with a full range of keys, for just over $200.
The Q88 lets you expand on the 88 key range with octave buttons (although I'm not sure when you'd use them TBH), and has basic directional and transport buttons to control your recording software from the board.
There's an assignable fader just above the wheels, which can be assigned to any CC message.
And that's it!
If you want simplicity and decent build quality, all at an affordable price, the Q88 would be a great choice. Note that despite the 7+ octaves, the keys are not fully weighted - so don't expect that 'real piano' feel. But that does make the unit easier to port around.
However, if you absolutely need to have 88 keys, and a host of controllers to shape your sound, read on.
Best Cheap MIDI Keyboards - Under $500
We're playing with the big boys now. While $500 may not be considered cheap, what you get with the following boards is still excellent value for money. Go on, give them a look-see...
1. Arturia Keylab 49 MkII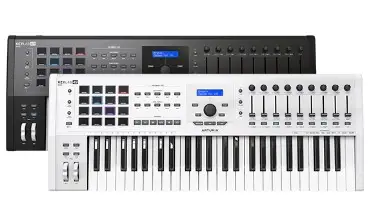 Quick Look
49 aftertouch-enabled keys
16 pads, 9 faders, 9 rotary encoders
5 expression control inputs (sustain, expression, 3 aux)
4 CV output jacks
The Low Down
The Keylab 49 is a beast of a MIDI controller, and a lot more besides.
The 49 keys are equipped with aftertouch - great for adding modulation to synths while playing with both hands (or occupying one with one of the many faders).
The faders can be used for manipulating any parameters, including simulating drawbar control on organ patches. The rotary knobs can also be used for endless tweaking. And there are 16 performance pads for your fingers to wreak havoc on.
Are your feet missing out on the action? Put them to work on the 5 pedal inputs.
And if you have hardware synths gathering dust in the back of the studio, make use of the CV output jacks to control pitch, gate, and modulation.
The transport controls are compatible with all major DAWs, and the Keylab ships with magnetic overlays so you instantly see what parameter each knob or button is controlling.
The keyboard ships with Arturia's Analog Lab software. This gives you access to over 6,000 juicy synth and keyboard sounds from the fabulous V-collection. And of course, the Keylab integrates seamlessly with these.
Be warned though - considering the massive amount of control you get over, well, pretty much everything there may be a bit of a learning curve, especially if you're a beginner.
The plus side is that the build quality of the Keylab MkII is rock solid, and looks like a dream (you can also choose from a black or white chassis). If you splurge on this, you'll be all set on MIDI controllers for a while.
2. Akai MPK 249

Quick Look
49 full-size keys with aftertouch
16 RGB pads
8 sets of faders, knobs, and buttons
Comprehensive DAW integration
The Low Down
If you liked the idea of the Akai MPK Mini, but want more keys, and more control, the MPK 249 could be the MIDI controller for you.
This professional-grade offering from Akai packs a huge amount of controller power into its 49-key body, and yet still comes in under the $500 mark.
The 16 RGB pads each have four banks to give you access to all sorts of sample-triggering and MPC-style beat creation. Each of the 8 faders, knobs, and buttons can all be assigned to manipulate instruments and effects, and they each have three banks to expand the number of controls to 24 each.
The board also has dedicated transport controls so you can manage everything in your DAW directly on the MPK.
The controller is iOS compatible, but you'll probably want the (additional cost) power supply if you plan on using it with your iPad for more than 15 seconds.
There's a lot this board can do, and there's quite a learning curve to really get the best use out of it. If you want simplicity, move right along. If you are ready to rock with the pros, meet your new best friend.
3. Novation Impulse 61

Quick Look
61 note, semi-weighted keybed with aftertouch
Comprehensive DAW/plugin control
9 faders, 8 knobs, 8 pads
Tons of buttons
5-Pin MIDI in/out connections
Sustain and expression pedal sockets
The Low Down
As we head into our final MIDI controllers in this round-up, we getting into boards that will dominate your DAW and plugins, and seriously improve your music-making game.
The Novation Impulse comes jam-packed with control features - eight pads, nine faders, eight 'endless' rotary knobs, and a whole kaboodle of buttons that give you access to just about every parameter you ever need to tweak.
Using Novation's Automap 4 software, you get instant integration with all major DAWs (they designed and tested it to do just that), plus access to parameters on many 3rd party plugins from the likes of Native Instruments, Waves, and FXpansion.
If you're using Ableton, the touch-sensitive pads also double as scene and clip launchers. It really is a doddle to use plugins and whip your DAW into order with this controller.
In terms of playability, the 61 note keybed is super receptive to every nuance of your performance. So much so, that musicians working with top artists use it in the studio and on stage. A high accolade indeed, methinks.
4. Nektar Impact LX88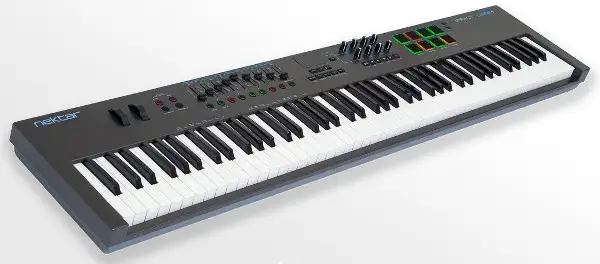 Quick Look
88 key USB MIDI keyboard controller
8 performance pads, 9 faders, 8 knobs
Transport buttons for DAW control
The Low Down
For musicians who want (or need) that full 88-key range, but don't want to sacrifice any control functionality the Impact LX88 could be the MIDI controller of your dreams.
Like its sibling (the LX61), the LX88 offers simple, automatic integration with just about any DAW, along with great playability. Yes, the keys are only semi-weighted, but the keybed feels great to play, and for just over $300 do you really expect hammer-action keys?
Comprehensive DAW mastery is achieved by choosing your software during the installation process, and then you're off making music.
In addition to transport and mixer controls, many plugins will be pre-mapped to the default controls on the Impact.
If they're not, you can just use the 'grab mode' to temporarily assign parameters to controls.
And there are five user presets for storing settings if you want to do a deep dive into controlling your favorite soft synth.
For an 88-note controller, the Impact offers a comprehensive set of features. For me, the only drawbacks are the slightly awkward positioning of the pitch and modulation wheels, and the lack of a second pedal input.
But again, for the price, it's pretty awesome sauce.
5. M-Audio Hammer 88

Quick Look
88 weighted keys, hammer action keybed
Pitch bend and modulation control
3 pedal inputs (sustain, expression, soft)
The Low Down
And finally, we get to the only fully weighted, hammer-action keyboard on our list. Fully weighted keybeds are pricey, so finding one under $500 is a pretty sweet deal.
Aside from the pitch and modulation wheels, there aren't any control functions on this keyboard. It's definitely built for the player who wants that authentic touch.
The keyboard is USB powered (with an optional power adapter for standalone use), offers plug-and-play connectivity for Mac/PC, and can be hooked up to external MIDI devices with the 5-pin MIDI ports.
Given the price, and the expressive feel of the keys I'd still consider this to be a great 'cheap' MIDI keyboard. You're going to be hard-pushed to find an 88-note keyboard that feels this good anywhere near this price range.
Conclusion
So there you have it! A yummy round-up of the best cheap MIDI keyboards available today. Now you know you don't have to sell your grandmother to get hold of a decent MIDI controller that will get the music production job done. It's all about making music after all.
Go forth, and be the producer you wish to become.