Using a DAW used to involve at least needing a computer and an audio interface, in some cases you would also need a dongle for a license to run the software. Nowadays, in the subscription model, and with technological advancements allowing for high-quality built-in condenser microphones, and iOS software, taking DAW apps on the go and making music anywhere you like with nothing but an iPad, is possible. So what is the best daw for iPad?
Here are my picks for the best iPad DAWs.
1- Akai iMPC 2

Price point: $24.99
Pros:
Classic MPC features such as:
Note repeat
16 steps
Virtual instruments
Drum sounds
Inter-app audio
MIDI tracks
Audio tracks
Sample editor
Cons:
Beat maker-centric, not for all types of music production
If you're part of the beat-making generation, you're familiar with the legendary Akai MPC hardware. It uses analog inputs and outputs paired with MIDI outputs and internal sample chopping capabilities. It was basically one of the first DAW's ever created, thanks to the one and only, Roger Linn, an early pioneer of the sample editor and drum machines.
Fast-forward from 1988 to the 2010s, and all of this, then expensive, groundbreaking music technology, has been condensed to a computer chip running on a portable iPad device. iMPC 2 has the ability to record, process using Audio Unit plugins, chop samples akin to the way one does with the traditional MPC60s and 2000XLs of the world, and of course, has the legendary 4 banks of 16 touch-sensitive pads, the very same that revolutionized music production and influenced basically every piece of sample-based production gear thereafter.
2- Apple Garageband iOS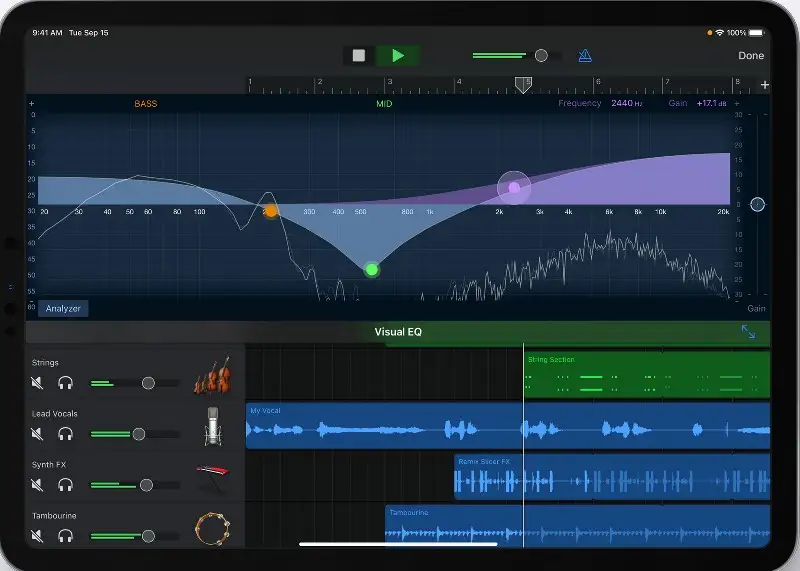 Price point: Free with iPad or iPhone
Pros:
Open projects on desktop version Logic Pro
Very easy to use
Piano roll editor
Virtual instruments
Drum sounds
Inter-app audio
MIDI tracks
Audio tracks
Sample editor
Cons:
Less MIDI editing features than desktop DAW
The differences between the full, MacOS version of Garageband and the iOS version, are virtually imperceptible. The main one simply is the UI arrangement, given the lesser screen real estate available on an iPad vs a computer with multiple monitors.
This means that the gauntlet of features from Garageband proper (and even from Logic Pro), are all there; EQ and dynamics processing with the fantastic suite of Audio Units, instruments galore, paired with the ever-reactive touch screen keyboard. Beat sequencing, clip launching, the newly added drummer tracks (with capabilities of drummer, electronic drums, acoustic drums, and smart drum options), and of course the ability to record straight into the iPad or for musicians, hook up any of the available 3.5mm or lightning capable interfaces for external instruments, such as guitars and drums line in, and the use of your favorite microphones.
Madlib has been said to have created his 2019 album, "Bandana", solely with his iPad paired with Garageband iOS. Having been known to be a frequent classic MPC and SP-12/1200 producer, it's only telling of the high quality of the iOS Garageband, that such a seasoned producer dared create an entire album with it.
3- INTUA Beatmaker 3

Price point: $11.99
Pros:
Processing (time-based effects, EQ, dynamics)
Drum sounds and sample libraries
Inter-app audio
MIDI tracks
Audio tracks
Sample editor
Cons:
For beat makers only
Why not use the iMPC?
Beatmaker 3 iOS is another MPC-style iOS DAW that appears as fully featured as any MacOS DAW. When it comes to DAWs for iPad, it's up there with the best of them. With 8 banks of 16 pads to load samples onto, you're carrying around a mobile version of software primed for music-making anywhere you like.
It has a full mixer equipped with time-based processing effects such as Reverb, Compressor, Filter, Delay, EQ, Flanger, Chorus, AutoPan, BitCrusher, Overdrive, 6-Band Parametric EQ. It also acts as a portable recording studio, as good as any desktop version.
The price point here is also a bit under the Akai iMPC if you don't want to shell out as much money for your iOS DAW.
4- Steinberg Cubasis 3

Price point: $31.99
Pros:
Open projects on Cubase full version
Transfer in-app purchases from Cubasis 2
Unlimited tracks
Ableton Link support
Export to iCloud, Dropbox, Cubase
Keyboard and mouse support
Audio tracks (up to 24 I/O simultaneously)
Cons:
Sub-menu heavy
Difficult to play chords on an app keyboard (might want a laptop instead).
Expensive for iOS DAW
For Steinberg Cubase users that travel for studio sessions, shows, vacations - what have you, Steinberg Cubasis is the unparalleled choice. As a partial Steinberg user myself, the iOS DAW is incredibly feature-rich. You have full access to a 24bit/96k audio engine which, for an iOS app is pretty impressive. Instruments such as MicroLogue (virtual analog synth), MicroSonic, and MiniSampler, allow you to produce and edit songs on the go as inspiration strikes.
For collaboration, if you're traveling to other producer's studios and would rather not lug around your laptop, Cubasis 3 supports Ableton link. This way you can roll right up to your session with the bare essentials and get right into music-making.
When all is said and done and you have some finished ideas, you can export directly to iCloud, Dropbox, or even Cubase itself. This way you can polish the necessary bits or simply get ready to deliver the finished pieces.
5- Image Line FL Studio Mobile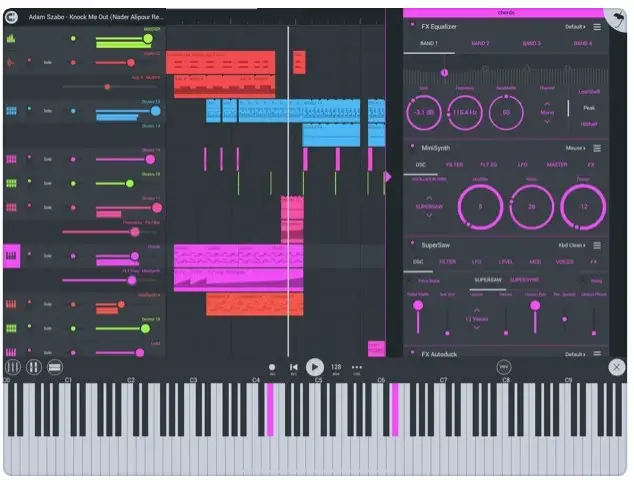 Price point: $13.99
Pros:
Virtual instruments
Sound libraries
Inter-app audio
MIDI tracks
In-app purchases
Sync up to 3 mobile devices
Cons:
MIDI centric, rather than the audio editor
Isn't organized the same way as FL Studio desktop version
FL Studio users look no further for a mobile recording studio. What I know from reading about and speaking with FL users is that they're loyal to their DAW. You don't need the desktop DAW to create great music. FL Studio mobile gives you plenty of synth, sampler, drum machines, and slice-looped beats - plus lots of instruments (Drum Sampler, DirectWave Sample Player, GMS (Groove Machine Synth), Transistor Bass, MiniSynth & SuperSaw) and effects (Analyzer (visual), Auto Ducker, Auto-Pitch (pitch correction), Chorus, Compressor, Limiter, Distortion, Parametric Equalizer, Graphic Equalizer, Flanger, Reverb, Tuner (Guitar/Vocal/Inst), High-Pass/Low-Pass/Band-Pass/Formant (Vox) Filters, Delays, Phaser and Stereoizer) truly making this a full access DAW.
Another cool feature is the ability to sync with up to 3 mobile devices running FL Studio mobile. This can be useful for collaboration and also makes it a live performance-capable tool.
6- WaveMachine Labs Auria Pro

Price point: $49.99
Pros:
AAF import/export makes it possible for collaboration with Logic, Pro Tools, Nuendo, Samplitude, and more
Unlimited tracks
Piano roll editor
Audio transient to MIDI conversion
3P plugins via in-app purchases
Lyra sampler with sample library (supporting SFZ, EXS, and SF2)
Support for Dropbox, SoundCloud, and AudioBus
Cons:
For advanced users
Potential screen real estate clutter
Expensive for iOS DAW
For producers and artists who require some of the more industry-standard digital audio workstations (Pro Tools, Logic, Nuendo, etc), but still want to be productive and travel light on the road, WaveMachine Labs Auria Pro seems like the answer. It's the only iOS DAW that supports AAF import and export, allowing users to work in the studio with any major DAW that supports AAF export, make your AAF, open it with Auria Pro, make changes on the tour bus, the plane, a segway, what have you. The project could be finished right there, or brought back into the DAW of your choice and polished off in the studio again. The flexibility is unparalleled.
Further portraying the freedom that Auria Pro brings to the table, is the Lyra sampler. Lyra can be used in EXS, SFZ, and SF2 formats. This allows flexibility between samplers in Logic, FL Studio, and Native Instruments Kontakt. The sampler can be used with keys for playing samples poly-phonically on a chromatic scale, or with pads for percussion and chopped samples.
When you have finished a song or something to share, you can directly export to Dropbox, SoundCloud, or AudioBus.
7- Korg Gadget 2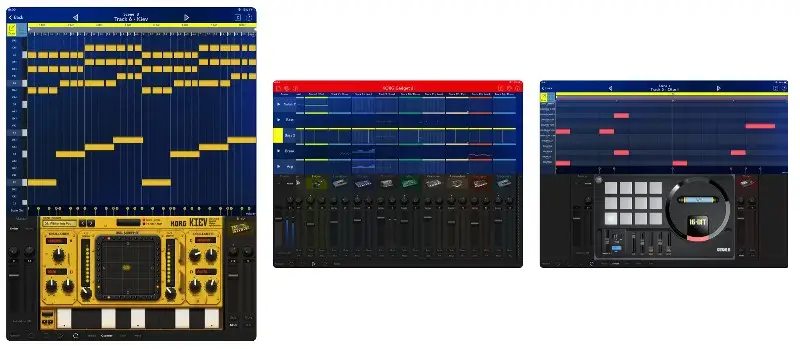 Price point: $39.99
Pros:
Excellent sound quality
Great instruments, samples, and effects
Modular workflow combining synths and drum machines as gadgets
Can be used on iOS, macOS, and even with Nintendo Switch
Supports VST, AU2, AAX plugins, and NKS compatible
Cons:
Non-traditional DAW workflow
Expensive for iOS DAW
Korg Gadget is a very unique iPad app for music production. The workflow consists of creating combinations of synth and drum sequencing, "gadgets". You can create sounds with each module, sequence them, loop them, and send them to an internal mixer, as you would with any DAW. Once you get a few sequences going in unison, you can then create scenes, which you can launch and stop at will, much like Ableton and Logic Pro's clip launcher functionality.
The app comes with over 40 gadgets and lots of useful effect and dynamics processing capabilities (feedback reverb, enhancer, exciter, and saturation). Also, the ability to use iOS and macOS is another plus on the side of collaboration and ease of moving between the mobile and studio world (although the MacOS versions will cost you another $299.00).
The instrument and sound collection seems worthwhile enough, even if just to design sounds on the go for later use with various apps. Music will come eventually, and one can never have enough original, sonically pleasing samples.
8- Korg iElectribe Gorillaz Edition

Price point: $19.99
Pros:
Samples created by Gorillaz and Korg
Onboard effects
Onboard analog-style sequencer
Virtual Valve Force Tube Modeling
Supports SoundCloud sharing
Cons:
Everything is done in the sequencer
What you see is what you get
Stuck with a lot of Gorillaz samples you might not want
If you're looking to simply create sounds and loops on the go and don't feel like dropping as much as some of the more fully-featured iPad DAW apps, the Gorillaz edition of the Korg iElectribe might be just what you need.
Modeled after the legendary Electribe, the iPad version contains all the same features and functionality. You can sequence and tweak sounds, live, as you add and subtract things to your liking. You can easily adjust pattern settings as you go, as well as desired samples. At the end of your session, you can export your sounds or share them directly on SoundCloud, no middleman required.
The app lacks any audio clip editing, or fancy mixing/editing features, such as warping, side-chaining, individual sample EQ, etc.
9- Auxy Studio
Price point: Free with in-app purchases
Pros:
Unique composition workflow
Great sounding instruments
Comes with lots of sounds
Mix loop features
Cons:
Can't import samples
No audio editing
Auxy Studio has a very impressive and unique workflow that brings new meaning to iOS DAWs. The design is sleek and allows the user to create music continuously and quickly. Auditioning sounds while other sequences are looping is seamless and keeps you in the song. Momentum is important when creating, so the longer you can stay inside a loop or idea, the better. Auxy Studio really keeps you there in the moment.
Traveling light is about bringing only what you need and nothing more. Auxy's minimal approach is a testament to that. The UI only shows what you need at that given moment. When you need to tweak s sound, you can quickly bring up those parameters, when you want to change the melody or chords, the screen fills up with a snappy MIDI editor and you can audition notes to your liking. Drums can be edited in the same way.
Audio editing doesn't seem possible, so if that's your workflow, this may have some unwanted limitations for you. The app lacks the ability to add your own samples as well but comes with a large array of sounds.
10- Reason Studios Figure

Price point: Free with in-app purchases
Pros:
Minimal, stripped-down design
Get songs started quickly
Essential drum, bass, and lead workflow
Built-in effects, filters, and miniature mix bus
Keep all instruments in key easily
Cons:
Very limited
No audio clip editing
No custom samples or instruments
Auxy Studio seemed minimal, and then I cracked open Reason Studios Figure. They really stripped down everything but the essentials with this iPhone/iPad DAW. The only user options contained is a drum sequencer, bass synth, and lead synth. You can set the key of each and then get straight to music production. You can audition sequences on the fly and when you're ready, pop into record and execute a performance. Automation mode is automatically on when you're in record, so you can quickly alter parameters of the synth you just recorded and adjust things to your sonic liking.
Again, this app lacks a lot . No sampling, no audio clip support, no multi-stem export, etc. It has a very specific use, and that's to bang out a minimal track, quickly, and on the move. It also promotes something that music producers should never lose sight of - it is really, really fun.
If you're interested in learning more about DAWs, visit some of our other articles:
Best Daws
https://emastered.com/blog/best-daws
Free Daws