Every hit song has one thing in common; a great melody. Creating memorable melodies over a chord progression is one of the best skills any musician can have since a strong melody can easily make or break a song. However, it can be challenging to learn the art of melody writing especially if you haven't written a song in the past.
We'll break down the melody writing process step by step so that you can craft your own melody in no time at all. We'll also share what makes a melody good and how to break past writer's block so that you can write without issue. Let's dive into it!
What Is A Melody?
In its simplest form, a melody is a sequence of notes that is designed to be memorable for a listener. Intuitively, you know what a melody is. One great example of a melody everyone knows is "Happy Birthday". Here is what that melody looks like on MIDI: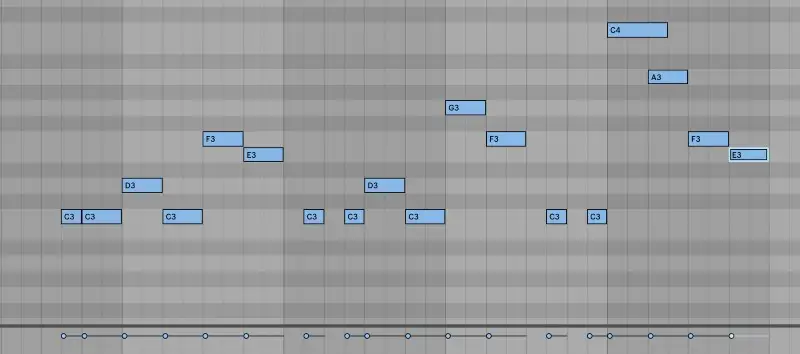 These notes have a specific structure, moving in a mostly stepwise motion to get to the focal point of the high "C" or the climax "happy" that everyone tends to sing a bit off-key at birthday parties.
But this is just one melody. There are plenty of great ways to write melodies and melodic ideas can span with lots of skips, only steps, long notes, short notes, or anything in between. Good melodies are easy to remember in context with the rest of the song.
What Makes A Great Melody?
While great melodies exist in many forms, there are some central points to keep in mind while building your melody writing skills. Here are some common factors between great melodies:
A memorable melody is one worth pursuing.
Sometimes, simple melodies are the best since they can be easy for everyone to remember. Better melodies are super memorable and deliberately repeat phrases to add to the catchiness. A good melody is one that you can carry with you.
Great Melodies have some sort of arc.
Just like songs, most melodies have a clear beginning, climactic moment, and end. A melody consists of a lyrical phrase or melodic phrase that carries energy through note changes, passing through a scale. Great melodies have a clear shape and focal point to help convey their message.
Strong melodies work within a scale.
Most of the time, you'll want your melody of choice to fall within the scale you're working in. Great melodies often highlight three or four notes that are the strongest within a particular scale.
What Makes A Melody Weak?
In the world of music education, it's just as important to know what to do as it is to know what not to do. Here are some factors that may make a melody weak.
A poor melody doesn't focus around a scale.
When crafting a melody, you don't want to just use random notes. While it may make sense to break away from your traditional scale for poetic effect or during a chord change, most of the time, keeping your melody within key makes it much easier for a melodic phrase to gel with the rest of a song.
A weak melody doesn't have any structure.
Strong melodies are able to build momentum and carry energy by effortlessly moving from the lowest note to the high note. A strong melody is built on a short musical idea that features shape, contrast, and carries that main idea of the entire composition.
Learning From Famous Melodies
There's a lot we can learn about melodies from some of the world's greatest songs. Here are a few key lessons from famous melodies.
The Power Of Stepwise Motion
Songs that don't have too many skips and move in a stepwise motion can be extremely memorable. Take the melody from "Twinkle Twinkle Little Star", for instance. Though there's a brief skip at the beginning, it's still to a major chord tone, and the rest moves in simple steps: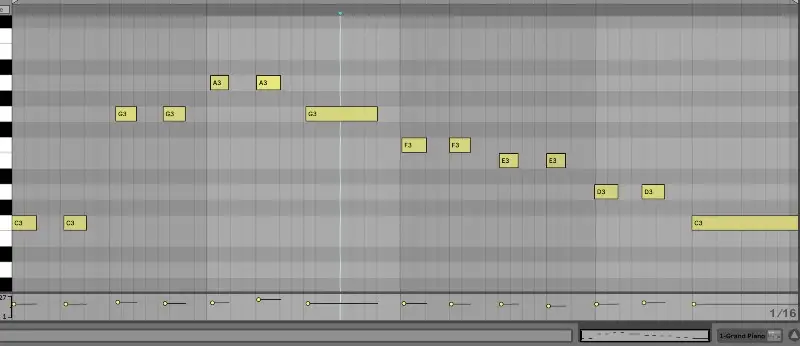 Use The Pentatonic Scale
The pentatonic scale is called the "universal scale" for good reason. This scale is well recognized across all cultures and resonates with us deeply. Just look at the G major pentatonic scale at work in "Sweet Home Alabama"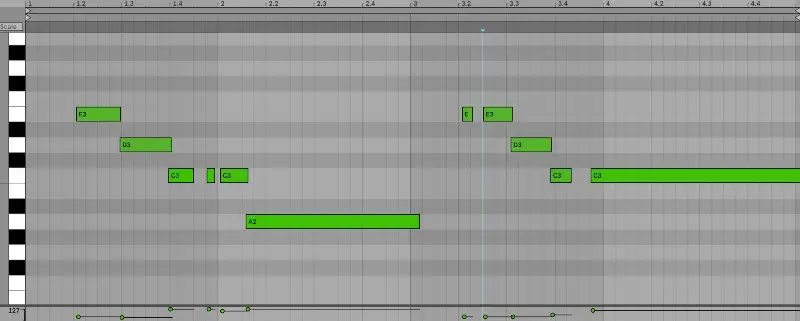 Create Shapes With Your Melodies
Melodies should have a clear climax, usually with a high note. You can see the work of stepwise motion and the focal climax note in "Ode to Joy":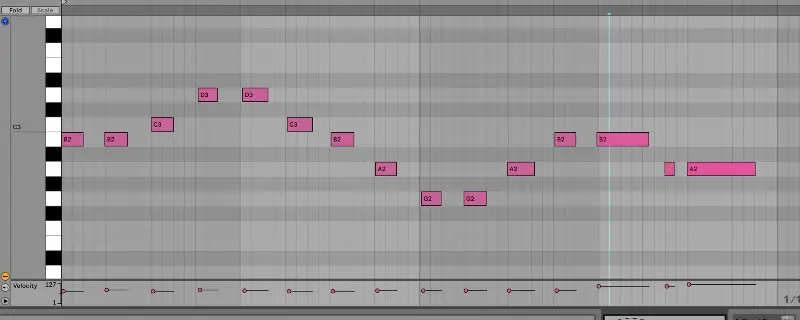 How To Write A Melody: A Step By Step Guide
Are you ready to start writing melodies? Here's a step-by-step guide to writing memorable melodies so that you can help your songs stand out within the music industry.
Find your scale.
Build onto of a chord progression.
Start with rhythm and lyrics.
Improvise!
Work on the verse melody first.
Come up with multiple options.
Let the melodies sit.
Edit as needed.
Rinse and repeat!
1. Find your scale.
In order to create a melody that sticks, it's a good idea to find a scale to start with. This could be based on a chord progression, or you could choose a scale, to begin with, if you haven't decided on what the backing instrumental may sound like.
Generally speaking, a melody crafted from a major scale will sound happier than melodies derived from a minor scale. If you don't know where to start, work with something as simple as the key of C major. The c major scale simply consists of all of the natural notes, or C D E F G A B. To make it even more simple, you could use the c major pentatonic scale which is C D E G A.
2. Build onto a chord progression.
Once you've picked out the notes you intend to use, it might make sense to build a major or minor chord progression so that you have something to riff of. If you're not sure how to build chords, you can look up common chord sequences online, or even use a backing track from YouTube.
3. Start with rhythm and lyrics.
Sometimes, it's easier to figure out the lyrics and rhythm before putting the first note to your melody. Try speaking different phrases on top of your looped chords to see what sticks. You may find that one phrasing pattern works better than another.
4. Improvise!
A lot of the work behind learning to write a melody is intuitive. Break out your voice memos or recording device and start playing or singing the notes within your pentatonic scale or another scale over the backing track you've created. If you're created a set rhythm or lyrics, you can start to incorporate those, too.
5. Work on the verse melody first.
It can be easier to work on the melody in the verse of a song first since there's so much pressure for a chorus melody to be absolutely stellar. Try writing the verse melody initially. You may find that you naturally flow into writing a new melody for the chorus once you have the context of the verse.
6. Come up with multiple options.
There isn't one right way to concoct a melody. Take the time to come up with different melody options. Try out different high note climaxes, edit the rhythm slightly, or even try out various lyrics.
7. Let the melodies sit.
Before locking in on any particular melody, let your melody options sit. When you come back, you can see which melodies remained stuck in your head, and which didn't gel.
8. Edit as needed.
Many melodies in music aren't perfect at the first writing session, so take your time to edit if needed. Work on your melody until it sounds professional, polished, and memorable. After all, great melodies can make or break music.
9. Rinse and repeat!
Becoming an amazing melody writer takes practice. The more you write melodies, the easier it will become. Take time to practice this skill and experiment with different melody writing workflows to find out what works best for you.
5 Tips For Excellent Melody Writing
Writing melodies can be a challenge, but with a couple of tips, you'll be able to find the perfect chorus melody for your music in no time. Here's a couple of tips musicians use to create strong melodies in great songs.
Take time to get inspired.
Find the chords or other parts first.
Use a melody generator.
Learn from listening.
Workshop your melodies.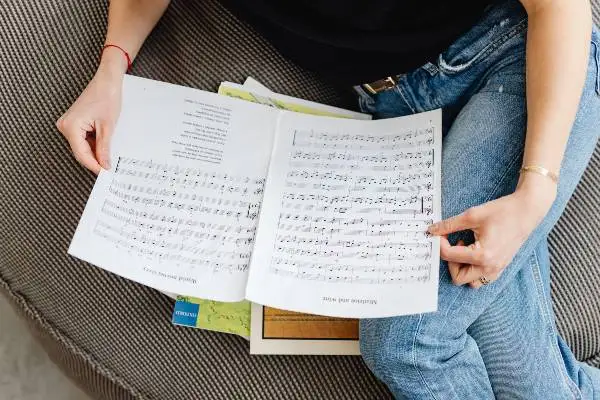 1. Take time to get inspired.
Sometimes, the best way to beat writer's block or reconstruct a song stuck on a poor melody is to seek out inspiration. When you listen to your favorite songs, pay special attention to the structure of a song's melody. Notice how a great song weaves melody and rhythm together and often utilizes motif writing to help a melody become more memorable.
2. Find the chords or other parts first.
Remember that not all melodies will come in the same way. On some songs, you may start with chord tones. On others, the chorus melody might come first, or even lyrics on their own. Allow yourself to experiment with different processes to find the best melody for any particular track. Sometimes, inverting your process can be the push you need to write better music .
3. Use a melody generator.
There are plenty of MIDI and melody generator tools out there that are certainly worth checking out. While you don't want to rely on these tools entirely, you could use these tools for inspiration, only borrowing a couple of notes, or figuring out an alternative melody for your song. If you're truly stuck, these generators can make amazing sparks of inspiration.
4. Learn from listening.
Like anything else, melody writing is a skill that takes time to cultivate. Learn from listening back to your own songs. Which melodies are the strongest? Why? Take insights from your own music and some of your favorite songs and bring them back to your own songwriting process .
5. Workshop your melodies.
Not all good things come easy. Sometimes, you'll need to work with your original melodic idea to find a better one. If you're not completely satisfied with your melody, try experimenting with editing one note at a time, or writing different lyrics behind it. Trust that tinkering can sometimes be exactly what you need to help your melodic phrase fall perfectly into place.

Learning how to write and play melodies isn't always easy, but it's an essential skill for anyone in the music industry. Hopefully, this guide made it easier for your to write your own melodies for your music. Enjoy the magic of songwriting!
‍