There are few professional audio engineers that pass up on the power of a multiband compressor plugin. After all, multiband compressors allow engineers to seamlessly control compression throughout a specific frequency range on a track utilizing frequency bands. However, how do you know which multiband compressor is the best for your needs?
Not to worry, we have plenty of excellent options that are choice picks by some of the most experienced mixing and mastering engineers in the industry. Below, we'll share some of the best multiband compressor plugins and share everything you need to know about multiband compression so that you can start incorporating these powerful tools into your sessions. Let's dive in!
What Is Multiband Compression?
So what is multiband compression and how does it work? Essentially, multiband compressors are a specific type of compressor. A compressor is an audio tool that mixing and mastering engineers use to help shape a song's dynamics. Compression works by evening out the perceived volume of a track so the loudest peaks in an audio input are reduced, while the quietest parts are made louder.
A basic compression plugin targets the entire waveform, across the full frequency spectrum. In contrast, multiband compression plugins allow you to fine-tune your selection and compress specific parts of the audio signal.
This way, you have greater control over how compression affects the rest of your mix, and you won't have to over-compress any section of the frequency spectrum that doesn't need dynamic shaping. The best Multiband compression plugins offer musicians more control, flexibility, and possibility in their DAWs.
8 Best Multiband Compressor Plugins
It can be challenging to pinpoint the perfect multiband compressor plugin for your needs. Thankfully, we've found 8 great multiband options that are sure to make a pivotal part of your mixing chain. Here are some of our favorite compression picks:
Izotope Neutron
Fabfilter Pro-MB
Waves Audio C6 Multiband Compressor
Softube Drawmer 1973
Blue Cat Dynamix
PSP Old Timer Multiband Compressor
Vengeance Sound Multiband Compressor
Leapwing Audio Dynone 3
1. Izotope Neutron
Price:$129 to $399
Who Should Use It?
Any engineer who is looking for detailed frequency response in-depth controls assisted by Izotope's unique auto-learning features.
What You Can Expect:
Like many other plugins within the Neutron suite, the multiband compression is sleek and customizable according to your preferred sonic character. You can toggle the bands on and off to affect the entire channel and use the system's auto-learning feature to determine ideal crossover points for a seamless mixing experience.
Features:
Separate compression settings for colored and clean sound
Crossover frequency auto-learn feature for evening out specific frequency ranges
Choose between hybrid and analog compression models
Unique compression visualization for each frequency band
Our Verdict:
Neutron proves to be a powerful mixing suite that includes a highly versatile multiband compressor plugin. There's no doubt that this flexible multiband compressor will take care of your needs, but the suite may be superfluous for audio engineers who have their own preferred mixing plugins.
2. Fabfilter Pro-MB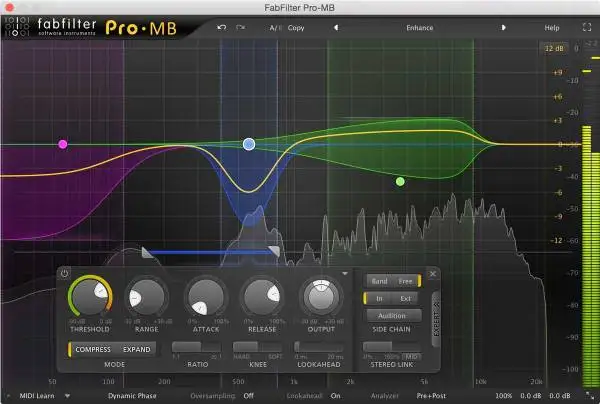 Price: $199
Who Should Use It?
If you can get your hands on the Fabfilter Pro MB, you are in luck. This intuitive multiband compression plugin lends itself to novice and professional engineers alike.
What You Can Expect:
Fabfilter takes a unique approach and offers individual bands rather than multiple crossover points, giving you truly independent compression since your separate bands are all single band toggles for plenty of flexibility.
Features:
Dynamic phase processing mode to reduce latency
Smart parameter transition knobs for seamless automation
Intuitive click and drag floating bands
Full spectral analyzer for precise adjustments
Floating bands can be snapped together for a more traditional multiband compression experience
Our Verdict:
Fabfilter Pro Mb is undoubtedly one of the best multiband compressors on the market today. You can compress specific frequency ranges using the unique floating bands or combine the separate bands for a more typical compression experience . Pro MB Multiband gives you complete control over your sound all within a sleek, approachable interface.
3. Waves Audio C6 Multiband Compressor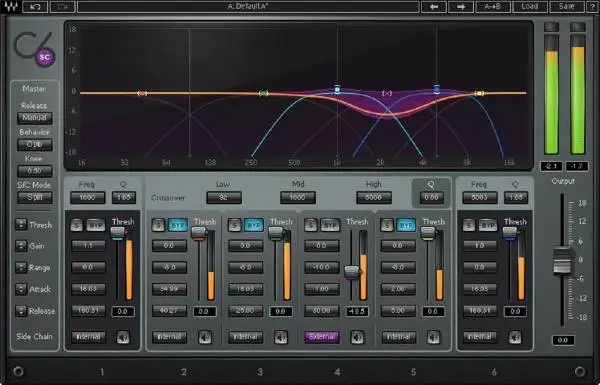 Price: $299
Who Should Use It?
Anyone looking for a straightforward, easy-to-use, clean multiband compressor that's designed for shaping vocal and instrument frequencies alike.
What You Can Expect:
This flexible EQ is an extension upon the Waves C4 multiband compressor plugin with the addition of the two added floating bands. You'll find that the C6 is one of the most dependable multiband compressors in the business, with internal and external side chain in-depth controls for every single band.
Features:
4 traditional frequency bands and 2 floating bands
Clear representation of the full audio spectrum
Can be used as a dynamic EQ as well
Precision bit resolution for use live and in the studio
Individual band listen mode
Our Verdict:
Waves plugins are some of the most reliable within the business. This simple yet sturdy multiband compression plugin is certainly worth your time with its transparent interface and clean sonic character.
4. Softube Drawmer 1973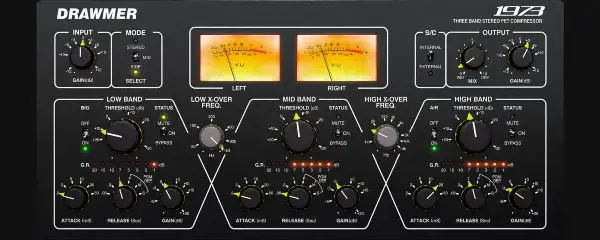 Price: $225
Who Should Use It?
Audio engineers searching for multiband compressors with a bit of analog character shouldn't look much further than this multiband compressor by Softube.
What You Can Expect:
The Drawmer 1973 is designed to directly mimic the analog, warm sound of the hardware piece of the same name. With individual low, mid, and high band mix knob toggles, you'll be able to achieve surprising amounts of precision with this stylistic multiband compression plugin.
Features:
Three-band stereo multiband compressor
Modeled after analog equipment for rich character and sound
Three individual bands and two crossover toggles
Mid/side processing and sidechain controls
Versatile for single or group processing
Included presets for efficient processing starting points
Our Verdict:
This stylistic multiband compressor is perfect for mixing or mastering engineers searching for an analog sound that can be challenging to replicate digitally. While you don't have a spectral analyzer, Drawmer 1973 forces you to rely on your ears to shape your sound which can be beneficial for many producers. This modern piece of gear still holds onto all of the cherished analog characteristics that remain in fashion today.
5. Blue Cat Dynamix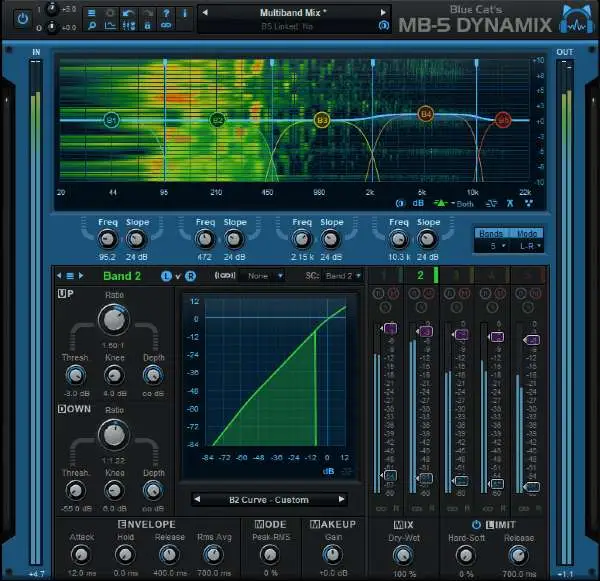 Price: $149
Who Should Use It?
Any engineer who's searching for a multiband compression suite, complete with individual controls for each band along with a gate, limiter , expander, and wave shaper.
What You Can Expect:
 This compression suite is certainly a bargain for everything that you'll receive. The intuitive interface makes it easy for you to customize bands across the frequency spectrum, making it easy to have a stronghold over your song's dynamic range .
Features:
Multiband dynamics processor with up to 5 bands
Copy and paste settings between bands
Dry and wet controls for parallel processing
The processor includes a multiband compressor, gate, limiter, expander, and wave shaper
Stereo and mid-side processing models
Our Verdict:
It's hard to find other multiband compressors that provide this much flexibility all within a single plugin. If you're looking for the best multiband compressor that can help you shape your dynamic range along with the overall shape of your signal, this compressor is certainly worth checking out.
6. PSP Old Timer Multiband Compressor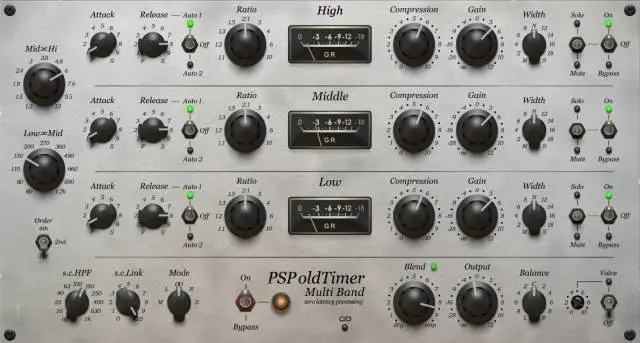 Price: $199
Who Should Use It?
Engineers searching for a vintage-style compressor with more control than your typical one band will fall in love with this multiband compressor from PSP.
What You Can Expect:
This triple band compressor provides control over your track's entire frequency range all with that warm, vintage sound perfect for your drum bus, vocals, or anything in between. Each band of the compressor plugin has attack and release controls, gain reduction, width, and a separate channel for successful blending of the entire signal.
Features:
Modeled after hardware PSP oldTimer compressor
Warm, coloring compressor plugin to add character to individual tracks or the entire signal
Three separate audio bands to compress the low, mid, and high dynamic range
Two crossover knobs
Separate mix modes for adjusting blend and balance with mix knob toggles
Our Verdict:
If you're searching for a triple band compressor to add a bit of vintage flair to your audio, this analog-modeled digital compressor does the trick. You're able to apply compression on three separate bands, each with its own controls for seamless control. Additional features include band-specific widening knobs and an embedded mixing bus to help control the blend throughout the band compressor.
7. Vengeance Sound Multiband Compressor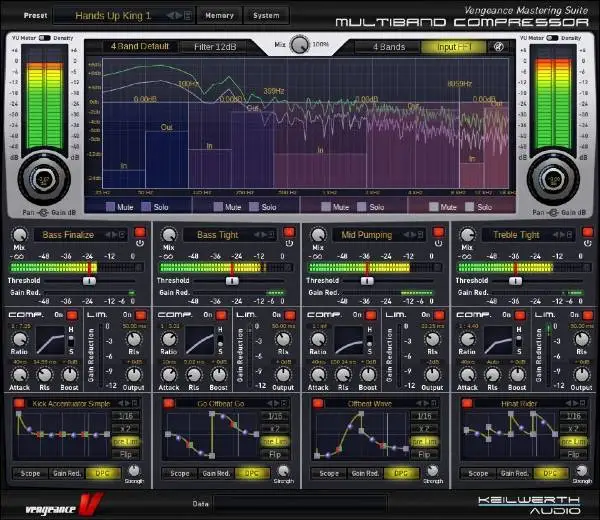 Price: $119
Who Should Use It?
If you're searching for a to-the-point compressor plugin that provides for a punchy yet controlled dynamic range, this is one of the best multiband compressors for the job.
What You Can Expect:
This compressor plugin may have an older user interface, but it certainly makes up for it in the sound of the compression. You can choose between 1 and 4 bands and engage in parallel processing with this plugin, making it a flexible, versatile tool.
Features:
Full-spectrum analyzer to have a clear view of audio frequencies while mixing
4 independent compressors with flexible settings
Included presets for compressing starting points
Anti-distortion filters for quick release times
All other bands can be automated or toggled off or on
Our Verdict:
With high-quality filters and plenty of individualized controls, this is one of the best clean multiband compressors for taming your track's dynamic range. Additional features include a helpful mix knob for introducing New York or parallel compression into your mix.
8. Leapwing Audio Dynone 3 Multiband Compressor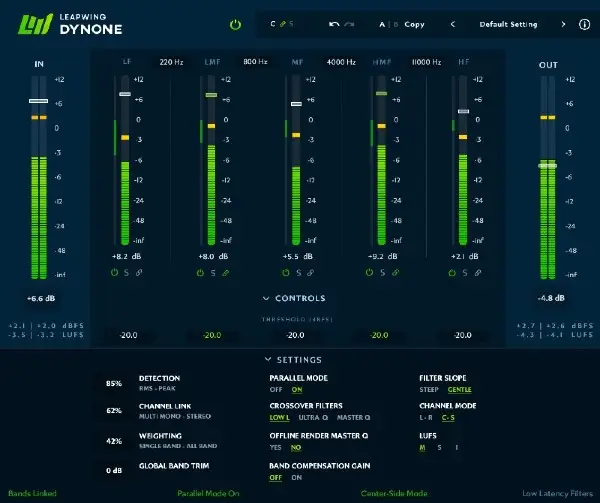 Price: $199
Who Should Use It?
This clean multiband compressor is a great pick for any mixing or audio engineer who prefers to target dynamics with their ears first. You may not have a spectral analyzer within this compressor plugin, but the 5 band compressor makes it easy for you to control outstanding frequencies with ease.
What You Can Expect:
This high-tech compressor uses intelligent, adaptive attack and release settings to automatically tame frequencies while mixing. The quick and intuitive interface makes this compressor plugin super easy to use. With a variety of unique features like crossover filter shape and different compression slope modes, this compressor is hard to pass up.
Features:
High-quality FIR filtering for unprecedented detail while mixing frequencies
Intelligent bands and adaptive attack and release times for a custom sonic experience
RMS and peak detection for mastering engineers
5 independent frequency bands
Easy to use interface with zero latency
Our Verdict:
This is a compression powerhouse. Leading makes it easy for you to build custom, catered dynamics without creating an overly compressed signal. Easily tame trouble frequencies while mixing or mastering with this versatile smart compressor plugin.
Multiband Compressor Buying Guide: What To Look For
Not all multiband compression plugins are created equally. Here are a couple of key features you'll want to look out for while finding the best compressor for your needs.
How Many Bands?
Not all multiband compressors have the same amount of bands. Make sure that your compressor of choice has the flexibility you need to get the job done properly.
What does the User Interface Look Like?
Compressors come with a variety of different displays, so you'll want to make sure your compressor of choice clearly displays other bands in a way that makes sense to you. Some producers may prefer to have a multiband compressor that showcases the same frequency range or spectrum as you might see in a graphic EQ.
Does The Compression Plugin Have The Control Toggles You're Looking For?
Compressors have varying degrees of control. While each multiband should have standard control parameters like the threshold, gain reduction meter, along attack and release times, some compressors might also have dry or wet knobs or additional features that could make or break a purchase.
What Type Of Control Do do You Want Over The Sound?
Some multiband compressors are simply designed to bring up quiet parts and reduce unnecessary peaks across the audio bands. Other compression plugins, especially those meant to model analog equipment, can add a bit more character to a sound, creating a warm atmosphere that might have a significant impact on your mix as a whole.
Therefore, it's important that you determine what type of multiband compression plugin you're looking for so that you can find the right tool for your needs.
Hopefully, this guide made it easier for you to control dynamic range with the power of one of these multiband compressors. Enjoy incorporating the compressors into your production workflow!